Steak nachos are a great way to take your nachos to a new level. This easy steak nachos recipe is the perfect dish to serve for game day or a dinner party. I'm sure our guests are going to be talking about the oven steak nachos long after they've forgotten the game.
For this recipe, I'll be teaching you how to prepare the juiciest, most flavorful carne asada steak from scratch. This tender carne asada bursting with flavors is the star in this recipe.
I know nachos are typically thought of as a snack. But these steak nachos supreme are worthy of being a full meal. They're packed with protein, carbs, fresh veggies, and fats, and are oh so satisfying. And they're so good, you might just want to eat them for every meal. Now, let's get cooking!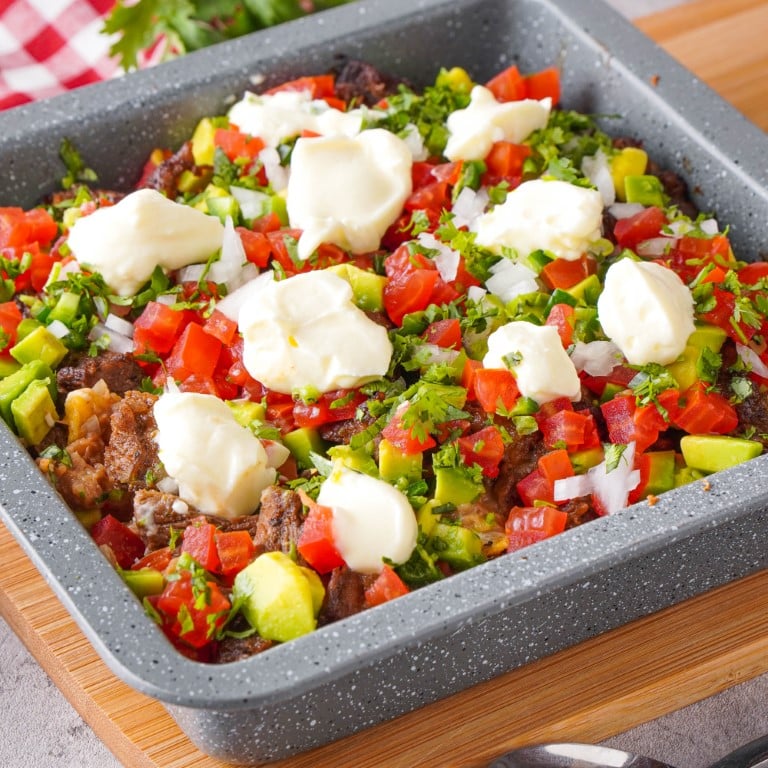 Ingredients
Steak:
1 ½

lbs.

skirt steak

Juice of ½ orange

¼

cup

lime juice

¼

cup

olive oil

2

cloves

minced garlic

½

tsp.

onion powder

½

tsp.

cumin

½

tsp.

oregano

½

Tbsp.

chili powder

¾

Tbsp.

salt

½

Tbsp.

freshly ground black pepper

¼

bunch fresh cilantro

¼

white onion chopped roughly
Refried beans:
2

Tbsp.

olive oil or lard

1

yellow onion

diced

1

tsp.

salt

½

tsp.

oregano

2

cans of pinto beans

rinsed and drained (15oz each)

1 ½

cups

water or chicken broth
Nachos:
1 14

oz

bag corn tortilla chips or 14 oz freshly made corn tortilla chips

12

oz

Colby cheese

freshly grated

10

oz.

cheddar cheese

freshly grated
The toppings:
1

large avocado

diced

4

Plum tomatoes

diced

½

white onion

minced

¼

cup

diced fresh or pickled jalapenos

½

bunch fresh cilantro

minced

Juice of ½ lime

Pinch

of salt and pepper

½

cup

sour cream
Instructions
For the steak:
In a large bowl, mix olive oil, orange juice, lime juice, minced garlic, onion powder, cumin, oregano, chili powder, salt, and black pepper.

Add steak and coat with marinade.

Break the cilantro in half and add it together with the chopped onion.

Cover and let marinate in the fridge for at least 4 hours.

Take it out of the fridge 1 hour before cooking.
Cooking the steak:
Spray a frying pan with some oil, turn on medium-high heat and cook the steaks for about 4-5 minutes on each side. Remove from the heat and place in a bowl to cool. Don't clean your pan yet. Let's do deglazing. With the heat still on, pour about 1/3 cup of water into the pan and scrape the pan with a spatula to collect all of the juices and little pieces of meat stuck on the bottom of the pan. Cook for 3-4 minutes. Transfer that juice to the meat and let it cool completely.

Once cooled, cut into bite-sized cubes and store in the fridge until ready to use.
For the refried beans:
Heat lard or oil in a saucepan on medium heat. Add onions and sauté until soft.

Add oregano and drained pinto beans and cook for about 1 minute.

Pour in water, stir, and then mash the beans with a potato masher or the back of a wooden spoon until desired consistency. Add salt to taste.
Assembling the nachos:
Preheat oven to 450°F. Place tortilla chips in a 9×13 deep dish baking tray. It should be about a 3-chip layer.

Sprinkle shredded cheese evenly, dollop the refried beans as you see fit (there may be leftover beans), and top off with steak pieces. Bake in the oven for 5-10 minutes or until cheese has melted.
For the toppings:
Toss diced avocado tossed in lime juice salt, and pepper, and spread them on top. Evenly distribute diced tomatoes, onions, jalapenos, and fresh cilantro. Finish with dollops of sour cream. Dig in!
Nutrition
Calories:
489
kcal
|
Carbohydrates:
32
g
|
Protein:
24
g
|
Fat:
31
g
|
Saturated Fat:
11
g
|
Polyunsaturated Fat:
4
g
|
Monounsaturated Fat:
12
g
|
Trans Fat:
0.2
g
|
Cholesterol:
69
mg
|
Sodium:
1022
mg
|
Potassium:
534
mg
|
Fiber:
6
g
|
Sugar:
3
g
|
Vitamin A:
810
IU
|
Vitamin C:
10
mg
|
Calcium:
355
mg
|
Iron:
3
mg
Substitutions & Serving Suggestions
Most of the ingredients in this oven steak nachos recipe are freshly prepared (except for the tortilla chips). But you can even make the tortilla chips at home. It's super simple and will make your nachos taste unbelievably good. Check out our Best Oven Baked Nachos recipe for instructions on how to prepare corn tortilla chips.
If you want quick steak nachos, I've got plenty of ideas for you. You can always pre-prep your steak and refried beans and store them in the fridge for 3-4 days. But if you really want to save time, you can always use store-bought alternatives.
Refried beans can be purchased at any Mexican store or market. When you're ready to assemble your nachos, simply heat them in a sauce pan with some water and stir until desired viscosity. Refried beans for nachos should be less thick so that you can coat the chips nicely.
Chopping tomatoes, onions, and avocado can take a bit of time and effort. But you can use your favorite store-bought salsa for topping instead. Just keep in mind that salsa usually has a lot of liquid which can make your nachos turn soggy fast. Add it right before serving.
Now, I always vouch for freshly grated cheese because it just tastes better. But you can use pre-shredded cheese too. It'll still be delicious. We've also gone and saved you the time on figuring out which cheddar cheese to buy. In this article, you can find over 20 different cheddar cheeses tasted and rated.
If you want to make this recipe dairy-free, try vegan cheddar and omit the sour cream, or use a vegan alternative. Now, for those who are lactose intolerant, even lactose-free dairy cheese will work.
What Is The Best Steak For Nachos?
I find that the best steak to use for nachos is skirt steak. It has a unique, beefy flavor, and it's also cost-friendly. Plus, skirt steak is what most taquerias and Mexican restaurants use to make carne asada. It's also a perfectly lean cut, it's easy to cook, and it soaks up marinade nicely.
You could also use skirt steak's close cousin flap steak, also called flap meat. It's similar in form, but it's slightly more tender than skirt steak and has a milder flavor. If you're a real beef lover and you want an intense flavor, go for a skirt steak.
But, in short, any leftover steak will do the trick. Making steak nachos is a great way to use leftover steak from a BBQ or steak dinner the day before. Your family might even be more excited about the day after the BBQ if they know steak nachos are on the table.
Can Nachos Be Reheated?
We have a whole post on this here but here is the quick low down.

Yes, but without the toppings, please! You can bake the nachos with the cheese, refried beans, and steak, and store them in the fridge for up to 3 days. Then you can reheat them at any time and add all the toppings.
Nachos can be reheated in the oven, a toaster oven, or a broiler. As soon as the cheese has melted, your nachos are ready.
You can also reheat nachos in a skillet on the stove top. Simply spray with cooking oil, cover the pan, and let heat for 5-10 minutes or until the cheese is melted. Yay to steak nachos for days!
---
Recent Recipes