In the city where I grew up, there was a close-knit Italian-American neighborhood that prided itself on small family-owned restaurants that served Neapolitan-style cuisine. It was simple fare with plenty of love stirred into every dish. Fridays were date nights for my parents. Sometimes, my grandfather would scoop up his grandkids and take us to one of these local restaurants for a special dinner. We did have to get a little dressed up and we had to mind our manners. My grandfather knew the owners and the wait staff in every place. It was fun and we loved the menu options.
My favorite dish to order was steak pizzaiola. It is exactly how it sounds – steak smothered in tomato sauce and topped with melting cheese. What kid doesn't love pizza? And to be able to order a steak was something special for a 10-year-old.
I am not sure if what I was eating was authentically Neapolitan from the old country or if it was an Americanized version. All I know is that it was so good.
This recipe for steak pizzaiola is what I remember. It is sirloin steaks that are seared, thinly sliced, and then lightly simmered in a well-seasoned tomato sauce. The entire dish can be topped with a bit of mozzarella and pecorino Romano cheese and placed under a broiler for a few seconds until the cheese melts. This is purely optional and likely appeals more to children than adults. This steak was always served with a side of spaghetti that you could twirl in the sauce. A glass of chianti is perfect with steak pizzaiola for those of age.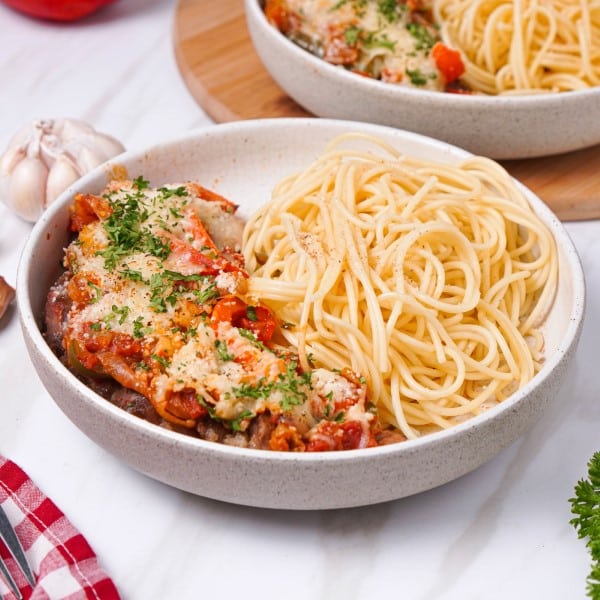 Ingredients
4-5

ounce sirloin steaks, about 1 inch thick

2

tsp

kosher salt

2

Tbsp

extra virgin olive oil

1

large yellow onion

sliced into 1/4 inch rounds

4

garlic cloves

minced

1

green bell pepper

sliced into 1/2 inch strips

1

red bell pepper

sliced into 1/2 inch strips

1

can

15 ounces crushed tomatoes

4

pepperoncini

drained and sliced thinly

½

tsp

dried oregano

⅛

– ¼ tsp cayenne pepper flakes

¾

cup

water

½

cup

shredded mozzarella cheese

optional

⅓

cup

grated pecorino Romano cheese

optional

2

Tbsp

fresh flat-leaf parsley leaves

roughly chopped

1

package of spaghetti

cooked according to package directions

Salt and pepper for seasoning the spaghetti

Extra virgin olive oil for drizzling on the spaghetti
Instructions
All ingredients ready? Let's begin!

Sprinkle 1/2 teaspoon of salt over all sides of each steak. Set the beef aside to come to room temperature.

In a large skillet over medium-high heat, warm the olive oil. Sear each steak for 2 minutes per side. Remove the steaks to a platter.

Add the onion slices and garlic to the skillet. Sauté until the onions and garlic become fragrant, approximately 1 minute.

Add the bell peppers and cook, stirring occasionally, until the vegetables have softened, approximately 4 minutes.

Stir in the tomatoes, pepperoncini, oregano, cayenne, and water. Bring the sauce to a simmering boil.

Place the steaks in the sauce, reduce the heat to a low simmer, and cook for about 6 minutes, turning the steak over halfway, until the meat is cooked to medium-rare.

The internal temperature of the steaks should be 125°F for medium-rare and 135°F for medium.

Remove the steaks to a clean cutting board and allow them to rest while the sauce reduces. Simmer the sauce for 3 to 5 minutes until the consistency you like is achieved.

Combine the cheeses in a bowl while the sauce is simmering.

Slice the steaks thinly across the grain.

Place the steaks on oven-proof plates. Spoon the sauce over the steak portions. Optional: Top with equal portions of the cheese and place under a broiler for less than a minute just until the cheese melts. Alternatively, serve the cheese on the side.

Top the steaks with parsley.

Serve immediately while warm with individual bowls of spaghetti that have been seasoned with salt and pepper and drizzled with olive oil on the side.
Nutrition
Calories:
638
kcal
|
Carbohydrates:
101
g
|
Protein:
24
g
|
Fat:
16
g
|
Saturated Fat:
5
g
|
Polyunsaturated Fat:
2
g
|
Monounsaturated Fat:
8
g
|
Cholesterol:
20
mg
|
Sodium:
1503
mg
|
Potassium:
864
mg
|
Fiber:
9
g
|
Sugar:
12
g
|
Vitamin A:
1733
IU
|
Vitamin C:
115
mg
|
Calcium:
249
mg
|
Iron:
4
mg
Notes & Tips
If you research steak pizzaiola, you will see recipes that call for pounding the raw steak thinly before cooking it. That is not what I had growing up. My steak was always about an inch thick and medium rare once sliced. I have found that pounding the steak results in well-done and chewy meat that has been boiled in the sauce. That seems a shame for a nice piece of lean sirloin steak.
You will have to cook the steaks in a couple of batches unless you start with 2 skillets. Take that into account with the timing. I recommend a heavy-bottomed skillet for searing the steaks. Make sure the olive oil is fairly hot before you add the steaks to the pan. You want a nice sear on the outside and an uncooked interior. The steaks will finish cooking when added back into the sauce.
Substitutions & Shortcuts
I have had this dish made with NY strip steak. That is the larger portion of the porterhouse cut. It is insanely good. For a more budget-friendly version, you can go really old school and braise less expensive beef in your tomato sauce. Try chuck or eye of round steaks and simmer in the sauce until tender. This could take 35 minutes or longer. I have a close friend who slow simmers beef in tomato sauce for up to 2 hours until it is almost falling apart. She removes the meat to a serving platter. Then, the cooked spaghetti is added to the sauce to coat it. Everyone can add beef to their own pasta if desired. The sauce is complex and intensely flavored.
Spaghetti is not a must with steak pizzaiola. That is what was always served in our intimate Italian taverns with the red and white table cloths. Sometimes it would be penne. Other times, it was just crusty Italian bread slices. If you are on a gluten-free diet, serve this steak over rice. If you are keeping it keto, serve with a side of steamed broccoli or escarole sautéed with garlic.
You could make your sauce using fresh tomatoes rather than crushed tomatoes. I can't always find perfect tomatoes all year, so I go for canned because the consistency is predictable. If you are in a hurry, you can use your favorite jarred tomato sauce and a bag of frozen bell pepper strips. You simply heat them up together and add the seasonings. I also keep frozen cubes of mashed garlic and herbs to add to sauces. These are very convenient.
---
Recent Recipes