It is spring here on the east coast and the local markets are full of the first bright green, fresh vegetables that are bountiful this time of year. My favorite spring veggies are peas, fiddlehead ferns, fava beans, and asparagus.
Spring asparagus is undeniably different from what you might find in winter in the produce section or in the frozen foods aisle. And I can't even talk about mushy asparagus in a can. There is nothing better than the crisp freshness of asparagus that is in season. The flavor of asparagus is a bit earthy or grass-like and sweet. You either like it or you don't.
I make a lot of things with asparagus when I can get it in season. I will roast it, blend it into a creamy soup, grill it, use it in tempura, make a galette with cheese and asparagus, or add it to frittatas and quiche. I think simply steaming fresh asparagus does it the most justice by respecting the freshness, snap, and color. Lightly steamed asparagus is the easiest and healthiest recipe ever.
If I have leftover steamed asparagus, I will make a salad for lunch the next day with some halved cherry tomatoes, toasted and chopped hazelnuts or almonds, and a light vinaigrette. I serve that alongside leftover roasted chicken or just some crusty bread with a creamy, spreadable cheese like brie or soft goat cheese.
This recipe for steamed asparagus is appropriate for just about any diet you might be following. It is vegan, gluten-free, paleo, AIP, keto, and whole30 compliant.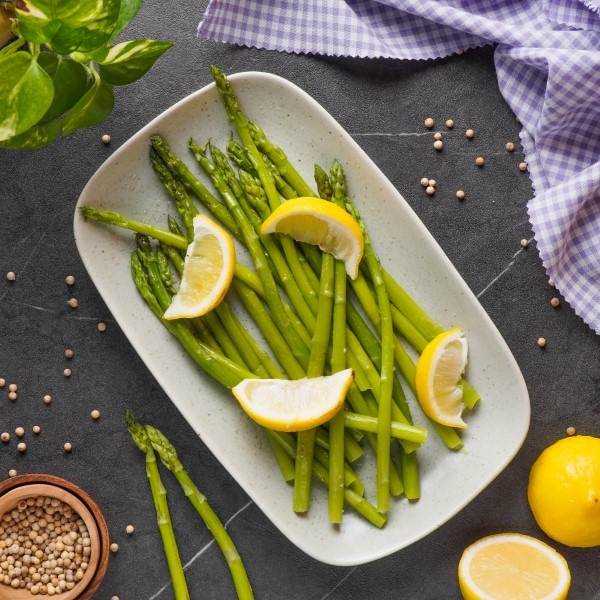 Ingredients
1

pound

medium-sized asparagus spears

1 ½

Tbsp

good extra virgin olive oil

Sea salt and freshly ground pepper to taste

4

lemon wedges for serving
Instructions
All ingredients ready? Let's begin!

Rinse the asparagus under cold water.

Trim off the pale, woody ends, approximately 2 to 3 inches. Discard the ends or save them for making soup stock.

Place a large sauté pan with a lid over high heat. Add about an inch of water to the pan. Place a collapsible steamer basket, or similar, inside the pan. As soon as the water boils, lay the asparagus inside the steamer basket. Place the lid on the pan and cook until just tender, but still green and crisp, approximately 3 to 4 minutes.

Transfer the asparagus to a serving platter. Drizzle with olive oil and season with salt and pepper. Serve with lemon wedges on the side for those who want to squeeze the juice over the spears.
Video
Nutrition
Calories:
74
kcal
|
Carbohydrates:
6
g
|
Protein:
3
g
|
Fat:
5
g
|
Saturated Fat:
1
g
|
Polyunsaturated Fat:
1
g
|
Monounsaturated Fat:
4
g
|
Sodium:
3
mg
|
Potassium:
254
mg
|
Fiber:
3
g
|
Sugar:
3
g
|
Vitamin A:
861
IU
|
Vitamin C:
16
mg
|
Calcium:
32
mg
|
Iron:
3
mg
Notes & Tips
When shopping for asparagus, look for a bunch that isn't overly dry and cracked at the bottoms of each spear. It should also be bright green in color. Just before steaming asparagus, cut the pale woody stems off, about 2 to 3 inches. You can also snap the ends off. They will break at just the right spot. Some cooks insist that peeling the asparagus further removes any tough or chewy outer layers. I generally find that fresh spring asparagus doesn't need to be peeled.
Steaming asparagus is best accomplished with a collapsible steamer basket inside the pan. If you don't have a steamer basket, you can make a few logs of rolled tin foil to raise the spears above the waterline. This may sound primitive, but I have used this trick on camping trips with good success.
I was given an asparagus steamer as a gift once. I had never seen such a gadget. It is a tall, slim pot with a basket inside that is removable with a folding handle. It is kind of ingenious and can hold an entire pound of asparagus. You place a small amount of water in the bottom, boil it, then drop the basket with asparagus spears standing upright like soldiers. What is nice is that the thicker portions of the stems cook a little faster than the leaf or bud ends. This ensures that the stalks are cooked evenly. If you can find an asparagus steamer and have room to store it, it is a great kitchen tool to have.
I recommend keeping a close eye on the asparagus while it is steaming so that it doesn't overcook. I use a very sharp paring knife inserted in the thicker portion of the spears to check for tenderness. You don't want the asparagus to be too soft, as it will continue to cook as it rests on the platter. It should have a bit of a bite to it. The color should still be vibrant as well.
Nutrition of Asparagus
Asparagus is an excellent source of vitamin B9, also known as folate. It is also rich in vitamin K, vitamin C, and vitamin E. Asparagus provides us with beta-carotene, manganese, selenium, and zinc.
The antioxidant properties of asparagus help to protect us from harmful cancer-causing free radicals. Antioxidants also help to reduce inflammation.
This vegetable is only 40 calories per cup. It is perfect if you are watching your waistline. In addition, asparagus has 4 grams of fiber and 4 grams of protein.
Substitutions & Variations
You can cut the stalks into 2-inch pieces prior to steaming the asparagus. This makes serving it in a bowl easy. It is also preferable when feeding children, especially the little ones who eat with their hands. Chopped and steamed asparagus is perfect for serving over rice, quinoa, or farro.
If you are not vegan, you can coat the cooked asparagus with melted butter rather than olive oil.
I sometimes finish my steamed asparagus with a minced garlic clove that has been quickly sautéed in olive oil and fresh lemon zest. If I want a kick, I will sprinkle a little cayenne pepper flakes on top and maybe add some grated pecorino Romano cheese.
---
Recent Recipes