Simple Stracciatella Soup
Italian home cooks and chefs really know how to make extraordinary dishes using ordinary ingredients. Pasta dishes and soups really jump out as meals that make the most of the least. Think simple spaghetti with Pomodoro sauce, grated cheese, and fresh herbs, or minestrone soup with common garden veggies, humble beans, and macaroni. What could be more affordable, satisfying, and good for you?
Despite it being 90 degrees in my town right now, I made minestrone Wednesday night. I do this when I need to make space in my fridge for what I will gather from our Thursday farmer's market. My version had leeks, garlic, carrots, fennel, green beans, mushrooms, red beans, basil, oregano, and parsley (all herbs from my garden). I added sweet potato instead of pasta for the starch component. I didn't have tomatoes, but that is usually fine with me. I had some ground turkey, so I made tiny meatballs that I added during the last few minutes of cooking. It was awesome and my fridge was clean.
This pot of simple, clean-out-the-fridge soup got me thinking about 2 other Italian-based soups that I want to make this summer while great fresh produce is available. One is Italian wedding soup with spinach and tiny poultry meatballs, which I am patient at rolling now after my pot of minestrone. The other is stracciatella which is basically eggs, cheese, and spinach in broth. Both soups are insanely affordable and healthy for you. These are true comfort dishes.
Our farmer's market has some amazing greens, including spinach. They also have a stand that sells free-range, organic eggs with yolks the color of the leaves on a sunflower. I make large pots of bone broth or vegetable broth all winter that I freeze to enjoy in summer. So, stracciatella is the first recipe I am going to make with my farmer's market bounty and my chicken bone broth.
What is Stracciatella?
Stracciatella can be translated from Italian to English as "little shreds". The shreds in the soup come from fresh whole eggs that are beaten and mixed with parmesan cheese into a sort of paste. This mixture is stirred into hot chicken broth to form strings that are like fine pasta ribbons. Greens, such as spinach, are added for nourishment and brightness. Though Italian nonnas might argue that the greens are not traditional.
It really doesn't get much simpler than that to make a meal that has omega-3-rich protein, calcium-rich dairy, greens loaded with vitamins and minerals, and tons of flavor.
My recipe for stracciatella soup does not stray far from the classic Italian recipe known as Stracciatella Alla Romana. I do add fresh herbs because my garden is bursting with them in August and I basically add them to everything. Leafy herbs are a great source of antioxidants, chlorophyll, polyphenols, vitamins, minerals, and flavor.
This stracciatella soup can be prepared in minutes if you have some chicken broth on hand. It is a perfect weeknight meal any time of the year. You only need a study pot, broth, spinach, eggs, parmesan cheese, semolina flour, nutmeg, and fresh herbs. I like to serve the soup with crusty Italian bread that has been brushed with garlic-infused olive oil and a side salad of tomatoes, cucumber, olives, and burrata cheese.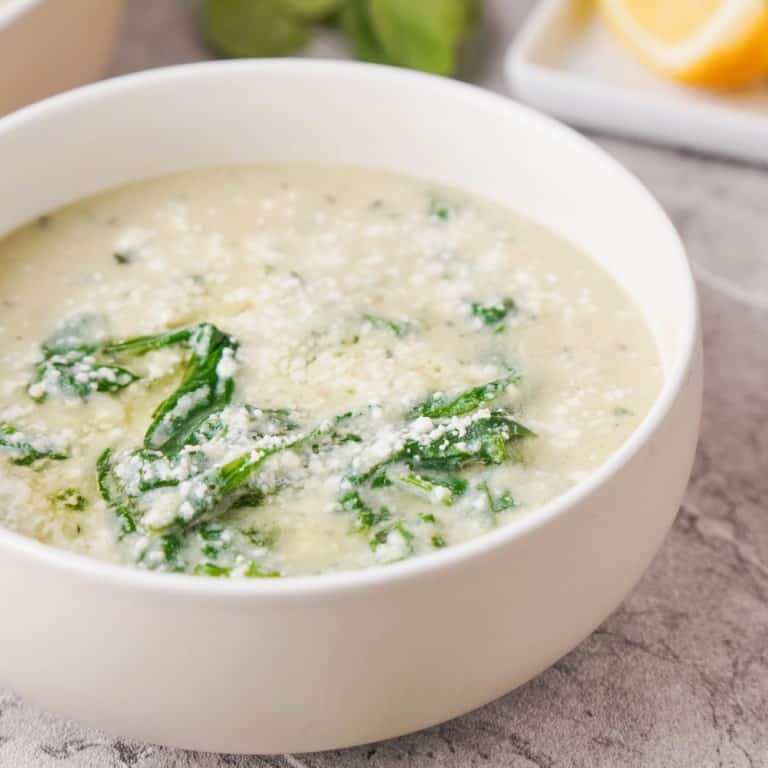 Ingredients
1

quart

of chicken broth or bone broth

4

whole eggs

3

Tbsp

fine semolina flour

optional

½

cup

grated parmesan cheese

1

tsp

sea salt

1

tsp

freshly ground black pepper

¼

tsp

ground nutmeg

10

ounces

of baby spinach

1

Tbsp

chopped basil leaves

1

Tbsp

chopped flat-leaf parsley leaves

4

lemon wedges for serving
Instructions
All ingredients ready? Let's begin!

In a large soup pot over medium-high heat, bring the chicken broth to a simmering boil. While the broth is coming to a boil, prepare the egg mixture.

In a medium mixing bowl, whisk together the eggs, flour, cheese, salt, pepper, and nutmeg.

Add the spinach to the simmering broth and cook until it just wilts.

Reduce the heat to a low gentle simmer. Using a dinner fork, swirl the broth while slowly pouring or streaming the egg and cheese mixture into the soup. Continue to stir with the fork for about 30 seconds until the egg strands turn creamy in color and are cooked through.

Turn the heat off and stir in the fresh herbs. Ladle the hot soup into serving bowls and serve with lemon wedges. You can also serve this with a drizzle of really good extra virgin olive oil and some grated parmesan.
Nutrition
Calories:
194
kcal
|
Carbohydrates:
16
g
|
Protein:
14
g
|
Fat:
9
g
|
Saturated Fat:
3
g
|
Polyunsaturated Fat:
1
g
|
Monounsaturated Fat:
2
g
|
Trans Fat:
0.02
g
|
Cholesterol:
179
mg
|
Sodium:
1798
mg
|
Potassium:
581
mg
|
Fiber:
3
g
|
Sugar:
2
g
|
Vitamin A:
7114
IU
|
Vitamin C:
31
mg
|
Calcium:
226
mg
|
Iron:
4
mg
Notes & Tips
There is no need to overthink this recipe. Less really is more in this case. You can pare the recipe down to just broth, eggs mixed with cheese and seasonings, and a couple of handfuls of baby spinach.
Stracciatella only takes minutes to prepare. It is best to be mindful of this and not overcook the soup. Otherwise, the spinach will turn gray and the eggs will be rubbery. Silky and fresh is preferable. Serve it immediately while hot.
Substitutions
Broth: This soup is perfect to make with bone broth if you have made some. Otherwise, there are some good boxed organic chicken bone broths available. You can use vegetable broth for a vegetarian version.
Flour: Not all Stracciatella recipes include flour in the egg and cheese mixture. You don't have to include it, especially if you are gluten-free. It simply adds a bit of structure and toothsomeness to the egg shreds.
Parmesan Cheese: Feel free to substitute pecorino Romano or asiago for this ingredient.
Spinach: Old school stracciatella recipes didn't necessarily include greens. I love the addition of freshness, color, and nutrition of dark leafy greens. You can use baby kale or baby arugula. Young greens are less fibrous and bitter than mature ones. Escarole would be the exception to that, and I would definitely add escarole sliced into ribbons in place of spinach.
Herbs: You don't have to add herbs to this soup. This is a personal preference. I would use only fresh because dried herbs need more time to soften and infuse flavor into the soup.
---
Recent Recipes