Best Strawberry Daiquiri Mocktail
Craving a frozen strawberry daiquiri but you don't want to feel lousy the next day? This virgin strawberry daiquiri recipe tastes just as good as a strawberry daiquiri with rum. Or even better! It's made with sweet juicy strawberries, fresh lime juice, maple syrup, and a secret ingredient that makes it taste like the real deal. This is a refreshing summer mocktail that the whole family can enjoy!
Is there anything better than fresh sweet strawberries in season? I don't think so. I love serving strawberries as a snack on the picnic table, adding them to salads with goat cheese, or making Sweet and Juicy Strawberry Crepes.
But strawberries really shine in smoothies, cocktails, and mocktails. There's something so satisfying about sipping a cool beverage bursting with the flavor of fresh strawberries. It's what I'd call ambrosia.
If you're wondering what a virgin strawberry daiquiri tastes like, let me paint a picture for you. It tastes like the cocktail you'd imagine drinking on a hot summer day under the shade of a palm tree while gazing at the ocean, and a perfectly cool breeze caresses your skin.
This refreshing beverage is easy to make, chock-full of vitamin C and fiber, and oh so tasty. And the best part, you can drink it as slowly as you like and savor every sip. Because this best strawberry daiquiri mocktail doesn't lose its consistency even as it defrosts.
So, what are you waiting for? Get your strawberries and whip out your blender, let's make homemade virgin strawberry daiquiri!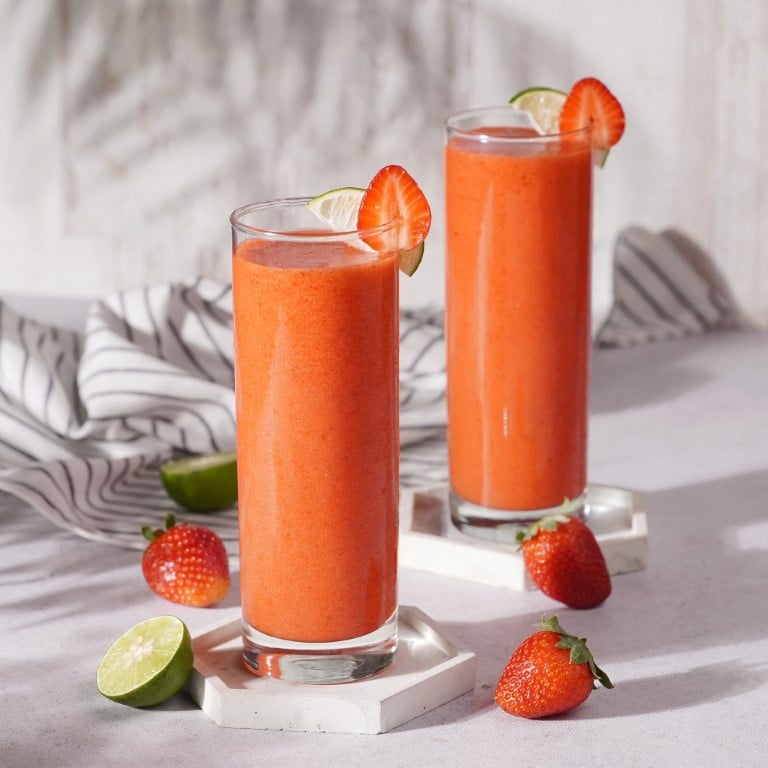 Ingredients
4

cups

frozen strawberries

1

cup

fresh strawberries

1

cup

lime juice

1

cup

maple syrup or sweetener of choice

Optional: a couple drops of bitters or 1 tsp. grated orange zest
Instructions
All ingredients ready? Let's begin!

Blend all ingredients in a high-speed blender until creamy.

Check the consistency. If it's too thick, add ¼ cup of water and blend again. Test and add a little more if required.

If necessary, add a little extra lime or sweetener according to taste and blend again.

Serve garnished with fresh strawberries and lime wedges.
Nutrition
Calories:
290
kcal
|
Carbohydrates:
73
g
|
Protein:
1
g
|
Fat:
1
g
|
Saturated Fat:
0.03
g
|
Polyunsaturated Fat:
0.3
g
|
Monounsaturated Fat:
0.1
g
|
Sodium:
10
mg
|
Potassium:
527
mg
|
Fiber:
4
g
|
Sugar:
58
g
|
Vitamin A:
52
IU
|
Vitamin C:
124
mg
|
Calcium:
125
mg
|
Iron:
1
mg
Notes & Tips
The secret to the luscious consistency of this gorgeous strawberry daiquiri mocktail is that it's made with all strawberries. I don't suggest replacing the frozen strawberries with ice. That would result in a watery daiquiri that separates when it's unfreezing.
This recipe yields approximately 60 fluid ounces in total. This means, that if your blender can handle more volume, you can multiply the recipe and make a larger batch. It's the perfect drink to serve to unexpected guests.
When blending the daiquiri and checking the consistency, make sure to add just a quarter cup of water at a time. Then, blend it again, check the consistency again, and, if needed, add another quarter cup and repeat. Don't add too much at once or you could water down the frozen strawberry daiquiri.
I know this is a mocktail recipe, but you can always have a bottle of rum at hand for adult guests who want to spike their cocktail. One shot glass of rum per serving will do the trick.
Pro tip! To keep the virgin strawberry daiquiris frozen longer, chill your glasses before serving. Now, you've basically graduated barista school!
Substitutions & Serving Suggestions
This refreshing virgin strawberry daiquiri is ideally served immediately in a martini glass, daiquiri glass, or coupe glass. I like to garnish with a fresh strawberry and thin lime wedge on the side of the glass. It makes the drink look super fancy.
If you don't have access to fresh strawberries, you can always unthaw 1 cup of frozen strawberries. Frozen strawberries are usually packaged and frozen right after they're picked at their peak ripeness. This means that they have all the flavor and vitamins characteristic of fresh strawberries.
When it comes to lime juice, fresh is best. But if you don't have limes, use lemons! Of course, you could also substitute with packaged lime juice if you don't have fresh limes or lemons. But the taste is better with fresh. If you are substituting, make sure you use a brand that is 100% lime juice.
Now, let's talk sweetness. You can make this strawberry mocktail as sweet as you like. Maybe it's the strawberry season where you're at and the strawberries are so sweet and juicy that you don't even need to add any sweetener. 
You can use your preferred sweetener such as agave syrup, stevia, or monk fruit sweetener. I prefer a neutral-tasting sweetener that won't alter the taste of the beverage. Just bear in mind that if you're replacing maple syrup with a non-liquid sweetener, you might need to add more water to blend. Just add water ¼ cup at a time, blend, and check the consistency each time.
Now, I know that bitters contain alcohol. But adding just a few drops of bitters to the strawberry daiquiri mocktail will make the flavors come together so nicely. It's such a small amount, so, it won't give you any of those nasty side effects the day after. But even if you leave it out, it'll still taste great. 
Instead of using bitters, you can add a teaspoon of freshly grated orange zest. That'll give your mocktail a delicious bitter undernote with no added alcohol at all. I also like adding a tiny pinch of fresh thyme for the aromatics.
Other Mocktails You May Like
If you enjoyed this deliciously refreshing strawberry daiquiri mocktail, you've got to try these mocktails too! Both are wonderfully satisfying summer drinks that are packed with vitamins and good vibes. 
Refreshing Watermelon Mocktail. A cooling and naturally sweet refreshment with hints of mint and lime. It's also super easy to make and the perfect drink for quenching your thirst on a hot summer day.
Homemade Mojito Mocktail. The classic mojito, but suitable for the whole family. It's ready in 5 minutes and will make you feel like a real barista. Not to mention, it's delightfully refreshing.
How Is Non-Alcoholic Rum Made?
Did you know that there's such a thing as non-alcoholic rum? I know, it sounds weird. How is non-alcoholic rum made if the whole point of spirits is to convert them into…well…spirits? I did some investigation to find out.
It turns out that distillation can also result in a non-alcoholic beverage. Yes, you read that right. The process of elaborating non-alcoholic rum involves two such distillations. The first is with more delicate botanicals such as flowers and leaves. The second is with more potent botanicals such as roots and spices.
After distillation comes maceration: the source of the desired flavor is soaked in a cold liquid, usually a neutral-grain spirit. Later, through another process of distillation, the alcohol is extracted from the spirit leaving us with a rich bouquet of flavors without any of the ethanol. Pretty cool stuff.
But, is it worth buying an entire bottle of non-alcoholic rum when you could use just a few drops of bitters in your mocktails instead? I'm not sure I'm convinced. Either way, non-alcoholic spirits are another option you can try when making your favorite cocktails into mocktails. Cheers!
---
Recent Recipes