Bubbly drinks are always a hit, regardless of the season. Fermented drinks are also having a moment in the culinary world. Kombucha has never been so popular and there are plenty of reasons why. Fermented drinks have the good bacteria our gut needs.
Personally, I love finding bubbly drinks that are non-alcoholic, flavorful, and colorful. It's a great way to stay hydrated when water is getting a little redundant. What's even better is when you can make the drinks at home.
Fermented drinks also have many other health benefits. They are known to have antimicrobial effects, have probiotics, and are known to help lower blood pressure. This particular kvass is high in antioxidants and you can tell by it's vibrant rich color.
Fermenting at home is actually quite simple and this strawberry kvass is a great recipe to try. It's really simple and would be a great place to start if you have never fermented before.
Historically, kvass is made by fermenting rye bread into a bubbly beverage. Here, we are going to use organic strawberries for a pink, delicious, fruity beverage you're going to love. It's beautiful and delicious.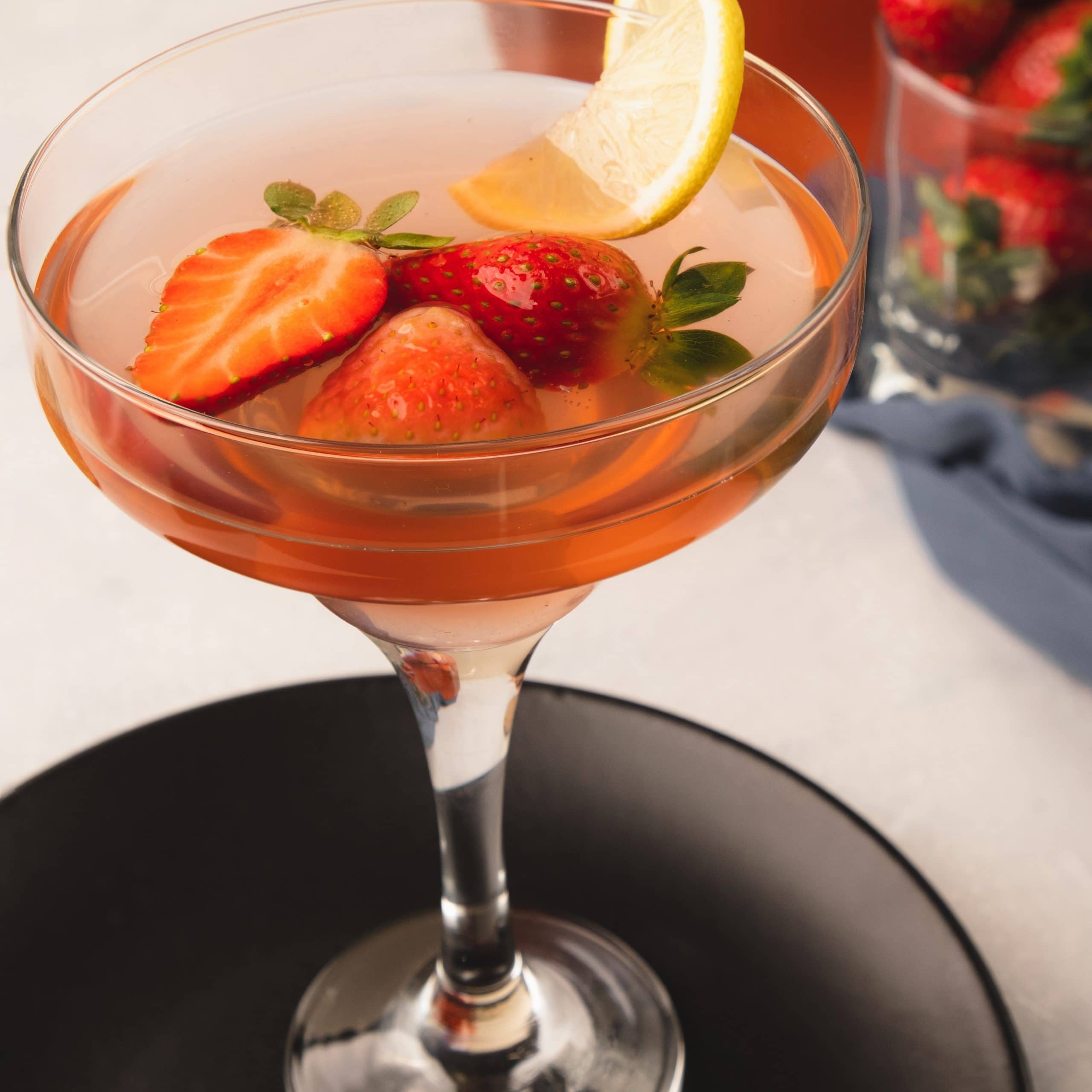 Equipment
1 gallon food safe jar

(mason jar, plastic bucket with lid, or ceramic crock)
Ingredients
2

pounds

fresh

organic strawberries

½

cup

organic sugar

Dechlorinated water

Pinch

of sea salt
Instructions
Prepare a 1-gallon jar by cleaning and disinfecting to be sure that there is no dust or bacteria in the jar. One of the best ways to do this is to boil the jar in water for 5-10 minute or run it through the sanitizing cycle of your dishwasher (with no soap) after you have hand washed it.

Rinse the strawberries and remove any that have any bruising or dark spots.

Dissolve the sugar in about 1 gallon of water. You can do this by heating the water in a kettle and then pouring into your 1 gallon vessel. Then pour the sugar in and stir to dissolve. It's very important that you make sure the water comes to room temperature before proceeding.

Once the water is back to room temperature, add the strawberries and pinch of sea salt. Stir everything together.

Cover the lid tightly. There should be about 1" headspace in the jar.

Store the jar in a warm, safe space to ferment for a few days. The top of the refrigerator is a great spot.

Check the fermentation a few times a day. You can "burp" the jar by loosening the lid just a little bit to allow the air to come out. This will prevent the carbon dioxide from expanding and running the risk of the jar exploding. You can also stir the mixture every so often.

After three days, smell and taste the kvass. If it's to your liking, it's time to strain.

Strain the strawberries out of the jar and pour the liquid into individual bottles or whatever vessel you would like the kvass to be stored in.

If you want the kvass to be a bit more buddly, you can let the kvass sit at room temperature (sealed) for another day or so. If you like it as is, store the bottles in the refrigerator.

The strawberry kvass will stay fresh in the refrigerator for about one week.
Video
Nutrition
Calories:
51
kcal
|
Carbohydrates:
12
g
|
Protein:
2
g
|
Fat:
1
g
|
Saturated Fat:
1
g
|
Polyunsaturated Fat:
1
g
|
Monounsaturated Fat:
1
g
|
Sodium:
14
mg
|
Potassium:
258
mg
|
Fiber:
4
g
|
Sugar:
5
g
|
Vitamin A:
1927
IU
|
Vitamin C:
14
mg
|
Calcium:
110
mg
|
Iron:
2
mg
Notes & Tips
It's very important to use the freshest berries that you can find. Removing any ones that might be bruised or molding will lessen the chance of harmful bacteria growing in your strawberry kvass.
To speed up the process of dissolving the sugar, you can dissolve the sugar in a smaller amount of hot water and then add cold or room temperature water to fill the gallon vessel.
These flip top bottles would work great for storing the strawberry kvass. Alternatively, you could reuse commercial kombucha bottles.
A gallon jar like this would work great for the initial fermentation. It has a fermenting lid which allows the air to escape naturally and you would not need to "burp" the jar.
It's ok (and actually encouraged) to stir the mixture every so often. You want the berries to move around and not run the risk of being exposed to the air. If they become exposed to the air for too long (float to the top) they may develop mold. This is also a great way to tell if your kvass is getting bubbly.
Strawberry kvass makes a great mixer for alcoholic and non-alcoholic drinks.
You can enhance the flavor of the kvass either when you bottle it or when you serve it. For example, you could add a splash of elderberry syrup to deepen the flavor and increases the health benefits.
Substitutions
You can use other berries instead of strawberries. You can also use a variety of berries all at once. Again, just make sure they are ripe, fresh, and not showing any signs of molding.
You can use frozen strawberries, too. In fact, these might be your best bet when strawberries aren't in season. Fruit is often frozen at its freshest point and is a great option when you can't get your hands on the very best strawberries.
You can use other sugars instead of white sugar. Maple syrup and honey would be two interesting flavors to try.
Is Strawberry Kvass Alcoholic?
As with any fermented beverage, there is a very small amount of alcohol. The content usually does not exceed 1.5%. However, if you let the kvass ferment for longer than three days, it will develop a higher alcohol content.
Is Kvass Safe To Drink?
There are some pretty basic ways to tell if your kvass is safe to drink. First, you should be able to tell by looking at it if the berries have gone bad.
Second, always smell before tasting. It should have a sour, almost vinegar-like, smell to it. Plus, it will smell fruity and a little tangy. If it smells moldy or rancid, you should not drink it.
More On Fermenting
Fermenting is an entire culinary culture that is really fun to dive into. The fermenting world goes well beyond fruity drinks. We have a lot to say about fermenting and look forward to trying more recipes.
---
Recent Recipes