Crunchy Strawberry Shortcake Cheesecake
Hold onto your hats everyone because this might be the most decedent dessert EVER. Picture this: cheesecake (amazing), strawberries (delicious), shortcake (mouth-watering), and crunch (tantalizing). This is one of the best desserts you'll ever have (though this homemade Vietnamese honeycomb cake is a strong contender).
Before starting, set out all your butter, cream cheese, yogurt, and milk so it can reach room temperature. There are a lot of moving parts for this recipe, but several of them can be done simultaneously. Make sure to read through the recipe completely before beginning. Food coloring is optional, but boosts the aesthetic of the cake.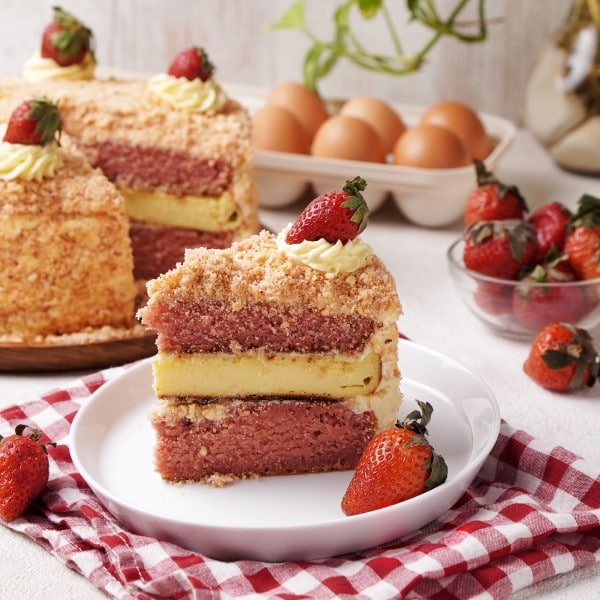 Ingredients
1 ½

lb

fresh strawberries

2

sticks butter

Red food coloring

2 ½

cups

cake flour

2

tsp

baking powder

½

tsp

baking soda

1

tsp

salt

2 ½

cups

sugar

8

eggs

1/3

cup

plain yogurt

5 ½

tsp

vanilla extract

½

cup

2 tbsp milk

½

box Nilla wafers

crushed

1

box strawberry jello

¼

cup

of cornstarch

3 8

oz

blocks of cream cheese

¼

cup

of heavy whipping cream

2

cups

of powdered sugar
Instructions
Wash and destem all the fresh strawberries. Pat dry with paper towels, then add to a blender or food processor. Blend until fully pureed.

Transfer the pureed strawberries to a small saucepan and place over medium heat.

Bring to a simmer and stir occasionally for about 35 mins. The strawberry should cook off until it has decreased in volume and become thicker.

Remove the strawberries from heat and set aside or put in the fridge to cool to room temperature.
To make the strawberry cake:
Preheat oven to 350F.

In a large mixing bowl, add the cake flour, baking soda, baking powder, and 1 tsp salt. Whisk together.

In a standing mixer, add ¾ cup butter and 1 ¾ cup of sugar. Beat for several minutes or until mixture becomes light and fluffy. (You can also do this using a handheld electric mixer or a wooden spoon).

Separate 5 yolks from their whites. Add the whites to the butter-sugar mixture and continue beating until fluffy again, about 2 minutes.

Add the yogurt and 2 tsp vanilla. Keep beating until mixed.

Carefully add the dry ingredients and mix until just combined.

Carefully pour ½ cup of milk in and mix until just combined.

Add ½ cup of the previously made strawberry puree.

Add a couple drops of food coloring and mix until combined.

Prep two 9-inch round cake pans with a non-stick spray or butter and flour.

Divide the cake batter evenly between the cake tins and bake for 30 minutes or until an inserted skewer comes out clean.

Place the pans on a wire rack with the cake still in to cool completely. Once fully cooled, turn out onto the rack.
To make the cheesecake:
In the bowl of a stand mixer (or use a handheld electric mixer) add 3 softened blocks of cream cheese, ¼ cup heavy whipping cream, and 2 tsp of vanilla. Beat for 5 minutes or until soft and creamy.

Add 3 eggs, one by one and mixing thoroughly between each one.

In a small bowl, add the cornstarch and ¾ cup of sugar. Mix together.

Slowly add the sugar mix to the cheese and beat on medium until thick and smooth.

Line a round 9-inch springform pan with parchment paper sprayed with non-stick oil.

Put the pan on a baking tray and pour the cheese mix into it. Bake at 325F for 45 minutes. Even when a cheesecake is done cooking, an inserted skewer will still come out wet and the center will still jiggle a bit. When done cooking, remove from oven and allow to cool and set for at least an hour in the fridge.
To make the crumble:
Put the wafers in a ziplock bag and seal it. Use a meat mallet or rolling pin to smash it into small crumbs.

Transfer the cookie crumbs to a bowl and add the jello powder.

Melt 4 tbsp butter and pour into the cookie crumbs along with a couple drops of red food coloring. Mix everything together until evenly distributed.

Line a baking tray with parchment paper and spread the crumb mixture across in an even layer. Bake at 350F for 10 minutes until a little dried out. Set aside.
To make the frosting:
In the bowl of a stand mixer add the remaining cream cheese, 2 tbsp milk, and ½ cup of softened butter. Beat until light and fluffy.

Add 1 ½ tsp vanilla and mix. Slowly add the powdered sugar and beat for several minutes until thick and smooth. If the consistency is a little off, you can add more powdered sugar or milk until it reaches the right texture.
To assemble:
Place one of the strawberry cakes on a cake dish. Generously frost the top and place the cheesecake on top. Generously frost the top of the cheesecake and place the last strawberry cake on top.

Use the rest of the frosting to cover the top and sides of the cake. Sprinkle the cookie crumbs on top of the cake and press into the sides until the cake is covered.

Admire, cut, serve, and enjoy!
Video
Nutrition
Calories:
528
kcal
|
Carbohydrates:
90
g
|
Protein:
10
g
|
Fat:
15
g
|
Saturated Fat:
8
g
|
Polyunsaturated Fat:
1
g
|
Monounsaturated Fat:
4
g
|
Trans Fat:
1
g
|
Cholesterol:
143
mg
|
Sodium:
446
mg
|
Potassium:
222
mg
|
Fiber:
2
g
|
Sugar:
66
g
|
Vitamin A:
611
IU
|
Vitamin C:
33
mg
|
Calcium:
119
mg
|
Iron:
1
mg
Notes & Tips
Store leftovers covered in the fridge for up to a week.
Try saving a few whole strawberries to garnish the top of the cake with.
Several aspects of this cake can be prepared the day before. The puree is especially good to do beforehand because it can last the longest. You can even freeze excess. The other individual components of the cake can be made beforehand so all you need to do is assemble them when you're ready. Preparing things a day before is beneficial because it gives you time for everything to fully cool.
---
Recent Recipes