Learn how to make the best stuffed bell peppers American style. These stuffed peppers are filled with ground beef, rice, tomatoes, spinach, onions, and garlic, and topped with melted sharp cheddar cheese. But the best part, this recipe is super flexible, you can switch it up each time!
I'm going to share the quickest way to make stuffed peppers because I love it when a meal is quick, easy, healthy, and delicious. Plus, you can store these beauties for up to 5 days in the fridge, making them an excellent meal prep addition.
If you're asking yourself, are stuffed peppers good reheated? Yes, they are! I'm a person who always prefers to eat meals that are freshly cooked, but this easy stuffed peppers recipe is seriously just as good (or maybe even better) as leftovers. We've got a full guide on how to reheat stuffed peppers the best way.
Now, assemble your ingredients, and let's make this best stuffed peppers recipe ever!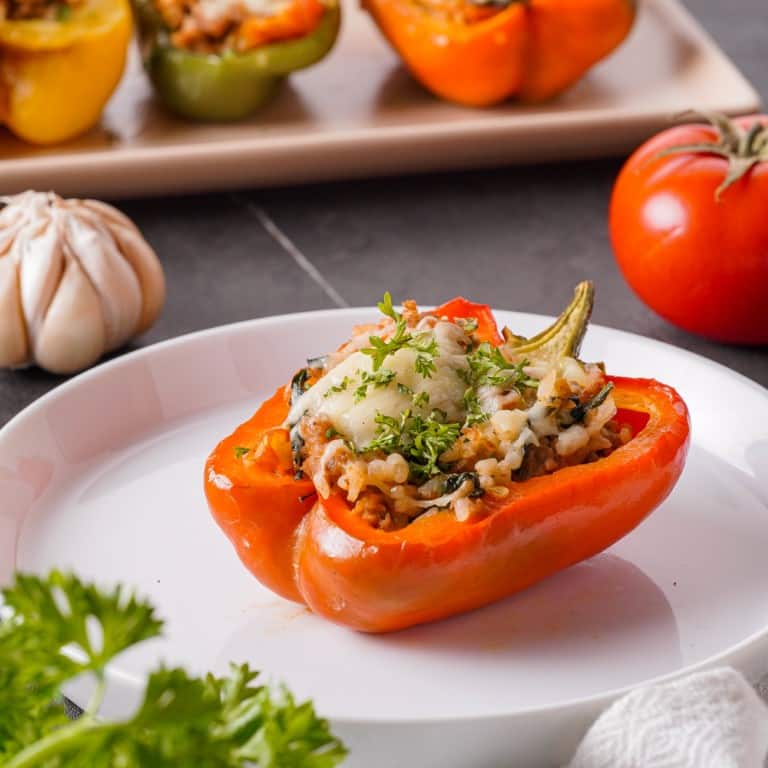 Ingredients
6

bell peppers

3

Tbsp.

extra virgin olive oil

EVOO

1

small onion

diced

3

cloves

garlic

minced

1

lb.

lean ground beef

or ground turkey, chicken, or lamb

1 15-

ounce

can fire roasted tomatoes

drained, or freshly diced cherry tomatoes

1 ½

cups

cooked rice

leftover rice works great

2

cups

spinach

chopped

½

cup

sharp white cheddar cheese

freshly grated

½

Tbsp.

Italian seasoning

1

tsp.

paprika powder

Salt and pepper to taste

Chopped fresh parsley or chives to garnish
Instructions
All ingredients ready? Let's begin!

Preheat oven to 350°F. Cut the bell peppers in half lengthwise and remove the seeds and membrane (leave the stems). Drizzle or spray with a little EVOO and coat both the inside and outside of the peppers. Sprinkle with a bit of fine sea salt. Place them upside down on a baking tray (or two) and pre-bake them for 15 minutes.

Make the stuffing by heating about 2 tablespoons of EVOO in a large skillet over medium heat, then sauté the onions and garlic for 1-2 minutes.

Add the ground beef and cook until it's browned and any excess liquid has evaporated, separating the chunks of beef with a spatula as you go.

Once the beef has cooked and the liquid has evaporated, add the drained can of fire-roasted tomatoes or cherry tomatoes, rice, spinach, Italian seasoning, paprika, salt, and pepper. Stir for a few minutes or until the spinach has wilted.

After the 15 minutes are up, remove bell peppers from the oven and flip them using tongs. Fill the peppers with beef mixture and top with freshly grated cheddar cheese. Put them back in the oven and bake for 20 minutes or until the peppers are soft.

Serve immediately with fresh parsley or chives to garnish. Bon appetite!
Notes
Nutrition
Calories:
322
kcal
|
Carbohydrates:
25
g
|
Protein:
22
g
|
Fat:
15
g
|
Saturated Fat:
5
g
|
Polyunsaturated Fat:
1
g
|
Monounsaturated Fat:
8
g
|
Trans Fat:
0.3
g
|
Cholesterol:
56
mg
|
Sodium:
249
mg
|
Potassium:
647
mg
|
Fiber:
4
g
|
Sugar:
7
g
|
Vitamin A:
5486
IU
|
Vitamin C:
158
mg
|
Calcium:
145
mg
|
Iron:
4
mg
Notes & Tips
What makes this the best easy recipe for stuffed peppers is not only the incredible flavor but also how simple and quick you can get this meal on the table. If we'd used whole hollowed-out bell peppers then the cooking time would be a lot longer. Plus, you also end up wasting a lot of pepper by taking that route.
Don't forget to rub the raw peppers with EVOO and salt before pre-baking them. This will intensify their flavor and also help release excess moisture. You'll end up with beautifully roasted and slightly caramelized bell peppers bursting with taste.
Before stuffing the peppers, taste the beef mixture and add more salt and pepper if needed. Just remember that the cheddar cheese is pretty salty, so don't over-salt.
For improved flavor, season the rice before adding it to the filling. We've got some tips on how to fix rice sticking to the bottom of various cookers, if you need. You can also use leftover rice from last night's meal. I've tried stuffing peppers with this Haitian black mushroom rice and it's fantastic, trust me.
Grate the cheese yourself as pre-shredded cheese usually has additives that compromise the flavor and texture of the cheese. You don't want any potato starch, powdered cellulose (wood pulp), cornstarch, or natamycin (fungal medication) in your stuffed peppers recipe.
When prepping the filling, it's crucial to let any excess liquid from the meat evaporate. You can also drain any excess liquid to save time. Otherwise, you can end up with watery stuffed peppers which are not attractive at all.
Substitutions & Variations
This classic best-stuffed peppers recipe with ground beef and rice is perfect as it is, but you're more than welcome to adapt this recipe to meet your dietary needs or preferences.
To make this easy stuffed peppers recipe keto, replace the rice with sautéed mushrooms, diced zucchini, shredded carrots, or cauliflower. Any veggie that cooks fast or is precooked (and is keto-friendly) will work here.
You can also make stuffed peppers without rice and use another cooked grain instead. Couscous, barley, millet, or quinoa are all great options. Any variety of rice works too. Remember to pre-cook your grains as this is a quick stuffed pepper recipe.
One of my favorite substitutes for rice is couscous because it's super easy to cook. You just have to boil water, add it to the couscous, and let it sit, covered, for 5 minutes. Try this delicious couscous from our Moroccan couscous bowl recipe.
To make this best stuffed peppers recipe vegetarian, substitute the ground beef with black beans, chickpeas, feta cheese, or scrambled eggs. The options here are endless. Make Greek-style stuffed peppers by adding feta cheese, black olives, and garbanzo beans, then top them off with some tzatziki yogurt sauce.
You can even turn this stuffed peppers recipe vegan by replacing the ground beef with beyond meat, texturized plant protein (TPP), beans, lentils, or a mix of chopped walnuts sautéed with mushrooms. As for vegan cheese, we've got you covered with this extensive list of the best vegan cheese for quesadillas.
I love using sharp white cheddar cheese to melt on top of these scrumptious stuffed peppers. We've gone and saved you the trouble of finding the best cheddar cheese by taste testing over 20+ cheddar cheeses and giving our honest feedback.
But if you want to substitute another cheese, just make sure it's good for melting. Some other great ideas include Monterey Jack, Provolone, Comte, Edam, Maasdam, provolone, fontina, gouda, or even parmesan cheese.
Where Do Stuffed Peppers Come From?
Stuffed peppers are enjoyed in many countries around the world. There isn't any specific country that claims to have invented them and we don't even know when people started consuming stuffed peppers.
In Hong Kong, stuffed peppers are part of street food called Three Fried Stuffed Treasures, in Spain, they're traditionally filled with Manchego cheese, chicken, or cod in red sauce. Indian cuisine has several variations of deep-fried stuffed hot peppers, while in Eastern Mediterranean cuisine, dolma can also be made with peppers instead of grape leaves.
Other Delicious Stuffed Peppers Recipes To Try
Mexican Chicken Stuffed Peppers. This recipe has shredded chicken, enchilada sauce, black beans, corn, green chilies, and lots of aromatic Mexican seasonings.
Italian Style Stuffed Peppers. Similar to this classic recipe, but with Locatelli cheese, bread crumbs, Italian seasonings, and a rich tomato sauce.
Potato Stuffed Peppers. With shredded caramelized potatoes and topped with sour cream, this is a delicious gluten-free and vegetarian dinner idea.
---
Recent Recipes