Simple Stuffed Zucchini with Feta
In the summer months, homegrown vegetable gardens are overflowing with zucchini of all sizes. Zucchini is incredibly easy to grow and can thrive in most climates. So, during harvest season, we find ourselves making ample amounts of grilled zucchini, zucchini bread, and other zucchini recipes.
Stuffed zucchini, or sometimes called zucchini boats, are a great way to use up the garden favorites. Stuffed zucchini with feta is a delicious recipe to try that's easy to make and full of flavor.
We're going to stuff the zucchini with a feta-filled stuffing that's full of tasty herbs, lemon, spinach and chunks of crusty bread, plus an egg mixture to bind it all together. The flavors are similar to Mediterranean recipes. You may even think it resembles a much easier version of spanakopita.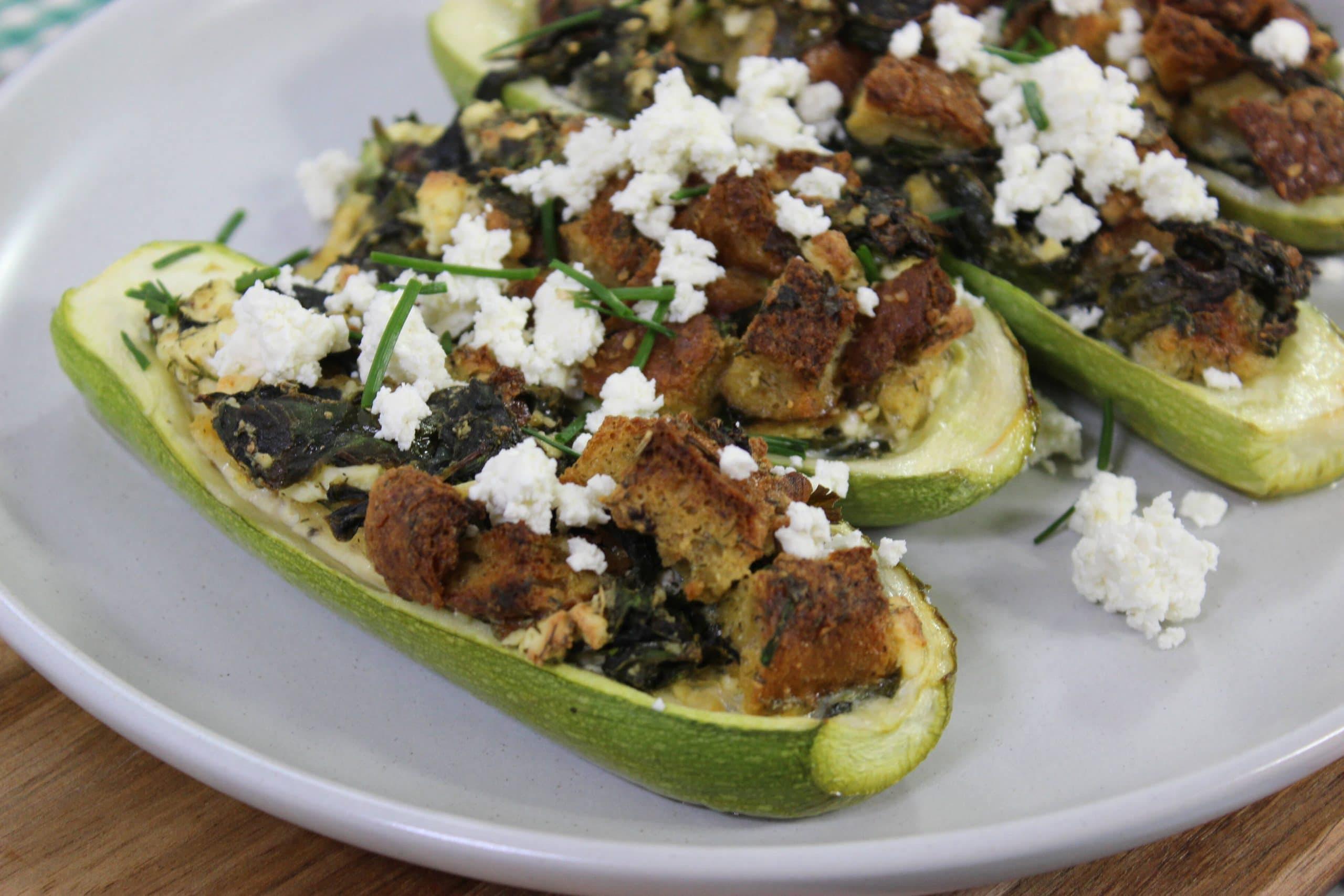 Ingredients
2

medium zucchinis

or 4 small

Extra virgin olive oil

Salt and pepper

1

teaspoon

extra virgin olive oil

1

clove

garlic

minced

2

cups

loosely packed spinach

½

teaspoon

salt

½

lemon

2

eggs

1

tablespoon

fresh dill

chopped

1

tablespoon

fresh parsley

chopped

¼

teaspoon

black pepper

1-2

slices

day old crusty bread

¾

cup

fresh feta

crumbled

1

tablespoon

fresh chives

sliced thin
Instructions
Preheat the oven to 375F.

Slice the zucchinis in half lengthwise. Scoop out the seeds and enough of the insides so there is room for the stuffing. Be sure to keep the skin intact.

Season the zucchini halves with olive oil, salt, and pepper.

To make the stuffing, start by sauteing the spinach. Heat a large skillet on medium high heat and add 1 teaspoon of olive oil and the garlic.

Add the spinach and cook until it's completely wilted. Squirt the lemon half over the spinach and be careful that the seeds do not go into the pan.

Season the spinach with the salt and set aside to cool.

Put your bread into the toaster for 1-2 minutes to dry it out even further. Then cut it into ¼" diced pieces.

While the spinach cools and the bread is toasting, beat together the eggs, parsley, dill, and black pepper.

Squeeze out any extra moisture from the spinach and chop it into small pieces. Add it to the egg mixture and stir.

Fold in the bread pieces and ½ cup of feta cheese.

Place the zucchini boats on a sheet tray.

Carefully place the feta and bread crumb mixture into the zucchini halves.

Bake the zucchini halves for 15-20 minutes or until the eggs are completely set.

Remove the zucchini halves from the oven and garnish with the extra feta cheese and fresh sliced chives.
Video
Nutrition
Calories:
160
kcal
|
Carbohydrates:
10
g
|
Protein:
9
g
|
Fat:
10
g
|
Saturated Fat:
5
g
|
Polyunsaturated Fat:
1
g
|
Monounsaturated Fat:
3
g
|
Trans Fat:
1
g
|
Cholesterol:
107
mg
|
Sodium:
693
mg
|
Potassium:
432
mg
|
Fiber:
2
g
|
Sugar:
5
g
|
Vitamin A:
1969
IU
|
Vitamin C:
31
mg
|
Calcium:
199
mg
|
Iron:
2
mg
Notes and Tips
Zucchinis can vary in size. When making the stuffing, use your best judgement. You may need to add an extra egg or bread in order to accommodate the size of your zucchini.
If your zucchinis are tipping over on the sheet pan, you can shape aluminum foil around the bottom to create a "boat" for them to sit in.
This recipe also works really well with yellow summer squash.
If you're working with really large zucchinis (I've seen some that are well over a foot long!) scrape out some of that extra flesh. You can chop it up and add it to the saute pan when you saute your spinach for a heartier stuffing.
Adding chopped nuts would be a tasty way to add more crunch to this recipe. Pine nuts or toasted walnuts would be great nuts to try.
What recipes go well with stuffed zucchini with feta?
Stuffed zucchini with feta are great on their own and they could also be a side dish. Here are some recipes that would pair well with this recipe:
Can you make stuffed zucchini and feta ahead of time?
Stuffed zucchini and feta would be a great meal to make ahead of time and consume for lunch later in the week, if you plan on storing it in the refrigerator. You can store the cooked zucchini halves in an air-tight container for up to three days.
Can you freeze stuffed zucchini and feta?
It's not recommended to freeze this meal. While the flavor would stay intact, the zucchini itself would lose their tender texture when thawing out. They would get soggy and would not be nearly as tasty.
How to reheat stuffed zucchini and feta
You can reheat the stuffed zucchinis in a microwave or toaster oven. A toaster or convection item would be ideal for the best flavor and texture.
If you don't have a microwave or toaster oven nearby for reheating, don't worry! You can read here about the best portable food warmers.
Substitutions
This recipe is already vegetarian, however it is not vegan or dairy free. It's delicious as it is, but can easily be adapted to fit specific dietary needs.
If you would like for it to be vegan, you can use an egg substitute and omit the feta cheese. You can also omit the egg and not use an egg substitute, but the stuffing will not hold together as nicely.
You can use gluten-free bread if you are avoiding wheat products. There are a lot of gluten-free options out there for you to try. You could also use gluten-free croutons.
Alternatively, you could easily add meat to this recipe if you aren't following a vegetarian diet. Adding ground beef or ground turkey would be great additions to the stuffing mixture. You could also add diced bacon, ham, or prosciutto.
There are also a few other cheeses that would work well in case you don't have any feta cheese. You could also use shredded parmesan, goat cheese, or chopped halloumi. They all have a nice texture that will work well when the stuffed zucchini is being cooked and as a garnish.
---
Recent Recipes