Best Substitutes For Almond Butter
Nut butters like almond butter have become increasingly popular, especially in low-carb and keto diets. But what happens if you don't particularly like the taste of almonds, are allergic, or don't want to buy a whole jar for just one recipe? What can you use instead of almond butter?
Other nut butter substitutes for almond butter include peanut, pistachio, cashew, macadamia, walnut, coconut, hazelnut, and pecan nut butter. You can replace almond butter with seed butters like sunflower seed or pumpkin seed butter. Other alternatives are mashed banana, mashed avocado, Greek yogurt, or salted butter.
If you love nuts but don't have almond butter in particular, there are many other nut butters to try! You can easily use Sunflower seed, pumpkin seed butter, fruits like banana or avocado, or even add some Greek yogurt. Read on to find out which alternative will work best for you.
Substitutes For Almond Butter
Before we get into alternatives, let's take a quick look at what almond butter is, its uses and what makes it healthy. Essentially, you want to replace it with something that is somewhat similar or has even more benefits.
What Is Almond Butter?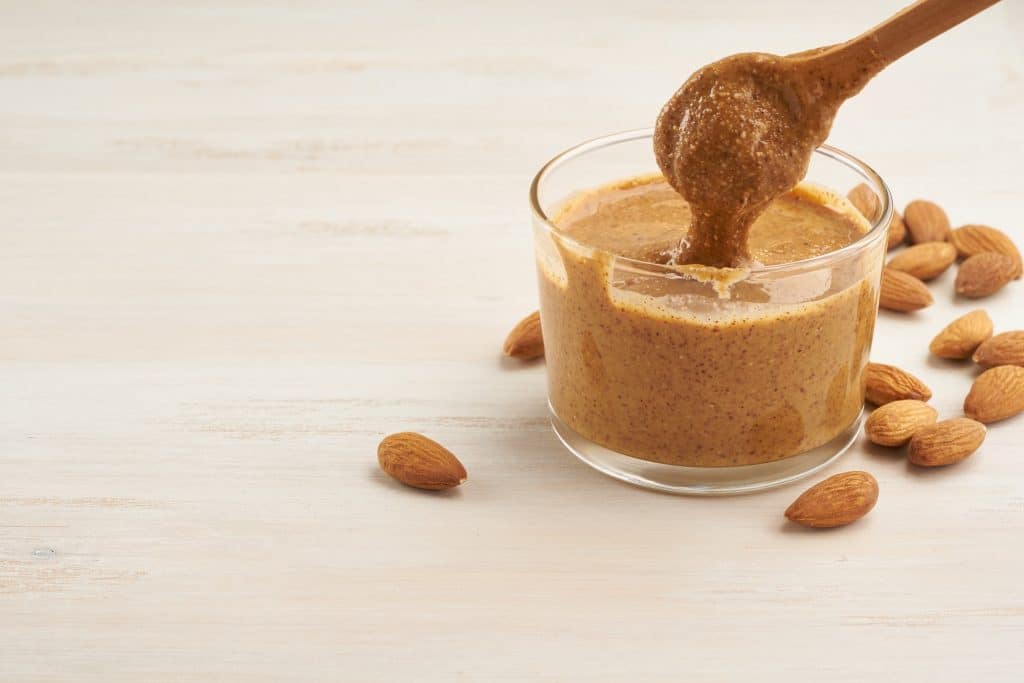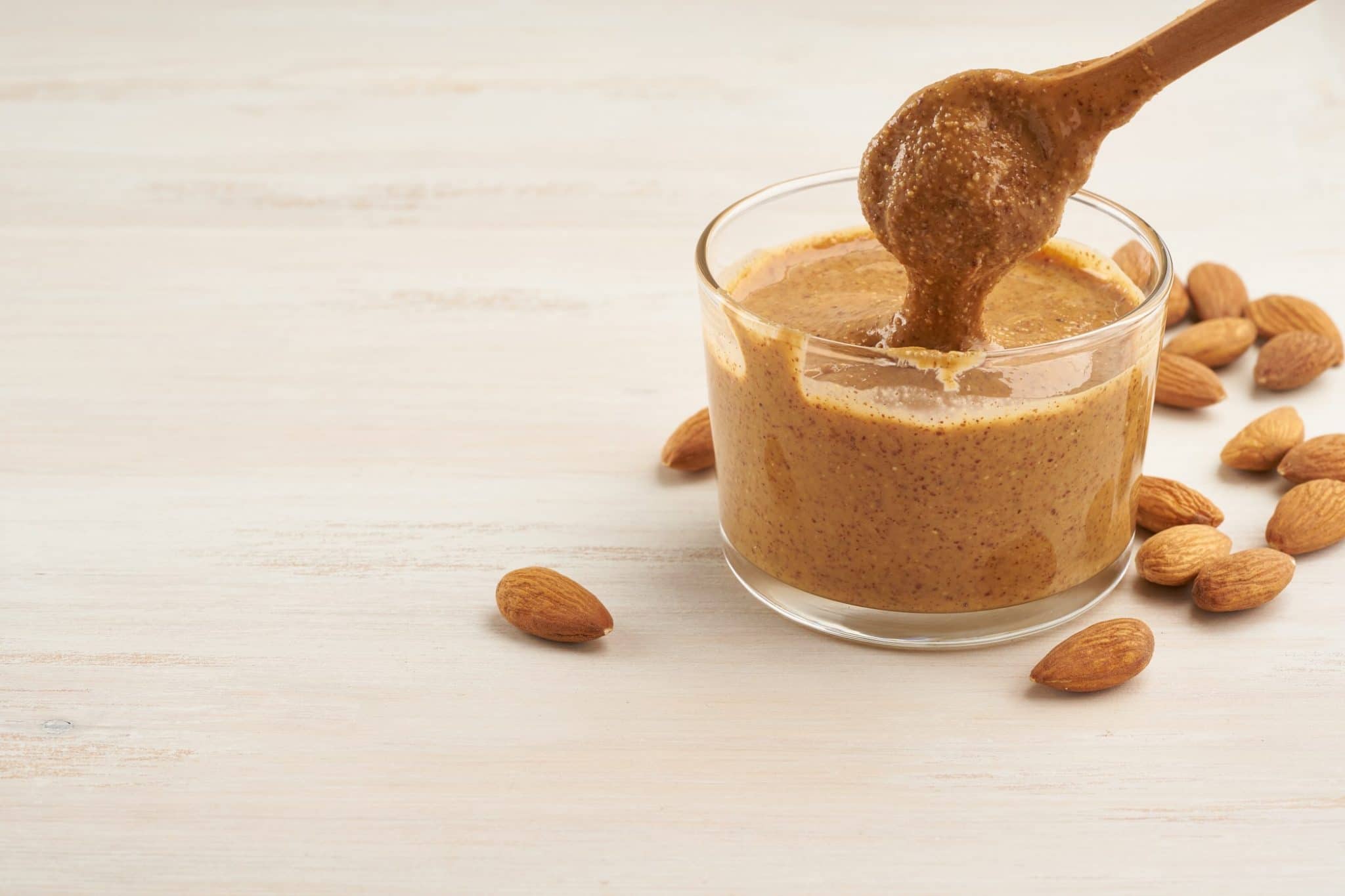 Almonds are edible seeds produced by the Prunus dulcis tree, more commonly known as the almond tree. Almond trees were originally cultivated in the Middle East, but they are now cultivated in other countries, with the United States being the largest producer in the world.
Almond trees belong to the Rosacea family and are closely related to other trees in the same genus, for example, peach trees. Almonds are available in a raw or roasted form and are used to make various almond-based products, including almond flour, almond milk, almond oil, and almond butter.
Almond butter is made by grinding almonds into a light, tan-colored paste and has a smooth texture that closely resembles that of peanut butter. It tends to be more pricey than peanut butter but is generally still affordable compared to other nut butters.
Almond butter can be enjoyed on toast or as flavoring in yogurt or ice cream. It's also commonly used in smoothies, sauces and baked recipes.
It is low-carb and low GI and contains mostly healthy monounsaturated and polyunsaturated fats. Almond butter also contains a good amount of protein and is high in vitamin E, vitamin B, zinc, magnesium, potassium, calcium, and omega-3 fatty acids.
Other Nut Butters That Can Replace Almond Butter
Unless you're allergic to all types of tree nuts, the best alternatives to almond butter would be other nut butters. Various nut butters are available nowadays with a similar texture to almond butter and good nutrient content.
Many recipes may have almond butter listed as an ingredient, whether it's a healthy recipe or a delicious dessert. If you don't have almond butter or don't like almonds, try out one of these nut butters instead.
Peanut Butter As A Substitute For Almond Butter
Everyone knows peanut butter, so I cannot leave this one out. Peanut butter ranks as one of the most popular nut butters of all and also the most affordable. It is readily available in most stores and has been around for years.
Although almond butter is a bit healthier than peanut butter, the latter still contains protein, vitamins, and minerals needed for a healthy recipe. It has a delicious taste that's slightly sweeter than almond butter and is great for any recipe containing almond butter.
Pistachio Butter As A Substitute For Almond Butter
Pistachio butter can be quite scarce and slightly more expensive than almond butter. Its health benefits are what make it a great alternative to almond butter. Raw pistachios already have a soft texture and turn into a delicious, creamy paste when blended into a butter.
Pistachio butter is very high in antioxidants, containing much higher levels than almond butter. Pistachios are also lower in calories and high in vitamin A and potassium. Pistachio butter has a slightly more earthy taste than almond butter, but is still tasty on toast and as a filling in baked goods and savory treats.
Cashew Butter As A Substitute For Almond Butter
Roasted cashews are used to make cashew butter, which serves as a good alternative to almond butter. It is low-calorie and contains healthy unsaturated fats that are good for heart health. It contains slightly less protein than almond butter but is high in phosphorous, copper, and iron.
Cashew butter has a thick, creamy texture similar to almond butter and a light, sweet flavor that will work well in any recipe where you would have needed to use almond butter. This alternative is good for baking and tastes great on toast.
Macadamia Butter As A Substitute For Almond Butter
Macadamia butter is the best alternative if you suffer from high cholesterol or heart problems. Macadamia butter has been shown to reduce cholesterol levels and is healthy for your heart. It is lower in carbs than almond butter, contains more fiber and more fats, of which all are healthy monounsaturated fats.
Macadamia butter has also been shown to reduce inflammatory markers that pose a risk for heart disease. Macadamia nuts contain vitamins like Vitamin B6, iron, phosphorous, magnesium, copper, and manganese, and are high in healthy fats and omega-3 fatty acids.
Coconut Butter As A Substitute For Almond Butter
Most people know about coconut oil, but have you heard of coconut butter? Coconut butter is made from whole coconut and contains more fiber than coconut oil. It is a good replacement for almond butter, especially in baked goods.
Coconut butter contains lauric acid, which acts as an immunity booster. It also contains healthy fats and nutrients like amino acids, magnesium, and calcium.
Walnut Butter As A Substitute For Almond Butter
Walnut butter contains less protein and fiber than almond butter and contains less healthy fats. It is, however, very rich in omega-3 fatty acids and fits well into a vegan or vegetarian diet where omega 3 and 6 are often lacking.
Walnut butter is a healthy alternative to almond butter and has been shown to reduce inflammation and lower LDL cholesterol.
Hazelnut Butter As A Substitute For Almond Butter
Hazelnut is a low-carb alternative to almond butter. It is a great option for those who follow a keto diet due to its high-fat content. Hazelnut butter is lower in protein and contains more calories than almond butter, but it is a great source of omega-6 and contains manganese, copper, vitamin, and vitamin E.
Hazelnut butter can replace almond butter as a nutritious spread and is a great alternative to use in cakes and cake frosting.
Pecan Nut Butter As A Substitute For Almond Butter
Pecan nuts are higher in antioxidants than any other nut, including almonds. Furthermore, it contains over 19 different vitamins and minerals, including vitamins A, B, and E, and potassium and magnesium.
They contain healthy fats and are high in omega 3 and 6. Pecan nut butter is also a good source of fiber. You can feel free to switch up almond butter with this delicious and healthy alternative.
Seed Butters As Alternatives To Almond Butter
Seed butters may never completely overthrow the nut butter trend, but they have become popular amongst individuals that suffer from peanut and tree-nut allergies. They are often included in recipes that contain natural and organic ingredients.
Many different types of seed butter are available, high in nutrients, antioxidants, and fiber. If you don't have or don't want to use almond butter, then seed butter may be a good option for you.
Sunflower Seed Butter As A Substitute For Almond Butter
Sunflower seed butter is light-green to a brownish paste with a mild, slightly sweet flavor and a good alternative to almond butter (or any other nut butter, in fact). You may find it's not as popular as nut butters yet, but once you've discovered it, you won't forget about it.
Sunflower seed butter is available in a creamy or crunchy texture, and there are sweetened and unsweetened options available. It is packed with nutrients like vitamin B, vitamin E, magnesium, copper, zinc, selenium, potassium, phosphorous, and other phytonutrients.
Pumpkin Seed Butter As A Substitute For Almond Butter
Pumpkin seed butter is a bright green paste made from the small white seeds you find inside a pumpkin. The green color and majority of the vitamins and minerals in the butter come from the green pepitas found within the fibrous shell of the seeds.
Pumpkin seed butter provides more protein than almond butter and contains fewer calories. It contains essential minerals that include potassium, zinc, iron, phosphorous, magnesium, and manganese. Pumpkin seed butter is especially high in vitamin K, which plays an important role in blood clotting and promotes healthy bones.
Other Alternatives To Almond Butter
Sometimes allergies get in the way, or you may just not be in the mood for nut butter. In this case, you want to use something completely different from almond butter in your recipe. The good news is that this is possible.
There are a few great alternatives to almond butter that you can use without sacrificing nutrition or flavor.
Mashed Bananas As A Substitute For Almond Butter
When baking something where the recipe calls for almond butter, mashed bananas are one of the best substitutes you can use, especially if you're a sweet tooth! They work well in baking because of their rich, creamy texture and sweet flavor.
Mashed bananas are particularly great for adding sweetness to desserts, smoothies, and sauces. Don't use this alternative if your recipe isn't meant to taste sweet and sugary.
Bananas contain vitamins and minerals, which include vitamin B6 and vitamin C, as well as potassium. Though they do contain sugar, they don't have any unhealthy fats or cholesterol.
The number of bananas you need will depend on the recipe. You can choose to leave the mashed bananas somewhat chunky or mash them until they're smooth and free of chunks, all depending on the texture that will work best for you.
Mashed Avocados As A Substitute For Almond Butter
Who would've thought that avocado could take the place of almond butter? Well, it can! Adding mashed avocado instead of almond butter will, no doubt, change the recipe's flavor, but you'll still have the buttery texture and health benefits.
Avocados aren't classified as nuts, but they have a slightly sweet, nutty flavor that tastes good in smoothies and toast. The creamy consistency of mashed avocados works well in baked dishes and adds some moisture to the dish.
Avocados contain healthy monounsaturated fats and are a good source of vitamin E, folate, potassium, copper, iron, and fiber.
Mash as many avocados as you need until you have the required amount for the recipe. Once completely mashed, they are very smooth, and you can use the same amount of mashed avocados in the recipe as you would have used almond butter.
Greek Yoghurt As A Substitute For Almond Butter
Though you won't use Greek yogurt as an alternative to almond butter on toast, you can use it in smoothies, pancake mixes, baked dishes, soups, sauces, and in your favorite cereal.
Greek yogurt adds a slightly tangy flavor that works well in sweet and savory dishes. However, if the recipe requires a nutty flavor, use a nut butter alternative instead of this one.
Greek yogurt has a different consistency to almond butter, requiring you to use more than almond butter. Use 1 ½ tablespoon of Greek yogurt for every tablespoon of almond butter to make sure you get the right consistency in the recipe.
Unsalted Butter As A Substitute For Almond Butter
If it's one of those days where you just don't have the time to rush off to the store to find one of the above alternatives, then plain unsalted butter will do the trick. It depends on the recipe, as you wouldn't want to add unsalted butter to a smoothie (if you want it to taste good!).
Unsalted butter won't add much flavor to the dish, but it will make the taste of other ingredients stand out more. Also, keep in mind that unsalted butter does not contain nearly as many nutrients as almond butter and is mostly fats. I wouldn't recommend this alternative if you are looking at making a healthy dish that should contain vitamins, minerals, and fiber.
Unsalted butter contains vitamins like vitamin A, D, and E, but it falls short of other nutrients and minerals found in almond butter and other alternatives. It works well to add a creamy texture and moisture to a dish, but it definitely takes last place in health benefits.
Which Substitute Will You Select?
You don't have to look for a whole different recipe or lose out on nutrients if you don't have almond butter. There are many healthy alternatives to almond butter that will ensure that your meal stays on the healthy side and still tastes delicious. You can choose from various other nut butters, go for seed butters or switch it up completely with bananas, avocados, Greek yogurt, or unsalted butter. Who knows? Maybe you discover a whole new recipe in the process!
---
Recent Recipes