Best Tacos de Pescado (Fish Tacos)
Tacos de Pescado are Mexican fish tacos. They're more specifically from Baja California. I know the name seems misleading, but Baja California is actually part of Mexico and not the USA California. The two are right next to each though. I know we all love tacos across the board, but I gotta say that these tacos de pescado are probably my favorite. I have tried a lot of similar recipes so I've compiled my favorite parts here for you to enjoy.
This recipe may look complicated at first glance, but it really isn't. Most of your work involves chopping veggies. If you're looking for a good chicken taco recipe instead, try these easy adobo chicken tacos. Or maybe you prefer beef tacos? No problem, I've got you covered there too with yummy queso birria tacos!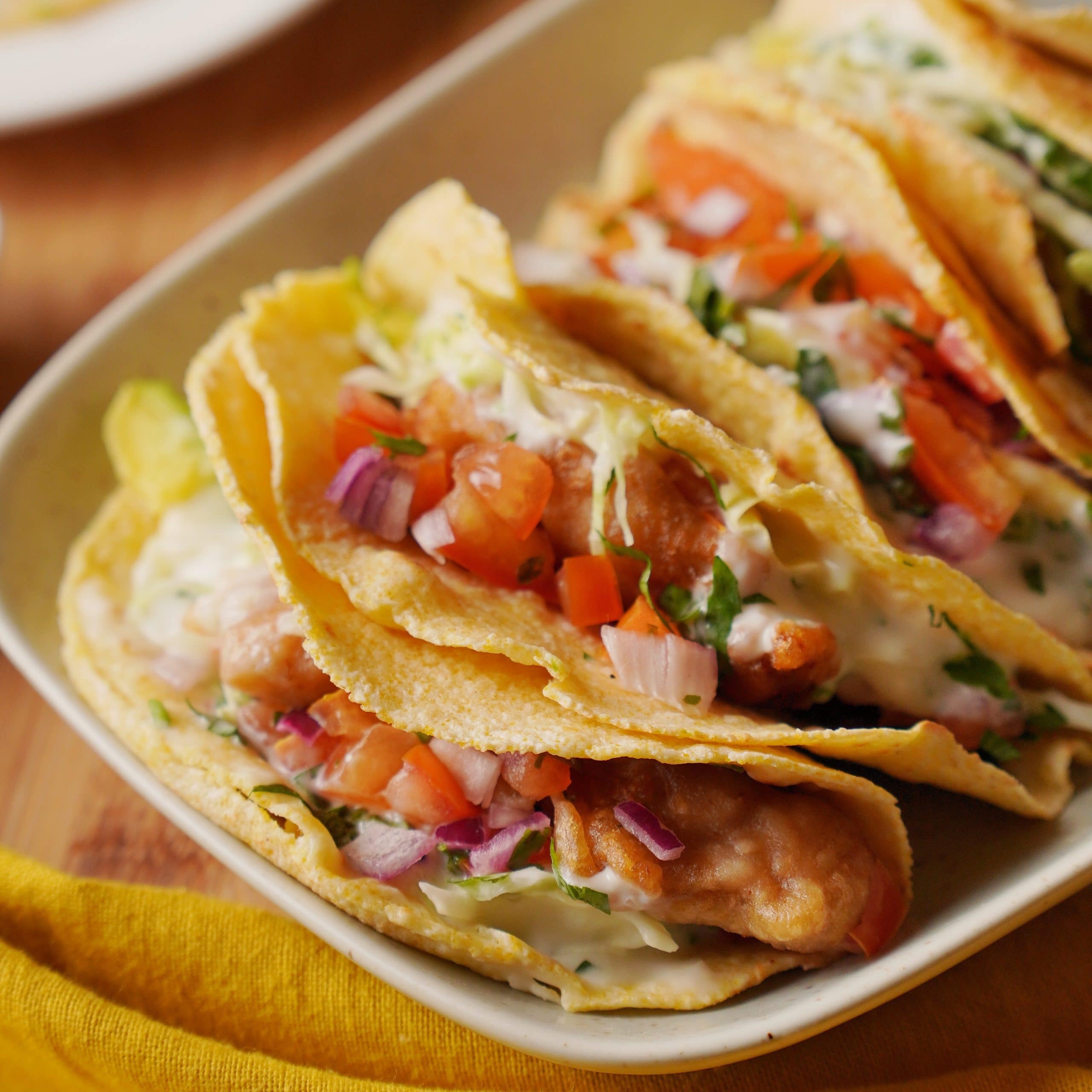 Ingredients
For the pica de gallo:
4

large tomatoes

½

red onion

1

cup

cilantro

1

tbsp

lime juice

salt
For the sauce:
½

cup

mayonnaise

½

cup

sour cream

¼

cup

milk

3

garlic clove

3

limes
For the tacos:
½

head cabbage

1

avocado

½

bunch cilantro

2

cups

flour

1

bottle dark beer

10+ oz

1

lb

firm white fish fillets

Vegetable oil

16

corn tortillas
Instructions
All ingredients ready? Let's begin!

Start with making the pico de gallo. Dice the tomatoes into small chunks and put in a medium bowl. Finely dice the onion and cilantro, then add to the tomato bowl.

Also add the lime juice and a pinch or two of salt then mix together. Cover and set aside.

Slice the fish into ¾ inch thick strips and pat off any excess liquid with paper towels.

In a small mixing bowl add the mayo, sour cream, milk, and juice of ½ lime. Finely dice or press the garlic and add to the bowl as well. Mix with a whisk or fork.

Cut the leftover ½ lime and the rest of the limes into wedges and set aside.

Use a serrated knife to thinly slice the cabbage starting at the top. You can cut the slices again if you prefer thinner shreds. Set aside. Cut the avocado in half, remove the pit, and slice onto a place. Chop up or destem the cilantro and set aside.

In a large skillet over medium high heat, warm enough oil to cover the bottom of the pan.

While you wait for the oil to heat up, use a large mixing bowl and add in the flour, beer, and salt. Whisk thoroughly until mixed. The texture should be thick like cake batter.

Check if your oil is ready by flicking some water on it or dropping a pinch of batter into it. If the oil sizzles and pops, it is ready.

Dunk all the fish into the batter and turn to make sure each piece is evenly coated. Use your hands or some tongs to move the fish from the batter into the skillet with hot oil.

Fry the battered fish for around 5 minutes, making sure to turn each piece so it is evenly fried. You can check the doneness by cutting into a piece to make sure it has cooked all the way through. The outside should be crisp and golden.

Remove cooked fish to a plate lined with paper towels to absorb excess moisture. Repeat with any remaining fish.

To assemble the tacos, heat the tortillas in the microwave for 30 seconds to a minute or briefly warm them one by one in a hot skillet.

On a plate, place a tortilla and arrange one or two fish strips down the middle. Top with all the toppings (or just your favorite) and drizzle the sauce across.

Fold the sides up and serve with a lime wedge. Enjoy!
Video
Nutrition
Calories:
491
kcal
|
Carbohydrates:
61
g
|
Protein:
21
g
|
Fat:
20
g
|
Saturated Fat:
4
g
|
Polyunsaturated Fat:
8
g
|
Monounsaturated Fat:
6
g
|
Trans Fat:
1
g
|
Cholesterol:
44
mg
|
Sodium:
172
mg
|
Potassium:
731
mg
|
Fiber:
9
g
|
Sugar:
7
g
|
Vitamin A:
756
IU
|
Vitamin C:
47
mg
|
Calcium:
125
mg
|
Iron:
3
mg
Notes & Tips
If you have leftovers, store each component separately so the ingredients don't get too muddled and soggy. The tortillas can be stored for a week in a cool, dry place. The fish and various veggies and the sauce should be stored in airtight containers in the fridge for about 5 days.
If you have leftover pica de gallo you can use it as a salsa with tortilla chips for a yummy and easy snack.
Substitutions Options
Sometimes you just want to make a dinner out of the ingredients you already have. I get that! If that sounds like you, here are some alternate suggestions.
Instead of sour cream, you can use Greek yogurt. 
If you don't have fresh garlic on hand, garlic powder will work fine. Use about ½ tsp instead. 
If you don't have any red onion, regular white or yellow onion will be fine.
Dark beer is not the most important part of this recipe so you could use a pale ale or any other beer you have around. I don't usually drink beer so I opt for one of the cheapest at the store. If you want to avoid beer completely, try substituting it with the same amount of sprite. It works the same!
One thing I do not recommend substituting is the lime. Bottled lime juice will work the same, but avoid using lemon instead. I tried that once in a pinch and it really messes up all the flavors. That was a bad idea.
Green or red cabbage works as a topping on these tacos, but I prefer red cabbage. It makes it more colorful!
What Kind of Fish is Best?
Any firm, white fish will do. Good options are catfish, cod, halibut, mahi mahi, and tilapia. I have not experimented with all these fish types yet, so if you already have a preference for one kind, use that. I usually use tilapia because I think it tastes good with this recipe and it is usually the cheapest option near me.
If you are a taco aficionado, you will love these tacos de pescados. They are surprisingly easy and astoundingly delicious!
---
Recent Recipes