Simple Taiwanese Minced Pork Over Rice
Taiwanese minced pork over rice is also known as "rou zao fan" and it is surprisingly simple, despite its long list of ingredients. Pork is possibly the sweetest meat, so its flavor is greatly enhanced with a little bit of honey and Chinese five spice. Add some hard-boiled eggs soaked in fatty pork juices and some fluffy jasmine rice and you have an impressive dinner that didn't even make you break a sweat.
The directions in this recipe instruct you to allow the dried shiitake mushrooms to soak for a minimum of 30 minutes, but it is actually ideal if you let them soak overnight before using.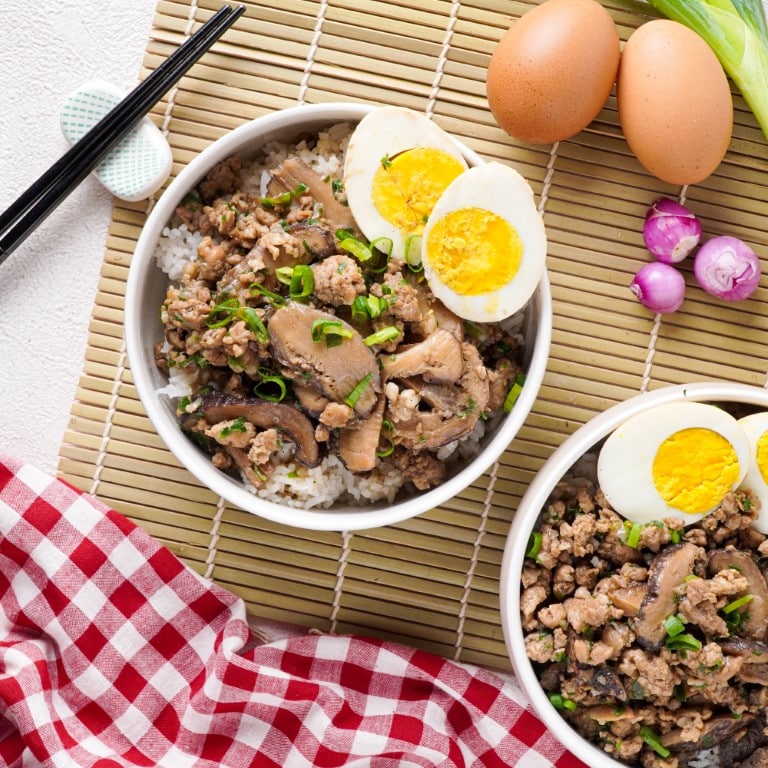 Ingredients
8

dried shiitake mushrooms

5

cups

jasmine rice

1

tbsp

sugar

1

cup

shallots

handful of green onions

1

lb

ground pork

1

cup

vegetable oil

¼

cup

shaoxing wine

1 ½

tbsp

honey

¼

cup

soy sauce

1

tbsp

fish sauce

½

tsp

pepper

1

tsp

Chinese five spice

¼

tsp

ground ginger

2

bay leaves

5

eggs
Instructions
All ingredients ready? Let's begin!

Rinse the shiitake mushrooms under water then place in a bowl and cover in warm water. Allow to soak for a minimum of 30 minutes (better yet, overnight).

After the mushrooms have soaked, remove them from the bowl and squeeze any excess water out. Save the liquid. Cut the mushrooms into slices and set aside.

Rinse the rice in cold water at least twice before putting it in a rice cooker and adding the recommended amount of water (probably 5 cups). If you do not have a rice cooker, add the rinsed rice to a large pot and add 5 cups of water. Add the sugar.

If using a rice cooker, cook according to the instructions. If using a pot, place it over medium-high heat and cover. If it begins to boil over, turn the heat down. Stir occasionally to prevent sticking for 30 minutes or until it is cooked to your preferred tenderness.

Thinly slice the shallots and set aside. Finely chop the green onions from the whites upwards and set aside.

Over medium heat, warm up about 2 tbsp of the oil in a large cast iron skillet or other similar pan. Test the heat of the oil by flicking a drop of water into the pan. If it sizzles, it is ready. If not, let it heat a bit more.

Add the shallots to the skillet and cook for 2 minutes or until the shallots begin to soften.

Add the mushroom slices and cook for another 2 minutes.

Turn the heat to medium high and add another tablespoon of oil before adding the pork to the skillet.

Cook for 5-8 minutes or until the meat changes in color from pink to whiteish (before it browns), stirring with a spatula to prevent sticking and help the meat cook evenly.

Add the shaoxing wine and stir before also adding the honey, soy sauce, fish sauce, pepper, Chinese five spice, ginger, and bay leaves. Add 2 cups of the previously reserved mushroom water. If it is less than 2 cups, fill up the remaining space with regular water. Stir to incorporate.

Allow the liquid in the skillet to come to a boil before covering it and reducing the heat to medium-low. Let simmer for 20 minutes.

Fill a medium pot with water and bring it to a boil before placing the eggs in.

Wait for the water to boil again and let it do so for 1 minute before turning the heat to low. Cover the pot and simmer for 10 minutes.

After 10 minutes, drain the eggs and rinse in cold water or place in an ice bath. As soon as they are cool enough to touch, peel them.

When the meat mixture has been simmering for 20 minutes, place the whole eggs in the skillet, hopefully covering them completely. You may need to add some water if the eggs are not covered. Cover the skillet again and simmer for 10 more minutes.

Remove the lid from the skillet. If there is too much liquid, turn the heat up to medium-high in order for some of the excess liquid to evaporate.

Add the green onions and carefully stir them in without breaking the eggs.

Remove the bay leaves and discard (or leave them for someone to find).

To serve, fill a bowl or plate with rice and ladle the pork mixture on top. Finish each serving off with one of the eggs on top. Serve hot and enjoy!
Nutrition
Calories:
616
kcal
|
Carbohydrates:
67
g
|
Protein:
29
g
|
Fat:
24
g
|
Saturated Fat:
9
g
|
Polyunsaturated Fat:
3
g
|
Monounsaturated Fat:
10
g
|
Trans Fat:
0.02
g
|
Cholesterol:
229
mg
|
Sodium:
1053
mg
|
Potassium:
690
mg
|
Fiber:
3
g
|
Sugar:
12
g
|
Vitamin A:
305
IU
|
Vitamin C:
6
mg
|
Calcium:
88
mg
|
Iron:
3
mg
Notes & Tips
Leftovers can be stored with the rice and pork in their own air-tight containers. Keep them in the fridge for up to 5 days and reheat in the microwave.
If you are looking for Taiwanese dessert to serve afterward, try sweet and crumbly mooncakes.
What Kind of Pork to Use?
Ground pork butt or pork shoulder are ideal for this recipe and fairly easy to find. You could also use a combination of the two if you like. However, if you want your meal to be particularly juicy, you should use ground pork belly or mix some with the previous options. Pork belly is much fattier than pork butt or shoulder, but it is arguably the most delicious part of the pig. If you would rather try pork belly in a different dish, I highly recommend this easy pork belly banh mi, which is delicious.
Substitutions
If you do not have shaoxing wine or cannot find it, dry sherry is a very close alternative. Another thing you can do is use mirin, but because mirin is significantly sweeter, you should omit the honey.
Fresh ginger can (and should) be used instead of ground ginger, but most people don't have fresh ginger on hand all the time. If you do use it fresh, peel it and finely dice it. You should use 1 tsp if it's fresh and add it to the skillet when you are cooking the shallots.
If you are having difficulty locating jasmine rice, you can also use fragrant rice or fragrant Thai rice. They are all very similar in taste and texture, so you will not be able to tell a difference.
---
Recent Recipes