Tater tots are a food item I've recently re-discovered. I have fond memories of childhood dinners with tater tots. I'd dip tater tots with a mix of ketchup and mayonnaise meal after meal. Then I simply forgot about them. That was until recently, when I began experimenting with different foods in an air fryer.
Tater tots and air fryers pair perfectly together. Deep fried tots are the best. But let's be real, they aren't exactly healthy. Frying foods in the house can get messy and it makes the whole house smell like a fast food place. The air fryer cooks them perfectly and quickly.
As a kid, I remember my mom baking the tater tots in the oven. That seemed fine until I tried them in the air fryer and now I am never going back.
So now as an adult, I wanted to move past my two ingredient dipping sauce and up my tater tot game. Which brings us to tater tot poutine. Creamy gravy and gooey cheese curds with our beloved tater tots. This is the ultimate comfort food.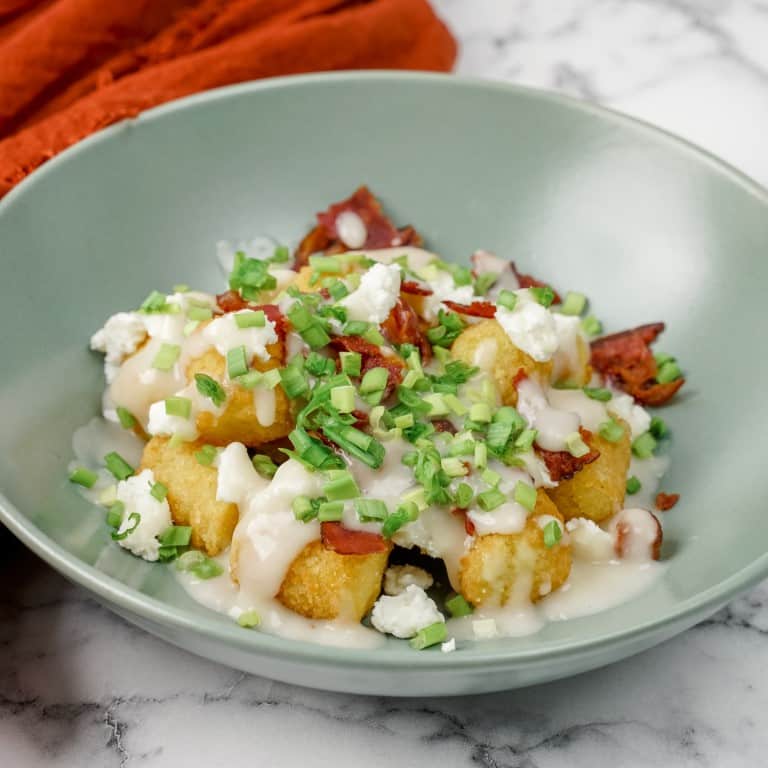 Ingredients
For the gravy
6

slices

of bacon

2

tablespoon

butter

¼

cup

all purpose flour

2

cups

chicken stock

Sea salt and black pepper to taste

1

bag of frozen tater tots

28-32 oz

8

ounces

fresh cheese curds

1

small bunch of fresh chives

sliced very thin
Instructions
To make the gravy
Cook the bacon slices in a deep saute pan. You want to use a deep pan because we are going to use the same pan to make the gravy.

Remove the bacon and place the strips on some paper towels to remove excess fat. Leave about two tablespoons of bacon fat and bits in the pan. This is where we build on the depth of flavor for the gravy.

Turn the heat to medium and add the butter. Melt the butter with the bacon fat.

Once both are melted together add the flour and whisk together to form a smooth paste (this is called a roux). Stir the roux for a few moments until it develops a light brown color and smells nutty.

Gradually add in the chicken stock and stir as you pour it in. The mixture should thicken. Turn off the heat once it reaches the consistency of a pourable gravy.

Season with salt and pepper and set aside on the stovetop.
To make the poutine
Working in small batches, fry the tater tots in the air fryer at 400F for 10-15 minutes. Shake the tray every five minutes or so. It's important to work in small batches so they "fry" and cook evenly on all sides. You can hold each batch in a warm oven while you work on the others. One bag will be 2-3 batches depending on the size of your air fryer.

Reheat the gravy on low heat.

Chop up the bacon slices into small bits.

Divide up the poutine portions or serve in one single dish.

Sprinkle the cheese curds and bacon over the tater tots.

Then pour the gravy over the tater tots and cheese curds.
Garnish with the chives and serve immediately.
Nutrition
Calories:
520
kcal
|
Carbohydrates:
47
g
|
Protein:
18
g
|
Fat:
30
g
|
Saturated Fat:
10
g
|
Polyunsaturated Fat:
6
g
|
Monounsaturated Fat:
7
g
|
Trans Fat:
0.01
g
|
Cholesterol:
51
mg
|
Sodium:
1179
mg
|
Potassium:
530
mg
|
Fiber:
4
g
|
Sugar:
2
g
|
Vitamin A:
27
IU
|
Vitamin C:
11
mg
|
Calcium:
301
mg
|
Iron:
1
mg
Notes & Tips
You can make this recipe using an oven if you don't have an air fryer. Just follow the package instructions for cooking the tater tots. Just stick with air frying and oven frying to keep this recipe relatively healthy. Using an air fryer is beneficial to your health and essentially eliminates unnecessary fat and oils from your meals.
Cheese curds are a must. They are essential to classic poutine. But, if you can't find any, you can use a good melty mozzarella.
There are some great protein add-in options if you're looking to make this more of a meal. Pulled pork or beef brisket go really well on top of poutine.
You can also use beef broth or a comparable substitute instead of chicken broth. If you're looking for even more flavor, you can add a beef or chicken bouillon to the stock prior to making the gravy. Do this by heating the stock in the microwave and mixing the bouillon in.
You also don't need to make the gravy from scratch, though it's highly recommended. Jarred or packaged gravy will work just fine.
If you need to thicken your gravy, follow these steps. You can add more stock if your gravy is too thick and you need to thin it out.
How Long Should Tater Tots Be In The Air Fryer?
The important thing to remember about cooking tater tots in the air fryer is spacing them out in the fry baskets. Without doing that one simple step, you're going to spend twice as long frying the tater tots and end up with unevenly cooked tots.
Each air fryer is a little different, but it shouldn't take over 15 minutes to cook your tater tots in an air fryer. Make sure that none of the tater tots are touching.
An optional step is to spray the tater tots with cooking oil prior to frying. This will give them a more authentic fried taste, but isn't really necessary for this recipe.
Keep an eye on the tater tots once they are cooking. You'll want to give the tray a shake every few minutes to encourage even cooking.
Some air fryers may take longer due to batch sizes. Most air fryers lack a lot of surface area, meaning you won't be able to put as many in the cooking tray. This air fryer has a much larger frying tray that allows you to cook many tater tots at a time.
---
Recent Recipes