Easy Teriyaki Chicken Thighs
Chicken thighs are one of my favorite proteins to cook for weeknight dinners. They are juicy, not too high in fat content, and full of flavor. Chicken also takes on any seasonings you want to pair it with brilliantly.
I tend to go fairly bold with my seasonings when roasting or pan-searing chicken thighs. Sometimes it is a lemony Tuscan herb blend. Other times, I will go big with curry flavors and some heat. But mostly, I like an Asian-style chicken thigh, such as teriyaki.
What I love about teriyaki is that it pulls from all the elements that wake up our taste buds. It is sweet, savory, salty, and a little sour. This comes from the combination of honey, garlic, ginger, soy sauce, and vinegar. I also add a little cayenne for heat, which is optional. The chicken marinates in this sauce for at least 1 hour.
The sauce thickens while the chicken cooks and gets a little sticky. I find that kids really like that as much as adults. I use skinless boneless thighs for this recipe. I have tried it with skin on thighs but all the sauce seems to adhere to the skin and doesn't really sink into the meat of the thighs as much.
For this particular teriyaki chicken recipe, I am giving instructions for both oven roasting and pan sautéing. Both are good, in my opinion. It just depends on your preferred method of cooking and how your kitchen is set up.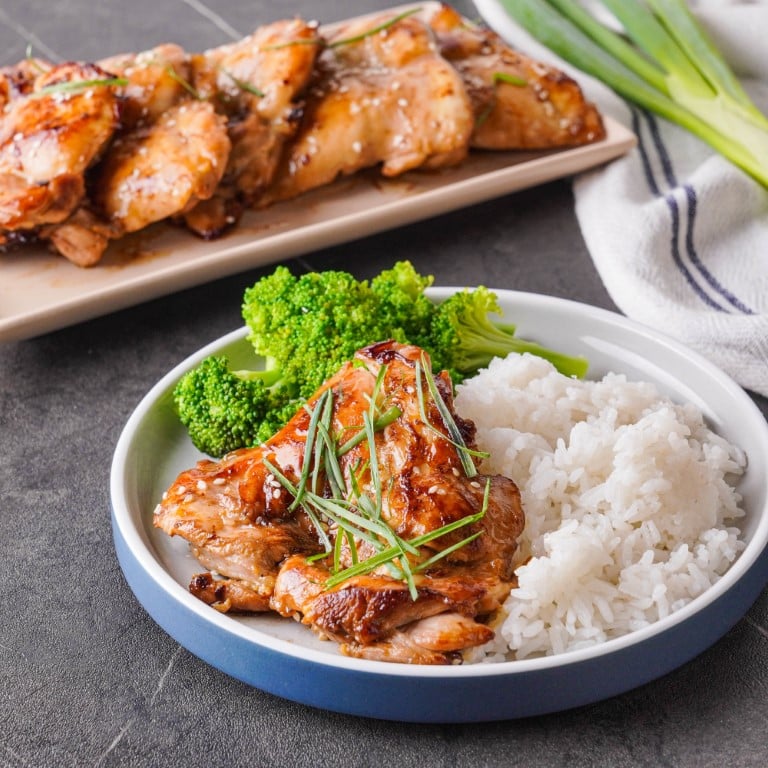 Ingredients
6

boneless

skinless chicken thighs, rinsed and dried well

¼

cup

soy sauce or tamari

2 ½

Tbsp

honey

2 ½

Tbsp

mirin

2

Tbsp

apple cider vinegar

1

tsp

toasted sesame oil

2

garlic cloves

peeled and minced

1

tsp

freshly grated ginger root

¼

tsp

cayenne pepper flakes

optional

1

Tbsp

neutral cooking oil

2

tsp

sesame seeds

2

scallions

green parts only, sliced thinly for garnish
Instructions
All ingredients ready? Let's begin!

In a small mixing bowl, whisk together the soy sauce, honey, mirin, vinegar, and sesame oil until it is a smooth consistency.

Stir in the garlic, ginger, and cayenne.

Place the chicken into a large resealable plastic baggie. Pour the marinade over the chicken.

Seal the bag and massage gently to make sure all the chicken is coated with the marinade.

Place the chicken in the refrigerator for 1 hour and up to 4 hours.

Remove the chicken from the refrigerator 20 minutes prior to cooking it so that it can come to room temperature.
To cook in a skillet:
Place a large skillet over medium heat. Add the oil to the hot pan. Arrange the chicken in the skillet and cook for approximately 7 minutes.

Flip the chicken over and continue to cook until the internal temperature reads 165°F, approximately 7 or 8 minutes longer.

Sprinkle the sesame seeds on top at about 2 minutes before removing the chicken from the heat.
To bake in the oven:
Preheat your oven to 350°F. Brush the oil on a rimmed sheet pan or a large baking dish.

Add the chicken to the pan or dish. Place this in the preheated oven and bake for 10 minutes. Turn the chicken over and continue to bake for 8 minutes. Sprinkle the sesame seeds over the top of the chicken and continue to bake for 2 more minutes or until the internal temperature reads 165°F.

Transfer the cooked chicken thighs to a serving platter and garnish with the scallion slices. Serve while warm with cooked rice and steamed broccoli.
Nutrition
Calories:
212
kcal
|
Carbohydrates:
12
g
|
Protein:
23
g
|
Fat:
8
g
|
Saturated Fat:
1
g
|
Polyunsaturated Fat:
2
g
|
Monounsaturated Fat:
3
g
|
Trans Fat:
0.03
g
|
Cholesterol:
107
mg
|
Sodium:
696
mg
|
Potassium:
327
mg
|
Fiber:
0.3
g
|
Sugar:
9
g
|
Vitamin A:
102
IU
|
Vitamin C:
1
mg
|
Calcium:
24
mg
|
Iron:
1
mg
Notes & Tips
You can make the teriyaki marinade a day or two ahead of time and store it in a sealed container in the refrigerator until ready to use. If you want, make some extra sauce to save for serving. Heat up the extra sauce to thicken it and spoon it over the cooked chicken (Don't use teriyaki sauce that has come in contact with raw chicken for serving).
Chicken can be fussy, so I like to keep a digital instant-read thermometer nearby to check that it has fully cooked through to an internal temperature of 165°F.
If you plan on adding this chicken to a stir fry dish, cut it into bite-size pieces before marinating it. It will take a few minutes less time to cook the smaller pieces, so keep an eye on it.
Substitutions & Shortcuts
Chicken Thighs: You could use bone-in, skin-on chicken thighs. Be mindful that these will take a little longer to sauté or bake. I think you could also make this dish with chicken breasts.
Soy Sauce: I generally use liquid aminos or tamari instead of soy sauce because they are both gluten-free.
Honey: Traditional Teriyaki sauce is made with brown sugar. You can switch out the honey for brown sugar or pure maple syrup.
Mirin: Mirin is a sweet Japanese rice wine. I think dry sherry is a nice touch if you don't have mirin.
Apple Cider Vinegar: Raw and unfiltered apple cider vinegar is my go-to for acid. It has beneficial probiotic properties. You could use rice vinegar, red wine vinegar, or balsamic vinegar.
Fresh Ginger: If you only have dried ginger root powder, use about 1/2 to 3/4 of a teaspoon.
Cayenne Pepper Flakes: You can use any hot sauce you have in your pantry, such as sriracha, in place of pepper flakes. Or, leave this ingredient out if you don't want any heat.
Scallions: I don't always have scallions in my crisper draw, but I do have fresh chives in my garden. Chives are a great stand-in for the green garnish element.
Teriyaki Sauce: If you are strapped for time, there are some perfectly good bottled teriyaki sauces you can use in place of making your own.
---
Recent Recipes