Simple Tofu Chickpea Curry
I had grand ideas for this recipe. I am totally into vegan curry made with chickpeas. Chickpeas, also known as garbanzo beans, have such a nice outer skin and a creamy interior with just the right amount of chew. In the world of beans, these little gems are unique. I even like their acorn-like shape.
There was a time when I only cooked dried beans. I snubbed the canned varieties. Chickpeas were often the exception to that purist rule of mine. I don't know if they are just difficult to cook from dried or if my health food market had beans that were maybe old. It didn't matter how long I soaked the beans. They never got tender. One trick was to cook them with a little baking soda, which seemed to help. Canned beans have come a long way and canned chickpeas are terrific.
I have also discovered that cooking chickpeas with a good amount of spice and heat help to tenderize them. I decided for this recipe to allow the chickpeas to be the main event along with the spices. The tofu offers softness and comfort while remaining in the background. So, this tofu chickpea curry has a scaled-back ingredient list from what I might normally make with lots of veggies, including potatoes, peas, and corn kernels. I have added some greens to brighten up the dish and to add another element of healthy vitamins and fiber.
The sauce in this curry is tomato and red chili-based. It can be a little spicy, depending on how hot your chili pepper is. Feel free to omit the Thai chili if you don't want all that heat. I don't LOVE overly spicy food, so I tend to leave it out sometimes. Serving this vegan, dairy-free, and gluten-free goodness with short-grain sweet brown rice can calm the heat down.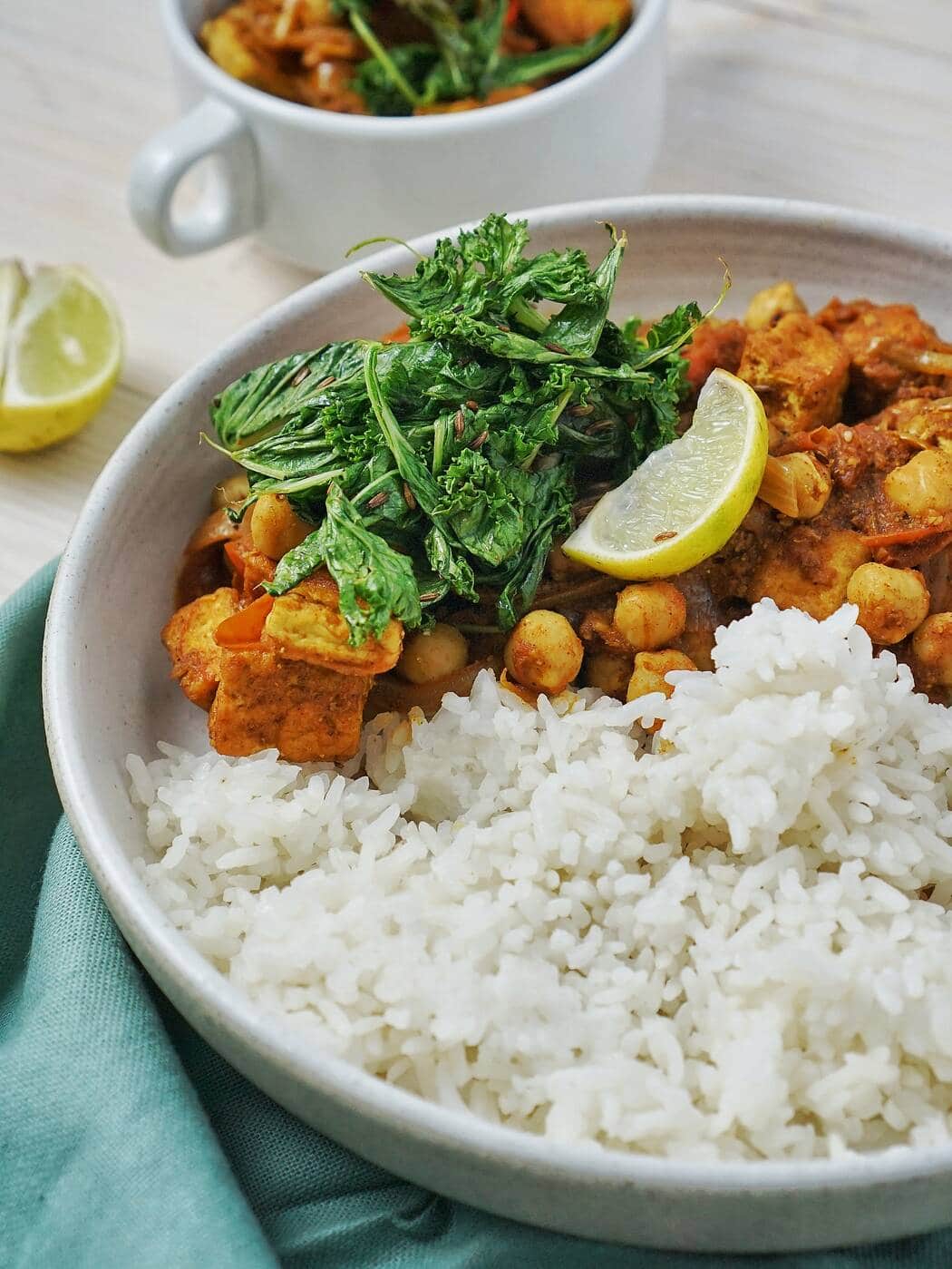 Ingredients
1

small red onion

peeled

1

garlic clove

minced

8

ounces

extra-firm tofu

1

small Thai red chili pepper

2

cups

packed fresh greens

spinach, kale, arugula, or all 3

1

TBS

grapeseed or avocado oil

1

TBS

ground coriander

2

tsps

ground cumin

1

tsp

ground turmeric

1/2

tsp

cayenne pepper

1

can diced tomatoes

14 oz can

1/2

can of water

2

TBS

extra virgin olive oil

divided

1

can chickpeas

drained and rinsed, 14 oz can

2

tsps

garam masala

2

tsps

paprika

Juice from 1/2 a lemon

Sea salt and freshly ground pepper to taste

2

tsps

cumin seeds

2

cloves

garlic

sliced thinly
Instructions
Cut the onion in half and slice into thin half-moons. Mince one clove of garlic. Drain the tofu and pat dry with paper towels. Cut the tofu into 1-inch cubes. Cut the chili pepper into thin rounds. Shred or julienne the greens.

In a large skillet over medium-high heat, add the vegetable oil, onions, and garlic. Cook until the onions have softened, approximately 5 minutes.

Add the coriander, cumin, turmeric, and cayenne to the pan and cook for another minute until the spices are fragrant. Stir in the tomatoes and water. Turn the heat down to medium-low and simmer the curry sauce for 10 minutes.

While the sauce is simmering, place another large skillet over medium-high heat. Add 1 tablespoon of olive oil and the tofu to the pan and cook until golden brown on all sides. Remove the tofu cubes to paper towels to drain. Set the pan aside. You will use it to cook the greens.

Drain and rinse the chickpeas. Stir them into the curry sauce. As soon as the sauce comes back to a simmer, stir in the gram masala, paprika, and lemon juice. Simmer for a couple of minutes, then season with salt and pepper. Add the tofu and a little more water if the sauce is too thick. Turn the heat to low while you sauté the greens.

In the skillet that the tofu was cooked in over medium-high heat, add the remaining tablespoon of olive oil and the cumin seeds. While the cumin seeds are becoming fragrant, slice the 2 garlic cloves thinly.

Add the garlic and chili pepper slices to the pan and cook until the garlic begins to brown. Add the greens to the pan and sauté for 2 to 3 minutes until wilted. Season with a little salt and pepper.

Place the curry into individual serving bowls. Top with the greens and serve with brown rice.
Video
Nutrition
Calories:
182
kcal
|
Carbohydrates:
12
g
|
Protein:
7
g
|
Fat:
13
g
|
Saturated Fat:
2
g
|
Polyunsaturated Fat:
2
g
|
Monounsaturated Fat:
8
g
|
Sodium:
193
mg
|
Potassium:
478
mg
|
Fiber:
3
g
|
Sugar:
5
g
|
Vitamin A:
672
IU
|
Vitamin C:
34
mg
|
Calcium:
107
mg
|
Iron:
4
mg
Notes and Tips
This curry can be a little spicy. Thai chili peppers, also known as bird's eye chilis, pack a punch. I recommend handling the pepper with disposable gloves. If you are looking for less heat, use a jalapeño pepper. Jalapenos are 15 times less hot than Thai chilis.
Substitutions and Shortcuts
I have made curry with potato cubes instead of tofu. Yukon gold potatoes work best in this dish. I parboil the potatoes until 90% cooked through, then brown them just like the tofu for a golden finish. This makes for a very hearty and filling bowl of curry.
If you have some vegetable broth on hand, you can use that in place of the water to thin the curry sauce.
I really like the addition of greens in this recipe. They add freshness and color along with a boost of nutrition. You can use any greens you enjoy or have on hand, such as collards or bok choy. If you want to skip this step, but still want the green, add frozen peas, lima beans, or edamame into the curry.
---
Recent Recipes