Simple Vegan Tofu Lasagna
Our tofu lasagna recipe uses only plant-based ingredients. For the best vegan lasagna around, put together this quick but complete bake featuring authentic Italian flavors. From the rich, textured marinara sauce to layers of cheesiness without dairy, it's a decadent dish that's packed with protein and a keep-coming-back-for-more punch of herb-infused tomatoey goodness.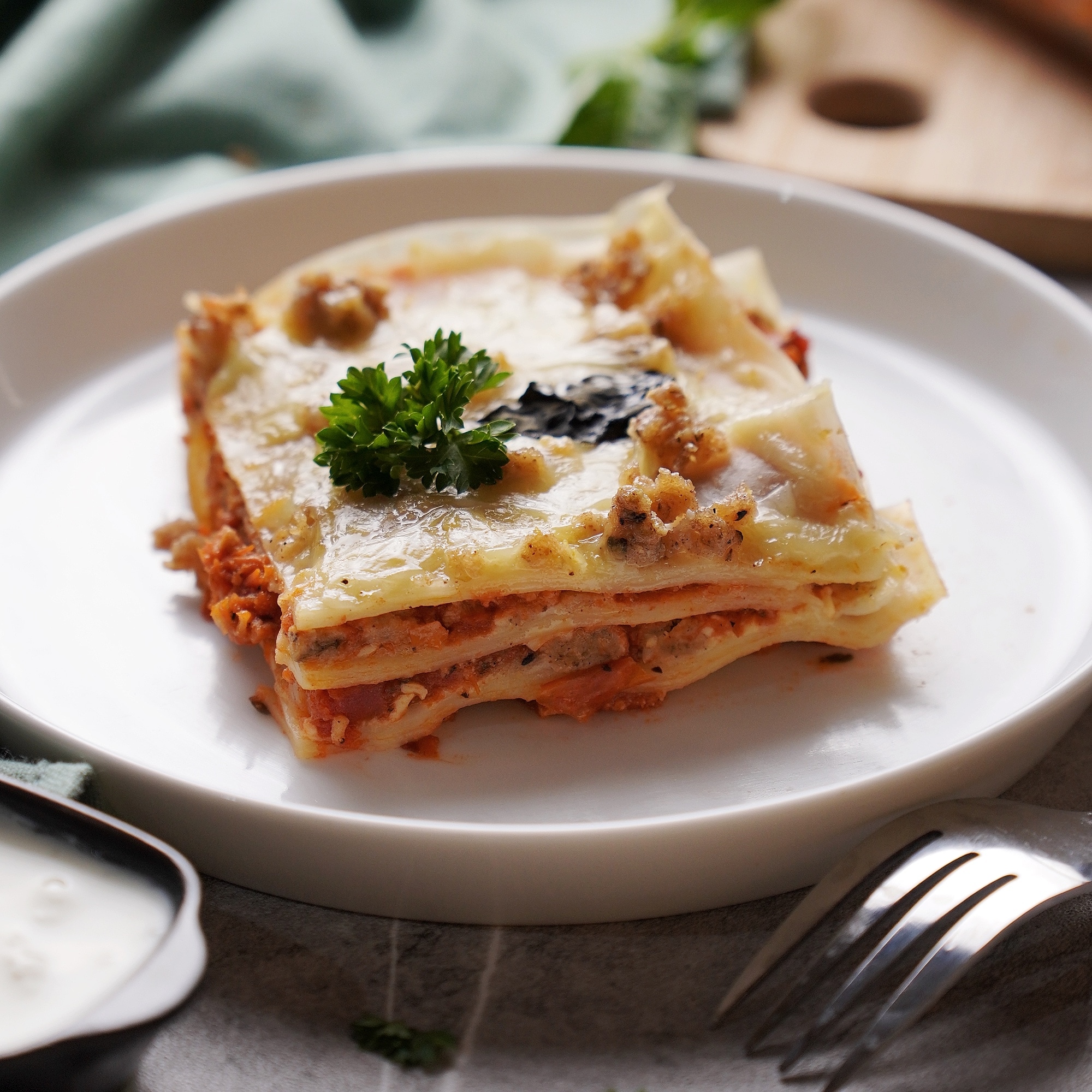 Ingredients
12

Uncooked Lasagna Sheets

1

Cup

Texturized Vegetable Protein

½

Cup

Dissolved Vegetable Bouillon

1

Tablespoon

Cornstarch

2

Blocks Tofu

Cubed

½

Cup

Flour

1

Tablespoon

Coriander Powder

1

Teaspoon

Nutmeg

2

Teaspoon

Dried Oregano

1

Teaspoon

Salt

2

Teaspoon

Ground Black Pepper

3

Tablespoons

Vegetable/Olive Oil

4

Cloves

Garlic

Pressed & Minced

1

Teaspoon

Red Pepper Flakes

1

Teaspoon

Dried Marjoram

1

Teaspoon

Dried Parsley

1

Teaspoon

Paprika

1

Can Chopped Tomatoes

1

Tablespoon

White Sugar

1

Tablespoon

White Vinegar

2

Tablespoons

Lemon Juice

2

Cans Tomato Paste

½

Cup

Vegan Bechamel Sauce

2

Tablespoons

Nutritional Yeast

2

Cups

Vegan Mozzarella

6-8

Fresh Basil Leaves
Instructions
All ingredients ready? Let's begin!

Pre-boil the lasagna sheets in a pot of rapidly boiling salted water for five to six minutes. Drain, shock in an ice-water bath, and set aside.

Dissolve the bouillon cube in a quarter cup of boiling water and use the stock to soak the texturized vegetable protein until later needed.

Create a slurry by combining one tablespoon of cornstarch with two tablespoons of water and stir well to create a smooth paste.

Dredge the cubed tofu in the cornstarch slurry and then in a mixture of half a cup of flour, a tablespoon of coriander powder, one teaspoon of nutmeg, a teaspoon of dried oregano, a teaspoon of salt, and a teaspoon of ground black pepper.

Fry until browned in a frying pan or skillet over medium heat coated with a bit of oil. Drain and set aside.

Heat a large skillet or saucepan over medium heat coated with two to three tablespoons of olive or vegetable oil.

Add the onions and saute until translucent before adding the garlic and a teaspoon each of red pepper flakes, oregano, marjoram, parsley, paprika, and ground black pepper.

Fry the garlic until brown and aromatic before adding the canned chopped tomatoes, a tablespoon of each sugar and white vinegar, and two tablespoons of lemon juice.

Saute for five to seven minutes before stirring in the tomato paste and the soaked texturized vegetable protein with the water it's been soaking in.

Reduce the heat to low and simmer for five minutes or until the sauce thickens and the soy mince cooks through.

Prepare a greased oven dish or lasagna pan scattered with a light dusting of flour.

Scoop a generous helping of sauce over the bottom of your pan, spreading it to create a thin layer. Lay out three lasagna sheets evenly.

Coat them with vegan bechamel sauce, vegan mayonnaise, or a generous helping of the cornstarch slurry prepared earlier. Regardless of which you use, add a tablespoon of nutritional yeast.

Scatter over grated Vegan mozzarella cheese followed by a sprinkle of nutritional yeast. Scoop over another helping of sauce to repeat the process and begin creating another two layers to reach three layers in total.

On the final layer, place double to triple the amount of vegan cheese as you used on the previous layers on top of the last lasagna sheets and then drizzle with olive or vegetable oil.

Scatter fresh basil and cover your lasagna with heavy-duty foil and bake in an oven preheated to 375°F for thirty minutes before removing the foil and baking uncovered for a further ten to fifteen minutes.

Allow the lasagna to rest for fifteen to twenty minutes before serving.

Enjoy your rich and creamy tofu lasagna!
Video
Nutrition
Calories:
627
kcal
|
Carbohydrates:
67
g
|
Protein:
27
g
|
Fat:
28
g
|
Saturated Fat:
5
g
|
Polyunsaturated Fat:
12
g
|
Monounsaturated Fat:
5
g
|
Trans Fat:
1
g
|
Cholesterol:
6
mg
|
Sodium:
1008
mg
|
Potassium:
328
mg
|
Fiber:
8
g
|
Sugar:
7
g
|
Vitamin A:
255
IU
|
Vitamin C:
9
mg
|
Calcium:
265
mg
|
Iron:
6
mg
The Ultimate Tofu Lasagna Shortcuts
Feel free to use no-boil lasagna sheets if you're in a hurry. If you do decide to go the quick route, we suggest adding double the amount of vegan bechamel sauce, vegan mayonnaise, or the slurry suggested. The dried sheets need a little more moisture to make sure that they cook al-dente and do not toughen toward the edges. Bottled marinara sauce leaves a lot of time too. If you find the flavor to be lacking, saute onion, garlic, and red pepper flakes in a pan, and add the bottled sauce. You may find that it still needs a little tweaking, but most mediocre sauces can be elevated with just a touch of tomato sauce and the right spices.
Tips
Tofu lasagna doesn't need to bake as long as other varieties. It doesn't contain as many tomatoes, so the sauce needs enriching, and the tofu only needs to absorb flavor. Ensure that your sauce has thickened significantly before using it in your lasagna. Some chefs opt to add a little extra tomato paste to help thicken the mixture. If you consume dairy, thicken with a quarter cup or more of grated parmesan cheese.
Substitutions
Those who are opposed to the inclusion of soy protein can use three cups of chopped fresh spinach instead. Add the spinach to your pan just after the garlic and herbs and directly before the canned tomato. Saute until slightly wilted before adding the tomato, and reduce until the sauce is thick before using in your lasagna. Another great substitution is two cups of chopped portabello mushrooms or a mix of spinach and mushrooms for an even greater depth of flavor. We suggest sauteing the spinach and/or mushrooms in a separate pan and then pouring off the excess liquid before adding it to your filling. This ensures that your lasagna won't come out soggy.
Most vegetarians will want to make tofu lasagna with dairy cheese instead of Vegan Mozzarella. The most reliable tasty option is to spread cottage cheese or bechamel sauce over each layer of lasagna sheets, followed by a mixture of one beaten egg and two to three cups of cheese. Plain grated mozzarella is popular, but we suggest trying a blend of either parmesan cheese or pecorino romano and mozzarella for even greater flavor and a perfectly fused layer of solid cheese. Grate your cheese, mix in the beaten egg and a few of your favorite herbs, season with salt and black pepper before scattering on each lasagna layer.
---
Recent Recipes