Homemade Tomato Goat Cheese Galette
I have been on a galette roll this fall. It is just such a comforting pastry that takes great advantage of all that an autumn harvest has to offer. This time of year in the northeast we have the last of the heirloom tomatoes and plenty of sturdy greens like collards and cabbage. Then, there are the winter squashes that are starting to turn up at farmer's markets. And of course, lots of fresh cheese from the local dairy farms.
This galette recipe features an easy-to-make pastry dough that is filled with tangy goat cheese and heirloom tomatoes. The cheese melts into the crust and forms a pillowy bed to hold the tomatoes. The tomatoes roast to concentrate the flavor and char just a bit. The baked galette is finished with lemon zest and herbs for added freshness.
Goat cheese is my favorite. I find it to be more digestible than cow's milk cheese. There is a distinct sharpness and minerality to this cheese that is great for both cooking with or eating plain on a charcuterie board. There are many varieties and textures to choose from. Goat cheese ranges from creamy to crumbly to hard to stinky. The farmer's market in my town features a local farm that specializes in goat milk products: cheese, yogurt, and soap. I might be biased because it doesn't get much fresher than having the cheese go from farm to market.
I am fascinated with heirloom tomatoes. They are artfully shaped (for lack of a better description), varied in color, and super juicy. For this galette, you could impress your friends visually and bring a smile to their tastebuds by mixing red, yellow, and purple varieties.
While you are working with basically a Mediterranean theme, you might consider rounding out this rustic meal with a big platter of Greek chicken wings and a light cucumber and olive salad. Serve with a crisp and dry white wine.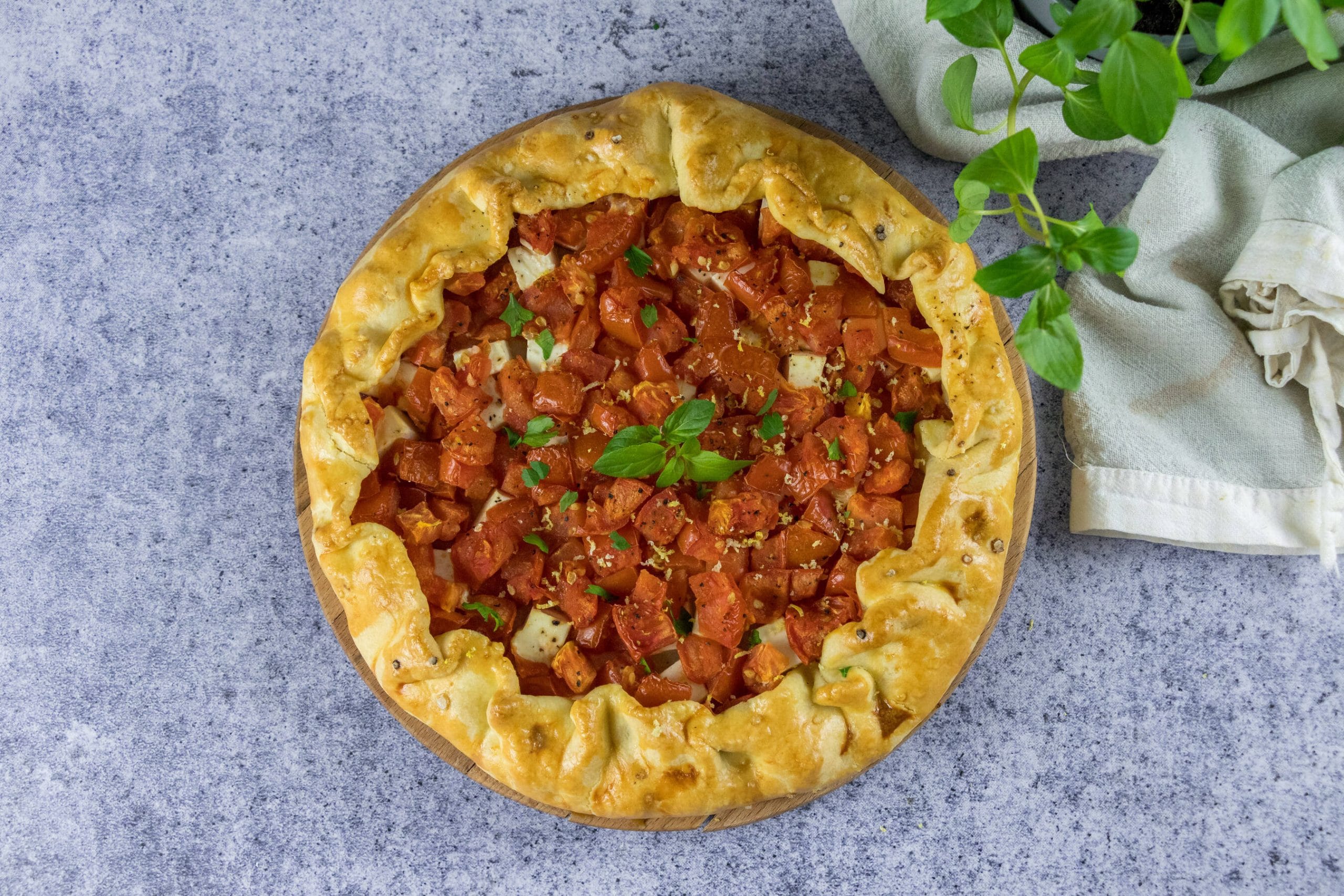 Ingredients
Pastry
2

cups

all-purpose flour

plus more for dusting

1

tsp

kosher or coarse sea salt

1-1/2

sticks cold butter

cut into small pieces

1/4

cup

ice water

1

Tbsp

apple cider vinegar
Filling
1-1/2

pounds

heirloom tomatoes

sliced 1/4-inch thick

2

cloves

garlic

thinly sliced

1

tsp

kosher or coarse sea salt

4

oz

goat cheese

Feta, Garrotxa, or Drunken Goat crumbled or shredded

1

whole egg

lightly beaten

Pinches

of flaky sea salt

Freshly ground pepper

Zest of 1/2 a lemon

1

Tbsp

fresh thinly sliced basil leaves or chopped chives
Instructions
In the bowl of a food processor, combine the flour and salt. Pulse 2 or 3 times to combine. Add the butter pieces and pulse until the mixture resembles a coarse meal.

Transfer the flour mixture to a large bowl. Drizzle in the ice-cold water and vinegar. Mix with a fork, adding more ice water by the tablespoonful as needed. Mix until the dough comes together to resemble a ball of rags. Turn out onto a lightly floured work surface and lightly knead until no dry flour is visible. Shape into a disk and wrap in plastic. Chill in the refrigerator for 1 to 2 hours.

In a large bowl, gently toss the tomatoes, garlic, and 1 teaspoon of salt. Set this aside while you prepare the dough and cheese so the tomatoes can release their moisture.

Unwrap the dough and roll it out on a lightly floured sheet of parchment paper to a 14-inch round that is approximately 1/8-inch thick. Transfer the parchment and dough to a sheet pan.

Drain the tomatoes on paper towels.

Distribute the cheese over the center of the dough, leaving a 1-1/2-inch area free at the perimeter. Arrange the tomatoes and garlic over cheese. Bring the edges of the dough up and over the filling, overlapping as needed to create a border to encase the filling. Place the galette in the refrigerator for 15 to 30 minutes to chill.

Preheat the oven to 400°F.

Brush the edge of the dough with the beaten egg. Sprinkle the tomatoes and crust with flaky or sea salt and pepper.

Place the galette in the hot oven and bake for approximately 50 minutes or until the crust is golden brown and the filling is bubbling.

Remove the galette from the oven. Slide it onto a clean cutting board and allow it to rest for 5 minutes. Sprinkle with the lemon zest and herbs. Slice the galette into quarters and serve while warm.
Nutrition
Calories:
433
kcal
|
Carbohydrates:
51
g
|
Protein:
14
g
|
Fat:
19
g
|
Saturated Fat:
12
g
|
Polyunsaturated Fat:
1
g
|
Monounsaturated Fat:
5
g
|
Trans Fat:
1
g
|
Cholesterol:
84
mg
|
Sodium:
226
mg
|
Potassium:
236
mg
|
Fiber:
2
g
|
Sugar:
2
g
|
Vitamin A:
1178
IU
|
Vitamin C:
8
mg
|
Calcium:
68
mg
|
Iron:
4
mg
Notes & Tips
Let's start with the crust. It is important to chill this dough in the refrigerator for at least one hour before rolling it out. This helps it to relax which in turn will help to prevent it from shrinking while baking. You can make the dough a day ahead and allow it to chill overnight.
The tomatoes also need to rest in salt so the excess moisture leaches out. After that, you just pat the slices dry with paper towels. The reason you do this is so the juices don't make the pastry soggy or the entire galette too wet when slicing into it.
Substitutions
If you can't find a goat cheese you like, you can definitely make this galette with sheep or cow's milk cheese. I recommend going for one that is tangy and salty to complement the inherent sweetness in ripe heirloom tomatoes.
Heirloom tomatoes, while delicious, are not always available. If that is your case, go for a sweet cherry, grape, or apero tomatoes. All of these are smaller and will require a little more time to slice.
---
Recent Recipes