Homemade Turkey Stuffing Meatballs
Stuffing, sometimes referred to as filling, is a mix of starch, vegetables, spices, and herbs. Bread crumbs are an ideal choice for filling, but there are other options such as poultry, vegetables, and seafood too.
When used as a cooking technique, stuffing can add flavor to your recipe and it's a great way to add depth and texture to your food. Stuffed recipes are typical during big celebrations such as Thanksgiving and they're the most crucial part of the evening.
One of the most famous stuffed recipes during these gatherings is the Turkey Stuffing Meatballs. Every family has its own way of preparing turkey meatballs and some even use heirloom, handwritten recipes that have been passed down through generations. But if you are looking for a tried and tested recipe that you and your family will enjoy preparing over the holidays, we suggest you give our Turkey Stuffing Meatballs a try!
For starters, this turkey stuffing meatball recipe has herbs and condiments that add a lot of flavor without the heat. Got picky eaters in the house? No problem! Everyone will enjoy the savory flavors of turkey, spices, and herbs so much that you'll end up cooking this recipe all year round.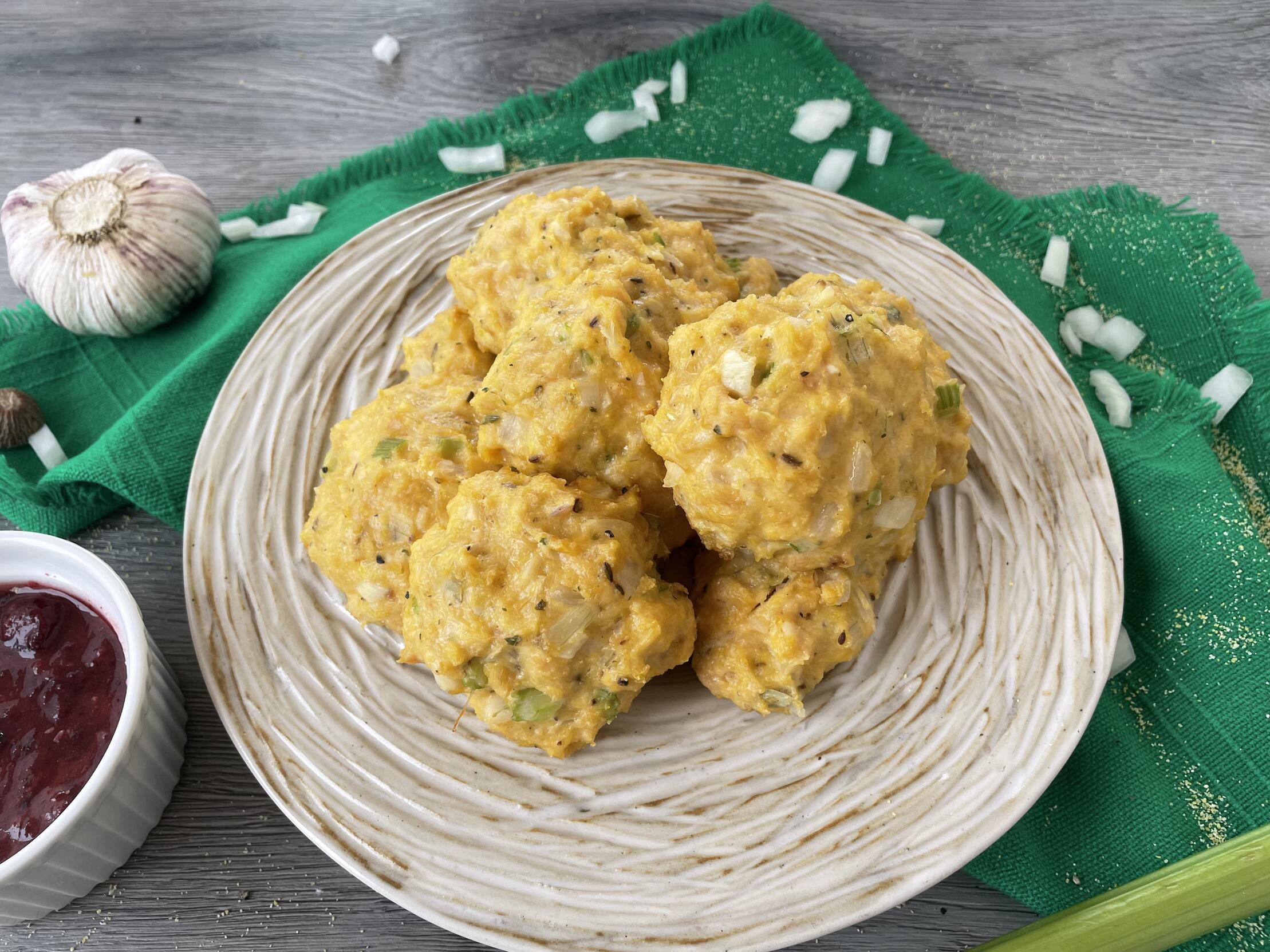 Ingredients
1.5

pounds

ground turkey

1

tablespoon

olive oil

3

tablespoons

butter

2

large eggs

1

teaspoon

kosher salt

1

teaspoon

dried sage

¼

teaspoon

ground nutmeg

¼

teaspoon

dried thyme

1

teaspoon

freshly ground black pepper

1

tablespoon

fresh sage

minced

2

stalks celery

sliced lengthwise and diced

3

cloves

garlic

peeled and minced

1

large yellow onion

diced

3/5

cup

pre-seasoned cornbread stuffing mix
Instructions
Assemble the ingredients.

Preheat your saucepan using medium heat and melt the butter. Add the celery, onions, and kosher salt, and stir this mix occasionally for five minutes.

Add fresh sage and garlic and let it cook for another two minutes. Remember to cook it on low flame, allowing the flavors to really come together.

To save some cooking time, you can also add your ground turkey to this mix without sautéing. Doing this will add a more flavorful aroma to the meatballs. Take the vegetables out of the pan and set them aside in a small bowl.

Begin by preheating your oven to 375°F and by lining your baking pan with parchment paper.

Place the cooked vegetables in a large bowl and add in the ground turkey, dried sage, nutmeg, black pepper, thyme, eggs, and cornbread stuffing mix.

Gently mix them all using your hands or a spatula.

It is now time to make the meatballs and place them on the parchment paper.

Create 1 ½ to 2-inch meatballs using your hands or cookie scoop and set them on your baking sheet. If the mixture is too sticky, wet your hands with water and then form the mixture into meatballs.

Do not overcrowd them and provide ample space between the rows and columns of meatballs so that they can cook evenly. You can drizzle some olive oil or any other type of cooking oil before placing the tray in the oven.

Bake the meatballs for 16 to 20 minutes. It's advisable to use a meat thermometer so that the meatballs are neither undercooked nor overcooked.
Video
Nutrition
Calories:
92
kcal
|
Carbohydrates:
5
g
|
Protein:
11
g
|
Fat:
3
g
|
Saturated Fat:
1
g
|
Polyunsaturated Fat:
1
g
|
Monounsaturated Fat:
1
g
|
Trans Fat:
1
g
|
Cholesterol:
44
mg
|
Sodium:
222
mg
|
Potassium:
158
mg
|
Fiber:
1
g
|
Sugar:
2
g
|
Vitamin A:
54
IU
|
Vitamin C:
1
mg
|
Calcium:
16
mg
|
Iron:
1
mg
Notes & Tips
Do not overwork the meat when mixing it in the bowl because this can make the consistency of the mixture hard. Applying gentle pressure is the best way to keep the meat soft and easy to cook
Unless you consider yourself an expert, opt to use a cookie scoop to line up the meatballs. This allows you to have proportional meatballs unless you don't mind different shapes and sizes
Instead of dicing your onions, you can also grate them so that they "disappear" into the mixture. You will achieve the same flavor, but it's a good way to include some veggies into the recipe without letting your kids know
To save time, you can even make the raw meatball mixture the night before and leave it in the fridge. This mix can also be frozen for up to three months!
Common Questions
How do I serve meatballs?
There are several ways to serve this recipe, and so far, setting it in a bed of homemade cranberry sauce is the ideal option. Another top favorite is to serve it with mashed potatoes and gravy.

This recipe is versatile, so you can even make a sandwich out of it the following day.
Can I freeze and reheat these meatballs?
Yes, you can freeze and reheat them without altering their taste and flavor. Before you freeze them, make sure that the meatballs are thoroughly cooled, and then place the leftovers on a pan lined with parchment paper. Place this in your freezer until it becomes frozen. This process is called flash freezing.

Once frozen, you can transfer the meatballs to an airtight container and place them in your freezer for future use.

When it's time to reheat, line up the leftover meatballs in a shallow baking pan and bake them in your oven for 15 to 20 minutes at 350°F. Remember to cover it with foil paper.
Is seasoned cornbread better than bread crumbs?
There is nothing wrong with using bread crumbs for this recipe, but cornbread is packed with so many different flavors, and it complements the recipe well.

Cornbread also tastes great with gravy and turkey, so it is a much better choice compared to bread crumbs.
---
Recent Recipes