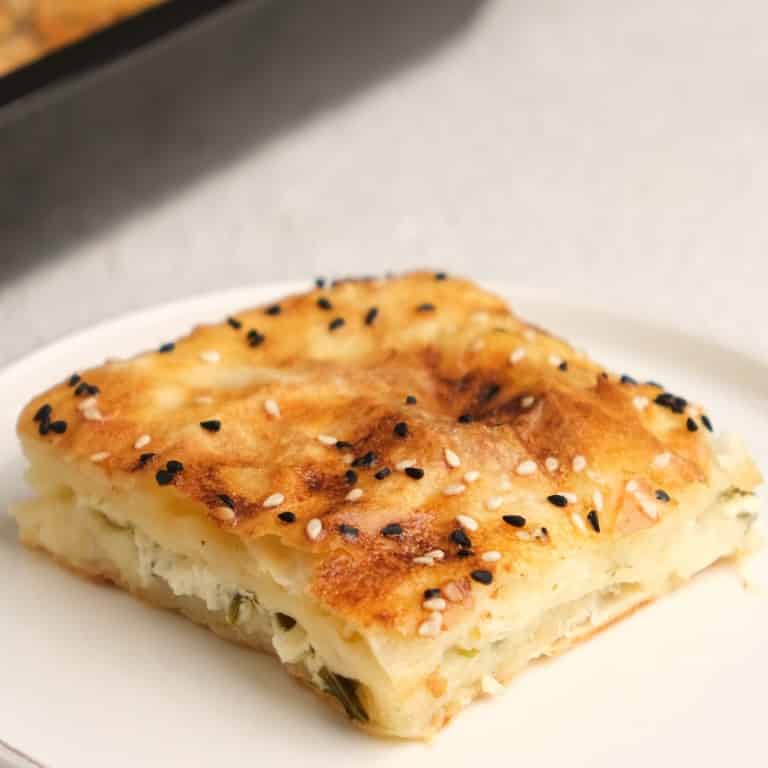 Ingredients
1

cup

feta cheese

crumbled

¼

cup

parsley

chopped

⅓

cup

plain yogurt

1

medium egg

⅓

cup

milk

¼

cup

sunflower oil

for batter

½

tbsp

sunflower oil

for greasing

1

egg

for washing

½

tsp

sesame and black sesame seeds

500

g

yufka sheets
Instructions
Mix the feta cheese and parsley in a bowl, then set aside.

Mix the plain yogurt, egg, milk, and sunflower oil in a large bowl until you get a smooth batter.

Grease the baking tray with oil. Then place one of the yufka into the tray, don't cut off the excess parts; leave them outside the tray to be folded in later. Lay the other yufka sheets randomly by cutting them with your hands. Don't try to lay it straight; being wavy will allow it to cook better. Drizzle the batter you made on each layer. Repeat the process until half of the yufkas are layed.

Sprinkle the cheese mixture on the mid-layer. Then cover the cheese layer with cut yufka pieces and drizzle the batter. Repeat the process until you use all of the yufkas. Fold the outer parts of the first yufka sheet on top. Drizzle with batter after folding each side of the yufka. Pour the remaining batter and brush the egg yolk on top. Sprinkle the sesame and black sesame seeds on top.

Bake the borek in a preheated oven at 180°C/355°F for about 35-40 minutes until golden brown.

Cut the borek into large squares and serve hot.
Nutrition
Calories:
392
kcal
|
Carbohydrates:
5
g
|
Protein:
13
g
|
Fat:
36
g
|
Saturated Fat:
11
g
|
Polyunsaturated Fat:
2
g
|
Monounsaturated Fat:
21
g
|
Trans Fat:
0.01
g
|
Cholesterol:
160
mg
|
Sodium:
637
mg
|
Potassium:
184
mg
|
Fiber:
0.2
g
|
Sugar:
3
g
|
Vitamin A:
861
IU
|
Vitamin C:
7
mg
|
Calcium:
339
mg
|
Iron:
1
mg
Tips, Notes & Substitutes
Borek is a delicious Turkish pastry that you can make in many different ways. The most common type of borek is made with yufka sheets filled with cheese, ground meat, or vegetables.
Here are some tips & tricks for making the perfect:
You can find yufka in Turkish markets. If you don't have yufka sheets, you can substitute them with phyllo dough. Borek with phyllo dough will be a little more crunchy because it has a lot of starch.
Borek is typically baked in a large baking tray, but you can also make individual servings. You can wrap it in portions in the form of a spiral or a spring roll.
The most important tip for making perfect borek is not to overfill the dough. Otherwise, the filling will spill out during baking and ruin the pastry.
The next important thing is to use the right kind of cheese. You want to use a fresh, soft cheese with a mild flavor for this recipe. Feta cheese is the most commonly used cheese for yufka borek, but you can also use other types of cheese, such as mozzarella or ricotta.
You can make your borek with the filling of your choice. One of the most common fillings for borek is spinach and feta, but you can also use other combinations such as potatoes and cheese or ground meat and vegetables.
Enjoy your borek with a cup of Turkish tea. The perfect pairing for a delicious treat!
---
Recent Recipes