Homemade Turkish Egg Cilbir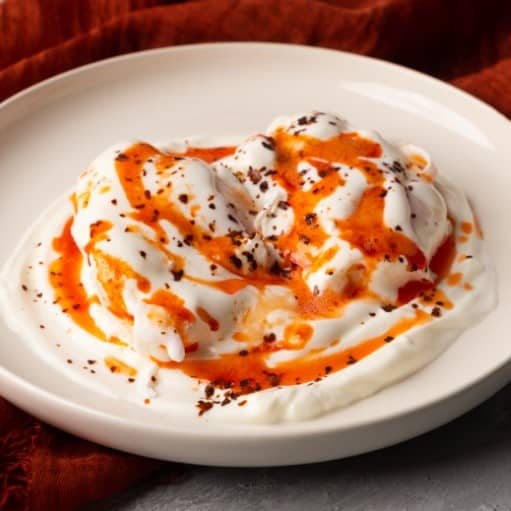 Ingredients
1

fresh medium egg

1

tsp

vinegar

½

tsp

salt

1

garlic clove

minced

½

cup

Greek yogurt

2

tsp

olive oil

2

tsp

butter

½

tsp

cayenne

Water

to boil
Instructions
Mix the yogurt, garlic, and salt in a small bowl and set it aside.

Heat the olive oil and butter in a small pan, add the cayenne, and then set aside.

Boil the water in the deep pot. Add vinegar and salt to the pot.

Make a vortex stirring with a spoon to put the egg inside it, then put the egg into the pan.

Cook the egg for about 3-4 minutes, then remove the eggs from the water with a slotted spoon and place them on a plate lined with a paper towel.

Spread half of the yogurt mixture to the bottom of the serving plate. Transfer the eggs to the plate on top of the yogurt bed, and pour the remaining yogurt on the eggs.

Drizzle the cayenne sauce on top of your dish.

Serve immediately.
Tips, Notes & Substitutes:
Çılbır is a healthy and delicious breakfast option. They are easy to make and can be cooked in just a few minutes. Here are some tips and tricks for making the perfect Çılbır.
You will need enough water to cover the eggs.
Once the water is boiling, reduce the heat to a simmering point. At this point, making a vortex will prevent the eggs from breaking apart.
Use fresh eggs. Older eggs are more likely to break apart when cooked.
Use a deep pan of simmering water. The water should be deep enough to submerge the eggs completely. Crack the eggs into a small bowl or cup before adding them to the water. This will help prevent them from breaking apart.
You can add red pepper flakes to the sauce if you want a more spicy dish.
If the yogurt is too thick, add a few tablespoons of water.
You can also serve it on toasted bread.
---
Recent Recipes