Homemade Turkish Lahmacun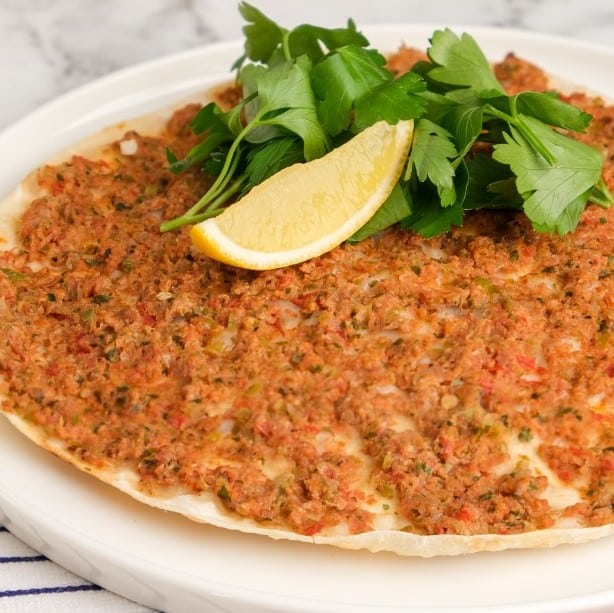 Ingredients
For dough:
1

cup

water

2 ½

cup

all-purpose flour

½

tsp

salt
For topping:
½

lb

medium fat ground beef

1

red sweet Marconi pepper

cored and seeded

3

long green pepper

cored and seeded

½

handful of parsley

2

small tomatoes

peeled

1

garlic clove

1

onion

½

cup

vegetable oil

1

tbsp

tomato paste

¼

tsp

red pepper flakes

¼

tsp

cayenne

¼

tsp

salt

¼

tsp

pepper
Instructions
Pulse the red pepper, green pepper, onion, garlic cloves, and parsley until all the ingredients turn the homogenous mixture into a food processor.

Add the tomato paste, spices, and salt to the mixture.

Add the minced beef to the mixture, and combine them well. Rest in the refrigerator for at least an hour.

Combine the flour, water, and salt. Knead the dough in a stand mixer with a hook attachment, or using by hand until it reaches a smooth texture.

Divide the dough into 8 equal parts and roll out the size of the non-stick pan you will cook the lahmacuns.

Spread the minced beef mixture onto the rolled dough.

Heat the non-stick pan over medium-low heat. Put the lahmacuns into the pan and close the lid. Cook until golden brown.
Nutrition
Calories:
433
kcal
|
Carbohydrates:
71
g
|
Protein:
21
g
|
Fat:
7
g
|
Saturated Fat:
3
g
|
Polyunsaturated Fat:
1
g
|
Monounsaturated Fat:
3
g
|
Trans Fat:
0.4
g
|
Cholesterol:
37
mg
|
Sodium:
519
mg
|
Potassium:
675
mg
|
Fiber:
5
g
|
Sugar:
6
g
|
Vitamin A:
1013
IU
|
Vitamin C:
106
mg
|
Calcium:
48
mg
|
Iron:
6
mg
Shop Ingredients
Tips, Notes & Substitutes:
It's the perfect blend of flavorful and healthy and is sure to become a new favorite in your household. Here are a few substitutes, notes, and tips to help you make the perfect Turkish lahmacun:
You can use flours other than plain flour, but you may need to increase the amount of water.
Water must be at room temperature.
Start on low heat when cooking, and dust the flour at the bottom of the pan just before cooking, so you eliminate the possibility of sticking.
If the minced beef mixture becomes too juicy while resting, drain it.
You can use a pizza board while transferring the lahmacun to the pan.
Don't be afraid that You will not cook the ground beef; it cooks well in that time.
You may want to bake it in the oven, but be wary that it may be very dry. If you have a pizza stone, you can cook it using it. Since it will cook in a shorter time with pizza stone, so it will not dry out.
You can also make vegan/vegetarian options if you don't eat meat.
You can substitute ground beef for lamb if you can't use the beef.
Lahmacun is typically served with a lemon wedge and some chopped parsley. Feel free to get creative with your toppings and add whatever you like!
Leftover lahmacun makes a great next-day lunch. Just wrap it up in a piece of foil and reheat it.
The dough should be thin and crispy.
Leftover lahmacun can be stored in the fridge for up to a week. Reheat in a hot pan or on a hot griddle before serving.
---
Get Foodie Deals
We collect great foodie-focused deals from across the web daily. Get yourself or your favorite foodie a great deal at big name stores.
Recent Recipes