Homemade Turkish Muhammara
Turkish muhammara is a delicious meze, or appetizer, made with a mixture of tomato and red pepper paste, breadcrumbs, and chopped walnuts. It is flavored with lemon juice, garlic, cumin, and black pepper, giving it a unique and satisfying mix of flavors. The meze is served cold and is best enjoyed with pita bread or Turkish flatbread. It is a perfect dish to share with friends and family at any gathering. The texture of the muhammara is slightly chunky, with the crunch of the chopped walnuts and the chewiness of the breadcrumbs. It is relatively easy to make, requiring only a few simple ingredients and a food processor or blender. Let's learn how to make it!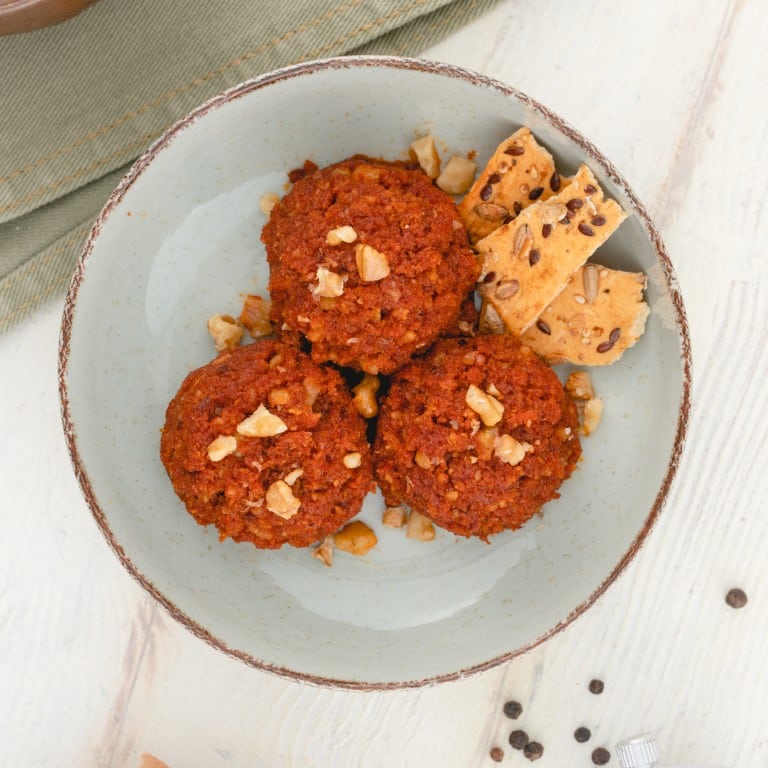 Ingredients
4

tbsp

tomato paste

2

tbsp

sweet red pepper paste

¾

cup

olive oil

½

cup

walnut kernels

⅓

baguette bread

sliced (100 g)

2

tbsp

lemon juice

freshly squeezed

2

garlic cloves

minced

½

tsp

cumin

¼

tsp

black pepper

Salt
Instructions
All ingredients ready? Let's begin!

Toast the bread slices in the oven at 220°C/430°F. After 8 minutes, take the bread slices from the oven and let them cool.

Pulse the bread slices in a food processor until you get medium-coarse breadcrumbs. Transfer it to the mixing bowl.

Then pulse the walnuts in a food processor until it is coarse in size. Transfer half of them to the mixing bowl. Keep pulsing the remaining walnuts in a food processor until it is fine-sized. Transfer them to the mixing bowl as well.

Add all the remaining ingredients to the mixing bowl, then mix them well until combined. Rest for about 30 minutes before serving.

Scoop the mixture using a cookie scoop, then arrange it on a serving plate.

You can serve it with any bread type you want.
Nutrition
Calories:
644
kcal
|
Carbohydrates:
23
g
|
Protein:
7
g
|
Fat:
60
g
|
Saturated Fat:
9
g
|
Polyunsaturated Fat:
8
g
|
Monounsaturated Fat:
41
g
|
Trans Fat:
0.01
g
|
Sodium:
358
mg
|
Potassium:
404
mg
|
Fiber:
2
g
|
Sugar:
5
g
|
Vitamin A:
354
IU
|
Vitamin C:
11
mg
|
Calcium:
52
mg
|
Iron:
3
mg
Tips, Notes & Substitutes:
Muhammara is a delicious Turkish meze made from tomato paste, bread, and walnuts. It is typically served with pita bread or Turkish flatbread and is a great appetizer or meze.
Here are some tips and tricks for making the perfect muhammara:
Bread is the traditional thickener for muhammara, but you can also use crackers, roasted chickpeas, or even oats. If you are on a gluten-free diet, just be sure to use a slice of gluten-free bread or cracker.
Muhammara is traditionally made with red pepper paste, but you can also use green pepper paste or even sun-dried tomato paste. Just be sure to adjust the other ingredients accordingly. You can also use roasted peppers instead of red pepper paste, but in this case, you need to revise the amount of bread.
If you want a bit of a spicy flavor, you can add some crushed red pepper flakes to the muhammara. Or, you can omit the pepper paste altogether for a milder version and use only tomato paste.
The most delicious accompaniment of muhammara is feta cheese and hummus.
Be careful to avoid mixing all the ingredients in the blender. Use a wooden or silicone spatula to blend them all; this meze should not be smooth.
You can also use ready-made breadcrumbs instead of baking and crumbling the bread.
If you want to increase the flavor of muhammara and reach a different taste, you can add a tablespoon of tahini; it will be perfect.
Leftover muhammara can be stored in the refrigerator for up to a week.
Before serving your muhammara, keep it in the refrigerator for an hour or two to allow all the flavors to meld together. Bon appetit!
---
Recent Recipes