Pide, also known as Turkish pizza, is a type of savory boat-shaped bread popular in Turkey and other parts of the Middle East. It is typically made with a thin and crispy dough, topped with ingredients such as ground meat, vegetables, and cheese, and then baked in a stone oven. The taste and appearance of pide can vary depending on the specific ingredients used, but it is typically savory and flavorful. Pide is often served as a snack or light meal, and can be enjoyed on its own or with a variety of dips and spreads. Let's see how to make it!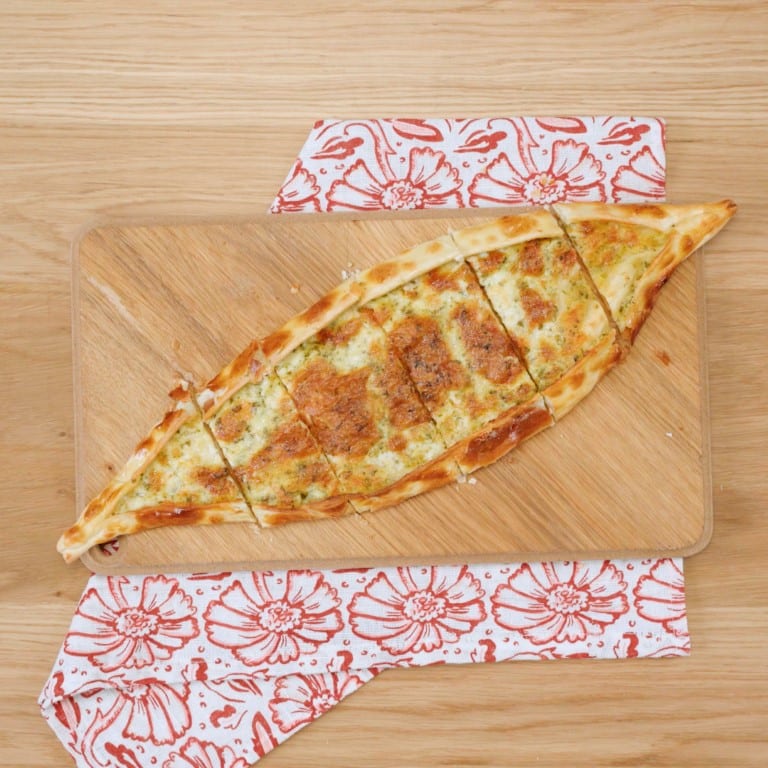 Ingredients
For the dough:
1

cup

flour

6

tbsp

of warm water

½

tsp

salt

½

tbsp

sunflower oil
For the stuffing:
1

cup

kashar cheese

grated

1

cup

feta cheese

crumbled

5-6

stalks of parsley

finely chopped

1

egg yolks
Instructions
Add all the ingredients for the dough into a large mixing bowl, knead it with your hands or in a stand mixer with a hook attachment until it reaches a smooth consistency, cover it with a damp cloth, and let it rest for at least half an hour.

On the other hand, mix all the ingredients for the stuffing in another mixing bowl and set it aside.

Divide the rested dough into 4 equal parts and roll them into balls with your hands.

Roll out each ball approximately 20 cm/8 inches long and 10-12 cm/4-5 inches wide. Try to use flour sparingly when rolling out the dough. Cover the other balls with a cloth when rolling out the dough so they do not dry out. Put the stuffing you prepared in the middle of the pide and spread it evenly, leaving 1 cm/0.5 inches of space around the edges.

Fold the edges over the cheeses. Refrain from rounding the ends of the pide, and fold it in a pointed way.

Take it to the tray you have floured the bottom of.

Whisk the egg yolk and water together and brush the edges of the pides.

Bake the pides in a preheated oven at 230°C/450°F for the first 10 minutes on the bottom shelf and the next 7 minutes on the middle shelf for about 17 minutes in total until golden brown.
Nutrition
Calories:
297
kcal
|
Carbohydrates:
21
g
|
Protein:
13
g
|
Fat:
18
g
|
Saturated Fat:
9
g
|
Polyunsaturated Fat:
1
g
|
Monounsaturated Fat:
5
g
|
Cholesterol:
123
mg
|
Sodium:
728
mg
|
Potassium:
76
mg
|
Fiber:
1
g
|
Sugar:
0.2
g
|
Vitamin A:
535
IU
|
Vitamin C:
1
mg
|
Calcium:
322
mg
|
Iron:
2
mg
Tips, Notes & Substitutes:
Here are a few things to keep in mind when it comes to making Turkish pide:
Make sure you use quality flour. Pastry flours are ideal for this recipe. Pide dough should be slightly firm but easily rolled out.
Take care to spread the dough's filling evenly and ensure that there is an equal amount of filling all over the dough.
Brush the empty parts of the pide with egg white before folding the edges, so it doesn't rise up while cooking.
Don't be afraid to get creative with your toppings. Turkish pide is traditionally topped with ingredients like ground meats, cheeses, or vegetables.
The cooking process is important. Pide should be cooked in a very hot oven, so ensure your oven is preheated before you start cooking.
You can grease the edges of your pides with butter. This will add an even better flavor to them.
Cover the hot pides you took out of the oven with a clean cloth if you want a softer pide.
You can double your experience by drinking ayran with your pide. Bon appetit!
Some spices and herbs go well with the cheese mix. You can use dried basil and mint or red pepper flakes to your taste.
---
Recent Recipes