Homemade Turkish Shepherd's Salad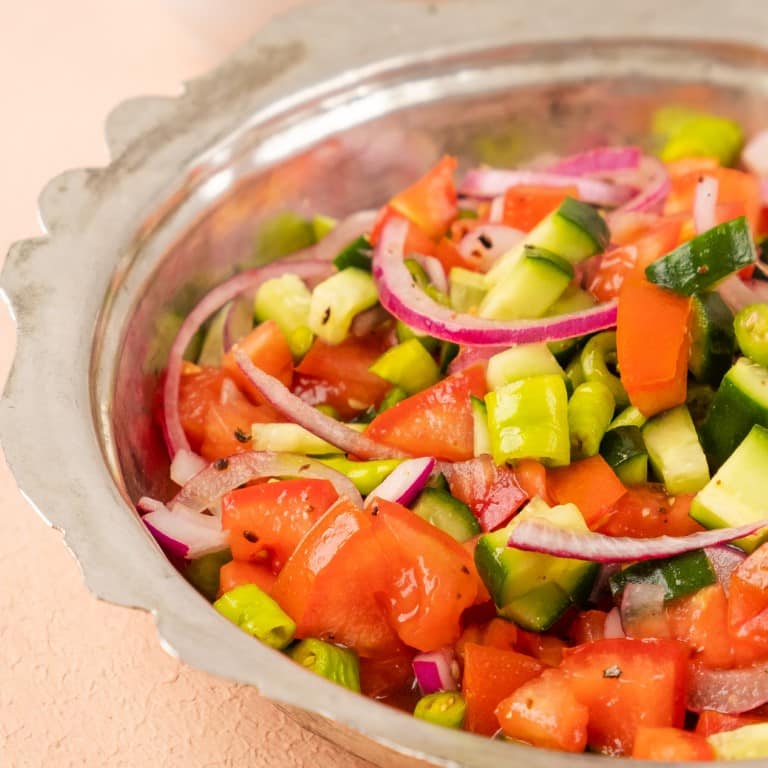 Ingredients
½

medium red onion

1

large tomato

1

large cucumber

5

sweet long thin green pepper

½

lemon

⅛

tsp

black pepper

¼

tsp

red pepper flakes

¼

tsp

salt

1

tbsp

extra virgin olive oil

1

tbsp

pomegranate molasses
Instructions
Slice the onion thinly, and transfer to a large mixing bowl.

Dice the tomatoes and cucumber into medium-small pieces. Transfer them to the mixing bowl.

Chop the green peppers into small pieces. Transfer to the mixing bowl.

Squeeze the lemon into a mixing bowl. Then pour the pomegranate molasses, extra virgin olive oil, salt, and spices.

Mix them gently until they are just combined.

Rest for about 20 minutes, so the tomatoes release their juice. Transfer the serving plate. Bon appetit!
Nutrition
Calories:
127
kcal
|
Carbohydrates:
19
g
|
Protein:
3
g
|
Fat:
5
g
|
Saturated Fat:
1
g
|
Polyunsaturated Fat:
1
g
|
Monounsaturated Fat:
3
g
|
Sodium:
208
mg
|
Potassium:
662
mg
|
Fiber:
5
g
|
Sugar:
11
g
|
Vitamin A:
1359
IU
|
Vitamin C:
177
mg
|
Calcium:
47
mg
|
Iron:
1
mg
Tips, Notes & Substitutes:
If you're looking for a delicious, healthy, and refreshing salad recipe, look no further than the classical Turkish Shepherd's Salad! Also known as Çoban Salatası, this dish is typically made with tomatoes, cucumbers, green peppers, and onions and is dressed with olive oil and lemon juice.
Here are a few tips and tricks to make the perfect Turkish Shepherd's Salad:
Use fresh, crisp, ripe vegetables for the best flavor.
If you can't find Turkish thin long green peppers, you can substitute them with green bell peppers or Cubanelle peppers.
Be sure to chop the vegetables into small-medium, random pieces, so they are evenly coated with the dressing.
The dressing for this salad is simple, but it is essential to use good quality olive oil and pomegranate molasses.
It is vital to let the salad sit for at least 20 minutes before serving at room temperature to allow the flavors to meld together. This is an important step, so do not skip it! The favorite part of this Turkish salad is its juice, and it's perfect for dipping your crisp bread.
You can garnish the salad with fresh herbs and a drizzle of olive oil when serving. This will make it look as good as it tastes.
Sheperd's Salda can also be served with cheese; to increase its nutritional value, you can even add olives. It is traditionally made with sheep milk cheese, but you can also use feta if you can't find it.
---
Recent Recipes