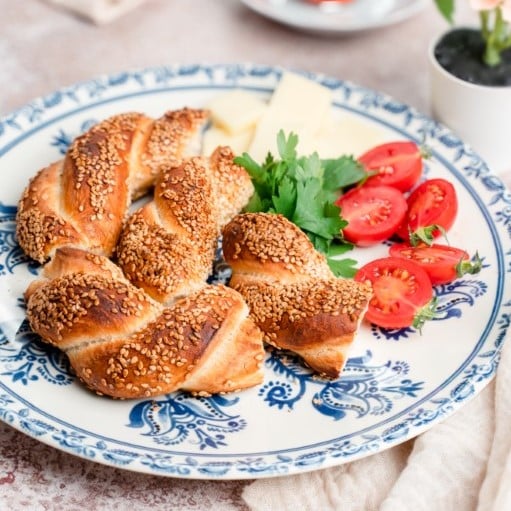 Ingredients
For Dough:
2

cups

flour

1

cup

of warm water

5

g

fresh yeast

½

tsp

salt

¼

tsp

sugar
For covering:
¼

cup

water

½

cup

grape molasses

1

cup

sesame seeds
Instructions
Add all the ingredients into a mixing bowl, and knead it with your hands or in a stand mixer with a hook attachment until it is smooth.

Rest the dough for at least an hour, covered with a damp kitchen towel.

Meanwhile, mix water and molasses in a large shallow bowl. Put the sesame seeds on a large flat plate.

Divide the rested dough into 16 equal parts, and cover them with a kitchen towel, so they do not dry out. Roll out the dough balls with a rolling pin until it is 20 cm/8 inches in diameter.

Roll them into strips and stretch each piece to a width of about 30 cm/12 inches. Twist the two strips around each other, roll the ends together, and get a bagel shap

Twist the two strips around each other, roll the ends together, and get a bagel shape.

Dip the bagel first into the molasses mixture and then into the sesame seeds so it is coated on all sides.

Transfer the simits coated with sesame seeds into the baking tray lined with waxed paper. Rest for about half an hour in a baking tray.

Bake the fermented simits in a preheatedS oven at 230°C/450°F for 15 minutes.
Nutrition
Calories:
567
kcal
|
Carbohydrates:
88
g
|
Protein:
13
g
|
Fat:
19
g
|
Saturated Fat:
3
g
|
Polyunsaturated Fat:
8
g
|
Monounsaturated Fat:
7
g
|
Sodium:
316
mg
|
Potassium:
865
mg
|
Fiber:
6
g
|
Sugar:
32
g
|
Vitamin A:
3
IU
|
Calcium:
464
mg
|
Iron:
10
mg
Tips, Notes & Substitutes:
Simit is a delicious bagel-type Turkish pastry that is perfect for any occasion. Here are a few tips and tricks that will help you make the perfect simit!
The secret of a good simit is preparing a good dough. A simit with poor dough hardens quickly, does not become crispy and crunchy, and spoils quickly. For this reason, it is essential to use high-quality and the correct type of flour for an excellent dough.
It is crucial to make sure both ends of the simit are well connected to each other. This will help the simit keep its shape and prevent it from breaking apart while baking.
Waxed paper will help the simit to prevent sticking to the baking tray. You can also use a silicone baking mat.
Be careful to stay within the cooking time in the recipe; if you overcook, your simit will be dry and very hard.
You can roast the sesame seeds beforehand while taking care that they do not turn black. Roast the sesame seeds until the oil and smell is released. Your simit will be even more delicious this way.
Using grape molasses is very important for its taste; if you are going to use another type of molasses with a more dominant taste, you may want to dilute it more.
Simit is best served fresh and warm. However, if you are not able to eat it right away, you can store it in an airtight container for up to 2-3 days.
By following these tips and tricks, you will be able to make the perfect simit every time!
---
Recent Recipes