Making noodles from scratch might sound like a daunting task. Why would you make noodles when you can buy them already made and just add them to boiling salted water for a few minutes?
I used to think that as well until I started making my own pasta about 20 years ago. I bought a pasta extruder at a tag sale for $15 and started experimenting with it. The noodles were good, but this electric machine took too long for the amount of pasta it produced and it probably used too much electricity to run. I sold that and then got an Italian hand crank pasta roller as a holiday gift. It makes great noodles, but sometimes I find that it is a royal pain to clean without ruining the rolling mechanisms.
You can actually make noodles by hand without any special appliances or unique kitchen tools. Udon noodles are ones you definitely want to make by hand. These fresh noodles are unbelievably silky, springy, and soft. Dried udon noodles never seem to achieve the same texture once cooked.
Udon noodles are not to be confused with soba noodles that are made with gluten-free buckwheat flour as the main ingredient. Udon noodles are Japanese pasta made with only 3 ingredients: wheat flour, salt, and water. They cook in around 10 minutes and they are terrific for noodle soup, ramen bowls, and stir fry dishes. I don't recommend cooking the noodles directly in your soup broth. They release a little too much starch. Just boil them in salted water and then dunk them in an ice-cold water bath to stop the cooking. Drain and add to soups, buddha bowls, or stir fry dishes.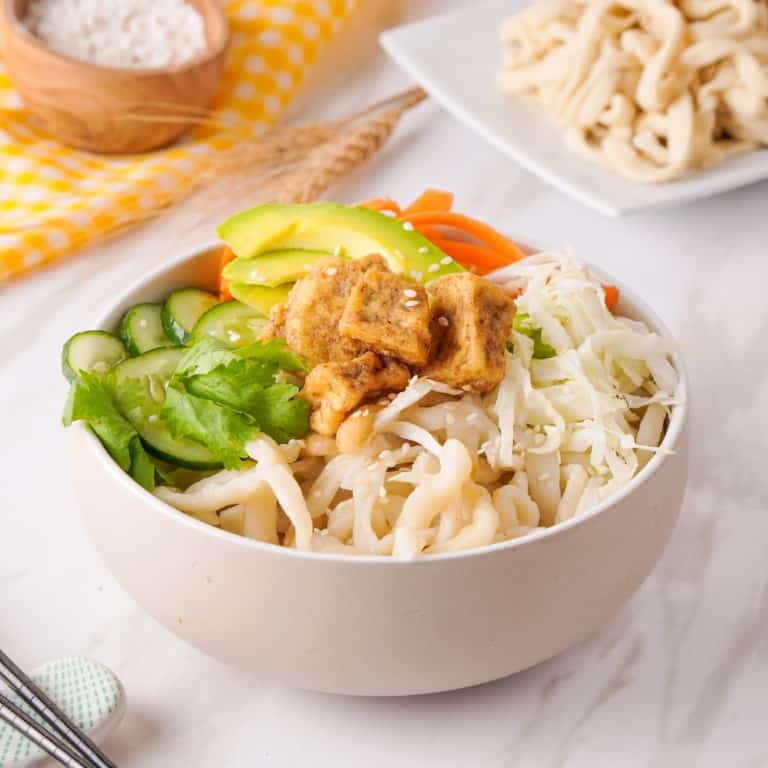 Ingredients
3 ¾

cups

sifted all-purpose flour + more for kneading and rolling

1

Tbsp

kosher salt

1

cup

of water

plus or minus
Instructions
All ingredients ready? Let's begin!

In a large mixing bowl, add the flour and salt. Stir to combine. Add the water and use your hands to mix everything until the dough starts to come together.

Continue using your hands to knead the dough until all the flour is incorporated into the dough. If necessary, add a little more water to the dough to bring everything together.

Lightly dust a clean, dry, flat work surface with flour. Turn the dough out onto the floured surface and continue to knead with the heels of your hands until it is elastic and smooth, approximately 5 minutes.

Wrap the ball of dough in plastic film and allow it to rest at room temperature for at least 1 hour and up to 4 hours.

After the dough has rested, flour your work surface again lightly. Knead the dough for about 2 or 3 minutes. Form the dough into 3 equal size balls. Dust the balls with flour and wrap 2 of them in the plastic while you work on the first one.

Lightly dust your work surface again. Using a rolling pin that has also been dusted with flour, start rolling out one ball of dough, rotating it 90 degrees every so often. Add a little more flour if the dough starts to stick to the surface or the rolling pin. You want the dough to be between 1/8 and 1/4 inch thick, but not any thicker.

Fold the rolled-out dough into thirds, overlapping the folds. It will resemble a folded letter.

Using a sharp chef's knife and starting at one of the shorter ends, slice the dough into 1/8-inch wide noodles. After they are sliced, gently separate the noodles using floured hands so they don't clump together, and place them in a pile on a sheet pan or your work surface. Repeat with the other 2 balls of dough.

You will want to cook the noodles right away. To do that, bring a large pot of salted water over high heat to boil. Have ready a large bowl of ice-cold water and a colander. Add noodles to boiling water and cook them for approximately 10 minutes while stirring and checking a couple of times for doneness.

Drain the noodles in the colander and then place them directly into the ice-cold water bath for just 15 seconds to remove the excess starch and stop the cooking. Drain again and use the noodles in soups or stir fry dishes.

Enjoy your Homemade Udon Noodles!
Nutrition
Calories:
375
kcal
|
Carbohydrates:
82
g
|
Protein:
11
g
|
Fat:
4
g
|
Polyunsaturated Fat:
1
g
|
Monounsaturated Fat:
1
g
|
Sodium:
1747
mg
|
Potassium:
0.4
mg
|
Fiber:
11
g
|
Sugar:
4
g
|
Calcium:
78
mg
|
Iron:
4
mg
Notes & Tips
If the dough keeps springing back when you are trying to roll it out, simply cover it with plastic wrap and allow it to rest a bit longer so the protein in the flour relaxes.
If you aren't into being patient with rolling out the dough, go ahead and pass it through your hand crank pasta rolling machine or the pasta attachment on your stand mixer.
Keep in mind that this is a very elastic dough because it doesn't have eggs as some traditional European pasta has. It will be springy and it does take a few minutes longer to cook to get it beyond al dente. But you don't want to overcook it because it will be too soft. Start checking the noodles for doneness at around the 7-minute mark.
Udon Noodle Dishes
We have experimented with these springy and silky noodles and have developed a few good recipes. There will be more to come. For now, try our Kitsune Udon bowl and the Best Brothless Ramen. Udon noodles are also an excellent base for all types of stir-fried vegetable-based and protein-based dishes with a great complex sauce for the noodles to cling to.
---
Recent Recipes