Perfect Vegan Banana Cream Pie
I am a pushover for a creamy pie. It could be coconut cream, lemon meringue, key lime, banana cream, or pumpkin. They are all sweet and rich and the creamy filling is perfect with the contrasting crunch of the crust.
Banana cream pie is one that we sometimes made from scratch at home. It was a perfect way to use up the bananas that were ripe and needed to be eaten. If I recall correctly, our homemade banana cream pie had a cookie crumb and butter-based crust with a filling that was made with a dairy-based banana pudding. It was always topped with whipped cream. Aside from the bananas, this pie was heavy with dairy and it tasted so good – a true comfort food.
As I got older, I started including more vegan options in my diet. I really enjoy trying to make vegan versions of many classic recipes. I wasn't sure if banana cream pie would work without dairy, but it does! Vegan banana cream pie can be made with vegan butter and non-dairy milk. There are even non-dairy whipped toppings that is often made with coconut milk instead of cream.
I make my cream pie with a vegan graham cracker crust mostly because I prefer this to a traditional flour-based pastry crust for certain cream pies, especially those where the filling isn't baked. Pumpkin pie would be the exception to this. For a crunchier crust, you can bake it for 10 minutes in a 350°F oven, allow it to cool, then fill it.
For the pie filling, I use just a few ingredients. These include sugar, vegan butter, spices, plant-based milk, arrowroot powder, vanilla, and of course bananas. I like to top the pie with non-dairy whipped topping. While the ingredients are simple and the prep is easy, you need to set aside about 8 hours of resting time in the refrigerator for both the crust and the filling to set up properly.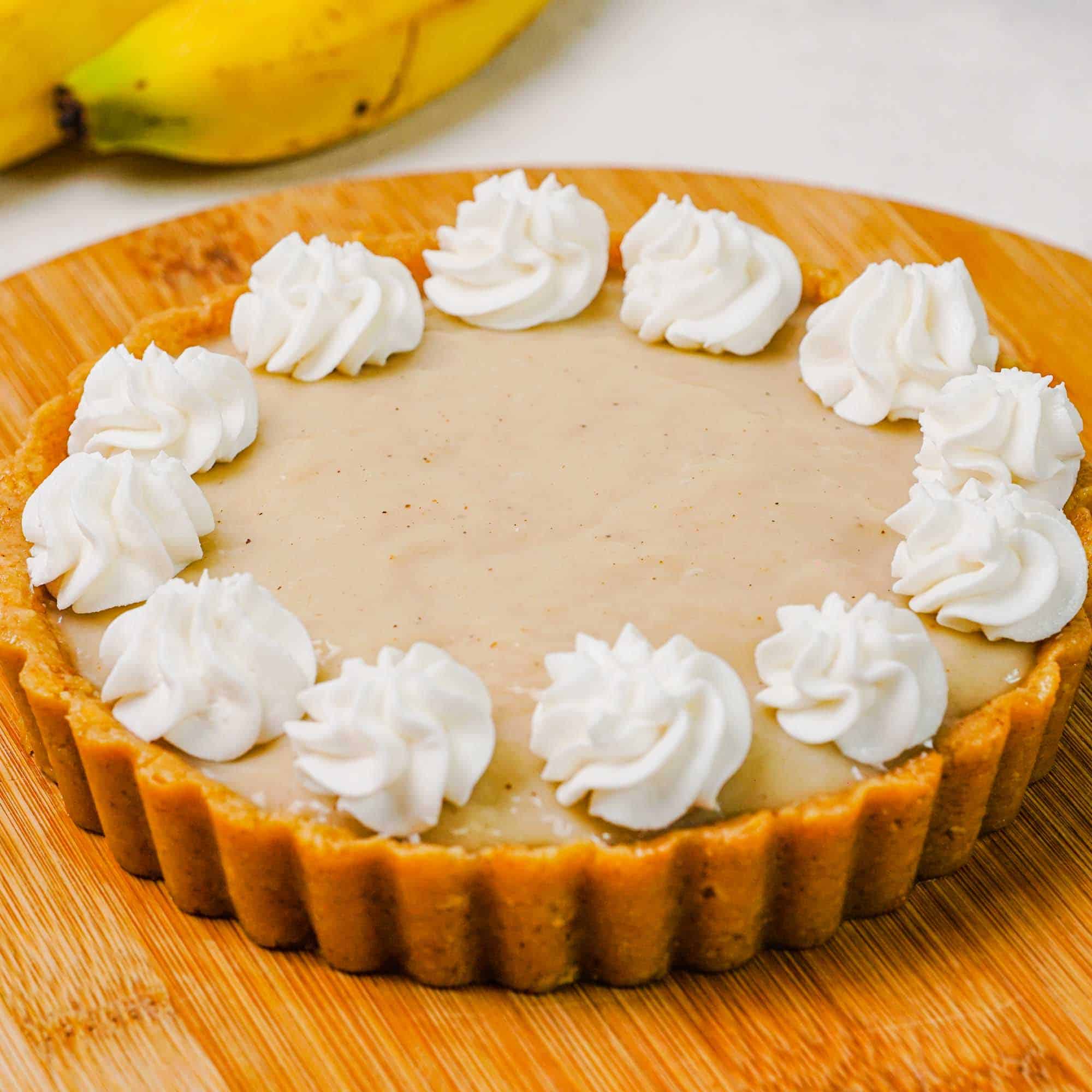 Ingredients
Filling
1

cup

powdered sugar

1/4

cup

granulated sugar

3

Tbsp

arrowroot powder

1/4

tsp

sea salt

omit if using salted butter

1/4

tsp

ground nutmeg

2-1/2

cups

unsweetened almond milk

1/4

cup

unsalted vegan butter

1

tsp

pure vanilla extract

3

ripe bananas

reserved for assembly

1

tsp

ground cinnamon for dusting

12

ounces

of vegan whipped topping

optional
Crust
1-1/2

cups

vegan graham cracker crumbs

about 12 sheets pulsed in a food processor

1/3

cup

granulated sugar

1/8

tsp

sea salt

omit if using salted butter

1/2

cup

1 stick unsalted vegan butter, melted
Instructions
All ingredients ready? Let's begin!
Filling
In a medium saucepan, combine the 2 sugars, arrowroot, salt, and nutmeg.

Whisk in the almond milk. Place the saucepan over medium-low heat and cook, whisking a few times, for about 4 minutes until the liquid thickens but is still pourable.

Whisk in the butter until it melts and is fully incorporated into the filling.

Remove the pan from the heat and stir in the vanilla extract. While the filling is cooling, whisk every couple of minutes until completely cooled.

Pour the filling into a bowl and press a sheet of plastic wrap over the top of the mixture to prevent a skin from forming. Refrigerate for 4 hours until the filling sets up.
Crust
After the filling has been in the fridge for 2 hours, prepare the crust. Start by pulsing the crackers into crumbs in a food processor. Transfer them to a mixing bowl.

Stir in the sugar and salt to combine well.

Melt the butter and allow it to cool slightly. Pour the butter into the crumbs and stir to combine.

Press the crumb mixture into the bottom and sides of a standard pie plate.

Place the crust in the refrigerator and chill for 2 hours while the filling is still setting up.

If desired, you can bake the chilled crust in a 350°F oven for 10 minutes to firm it up. If doing this, allow it to cool before assembling the pie.
Assembly
Peel the bananas. Slice them thinly. Layer the slices evenly on the bottom of the pie crust.

Sprinkle the cinnamon over the bananas.

Spoon the chilled filling over the bananas and spread it out to evenly cover them.

Place the pie back in the refrigerator to firm up for another 4 hours.

Spoon or pipe whipped topping over the pie if using it. Or, serve the topping on the side for those who want it.

Slice into wedges and serve while cold.
Nutrition
Calories:
433
kcal
|
Carbohydrates:
57
g
|
Protein:
2
g
|
Fat:
23
g
|
Saturated Fat:
8
g
|
Polyunsaturated Fat:
5
g
|
Monounsaturated Fat:
8
g
|
Trans Fat:
3
g
|
Cholesterol:
1
mg
|
Sodium:
348
mg
|
Potassium:
218
mg
|
Fiber:
2
g
|
Sugar:
46
g
|
Vitamin A:
61
IU
|
Vitamin C:
4
mg
|
Calcium:
79
mg
|
Iron:
0.5
mg
Notes & Tips
When shopping for graham crackers, be sure to check the ingredient list. Some graham crackers are made with honey. Honey is not vegan-compliant for many people following a vegan diet.
You can make the pie crust well ahead of time and even store it in the freezer. Thaw it out in the fridge overnight before using it.
Substitutions & Shortcuts
Granulated Sugar: I honestly don't always have white granulated sugar in my pantry. I generally use raw turbinado sugar or coconut sugar for a healthier spin when baking.
Arrowroot Powder: Arrowroot is my thickening agent of choice. I do also keep kudzu and tapioca starch on hand. You could substitute cornstarch in this recipe.
Almond Milk: There is always a carton of unsweetened almond milk in my fridge. Recently, I started experimenting with other plant-based milk. The ones I really like are macadamia nut milk, coconut milk beverage, and oat milk. Really, any plant-based milk should work. I do find that rice and soy milk are sometimes a bit thinner in consistency.
Vegan Butter: I do make my own vegan butter sometimes, but there is some very good commercially prepared plant-based butter made with coconut oil and aquafaba. You could probably use coconut butter or coconut oil for this recipe.
Graham Crackers: There are other crackers or cookies you can use for making the crust. There are gluten-free graham crackers available. Or, you could choose vegan sugar cookies, vanilla cookies, digestive biscuits, and shortbread cookies.
Shortcut: You can skip making your own pie crust by purchasing a premade crust at the market. If using a standard flour-based pie crust, bake it according to the package directions and allow it to cool before assembling the pie.
---
Recent Recipes