The Meatiest Vegan Black Bean Meatballs Around
There's no tastier mincemeat replacement than roasted black beans seasoned with the right herbs and spices. We'll be taking you through a look at a vegan black bean meatballs recipe with such authentic taste and texture that you could con a carnivore. Give processed plant-based protein a break, and give these vegan black bean meatballs a try.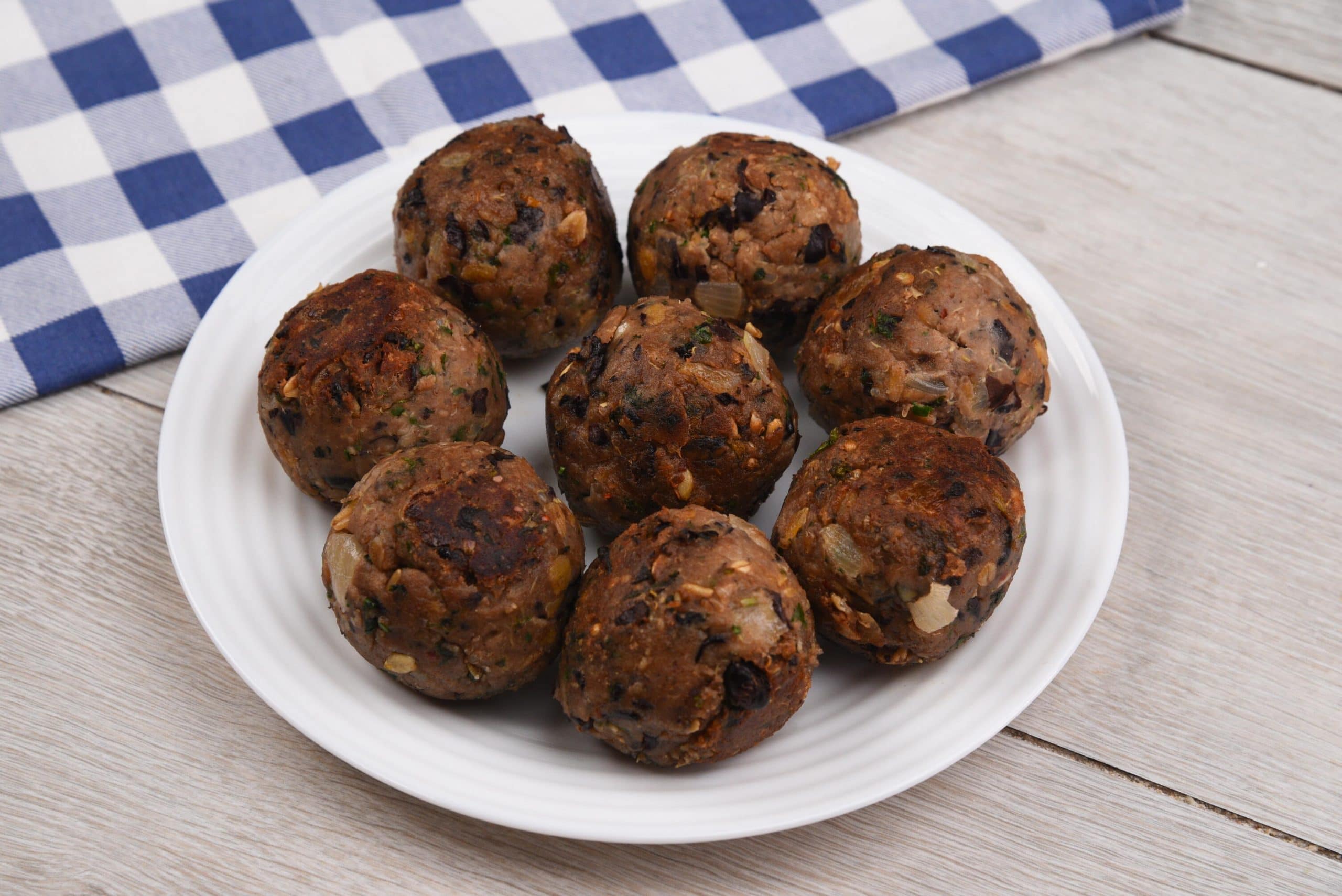 Ingredients
Olive/Canola Oil

1

Tin Black Beans

½

Cup

Quinoa

Cooked And Fully Cooled

½

Cup

Rolled Oats

1

Large Onion

Minced

5

Cloves

Garlic

Minced

1

Teaspoon

Dried Chili Flakes

1

Teaspoon

Coriander Seeds

1

Teaspoon

Coriander Powder

½

Teaspoon

Nutmeg

½

Cup

Breadcrumbs

3

Tablespoons

Flour

4

Tablespoons

Almond Milk

4

Tablespoons

Fresh Thyme

Finely Chopped

4

Tablespoons

Fresh Oregano

Finely Chopped

4

Tablespoons

Fresh Parsley

Finely Chopped

2

Tablespoons

Lime Juice

Salt & Black Pepper
Instructions
Rinse the black beans thoroughly and allow the moisture to drip off using a colander.

Preheat your oven to 375°F

Once relatively dry, lightly coat the beans in oil and season them liberally with salt, pepper, and a teaspoon of coriander powder.

Place the seasoned beans into a roasting pan before coating them with lime juice and then roasting for 10 minutes uncovered, stirring the beans halfway to turn them.

Heat a large saucepan with a little olive or canola oil and saute the onions and roasted coriander seed for 1 minute.

Add the garlic, dried chili flakes, and nutmeg powder, and continue frying until the onions are translucent.

Transfer the roasted black beans to the pan and mash the beans using a fork until they're mostly broken while stirring constantly.

Slowly add almond milk while stirring constantly.

Mix in the quinoa & rolled oats and continue to cook for 2 minutes.

Blend in the breadcrumbs, flour, parsley, thyme, and oregano.

Season the mix with salt and black pepper, tasting to determine the quantity.

Remove from the heat and allow the mixture to cool down until it is cool enough to form into balls.

Oil your hands and use your palms to shape lime-sized balls from the mixture.

Allow the meatballs to cool in the refrigerator for 10 to 15 minutes.

Saute the vegan meatballs in a little oil in a skillet until they're browned on all sides and cooked through.
Video
Nutrition
Calories:
189
kcal
|
Carbohydrates:
35
g
|
Protein:
9
g
|
Fat:
2
g
|
Saturated Fat:
1
g
|
Polyunsaturated Fat:
1
g
|
Monounsaturated Fat:
1
g
|
Sodium:
68
mg
|
Potassium:
391
mg
|
Fiber:
9
g
|
Sugar:
1
g
|
Vitamin A:
459
IU
|
Vitamin C:
11
mg
|
Calcium:
112
mg
|
Iron:
4
mg
What Are Vegan Black Bean Meatballs?
Vegan black bean meatballs are meatballs that do not contain any animal products or dairy while delivering the same firm but tender texture and rich, meaty flavor. Vegan meatballs are just as versatile as any other variety and are equally packed with protein when prepared right.
Why You Want To Try Our Vegan Black Bean Meatball Recipe
By roasting the black beans first and combining them with quinoa and a blend of fragrant, flavorful seasonings complementary to meatballs, the perfect balance of meaty richness and substance is reached.
What To Serve With Vegan Black Bean Meatballs?
There are endless ways to serve vegan black meatballs. We recommend you fry up a batch and try baking them for a few minutes in a rich sauce like marinara or a sticky barbecue. Otherwise, for a combination, you'll keep coming back to cook up a homemade batch of Bulgarian Lutenitsa spread and use it generously as a relish over your meatballs. Add some greens or something different like a fresh cabbage salad, and you've got a well-rounded meal where each flavor complements the next.
Vegan Black Bean Meatball Substitutes
Lemon juice can take the place of lime juice in a pinch when roasting the black beans. If you don't have any breadcrumbs on hand and are looking for a quick replacement, soak three slices of white bread in just enough almond milk to submerge them. Once soaked, mush up the mix and blend it with your meatballs at the same point that you would have added breadcrumbs. Quinoa can be omitted if you double up on the oats, but the texture will be ever-so-slightly different. Alternatively, cook up half a cup of lentils and add it in place of the quinoa.
Gluten-Free Substitutes For Vegan Black Meatballs
All that it takes to make this vegan black meatballs recipe gluten-free is, swapping out the flour for almond flour at an equal quantity and replacing the breadcrumbs. Several stores keep gluten-free Panko but if you can't find any, make your own by pulsing three to four slices of gluten-free bread in a blender. Once you've got crumbs, season with salt or any other finishings you prefer and toast them lightly in the oven until golden brown. If you want to guarantee a uniform consistency without any hard bits, press the toasted crumbs through a sieve before use.
Can You Freeze Vegan Black Bean Meatballs?
Cooked or uncooked, vegan black bean meatballs freeze extremely well. When stored in an airtight container packed neatly between layers of parchment paper, black bean meatballs can be safely frozen for two to three months uncooked and up to a month when cooked first. We advise freezing your meatballs uncooked and then allowing them to thaw in the fridge on the day that you plan to fry them off. This keeps the flavor and consistency largely intact without risking excess moisture.
What To Do With Leftover Vegan Meatballs
From making meatball sandwiches to crumbling them up and using the mince as a pizza topping, leftover vegan black bean meatballs will never go to waste. If you don't have enough leftovers to warrant freezing, crumble them up and use them in the place of mincemeat in any of your favorite recipes. Chunks of tasty meatballs in a casserole make the dish pop with flavor. Pieces of meatball in a simple green salad can turn a side portion into a filling meal when you're pressed for time. Be inventive! The flavor is versatile enough for a multitude of dishes.
Tips For Success
If you find that your meatballs are a little underdone but adequately browned, we suggest finishing them off in the oven instead of burning the crunchy exterior. It takes a little more than 5 minutes in the oven turning the meatballs once to cook most through to perfection.
---
Recent Recipes