I try to be careful about eating too much dairy. I am really fine with nut milk in place of cow's milk, ghee instead of butter with milk sugars, and plant-based yogurt for dairy yogurt. Vegan cheese is hit or miss with me. When I look at the ingredient lists on some commercial brands of plant-based cheese, my head spins. There are oils, gums, starches, grains, soy, emulsifiers, and stabilizers that I am not sure are healthier than eating dairy cheese. However, this industry is getting better with some newer vegan cheese options available that have many fewer ingredients. Though, those cheeses can be very pricy.
I decided to try to make my own vegan cheese. I have made a vegan parmesan alternative with nutritional yeast and ground nuts. I've had success with a delicious creamy plant-based cheesy sauce. I tried making tofu ricotta and tofu chevre, neither of which had a great texture. I have also experimented with making vegan cheese that can be sliced to add to a vegetarian antipasti platter or to place in sandwiches and lasagnas.
I think I finally have a recipe for vegan cheese that solidifies nicely so that it can be sliced. It has the firmness and texture of edam or gouda cheese. I make it with very few ingredients, the base being raw cashews and the thickening agent being agar-agar flakes, which is a sea vegetable. I referenced "The Native Foods Restaurant Cookbook" for inspiration for this recipe. They have a plant-based recipe called Native Chi's (clever) that does not have tofu or unusual starches.
Just to be clear, this isn't cheese as we know it. It is a good alternative for those who can't tolerate dairy or choose not to eat it. You can tweak my recipe to make the "cheese" more to what you like in flavor. Though, I think the texture is fine.
Notes & Tips
When choosing raw cashews, don't head for the bulk bins. Yes, these cost less. But cashews can grab onto mold spores in the atmosphere pretty quickly and they can go rancid. Every time someone's hand goes into that bulk bin, moisture lands on the cashews. I suggest buying organic cashews that were packaged at the processing plant to prevent moisture from getting to the nuts.
For a creamier cheese, you can soak the cashews in water for about 4 hours to soften them. Drain well before processing.
Why I use raw unfiltered apple cider vinegar is because it has probiotic properties, similar to many kinds of cheese. It is a naturally fermented ingredient that adds more nutrition to the cheese.
For a cheesier flavor, add more nutritional yeast.
I use a vintage corning ware baking dish that belonged to my mother that is about 4"x4" to mold the cheese. The corners are rounded, so the shape is nice when the cheese comes out and is turned over. If you are nervous about the cheese releasing from the dish, you can line it with parchment paper, though the surface may appear uneven from the paper.
Substitutions & Additions
Cashews: I haven't tried making this particular cheese with other nuts or seeds. But I was thinking of trying this with sprouted pumpkin seeds. I place raw pumpkin seeds in water overnight and drain them the next day so they can sit in a bowl and sprout. I repeat this for 2 or 3 days until the seeds start to germinate with little tails. I use these to make granola, seed bread, and seed butter. They are so healthy, digestible, and have a texture similar to cashews. Raw cashews are semi-soft and a little moist, which makes them great for plant-based cheese.
Apple Cider Vinegar: If you don't have raw unfiltered apple cider vinegar, you can use all lime or lemon juice.
Tahini Paste: I love the flavor and texture this particular seed butter adds to the cheese. I think you might be able to use sunflower seed butter or creamy cashew butter.
Turmeric: I add turmeric mostly for the slight yellow color. It is also a very heart-healthy spice. If you don't have it, try a little paprika. Or, you can leave it out and the cheese will be an ivory color.
Additions: To make this vegan cheese more interesting, add minced chili peppers and cracked black pepper for a pepper jack version. You can also add chopped black and green olives for a Mediterranean spin. Minced fresh green herbs are also a nice addition.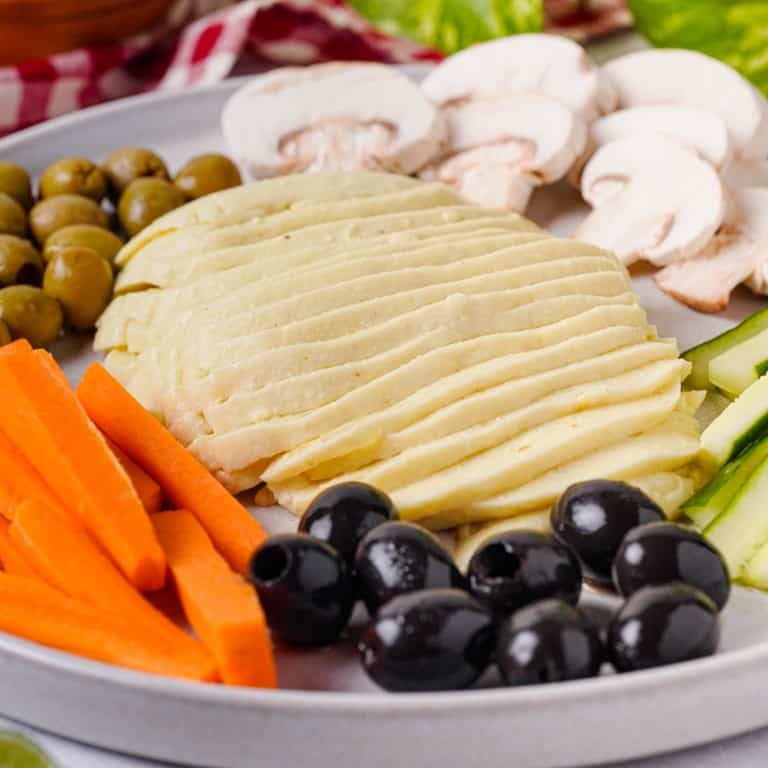 Ingredients
1

cup

raw cashews

2

Tbsp

raw

unfiltered apple cider vinegar

2

Tbsp

fresh lime juice

1

Tbsp

sesame tahini paste

1

Tbsp

nutritional yeast

1

tsp

sea salt

¼

tsp

garlic powder

¼

tsp

onion powder

¼

tsp

ground turmeric for color

optional

1 ½

cups

filtered water

⅓

cup

agar-agar flakes

Avocado or walnut oil for the dish
Instructions
All ingredients ready? Let's begin!

In a food processor, pulse the cashews into a fine powder.

Add the vinegar, lime juice, tahini, yeast, salt, garlic powder, onion powder, and turmeric to the cashew powder and pulse again into a smooth paste, scraping down the sides of the processor a couple of times.

In a small saucepan over medium-high heat, combine the water and agar-agar flakes. Bring this to a boil.

Turn the heat down to a rolling simmer and cook for about 5 minutes while whisking often until the mixture thickens and the flakes have dissolved. Set aside.

Generously oil a small shallow baking dish or a Pyrex storage dish, about 4" square or round.

Add the agar-agar mixture to the cashew base and pulse again to combine well, again scraping down the sides of the processor bowl. The end result should be smooth and creamy.

Using a silicon spatula, pour the "cheese" mixture into the baking dish and smooth the surface.

Cover with plastic wrap and refrigerate until the cheese firms up and is cold.

Remove the cheese from the baking dish to a cutting board, bottom (smooth) side facing up.

It should slide out in one piece by turning the dish over and tapping the bottom.

Slice and serve on a mezze platter or use it in a sandwich. This cheese should keep in the refrigerator for a few days.

Enjoy your homemade vegan cheese!
Nutrition
Calories:
235
kcal
|
Carbohydrates:
22
g
|
Protein:
6
g
|
Fat:
16
g
|
Saturated Fat:
3
g
|
Polyunsaturated Fat:
3
g
|
Monounsaturated Fat:
9
g
|
Sodium:
403
mg
|
Potassium:
425
mg
|
Fiber:
4
g
|
Sugar:
8
g
|
Vitamin A:
53
IU
|
Vitamin C:
5
mg
|
Calcium:
58
mg
|
Iron:
3
mg
---
Recent Recipes