Best Vegan Chocolate Cake
Rich, chocolate cake is a beautiful thing, but like many things, it is hard to find a good vegan recipe. A lot of cake recipes are not vegan-friendly because they usually use dairy and eggs. Vegan baking is such a struggle because butter is used for creamy goodness and eggs are used so things don't fall apart (literally). Substitutes tend to be dry and weird tasting, making it very discouraging when you want a decadent dessert.
Luckily, because veganism has become so popular in recent years, there are more and more vegan-friendly recipes being made every day. This vegan chocolate cake recipe is just as good as a non-vegan cake. It might be even better! It won't be quite as fluffy as other cakes, but it will be nice and moist, which some might argue is even better. If you'd rather go for something extra fudgy, try vegan potato milk brownies. You can even use the frosting from this recipe on them!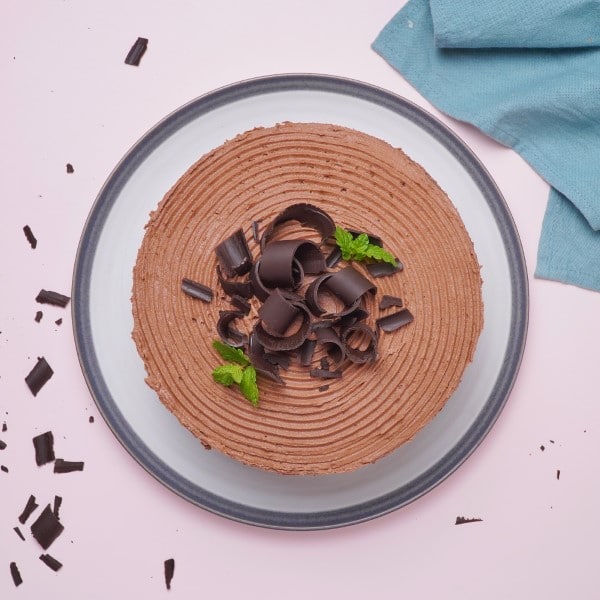 Ingredients
For the cake:
1

cup

plain soy milk

1

tbsp

white vinegar

2

cups

flour

1

cup

white sugar

¾

cups

brown sugar

1

cup

cocoa powder

2

tsp

baking powder

1 ½

tsp

baking soda

½

tsp

salt

½

cup

plant butter

1

cup

applesauce

1

tbsp

vanilla
For the frosting:
1

cup

vegan butter

¼

cups

cocoa powder

3 ½

cups

powdered sugar

1

tsp

vanilla

4

tbsp

soy milk
Instructions
All ingredients ready? Let's begin!

Preheat the oven to 350F. Prep two round 9-inch cake pans by greasing them with butter. Sprinkle flour on the inside and tap it around until it's stuck on the butter all over the surface of the pans. Discard any excess flour.
To make the cake:
In a small bowl, add the soy milk and vinegar. Mix and set it aside.

In a large mixing bowl, combine the flour, both sugars, cocoa powder, baking powder, baking soda, and salt. Whisk to mix well.

Melt the butter and add it to a new bowl along with the applesauce, vanilla, and the vinegar-soy milk, which should have curdled. Mix well to combine.

Add the wet ingredients to the dry ingredients and mix well. It is best to use a spatula or paddle attachment on a stand mixer. Keep mixing until well incorporated and there are no clumps.

Evenly divide the batter into the previously prepared cake tins and use a spatula to smooth over the tops.

Put in the oven and cook for about 35 minutes. When you can stick a toothpick or fork into the center and it comes out clean, then the cakes are done.

Remove from the oven and let cool in the pans for 10 minutes.

Use a butter knife around the edges of the pans to loosen the cake from the sides, then turn them upside down onto a cooling rack.

Allow to cool completely before decorating.
For the frosting:
Add all the ingredients except the soy milk to the bowl of a stand mixer. Alternatively, you can use an electric hand mixer, or a spoon (that will take longer).

Beat the frosting ingredients together until smooth and creamy. This should take around 5 minutes.

If the frosting is too thick, slowly add some soy milk bit by bit until it reaches the desired consistency. If the frosting is too thin, add more powdered sugar.

Continue mixing until it achieves the right consistency. It should be thick and stuff enough to hold its shape but wet enough to spread smoothly and evenly.
To assemble:
Once the cakes are cool, place one on a plate.

Spoon a generous amount of frosting on top and spread roughly across.

Place the second cake on top and spoon the rest of the frosting on top. Bring some frosting down to cover the sides then use an offset spatula to smooth all the surfaces.

Carefully cut into pieces and serve.
Video
Nutrition
Calories:
410
kcal
|
Carbohydrates:
67
g
|
Protein:
4
g
|
Fat:
16
g
|
Saturated Fat:
4
g
|
Polyunsaturated Fat:
4
g
|
Monounsaturated Fat:
7
g
|
Trans Fat:
1
g
|
Sodium:
378
mg
|
Potassium:
178
mg
|
Fiber:
3
g
|
Sugar:
50
g
|
Vitamin A:
617
IU
|
Vitamin C:
1
mg
|
Calcium:
76
mg
|
Iron:
2
mg
Notes & Tips
To store this yummy cake, cover it and put it in the fridge or leave it at room temperature for 5 days. If you don't have a cake case, you can cover the cake by placing a large mixing bowl upside down over it.
Substitutions
Soy milk can be substituted with any non-dairy milk. Unsweetened and plain is preferred, but if you use sweetened and/or vanilla, reduce the amount of sugar and vanilla in the cake or frosting so it doesn't get overwhelming.
White vinegar can be exchanged for apple cider vinegar, which will be slightly sweeter.
If you want your frosting to really shine, try making your own vegan butter. This recipe makes a healthy, thick butter that works really well in baking and cooking.
Serving Suggestions
This cake is a great chocolate base and can be adjusted a lot of different ways. Obviously, chocolate cake is great on its own, but special occasions deserve a little more pizazz. One thing I really love with chocolate cake is fresh, organic strawberries. They add some color and cut through the chocolate with a lighter taste.
If you want to get extra fancy, you can decorate your cake with chocolate covered strawberries. This is super easy to do! You'll need some vegan chocolate. Next, melt it in a double-broiler. An easy way to construct something similar is to fill a pot about halfway with water, then place a smaller pot in it, making sure the water comes up to the sides of the small pot.
Melt the chocolate in the small pot add a tbsp or so of soy milk. Stir until smooth. Remove from heat. Dip the strawberries into the chocolate and let set on some parchment paper. If you want, before resting on the paper, you can then dip the strawberries in sprinkles, chopped, freeze-dried strawberries, or crystal sugar for garnish.
Arrange around the cake and make sure each slice has at least one strawberry on top.
---
Recent Recipes