Croissants are not the easiest pastries to make at home. But they are well worth the effort, especially if you are vegan. Bakery croissants are very rich in dairy-based butter. This makes them flaky and golden. Vegan butter has really come a long way in recent years. Many will offer the same soft, flaky interior and crispy exterior to your homemade pastries.
The key to a good vegan croissant is using a sturdy plant-based butter that comes in a solid stick or block. Tubbed margarine does not work as well. I also don't care for the ingredients in most margarine. They tend to include low-quality vegetable oils, emulsifiers, and food coloring. If you are feeling ambitious, I encourage you to make your own vegan butter with coconut oil, olive oil, and aquafaba. Aquafaba is the liquid from a can of chickpeas.
Another ingredient that will help with the success of this recipe is using bread flour which is higher in gluten than all-purpose flour. Vital wheat gluten can be added to all-purpose flour to boost the protein content if you can't find bread flour. Don't fret if you only have all-purpose flour. This recipe will still work.
Croissants take time to make and there are more than a few steps. However, much of the time the dough is resting and proofing, so don't be intimidated by the instructions. I am not the best baker because I am more right-brain than left when it comes to measuring ingredients in recipes. I tend to wing it with many recipes but have learned that pastry works best if you stick to measurements and weights. That said, there are many other factors that affect the outcome of baked goods, such as altitude, humidity, and air temperature. So, be mindful when making croissants and adjust the ingredients and timing to accommodate the climate in your kitchen. Go with the feel of the dough and your intuition.
Now, gather your ingredients and a stand mixer, put your apron on, take a few calming breaths, and make the best ever vegan croissants. They are airy, flaky, crisp, and delicious. Once baked, you can spread jam on them while still warm or slice them open and make a breakfast sandwich with vegan cheese, plant-based scrambled eggs, and caramelized onions.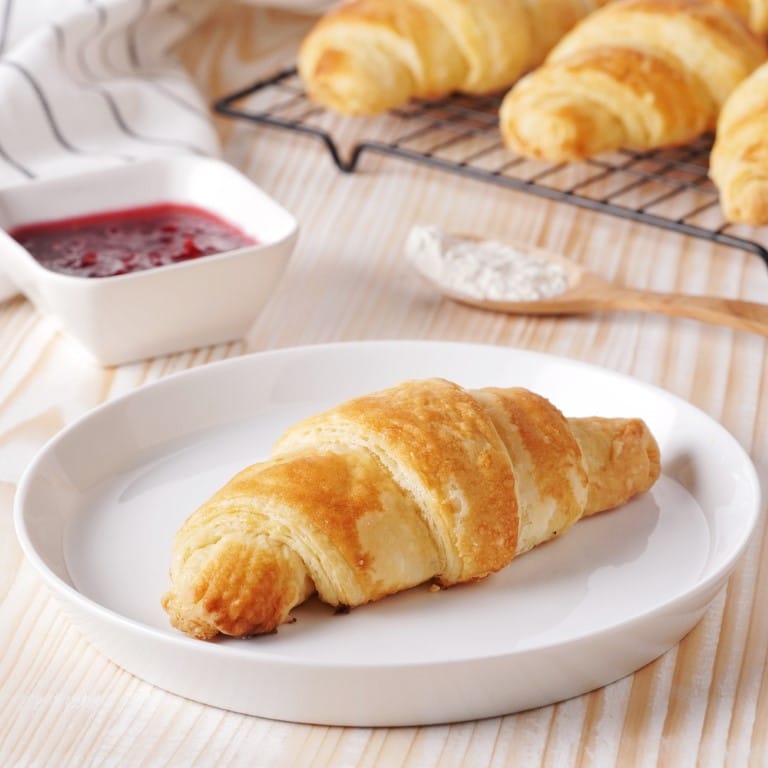 Ingredients
Pastry Dough
2

packets

4 ½ tsp active dry yeast

1

cup

lukewarm water

¼

cup

+ 1 tsp raw or granulated sugar

1

tsp

sea salt

3 ½

cups

all-purpose bread flour + more for dusting the countertop and dough

6

Tbsp

¾ stick solid vegan butter at room temperature

1

Tbsp

coconut oil
Lamination Layers
16

Tbsp

vegan butter

2 sticks or 1 cup at room temperature

Glaze

2

Tbsp

unsweetened non-dairy milk beverage

almond, oat, or coconut

1

Tbsp

pure maple syrup
Instructions
Pastry Dough
In the bowl of a stand mixer, add the warm water, yeast, and 1 teaspoon of sugar. Gently stir to combine. Allow this to sit for 5 to 10 minutes until the yeast blooms and is frothy.

Stir in the remaining sugar and salt. Add the flour and softened 6 tablespoons of butter. Using the paddle attachment, mix until the dough comes together and begins to pull away from the sides of the bowl.

Pull the dough off of the paddle. Switch the paddle out to a dough hook.

Knead the dough on medium with the hook until it forms a smooth and elastic ball, approximately 8 minutes. The dough should feel slightly sticky and springy.

Grease a large bowl with the coconut oil. Place the dough in the bowl and cover it with a clean kitchen towel. Place the bowl of dough either in a turned-off oven or microwave and allow it to rest for 60 minutes to 2 hours until it has risen and doubled in size. (The oven and microwave are draft-free spaces).

Very lightly, dust your counter with flour. Using you hand, punch the dough just to deflate it. Turn the dough onto the floured work surface and shape it into a rectangle. Seal the rectangle of dough in plastic wrap. Place it in the refrigerator for around 12 hours or overnight.

Take the 1 cup of butter for the lamination layers ingredients and place it on a sheet of parchment paper that is large enough to fold over the butter when spread out. Shape the softened butter into a 6-inch by 6-inch square. Fold the parchment paper around the square of butter. Place this in a resealable plastic baggie and roll it just to flatten and fill the baggie evenly. Refrigerate along with the pastry dough for 12 hours or overnight.
Lamination Layers
After 12 hours, lightly flour a flat work surface and turn the dough onto the surface. Dust the top of the dough with a little flour. Using a rolling pin, roll the dough into a rectangle that is approximately 8-inches by 14-inches, large enough for the cold butter square to fit on one half.

Place the square of cold butter in the center of one half of the dough, leaving a border around the 3 outside edges. Fold the other half of the dough over the butter.

Roll the layered dough out to a 9-inch by 24-inch rectangle. Fold half the dough over into the center on one side and then repeat on the other side, like you are closing 2 doors. Then, fold the dough at the center like you are closing a book. This will give you four lamination layers.

Wrap the dough in plastic and place it back in the fridge for 20 minutes to chill again.

Repeat step #3. Cover with plastic wrap and refrigerate for 2 hours hour so the dough can relax.
Shaping
Line a baking sheet with parchment paper.

Remove the pastry dough from the refrigerator and slice it in half. Place one half back in the fridge. On a lightly floured work surface, roll half the dough into a 9-inch by 18-inch rectangle, approximately.

Using a sharp knife, cut the dough into three 6-inch by 9-inch rectangles. Then, slice each rectangle. diagonally through the center to form long triangles that have a base of 4-1/2-inches wide and a base to tip measurement of 9-inches each.

Starting from the base, roll each triangle into a croissant shape, curving into a slight half-moon shape. Place the croissants on the parchment-lined sheet pan with the pointy tip facing down.

Remove the other half of the dough from the refrigerator and roll it out like you did the first half in step #2. Repeat steps #3 and #4. Set the pan of pastries aside in a draft-free area to rise until doubled in size, approximately 1-1/2 hours.
Bake
Preheat the oven to 400°F.

In a small mixing bowl, whisk together the milk and maple syrup. Gently brush the glaze on the tops of each croissant.

Place the pan in the preheated oven and bake for 10 minutes. Reduce the oven temperature to 350°F and continue to bake for 15 minutes or until the croissants are golden brown with a crispy outer layer.

Remove the croissants from the oven and allow them to cool for 5 minutes. Transfer them to a wire rack and continue to cool. Serve slightly warm or at room temperature with jam.
Nutrition
Calories:
327
kcal
|
Carbohydrates:
34
g
|
Protein:
4
g
|
Fat:
19
g
|
Saturated Fat:
5
g
|
Polyunsaturated Fat:
5
g
|
Monounsaturated Fat:
8
g
|
Trans Fat:
1
g
|
Sodium:
364
mg
|
Potassium:
64
mg
|
Fiber:
1
g
|
Sugar:
5
g
|
Vitamin A:
723
IU
|
Vitamin C:
0.2
mg
|
Calcium:
12
mg
|
Iron:
2
mg
Notes & Tips
I realize there are a lot of steps to this recipe and words don't always translate well. There is a video by Sarah's Vegan Kitchen that shows how to build the layers of pastry dough that might be easier to follow than the written directions.
If you don't have a stand mixer, you can absolutely make this recipe by hand. After proofing the yeast, add the sugar, salt, flour, and butter. Stir everything to combine. Once combined, knead the dough using the heels of your hands on a lightly floured work surface until you have a ball of springy dough. I find this method somewhat relaxing or meditative.
Recipe Variations
If you aren't vegan, you can make this recipe using dairy-based butter for the dough and laminations. You can also use a lightly beaten egg with a little water as your glaze before baking. It just gives the croissants a shiny exterior.
I have tried making this recipe gluten-free and the croissants were not really flaky. They were more like dense dinner rolls. Though, they tasted pretty good.
You can make these croissants with tubbed vegan margarine if that is what you have on hand. However, they will taste more like vegetable oil than buttery. Solid vegan butter sticks are the best way to go for the texture and flavor.
If you like chocolate croissants, and who doesn't, cut the dough into rectangles rather than triangles. Add 2 rows of dairy-free dark chocolate chunks to the rectangles, one near the end and one in the center of the dough before rolling. The chocolate will melt while the croissants are baking.
---
Recent Recipes