Creamy Garlic Mashed Potatoes With Mushroom Gravy
Potatoes seem like basic vegan friendly thing, right? Plain potatoes may be, but the way a lot of potato dishes are made incorporates dairy, making it difficult for vegans to enjoy. With a few easy substitutions, you can make your holiday potato sides vegan friendly and just as delicious and creamy as you remember. This yummy mashed potatoes recipe includes vegan friendly gravy too! Fill your plate with potatoes and drench it in gravy, you won't even need tofurkey or anything else!
This recipe is an excellent addition to any holiday feat, whether it be Halloween, Thanksgiving, Christmas, or even Easter. It is easy to modify and it is delicious. I don't think I've ever met a person who didn't like mashed potatoes. With such an easy, yummy recipe as this, your dinners are sure to be splendid.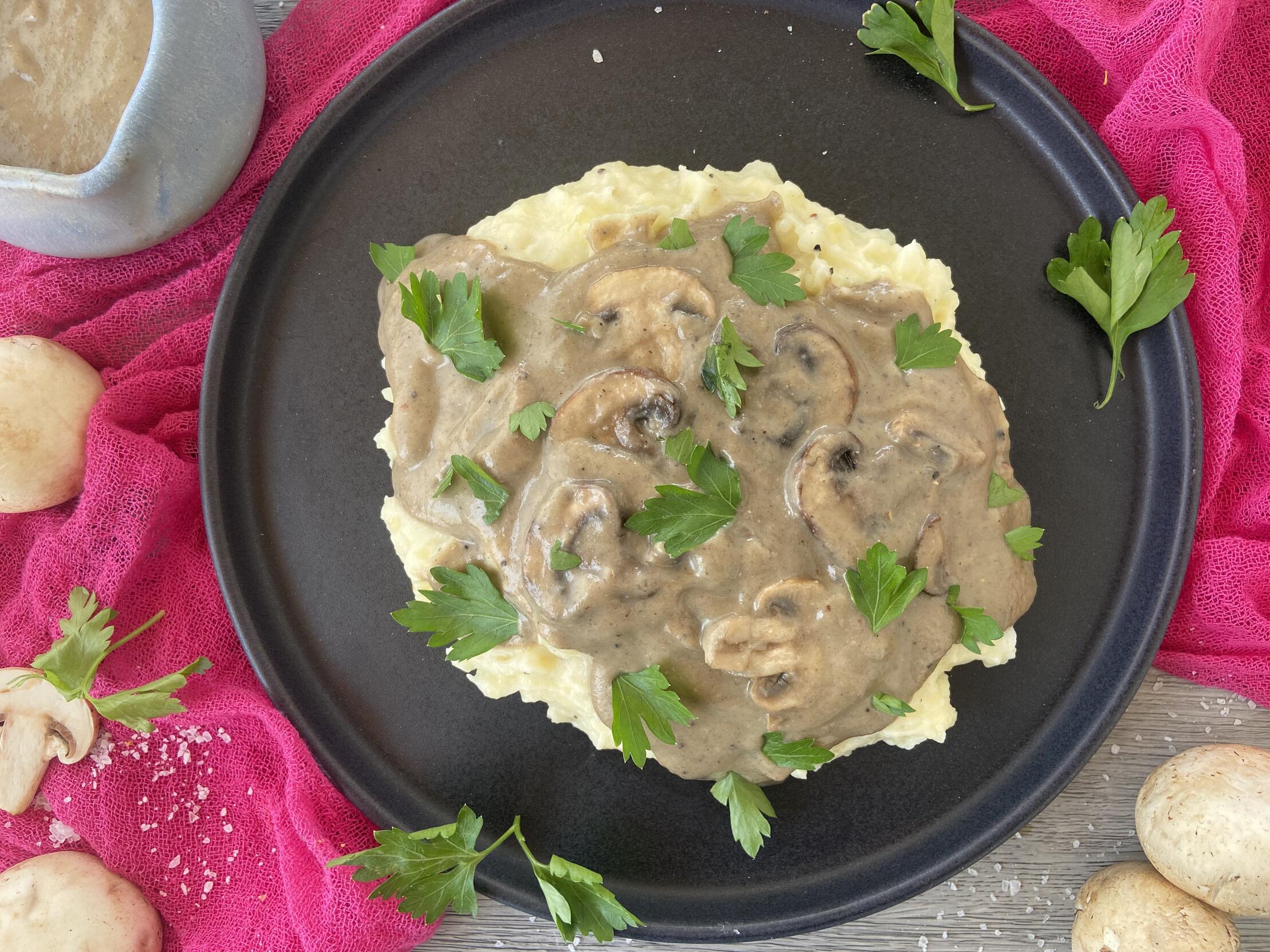 Ingredients
1

head of garlic

3

tbsp

olive oil

8

potatoes

1 ½

tsp

sea salt

4

tbsp

vegan butter

½

cup

plain soymilk

½

tsp

ground pepper

½

cup

dried porcini mushrooms

1

onion

1 ½

cups

button mushrooms

1

tbsp

miso paste

1

tbsp

flour

3 1/3

cups

of vegetable broth
Instructions
Assemble all your ingredients.

Preheat the oven to 400F. Set out your butter so it becomes softened for later.

Cut the bottom off the garlic head and place it on a sheet of tin foil. Drizzle it with 1 tbsp olive oil, then wrap up using the foil.

Place the wrapped garlic head on a baking tray to avoid spillage, then put in the oven for 30 minutes. You will know it's done when you press it and it is soft. Take it from the oven and allow to cool.

Peel the potatoes and cut them into fourths; this helps them cook faster.

Put the potato chunks in a large pot and cover them in water. Add 1 tsp of salt. Bring the water to a boil then cook for 30 minutes or until the potatoes are soft enough to easily press apart with a knife.

When the potatoes are soft, drain the water and put the potatoes in a large serving bowl. Add the vegan butter, soymilk, ½ tsp of salt, and pepper.

Use a handheld mixer with a beating attachment to mash the potatoes. If you don't have a mixer, you can use a large fork, but the consistency will not be as smooth.

To make the gravy, boil a little over a cup of water, then remove from heat and put the dried mushrooms in it. Set aside to soak.

Chop the onion and the button mushrooms.

Over medium heat, heat 2 tbsp of oil in a large skillet. Once the oil is hot, add the onion and cook for about 10 minutes or until the onion starts to brown.

Add in the button mushrooms and a pinch of salt and pepper if you want. Cook for another 10 minutes or until the mushrooms have softened.

Mix in the miso paste and flour with a whisk, then turn the heat to medium-high. Cook for 2 more minutes, stirring often.

Add the mushrooms that were soaking, along with the water they were in. Don't pour in the last little bit of water to avoid any grit. Add the veggie broth and stir well before turning down the heat and bringing to a simmer.

Simmer for 12 minutes or until it becomes thick enough to stick on the side of a spoon.

Transfer the gravy to a blender or food processor and pulse until fully blended. If it comes out too thick, just add a little water and mix thoroughly until you achieve the desired consistency.

To serve, spoon a heap of mashed potatoes on your plate and top with the gravy. Serve hot and enjoy!
Video
Nutrition
Calories:
571
kcal
|
Carbohydrates:
87
g
|
Protein:
12
g
|
Fat:
21
g
|
Saturated Fat:
4
g
|
Polyunsaturated Fat:
4
g
|
Monounsaturated Fat:
12
g
|
Trans Fat:
1
g
|
Sodium:
1948
mg
|
Potassium:
2062
mg
|
Fiber:
11
g
|
Sugar:
8
g
|
Vitamin A:
1082
IU
|
Vitamin C:
89
mg
|
Calcium:
105
mg
|
Iron:
4
mg
Serving Suggestions
Mashed potatoes and gravy go wonderfully with chicken or turkey, but if you're a vegan, obviously you need a few other ideas! You can customize these chickpea "chicken" tenders to suit your own taste and they go great with gravy.
Mashed potatoes and gravy are traditionally more of a side dish, but because potatoes are so carb-y and starchy, you might want a few other sides to go alongside it. For some reason, green foods go well with mashed potatoes. Green beans, steamed broccoli, or steamed kale all add a special green touch and the textures work really nicely together as well.
Notes & Tips
If you have leftovers, store the mashed potatoes and the gravy in separate air tight containers in the fridge. To reheat, simply pop both in the microwave. Both will last for 5 days.
Feel free to adjust the amount of salt and pepper in both the mashed potatoes and the gravy. I personally enjoy really salty mashed potatoes, but I know a lot of other people don't. If you're serving a variety of people with different tastes, place salt and pepper shakers on your table. That way, everyone can adjust it to their own palate and nobody feels disappointed.
Substitutions
If you are not a fan of gravy, you can chop up chives or green onions to garish your mashed potatoes with.
If you are looking for recipes that are also gluten free, this one is easy enough to modify. Simply exchange all the flour with a gluten-free alternative such as rice flour or corn starch. The purpose of the flour is this recipe is to thicken, so any thickening agent works equally well here.
What Kind of Potatoes are Best?
I have used all different potatoes when mashing them, so it really is up to your personal preference or what you have on hand. I usually use russet potatoes because that's what I tend to already have in my pantry. If you would like to go out of your way to get potatoes just for this recipe, try Yukon gold potatoes. Yukon gold potatoes are smoother and tend to result in a softer mash.
---
Recent Recipes