If you are a true vegan or have an allergy to eggs, it is likely that you have visited the refrigerated section of your market in pursuit of eggless mayonnaise.
I can't live without mayonnaise to spread on a sandwich. I also like to make tuna, chicken, or tofu salad with mayo. Mayonnaise is a terrific replacement for eggs as a binder in fish cakes or vegetable patties.
I don't eat eggs often, so my go-to mayo is the vegan variety. However, the brand I enjoy is shockingly expensive compared to the classic shelf-stable, egg-based mayonnaise. You can save a lot of money by making your own vegan mayonnaise. All you need is a neutral-tasting oil, apple cider vinegar, mustard, salt, aquafaba, and a little syrup for a touch of sweetness.
In case you don't know what aquafaba is, I will explain. This ingredient is a genius discovery because it really acts like an egg in vegan mayonnaise and other plant-based dishes and condiments. It is a great binder and thickener in recipes for those who do not eat animal protein.
Aquafaba means bean water in Latin. Aqua is water and faba is bean. This is literally the viscous water that you drain from a can of beans. Supposedly, any canned bean water will do. I prefer garbanzo beans (chickpeas) because the flavor of the liquid is mild and the color is discreet. The liquid from kidney or black beans would give the mayo an off-putting hue.
What I really like about this particular recipe for vegan mayonnaise is that you can adjust the ingredients to appeal to your personal tastebuds. It takes just a few minutes to prepare and will keep in the fridge for up to 2 weeks.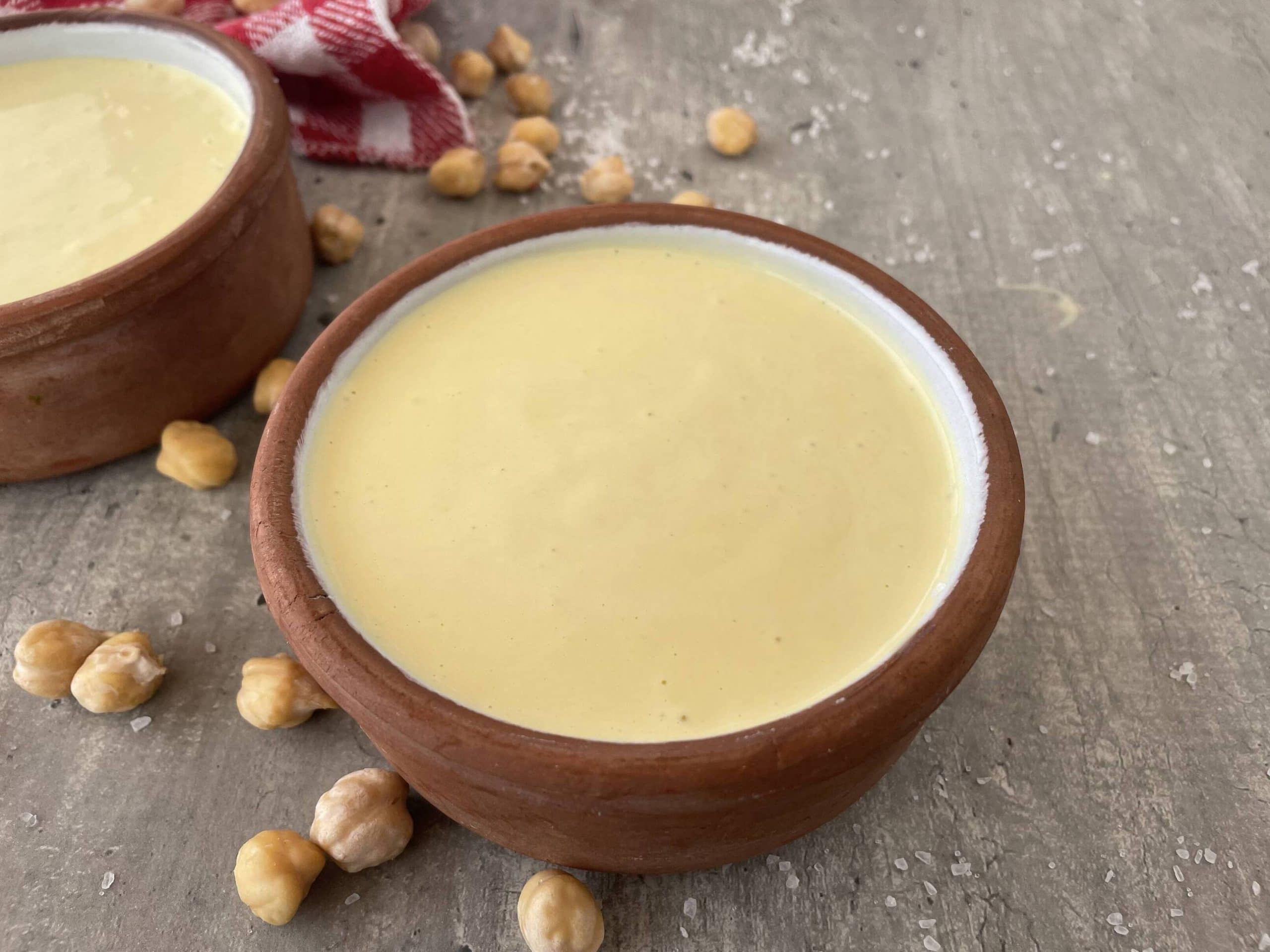 Ingredients
3

TBS

liquid drained from a can of chickpeas

aquafaba

1-1/2

tsps

apple cider vinegar

1-1/2

tsps

Dijon mustard

1-1/2

tsps

brown rice syrup or pure maple syrup

1/2

tsp

sea salt

3/4 to 1

cup

grapeseed or avocado oil
Instructions
Assemble all the ingredients.

In a tall glass mason jar or glass measuring cup, add the aquafaba, vinegar, mustard, syrup, and salt. Using an immersion blender on high speed, blend until all the ingredients are well combined.

Place the oil in a measuring cup with a pour spout. While the immersion blender is running on high, slowly stream the oil into the jar with the other ingredients. Blend for 1 to 2 minutes. Move the blender up and down toward the end to incorporate a little air. If the mayonnaise is too thin, stream in a little more oil to thicken and make the mayonnaise a bit more creamy.

Taste the mayonnaise and adjust the flavors to your liking by adding a little more vinegar, mustard, syrup, or salt.

Use immediately, or cover the jar and store it in the refrigerator for up to 2 weeks. Serve with sandwiches, use to make salads and dressings, or add to your favorite dipping sauce recipe that calls for mayonnaise.
Video
Nutrition
Calories:
91
kcal
|
Carbohydrates:
1
g
|
Protein:
1
g
|
Fat:
10
g
|
Saturated Fat:
1
g
|
Polyunsaturated Fat:
1
g
|
Monounsaturated Fat:
7
g
|
Sodium:
74
mg
|
Potassium:
1
mg
|
Fiber:
1
g
|
Sugar:
1
g
|
Vitamin A:
1
IU
|
Vitamin C:
1
mg
|
Calcium:
1
mg
|
Iron:
1
mg
Notes and Tips
A neutral-tasting oil is best for this recipe. While olive oil is sometimes used for homemade mayonnaise, the flavor is strong and olive oil can separate from the other ingredients and solidify while chilling in the refrigerator.
Don't be tempted to use a traditional countertop blender for this recipe. It really doesn't work quite as well as an immersion or stick blender. Immersion blenders are well-priced and can also be used to blend soup or make smoothies.
After you drain your chickpeas don't just push them aside or discard them. Use the beans to make a lovely vegan Tuscan bean soup or add them to a salad or hearty Buddha bowl with lots of fresh veggies.
Substitutions
Apple cider vinegar is a common ingredient in store-bought vegan mayonnaise. The best to use is the raw and unfiltered variety, due to its probiotic qualities that benefit digestion. You certainly could use fresh lemon juice instead of vinegar as the acid component.
I happen to like the flavor of Dijon mustard. You could substitute ground mustard powder. If doing that, only use 1/4 teaspoon. For mayonnaise with a bit of texture, use stone-ground mustard.
Brown rice syrup is thick and perfect for this recipe. Maple syrup and agave nectar are a little thinner, so you may need to use more oil to achieve the right thickness if going with those options. If you are staying away from sugar, by all means, use a pinch of stevia or simply leave the sweet component out altogether.
Grapeseed and avocado oils are both neutral and work well in this recipe. They are a little pricey, so feel free to use canola, safflower, or sunflower oil.
Variations on the Recipe
This mayo is a good base to build on. You can spice it up with a few dashes of prepared or homemade sriracha. Or, add a little sweet chili sauce for added sweetness and a bit of heat.
If you enjoy garlic aioli, try this: Take 5 cloves of garlic and press them into a paste. Place a fine-mesh strainer over a bowl and put the garlic paste into it. Using a silicone spatula, press on the garlic to get as much juice out as possible. Mix 1/2 cup of your vegan mayonnaise into the garlic juice and serve. This is great for dipping sweet potato fries in.
To turn this mayonnaise into a remoulade sauce, mix in more mustard, sweet paprika, creole seasoning, prepared horseradish, pickle juice, and hot sauce. Remoulade is delicious on sandwiches and for dipping crunchy fried snacks in, such as fried pickles.
---
Recent Recipes