All The Benihana Vegan Menu Options
First open in 1964, Benihana is an iconic Asian restaurant chain that's grown so large in the last half-century that even "The Office" has an episode dedicated to it! (If you're curious, it's called "A Benihana Christmas")
Considering that the chef is in front of you, chopping and grilling your meal right before your eyes with some flair thrown in, it's no wonder why this restaurant chain is so popular.
Of course, you can get chicken, steak, and seafood prepped and cooked to order. But if you eat a plant-based diet, you might be fretting about vegan options at Benihana.
Will you have to say "no thanks" when your friends choose this establishment to dine at next? Thankfully, the answer is no!
In this article, we'll discuss all your vegan options at Benihana so you'll be able to enjoy the show and have a great meal!
| Menu item | Type of dish | Notes |
| --- | --- | --- |
| Benihana Salad | Salad | |
| Brown Rice | Rice | |
| Cucumber Roll | Sushi | |
| Edamame | Appetizer | |
| Fried Rice | Entree | |
| Imperial Salad | Entree | |
| Seaweed Salad | Appetizer | |
| Spicy Tofu Steak | Entree | |
| Vegetable Roll | Sushi | |
| White Rice | Rice | |
| Balsamic vinegar and oil | Dressings | |
| Ginger dressing | Dressings | |
| Wasabi dressing | Dressings | |
Note: Cross-contamination can occur. Menu items as of 1/13/2023. Some item are only available at certain locations. Please ask your server to confirm these options as they may have changed.
Appetizers
Before you get started on your main, calm down your empty stomach's roaring by ordering some appetizers. Thankfully, there are some vegan options on the Benihana menu you can enjoy!
Below are some apps to consider.
Edamame
If you've ever been to a Japanese restaurant before, then you've probably had edamame before. These are soybeans that are served salted in their pods still.
Eating edamame is simple, as all you'll have to do is put the tip of the pod in your mouth and pop the beans into your mouth. These are served warm, so if you want a hot appetizer, then edamame is a great choice!
They're also very nutritious, plus they're easy to share around the table. So it's a win-win to order some!
Seaweed Salad
Want a cold and refreshing appetizer instead? Then go for the seaweed salad!
This small dish is flavored with sesame, lemon, and soy sauce. The result is a tangy yet delicious appetizer that'll have you looking forward to the main course.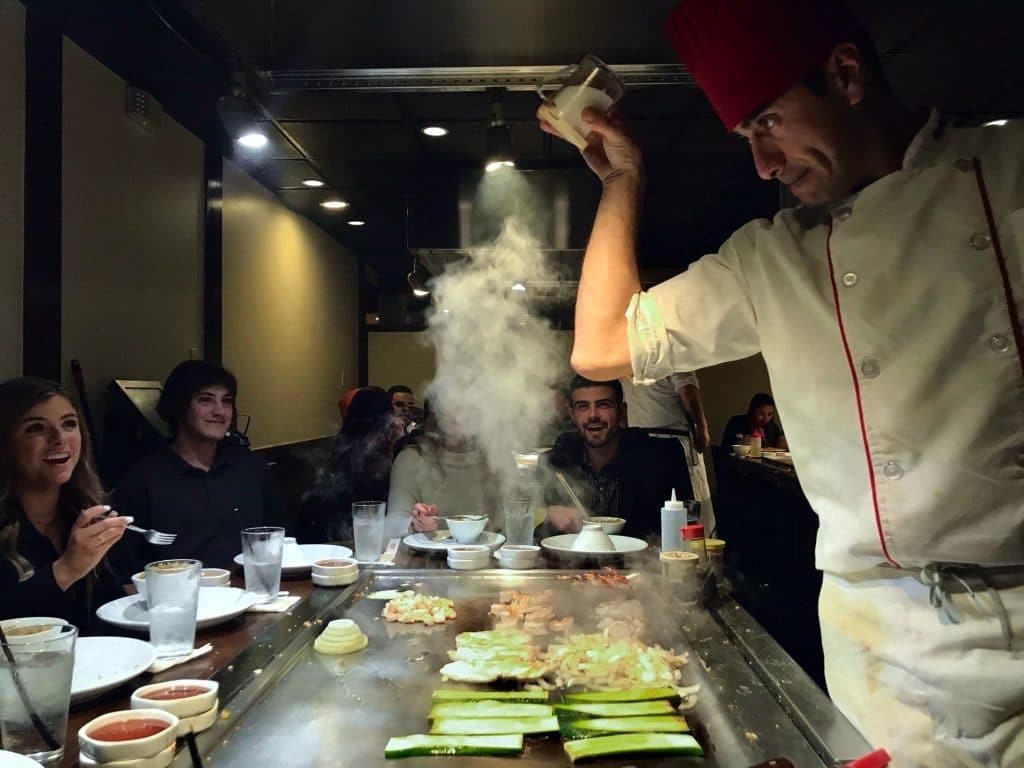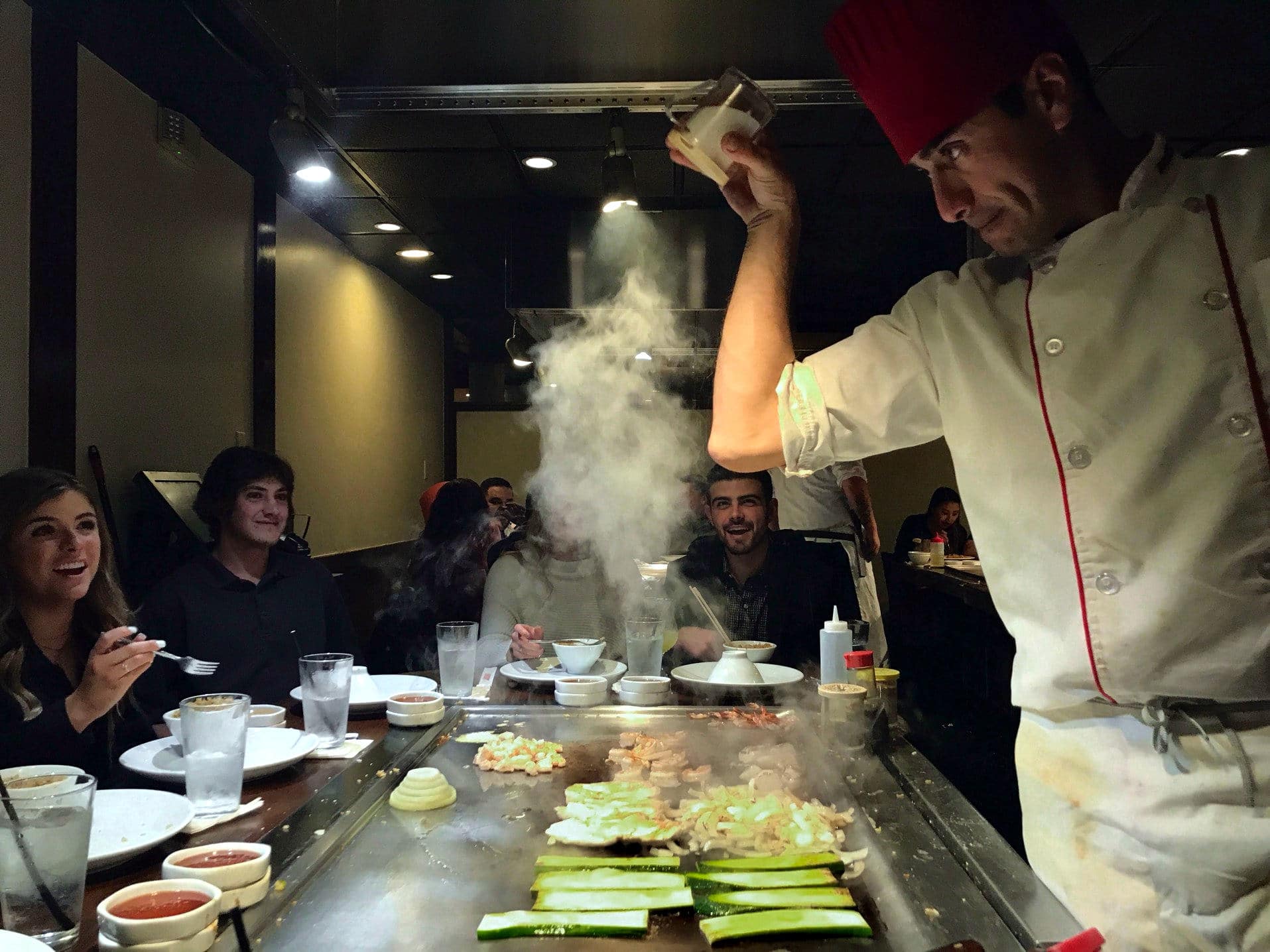 Main Dishes
Now for the main attraction: the entrees!
Many vegans get stressed out when eating out because in many cases, restaurants don't really accommodate special diets. But because there's been a vegan revolution, there are more and more vegan dishes appearing on menus, including at Benihana!
So you won't have to resort to eating a bunch of side dishes to call it a meal. Here are some vegan options you can have as a meal.
Vegetable Roll
The vegetable roll is a vegan's dream! Within the rice and seaweed is a treasure trove of vegan goodness.
In the vegetable roll, you'll find red cabbage, cucumber, avocado, and yamagobo. Yamagobo is pickled burdock root, which means this adds not just some tanginess to the roll, but also some crunch!
Cucumber Roll
For a plainer sushi roll, go with the cucumber roll. This has just rice, seaweed, and cucumber in it.
Spicy Tofu Steak
Are you craving a meal that'll dance on your tongue? Then try the spicy tofu steak!
Just make sure you check with your waiter about all the ingredients. If there are any non-vegan ones, ask them to omit it.
This dish also comes with a shrimp appetizer. You can either give it to your friends or ask for a vegan substitution.
Imperial Salad
Eating salad is a great way to stay healthy and trim. The imperial salad has carrots, red cabbage, grape tomatoes, edamame, cucumbers, and yellow peppers.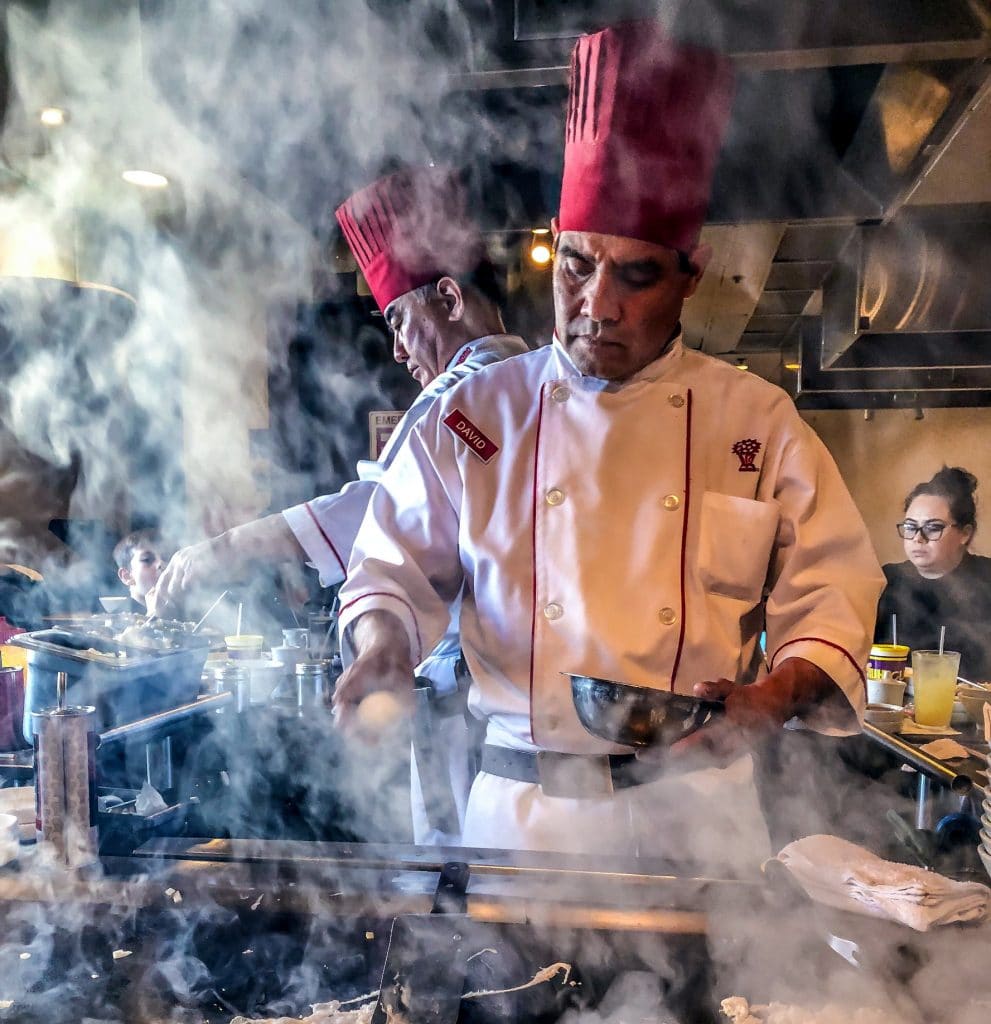 Side Dishes
Whether you have a small appetite and want to eat just sides, or you're voracious and need some sides to go along with your mains, no worries. Benihana has some extras that are vegan-friendly!
Rice
Rice goes with practically any dish, especially when you're eating at a Japanese restaurant! Order yourself some white or brown rice, which can help fill your stomach up if you're having trouble getting full off of the other dishes.
Benihana Salad
This side's pretty generous, which means you can even make it a main if you want!
This refreshing salad has carrots, red cabbage, and grape tomatoes mixed into vibrant greens. It's topped off with a homemade ginger dressing that's tangy and really awakens your tastebuds.
Hibachi Vegetables
Why not go simple? Just ask the chef to grill up a big heaping portion of veggies and they should be able to do it, no problem!
We'd recommend asking the chef to add one of their vegan dressings (wasabi dressing, ginger dressing, or balsamic vinegar and oil) to give those vegetables an upgraded flavor!
Miso Soup
If you're after a soup, miso soup might be a good choice. However, some locations serve their miso soup with meat while others go completely vegan.
So make sure you ask your waiter what the ingredients are before ordering. There might be a chance they've used fish oil and other ingredients that aren't vegan.
Beverages
Of course, you'll want to quench your thirst while chowing down on the amazing food at Benihana. Most sodas are vegan, so you'll have a wide range of choices there, from Dr. Pepper and Pepsi to ginger ale, iced tea, and even Red Bull.
Benihana also offers some refreshingly cool smoothies. Just be sure to double-check and ask if they add milk to their smoothies.
Explore Your Vegan Options at Benihana
Now that you know the vegan options at Benihana, you won't have to worry about sitting and poring over the menu. Instead, you can confidently order things that look good to you, all without making your friends wait for you while you examine your choices.
So the next time you go out to Benihana, you'll have a fun time, especially with the help of this guide!
Planning on dining out and want to know more about your vegan and vegetarian options? Then check out our article on vegan options at Chili's!
---
Recent Recipes