All The Cafe Rio Mexican Grill Vegan Menu Options
Did you know that there are close to 65,000 Mexican restaurants in the US? Mexico's our neighbor, after all, so it's really not that shocking that Americans love cuisine from across the border.
When it comes to Mexican food, you usually think of tacos, burritos, quesadillas, etc. When it comes to vegan dishes, is there any room for them?
We're here to tell you yes! For instance, if you're planning on dining out at Cafe Rio Mexican Grill, there are some vegan menu items that'll accommodate you.
To find out more about the vegan options at Cafe Rio, keep reading to see which foods you'll be able to chow down on!
| Menu Item | Dish Type | Notes |
| --- | --- | --- |
| 6-inch Corn Tortilla | Tortillas | – |
| Black Beans | Beans | – |
| Cabbage | Toppings & Specials | – |
| Chips & Guacamole | Appetizers | – |
| Chips & Salsa | Appetizers | – |
| Create Your Own Tacos | Tacos | Add only tortillas & toppings from this list |
| Create Your Own Tostada | Tostada | Add only tortillas & toppings from this list |
| Guacamole | Toppings & Specials | – |
| Lettuce | Toppings & Specials | – |
| Lime Wedge | Toppings & Specials | – |
| Mint Lemonade | Drinks | – |
| Pico De Gallo | Toppings & Specials | – |
| Pinto Beans | Beans | – |
| Pineapple Mango Salsa | Sauces & Dressings | – |
| Salsa Fresca | Toppings & Specials | – |
| Southwest Lemonade | Drinks | – |
| Strawberry Lemonade | Drinks | – |
| Tostada Shell | Tortillas | – |
| Tortilla Chips | Appetizers | – |
| Tortilla Strips | Appetizers | – |
Note: Cross-contamination can occur. Menu items as of 1/13/2023. Some item are only available at certain locations. Please ask your server to confirm these options as they may have changed.
Appetizers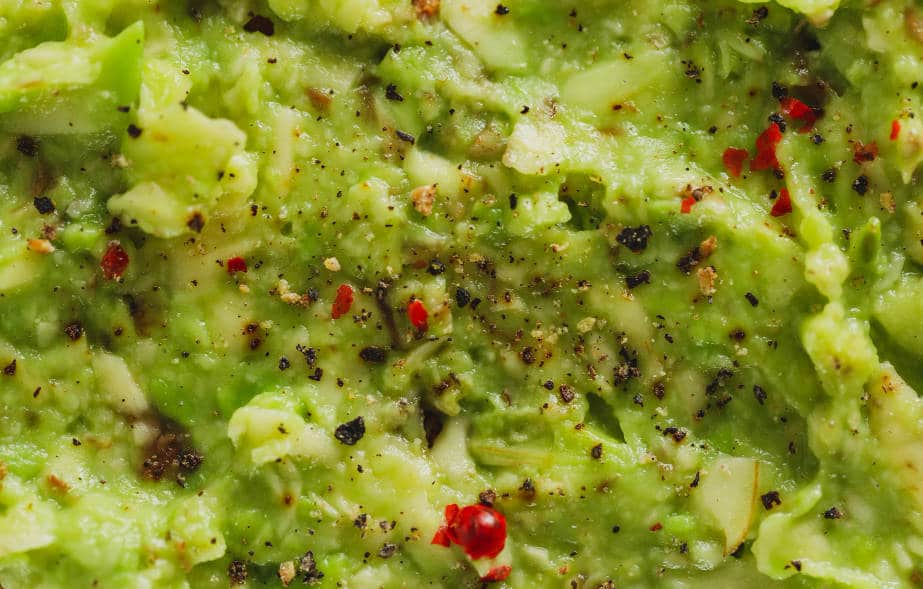 What's fantastic about Mexican cuisine is it has lots of appetizers that are vegan-friendly. This means you can grab one or two to share with your table, whether they're meat-loving or vegetarian people!
The main appetizer you can get at Cafe Rio is chips and dips. This might not sound too exciting, but there are a few tasty dips available:
Salsa Fresca
Pico de gallo
Guacamole
Pineapple mango salsa
The housemade red sauce and habanero sauce might have dairy and other animal products in them. So either avoid ordering these dips or ask your waiter for a detailed list of ingredients.
Main Courses
The fact that Cafe Rio is a Mexican restaurant means you'll have more flexibility when it comes to main courses. You'll be able to add and omit ingredients as you see fit!
Here are the main courses you can choose from as a vegan.
Vegetarian Salad
The vegetarian salad is a great place to start, especially if you want something filling. To make it vegan, simply ask the waiter for no cheese or butter.
This dish comes with a cilantro-lime vinaigrette that's absolutely divine and refreshing!
Custom Burrito
Cafe Rio allows you to build your own burrito, which means you can easily create a vegan burrito! Some ingredients you should consider adding to your burrito include beans, guacamole, salsa, pico de gallo, sauteed vegetables. Just make sure to tell them to leave out things like cheese and sour cream.
Do note that the tortillas at Cafe Rio are sometimes prepared with margarine before grilling. So you'll have to ask the chef to leave out both margarine and butter on your tortillas.
Custom Tacos
If you'd rather nibble on something smaller, then you'll be happy to know that you can create custom tacos too! The same ingredients from above are available here as well, so you can have completely vegan tacos for your meal.
Again, make sure to ask for no butter or margarine on your tortillas to ensure they're still vegan.
Side Dishes
There are a few side dishes you can order to combine into a meal. Or you can choose to add them to your salads, tacos, or burritos if you're still hungry!
Beans
What would Mexican food be without beans? Luckily, you can choose between black or pinto beans to either have as a side or to put into your main dishes.
Tortillas
Want to just munch on some warm tortillas? No problem!
Cafe Rio's corn tortillas are already vegan (whether you get the soft or hard-shell ones). But if you order the white or white wheat tortillas, you'll have to specify you don't want margarine or butter.
Tostada Shells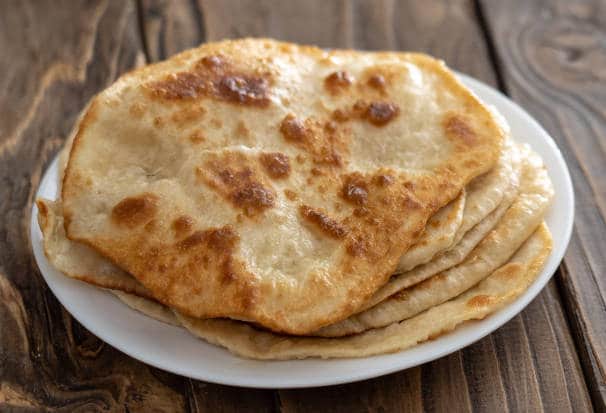 Tostada shells are basically corn tortillas that are either baked or fried until they're nice and crispy. So they're definitely a vegan-friendly choice!
If you're after a filling snack, you can order a shell and then break off pieces of it to eat like chips. You can even order some dips to go with it!
Otherwise, you can fill it with other vegan goodies to create your own tostada.
Sauteed Vegetables
Looking for a simple side dish? Then sauteed veggies is the way to go.
If you're eating it as a main, you might want to consider pairing it with some of the other sides so you don't leave hungry. Adding some beans or tortillas is a great option.
Side Salad
Should the vegetarian salad be too large for you, then you can always opt for the side salad. To make it vegan, ask for no cheese and stick with the cilantro-lime vinaigrette.
Sauces and Toppings
How cuisine really comes alive is through the use of sauces and toppings! And thankfully, Cafe Rio has a nice selection of these.
The vegan-friendly sauces and toppings you can get include:
Cilantro
Chopped onions
Chopped tomatoes
Jalapenos
Lettuce
Lime wedges
Pineapple mango salsa
Salsa Fresco
Pico de gallo
Tortilla strips
Hot sauce
Some locations might have more vegan choices. But in general, if you stick to this list, you should be fine!
Desserts
If you've got a sweet tooth and need to finish off your meals with a dessert, we're sorry to disappoint you here. The fact is, Cafe Rio just doesn't have any desserts that vegans can eat.
As a consolation, you can order yourself some delicious lemonade! They have 4 flavors: regular, strawberry, Southwest, and mint.
These Are Your Vegan Options at Cafe Rio
The vegan options at Cafe Rio may not be plenty. However, there are just enough choices to mix and match so you can create a filling and interesting meal, especially since there are many sauces and toppings to choose from!
So don't worry about sitting and not eating a bite while all your non-vegan friends pig out. With these menu items, you'll be able to fuel up too!
Do your friends want to go eat at Benihana? Then find out what vegan options they have on their menu by reading our article now!
---
Recent Recipes