Homemade Vegan Pesto Lasagna
Vegan pesto has been such a gift for me. I used to eat regular pesto on just about everything. I am slightly obsessed with basil and many other fresh herbs from my garden. Over time I was feeling the effects of too much dairy in my diet. As I could not give up my pesto, I needed the right recipe that swapped out the parmesan cheese for something just as funky and tasty. Aged miso and nutritional yeast are two vegan ingredients that fit the bill.
Nightshade vegetables, such as tomatoes, are bothersome on occasion. This is especially true for those suffering from arthritis. I decided to stop eating lasagna until I could find a way to make it without cheese and tomatoes. Then, I remembered that I made an authentic Italian lasagna once from scratch, even the noodles. It was an all-day project, but it was so worth it.
Authentic Italian lasagna is not what we have come to know in the states. It is often fresh sheets of pasta layered between a bechamel sauce, plenty of fresh herbs, perhaps some cheese, and maybe some ground beef or greens. I make a similar white lasagna with a filling of vegetables, homemade vegan cheese, and fresh herbs in my basil and miso-based pesto. Dairy and nightshades are not missed.
This vegan pesto lasagna recipe is pretty easy to make if you have an hour to set aside for preparing and baking. The cashew cheese will need time for the nuts to soak. You can make that ahead of time and store it in the refrigerator until ready to use.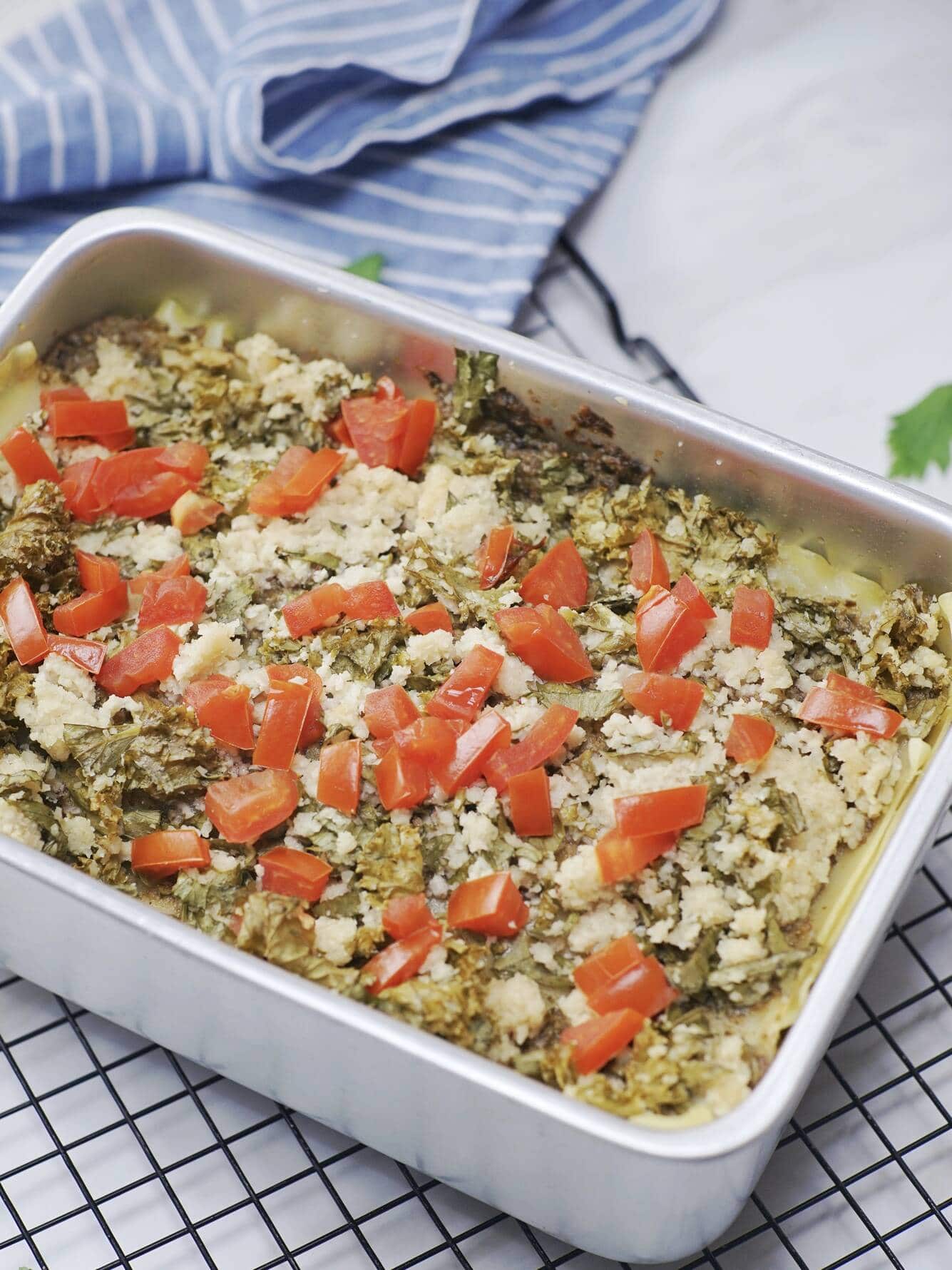 Ingredients
Ricotta
1-1/2

cups

raw cashews

1

TBS

apple cider vinegar

unfiltered

2

TBS

ant non-dairy nut or seed milk

2

tsps

sea salt
Pesto
3

cups

packed fresh basil leaves

1/2

cup

walnuts

lightly toasted

2

cloves

garlic

1

TBS

white miso

1

TBS

nutritional yeast

1/2

tsp

freshly ground pepper

1/4

tsp

sea salt

more if needed

1/2

lemon

squeezed juice

1/2

cup

extra virgin olive oil
Lasagna
1

box

any lasagna noodles

2

tsps

sea salt

2

medium

zucchini

1-1/2

TBS

olive oil

more if needed

1

small bunch

kale

chopped

1

bunch

fresh parsley

minced

1/4

cup

diced tomatoes

optional

2

cups

vegan ricotta from this recipe

1

cup

vegan pesto from this recipe
Instructions
Assemble all your ingredients before you begin.
Ricotta
Place the cashews in a bowl and cover them with filtered water. Soak for 4 or more hours.

Drain the cashews and place them in a food processor. Add the vinegar, non-dairy milk, and salt. Process until mostly smooth with a few chunky bits.
Pesto
Place the basil, walnuts, garlic, miso, nutritional yeast, pepper, salt, and lemon juice in a food processor. With the motor running, drizzle in the olive oil until you have a coarse but grainy and consistent paste. Scrape down the sides of the processor if needed.

Adjust the salt and pepper seasoning to taste. Check the seasoning and add more ground pepper and salt if needed.
Lasagna
Bring a large pot of water to a boil over medium-high heat. Season the water generously with salt. Add the lasagna noodles and cook until just al dente. Drain the noodles in a colander and give a quick rinse in cool water to stop the cooking.

Slice the zucchini into long thin planks. In a skillet on medium heat, add the oil and cook the zucchini until just tender, approximately 2 minutes per side. Drain on paper towels.

Chop the kale into bite-sized pieces. Mince the parsley. In a mixing bowl, combine the cashew ricotta with the kale and parsley.

Preheat your oven to 375°F.

Take a square or rectangular glass baking dish and lightly oil the bottom and sides. Assemble the lasagna: one layer of noodles, 1/4 quarter of the pesto, 1/4 of the ricotta, and 1/3 of the zucchini. Repeat until you have 4 layers of pasta. The top layer of noodles will get 1/4 of the pesto and 1/4 of the ricotta. Tope the entire lasagna with the diced tomatoes.

Cover the lasagna with aluminum foil. Place it in the oven and bake for 35 minutes until bubbling.

Allow the lasagna to cool slightly so it will set up before digging into it. Enjoy while still warm.
Video
Nutrition
Calories:
614
kcal
|
Carbohydrates:
67
g
|
Protein:
17
g
|
Fat:
32
g
|
Saturated Fat:
4
g
|
Polyunsaturated Fat:
8
g
|
Monounsaturated Fat:
18
g
|
Sodium:
1786
mg
|
Potassium:
702
mg
|
Fiber:
5
g
|
Sugar:
5
g
|
Vitamin A:
3745
IU
|
Vitamin C:
54
mg
|
Calcium:
120
mg
|
Iron:
4
mg
Notes and Tips
Be sure to check the cooking instruction on the box of lasagna noodles. Wheat noodles will cook differently from gluten-free noodles, such as rice, cassava, or bean noodles. You want to cook the pasta until almost done. They will continue to cook in the oven.
If you have any leftover pesto, you can freeze it in a resealable baggie for up to 4 months.
Substitutions and Shortcuts
You don't have to use zucchini in the recipe. You can use yellow summer squash, eggplant, or frozen and thawed artichoke leaves. Likewise, kale is optional. I sometimes substitute with spinach or arugula, depending on what is fresh or what I have in my fridge. You could even use frozen spinach that has been thawed and drained.
If you aren't thrilled about vegan cheese, this lasagna can be made with a non-dairy bechamel sauce for the creamy layer.
For the pesto, feel free to substitute pine nuts or toasted pumpkin seeds for the walnuts in the recipe.
There are no-boil lasagna noodles that can help you cut out a step. I haven't tried these in this vegan recipe because I am not sure if there is enough moisture in the dish.
Two other shortcuts would be to use packaged vegan ricotta cheese and jarred vegan pesto.
Accompaniments
When I serve lasagna, it is almost always accompanied by a big salad with fresh greens, cucumbers, olives, and chickpeas with a simple lemon vinaigrette.
If you are feeding non-vegans, there is a super easy cevapi recipe that will go nicely with lasagna. Cevapi are ground meat and garlic sausage patties or meatballs native to the Balkans.
---
Recent Recipes