Quesadillas are one of my favorite hand-held foods to prepare for a quick lunch, especially when I have kids visiting me. They never seem to disappoint, as long as they are cheesy. But that is a misnomer when serving little vegans. I have 2 nieces and a grandniece who are all vegan. Fortunately, I am a fan of vegan cuisine and always have vegan ingredients in my pantry and fridge.
I think a good quesadilla has veggies, protein, cheese, and of course tortillas. This goes for both vegan and non-vegan versions.
For vegan quesadillas, I like flour tortillas. But I have a nephew who is gluten-free, so I will use cornmeal or almond flour tortillas for him. What I don't do is make my own tortillas. I have, but that is time-consuming and mine are never as good as the ones I can find at Whole Foods or the Latin grocery in town.
The protein component of this recipe is legumes. My personal preference is black or Kidney beans because they have strong textures while adding great color to the dish. For veggies, I am fond of caramelized onions (Skip for picky kids), red and yellow bell peppers, and shredded crisp lettuce. If you like heat, add minced jalapeño pepper.
The cheese ingredient is easy. I often make my own vegan cheese or cheese sauce. However, there are some excellent plant-based cheeses available these days. Some are oil-based and some are nut based. You will need to be mindful of allergies when choosing vegan cheese. For this quesadilla recipe, we'll use store-bought non-dairy cheese.
You can have quesadillas on the table in minutes. This recipe is super easy and worth the small amount of effort you put into it for the best vegan quesadillas. I think you will make these for a quick lunch, weeknight dinner, and game day snack.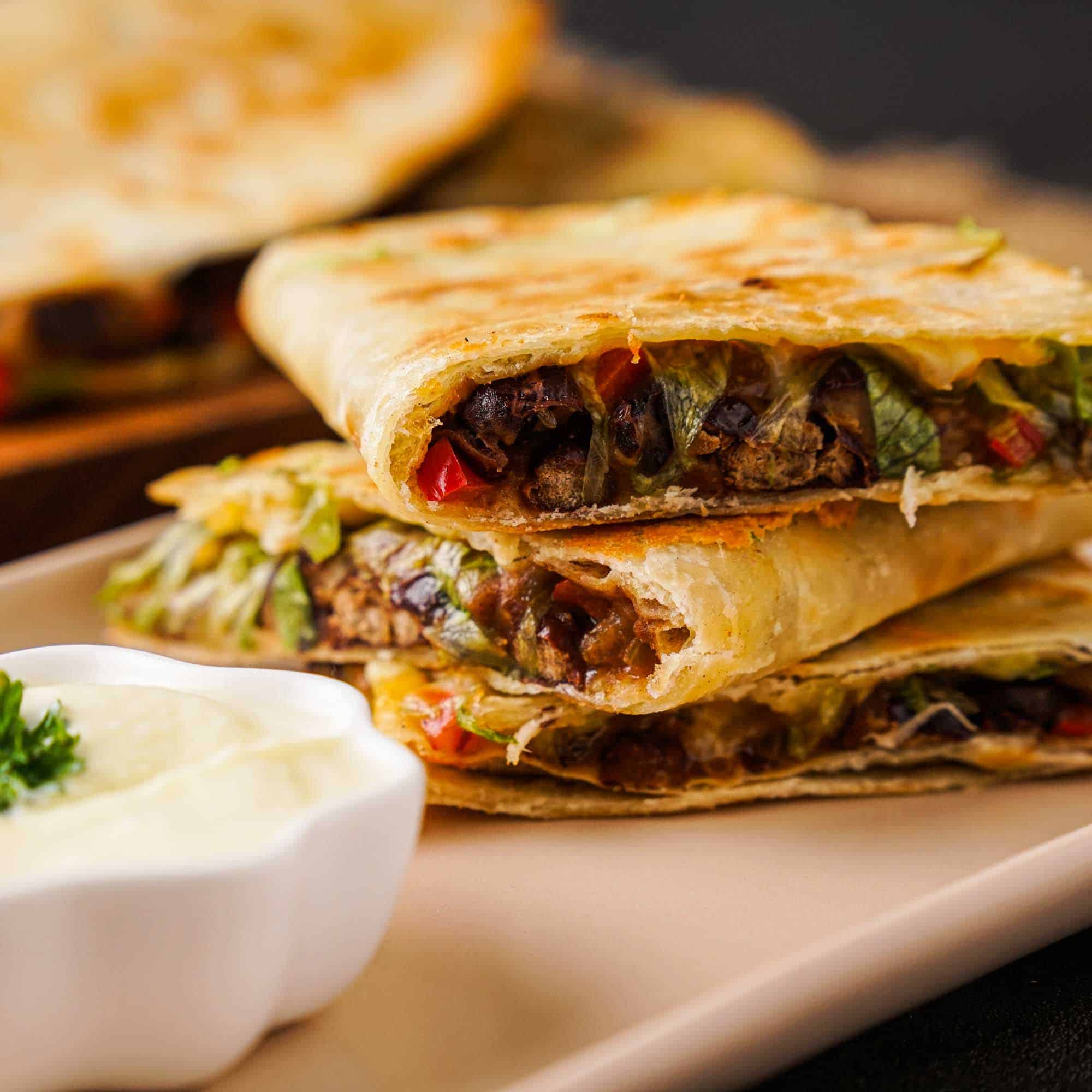 Ingredients
4

tsp

avocado oil

divided

1

medium yellow onion

peeled and diced into small pieces

1

large red or yellow bell pepper

seeded and diced into small pieces

1

small jalapeño pepper

minced (optional)

1-1/2

tsp

chili powder

3/4

tsp

ground cumin

3/4

tsp

sea salt

2-1/2

cups

canned black beans

drained and rinsed

1-1/2

cups

shredded vegan cheddar or Mexican blend cheese

divided

1-1/2

cups

shredded iceberg or romaine lettuce

6

8-inch flour tortillas

Vegan sour cream or guacamole for serving
Instructions
All ingredients ready? Let's begin!

In a large skillet (preferably cast iron) over medium heat, warm 2 teaspoons of the oil. Add the onion and sauté until soft, approximately 3 minutes.

Add the bell pepper and jalapeno pepper to the pan and continue to cook for about 5 minutes.

Stir in the chili powder, cumin, and salt. Add the black beans and stir to combine well. Stir in 1/2 of the cheese and turn off the heat while the cheese melts.

In another cast-iron skillet over medium heat, add 1/2 teaspoon of the remaining oil. Then, warm a tortilla until it is pliable, approximately 1 minute.

Spoon about 1/3 cup of the bean mixture on 1/2 of the tortilla. Top with some shredded lettuce and a little more cheese. Fold the empty half of the tortilla over the filled half. Cook the quesadilla until it is golden on the bottom, about 2 minutes. Flip the quesadilla over and cook until the other side is golden. The tortillas should be golden brown and a little crisp.

Transfer the quesadilla to a cutting board and tent loosely with foil to keep warm. Alternatively, place the tortilla on a sheet pan inside a low oven (200°F) to keep it warm. Repeat this process until all of the quesadillas are cooked.

Using a sharp chef's knife, slice the quesadillas into wedges and serve with vegan sour cream or guacamole.
Nutrition
Calories:
259
kcal
|
Carbohydrates:
36
g
|
Protein:
7
g
|
Fat:
9
g
|
Saturated Fat:
3
g
|
Polyunsaturated Fat:
2
g
|
Monounsaturated Fat:
3
g
|
Cholesterol:
1
mg
|
Sodium:
736
mg
|
Potassium:
271
mg
|
Fiber:
6
g
|
Sugar:
4
g
|
Vitamin A:
1289
IU
|
Vitamin C:
39
mg
|
Calcium:
96
mg
|
Iron:
3
mg
Notes & Tips
I love using my cast-iron skillet or an indoor griddle for making crispy quesadillas. But I do have a cheat appliance that works great. It is my contact grill. It cooks the quesadillas in about 1 minute. I think a panini press could also work.
If you want to save a little time, you can sandwich the filling between 2 tortillas and cook that like a grilled cheese sandwich. This will yield three 8-inch round quesadillas that you can slice like you would a small pizza. All the credit goes to my young niece for turning me on to this technique.
Substitutions & Variations
Avocado Oil: Avocado oil has a high smoke point and is neutral in flavor, making it great for sautéing. You could use coconut oil or olive oil for this recipe.
Yellow Onion: White onion, red onion, or spring onions all work in this recipe. If feeling like you want more aromatic flavor, add a minced clove of garlic to the onions.
Black Beans: I like the contrasting colors of the black beans, bell peppers, and cheese. Another great colorful bean is red kidney. If you don't want beans, try corn kernels for texture and sweetness. You could also try sliced pitted olives or rehydrated and chopped sundried tomatoes.
Lettuce: Iceberg lettuce doesn't offer much in the way of nutrition, but it is crunchy. Romaine lettuce is as well. I have made quesadillas with shredded green cabbage for even more crunch and chopped spinach for extra vitamins and minerals.
Flour Tortillas: If you are on a gluten-restricted diet, use corn, cassava, or almond flour tortillas.
More Quesadilla Recipes
If you like this quesadilla recipe, you might want to try some of our other quesadilla recipes. While not vegan, they are tasty and adaptable to suit a vegan diet with ingredient substitutions. Here are some favorites:
---
Recent Recipes