Easy Vegan Rice Paper Bacon
I have 2 nieces who were vegetarians as teenagers. They were fairly strict about not eating animal proteins, except when it came to bacon. They simply could not resist the aroma of a crispy piece of cured and fried fatty pork on occasion. This made me laugh because I grew up loving bacon and could understand their rule breaker.
As I have grown older and wiser, I have actually lost my love for pork bacon, mainly because it isn't the healthiest source of protein. I switched to beef bacon for a bit and that was very good, but pricy. I then went to turkey bacon and, well, it just isn't bacon and it doesn't really get crisp enough for my liking.
Enter vegan rice paper bacon. I have been hovering over various versions of this recipe and technique for some time. I was skeptical. But it does work and is pretty darn good. The reason it is so good is that it has all the sweet, salty, smoky, peppery umami flavors of pork bacon, just without the fat. Oh, and rice paper is super cheap.
This recipe for vegan bacon is based on many recipes that I researched to try to get the proportions of the marinade ingredients to my liking. I encourage you to tweak the ingredient amounts to suit your personal tastebuds.
My recipe includes a little bit of molasses for a mahogany color and more depth of flavor than what the maple syrup imparts alone. Liquid smoke is a key ingredient to mimic that smokehouse flavor component. 
I like to serve vegan bacon with either tofu scramble that is loaded with chopped veggies and seasoned with yellow turmeric powder. I also enjoy it with vegan frittata wedges. Or, you can make BLT sandwiches with vegan mayo for a great lunch.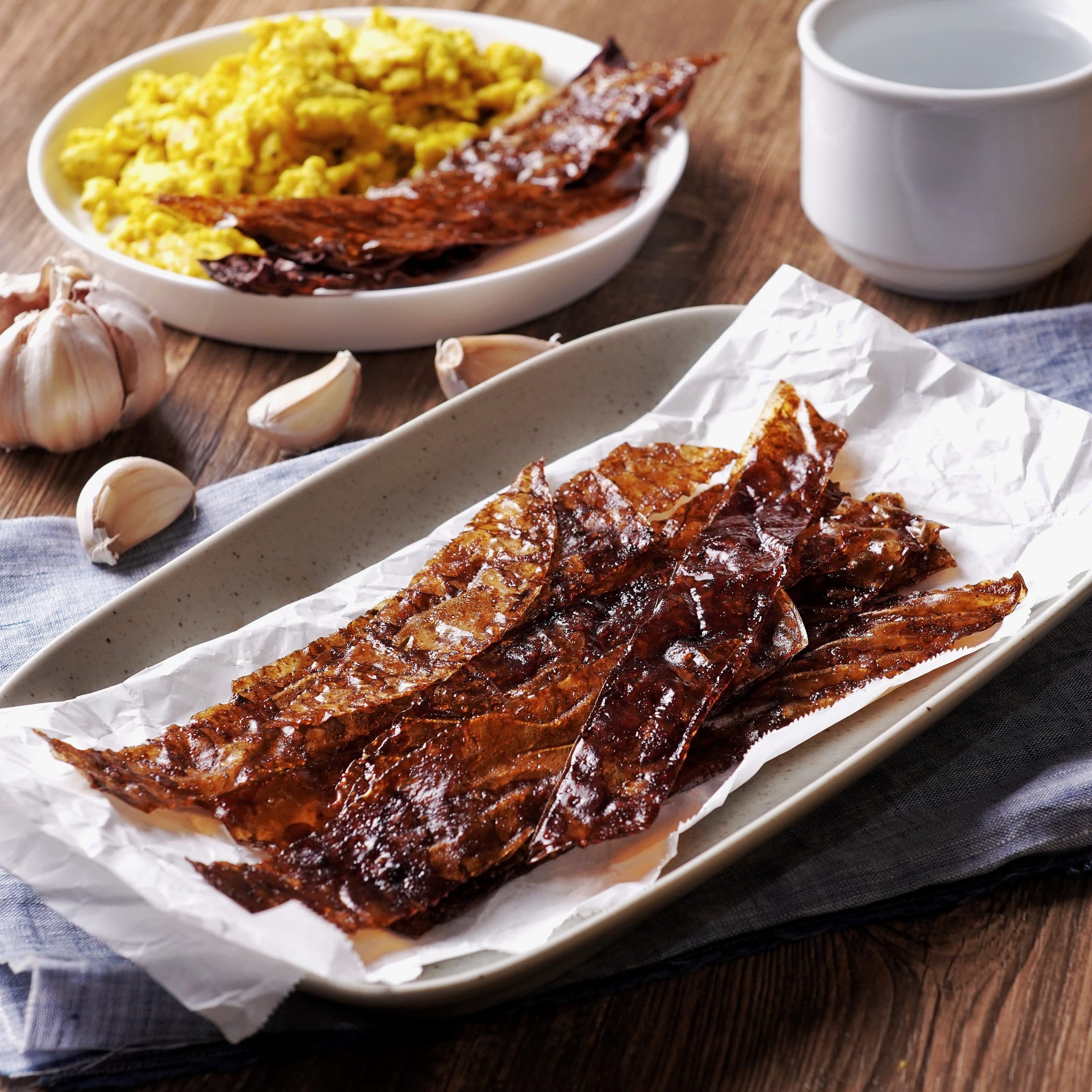 Equipment
8 rice paper wrapper sheets
Ingredients
5

Tbsp

tamari or soy sauce

3

Tbsp

grapeseed or extra virgin olive oil

1

Tbsp

pure maple syrup

1

tsp

blackstrap molasses

1

tsp

liquid smoke

3

Tbsp

nutritional yeast

2

tsp

garlic powder

1/2

tsp

onion powder

1/2

tsp

smoked paprika

1/2

tsp

freshly ground black pepper

more if desired
Instructions
All ingredients ready? Let's begin!

In a mixing bowl, whisk together the tamari, oil, syrup, molasses, and liquid smoke until well combined.

Add the yeast, garlic powder, onion powder, paprika, and pepper.

Whisk again until completely combined.

Pour the marinade into a pie plate or casserole dish that the rice paper can fit into.

Preheat your oven to 400°F. Line 2 baking sheets with parchment paper.

Place one sheet of rice paper into the marinade to coat both sides. Place that on a clean cutting board. Place another sheet of rice paper into the marinade and then place it on top of the first sheet of rice paper. Press down so the 2 adhere to one another.

Using a pizza cutter or long sharp knife, cut the marinated rice paper into strips resembling bacon, approximately 6 pieces.

Place the strips on the lined baking sheet in a single layer.

Re-whisk the marinade and continue steps 3 and 4 until all strips are on the sheet pans.

Place the pans of "bacon" in the oven and bake until crispy to your liking, approximately 7 minutes.

Serve right away with vegan scrambled eggs and toast. Store any leftover bacon in a sealable plastic baggie in the fridge and reheat before using.
Video
Nutrition
Calories:
102
kcal
|
Carbohydrates:
7
g
|
Protein:
4
g
|
Fat:
7
g
|
Saturated Fat:
1
g
|
Polyunsaturated Fat:
1
g
|
Monounsaturated Fat:
5
g
|
Sodium:
841
mg
|
Potassium:
151
mg
|
Fiber:
1
g
|
Sugar:
3
g
|
Vitamin A:
83
IU
|
Vitamin C:
1
mg
|
Calcium:
12
mg
|
Iron:
1
mg
Notes & Tips
Dipping the rice paper into the marinade can be a little messy. But you do need a good soaking of marinade so the paper softens and the 2 sheets stick together. Alternatively, you could use a pastry brush dipped into the marinade to coat both sides of the rice paper.
If you don't have a good pizza cutter or a long sharp knife, kitchen shears will work for cutting the strips.
Rice paper is delicate and can go from soft to burnt in a few seconds. Please keep an eye on the bacon strips while they are cooking so they don't get overly crispy.
Substitutions
I am not dissing this great recipe when I suggest that you can nix the rice paper altogether. My reason for suggesting this is for those who are on a low-carb path. To make this dish paleo or keto, make the bacon with thinly sliced portabella mushrooms dipped in the marinade. I have made mushroom bacon in my air fryer with great success.
While on the theme of going in a paleo, keto, and gluten-free direction, you can substitute the tamari or soy sauce with coconut aminos that have no wheat or soy. I use coconut aminos all the time. They are a tiny bit sweeter than tamari, so maybe cut back a bit on the maple syrup.
Liquid smoke is a pantry item that many of us don't always have on hand. If you do have it, chances are it might have reached its expiration date. So, check that date. In a pinch, you can use dried chipotle chili powder or more smoked paprika. Otherwise, leave it out of the recipe.
As mentioned, customize the marinade to your liking. Once I mix up the marinade, I taste it and either add more sweetness, some salt, more smoke, or more of the spices. Sometimes I will add a little acid in the form of apple cider vinegar or balsamic vinegar to cut any overly sweet flavors.
---
Recent Recipes