Irresistible Vegan Tofu, Potato, Kale & Onion Frittata
Say goodbye to eggs and hello to the tastiest fluffiest vegan frittata around. Our tofu, potato, kale, and onion frittata have an identical texture to its egg-based counterpart, but the flavor could easily convince anyone to switch sides. You can make this vegan frittata with tofu on the stovetop alone or finish it off in the oven. Either way, it's a recipe you'll be making over and over again.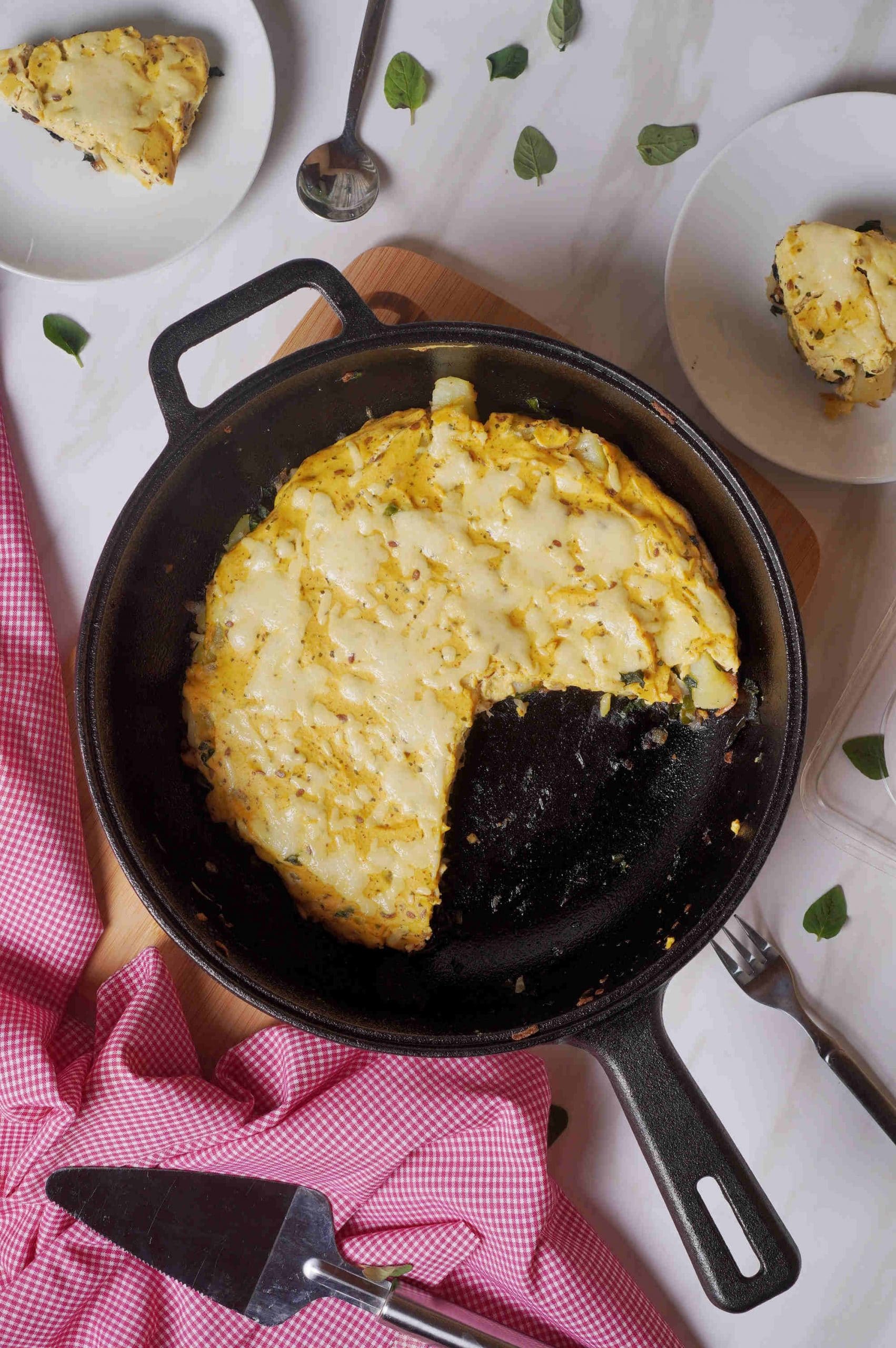 Ingredients
1

Teaspoon

Flaxseed

3

Teaspoons

Water

2

Medium Potatoes

Cubed Into ½ Blocks

3

Cups

Firm Tofu

Drained

¼

Cup

Any Non-Dairy Milk (Rice Milk/Almond Milk, etc)

Unsweetened

1 ½

Tablespoons

Cornstarch

1

Teaspoon

Salt

1

Teaspoon

Mustard Powder

½

Teaspoon

Smoked Paprika

1

Tablespoon

Fresh Basil

1

Tablespoon

Fresh Oregano

¼

Teaspoon

Turmeric

3

Tablespoons

Olive/Vegetable Oil

1

Medium Onion

Finely Chopped

4

Cloves

Garlic

Pressed & Thinly Sliced

½

Tablespoon

Red Pepper Flakes

5

Kale Stems

Washed, Drained, Stemmed & Coarsely Chopped

1

Teaspoon

Freshly Ground Black Pepper

¼

Cup

Grated Vegan Cheese

Optional
Instructions
Gather all your ingredients.

Mix the flaxseeds and water and allow to stand until later needed.

Cube the potatoes (skinning optional) and boil in a pot of salted water for 7 to 10 minutes or until cooked through but not yet fall-apart soft. Drain and set aside.

Combine the tofu, non-dairy milk, cornstarch, salt, mustard powder, smoked paprika, basil, oregano, turmeric, and flaxseed mixture for processing in a blender or food processor.

Process until smooth and set aside.

Heat a large oven-safe skillet containing three tablespoons of oil over medium heat.

Add the onion and saute while constantly stirring for 2 minutes or until the first signs of translucency.

Add the red garlic and pepper flakes and saute until aromatic.

Turn up the heat to high and add the chopped kale and boiled cubed potatoes.

Stir in the ground black pepper and saute for 5 minutes or until the kale has wilted.

Spread the kale, potato, and onion mixture out to create a flat even layer and season with salt and pepper.

Pour over the processed tofu mixture, filling the pan evenly.

Reduce the heat to medium and cook uncovered for 1 to 2 minutes or until the mixture starts to set while loosening gradually using a spatula around the edges.

Scatter over a layer of grated vegan cheese.

Broil for 2 to 3 minutes or bake in an oven preheated to 400°F for 5 minutes or until the top sets, the cheese melts, and the frittata cooks through.
Nutrition
Calories:
288
kcal
|
Carbohydrates:
26
g
|
Protein:
15
g
|
Fat:
15
g
|
Saturated Fat:
2
g
|
Polyunsaturated Fat:
5
g
|
Monounsaturated Fat:
7
g
|
Sodium:
488
mg
|
Potassium:
608
mg
|
Fiber:
4
g
|
Sugar:
2
g
|
Vitamin A:
5061
IU
|
Vitamin C:
73
mg
|
Calcium:
279
mg
|
Iron:
4
mg
Notes & Tips
If you don't have an oven-safe pan available, make this frittata in a regular large saucepan or skillet but flip it carefully after the base is well set. This usually takes about five minutes of cooking in total. Flip it, adjust the heat to medium-low and let it cook for another four to five minutes.
Substitutions
Spinach is a fantastic substitute for kale in this frittata. Instead of frying off onions, consider giving them a skip and including fresh chopped chives. The fresh herbs can be swapped out for whichever you prefer, but those recommended are perfectly suited to kale's flavor profile. If you decide to top off your frittata with vegan cheese, we strongly suggest buying a pre-grated nut cheese as not all varieties grate very well.
Instead of using a mixture of tofu, plant-based milk, and fresh herbs to emulate egg, chickpea flour can be used instead. Make a batter from one cup of water and a cup of chickpea/garbanzo bean flour. It's best to use a blender. Include the same herbs and seasoning. Just omit the tofu and milk. Pour this over your sauteed vegetables and cook on low for five minutes aside or broil to finish. If you have tapioca flour available, add a quarter cup to your mixture and an extra quarter cup of water for an even fluffier frittata.
Variations
Spice things up by adding sauteed chopped chilies, chopped bell pepper, and a little chili powder. Consider adding chopped mushrooms for another tasty variation that pairs well with kale. If you want to add tomatoes, we'd advise omitting the potato so that your frittata doesn't come out watery due to the excess moisture.
For a protein infusion, use half the portion of tofu and include half a cup of split peas. You may need to add a little extra milk when blending. Stop when you've got a thick but silky smooth paste. Process until smooth and pour over as per usual while cooking your frittata for a minute or two longer and serve up a green frittata that's higher in nutrition than our original recipe.
How Do You Get The Bitterness Out Of Kale?
Removing the large stem from kale eliminates a lot of bitterness. Most will find the smaller stems to be much lighter in flavor. Massaging the leaves before chopping is another great way to improve the taste. If you still find your kale to be slightly too bitter, add a dash of lemon juice while it sautees.
Why Is My Frittata Watery?
If you haven't sauteed your vegetables and drained all the moisture or let it cook away, your frittata will come out watery. Another mistake is not processing the wet mixture enough. Beating by hand will take a very long time and generally results in a flatter frittata with more moisture than using a stand mixer or blender.
Can You Refrigerate Frittatas?
Cooked, leftover vegan frittata can be safely refrigerated and reheated within three days. Don't attempt freezing a frittata, or it'll come out watery when warmed up. Frittatas are best served fresh and hot.
How To Tell When Frittata Is Done?
A frittata is cooked when it has risen significantly with slightly curled edges and a well-baked crust. However, to know whether your frittata is cooked through or not, insert a toothpick. If it comes out clean, it's ready. Any food residue is attached, and it needs to cook for longer.
---
Recent Recipes