The Best Vegan Tuna Casserole Recipe
A well-baked casserole could very well be the ultimate comfort food. The next time you've got a craving for a casserole like mom made, we've got a satisfying dish that'll send your tastebuds to heaven. Our vegan tuna casserole is filled with cheesy, gooey goodness and a balance of flavor that's as close to a seafood-based bake as you can get.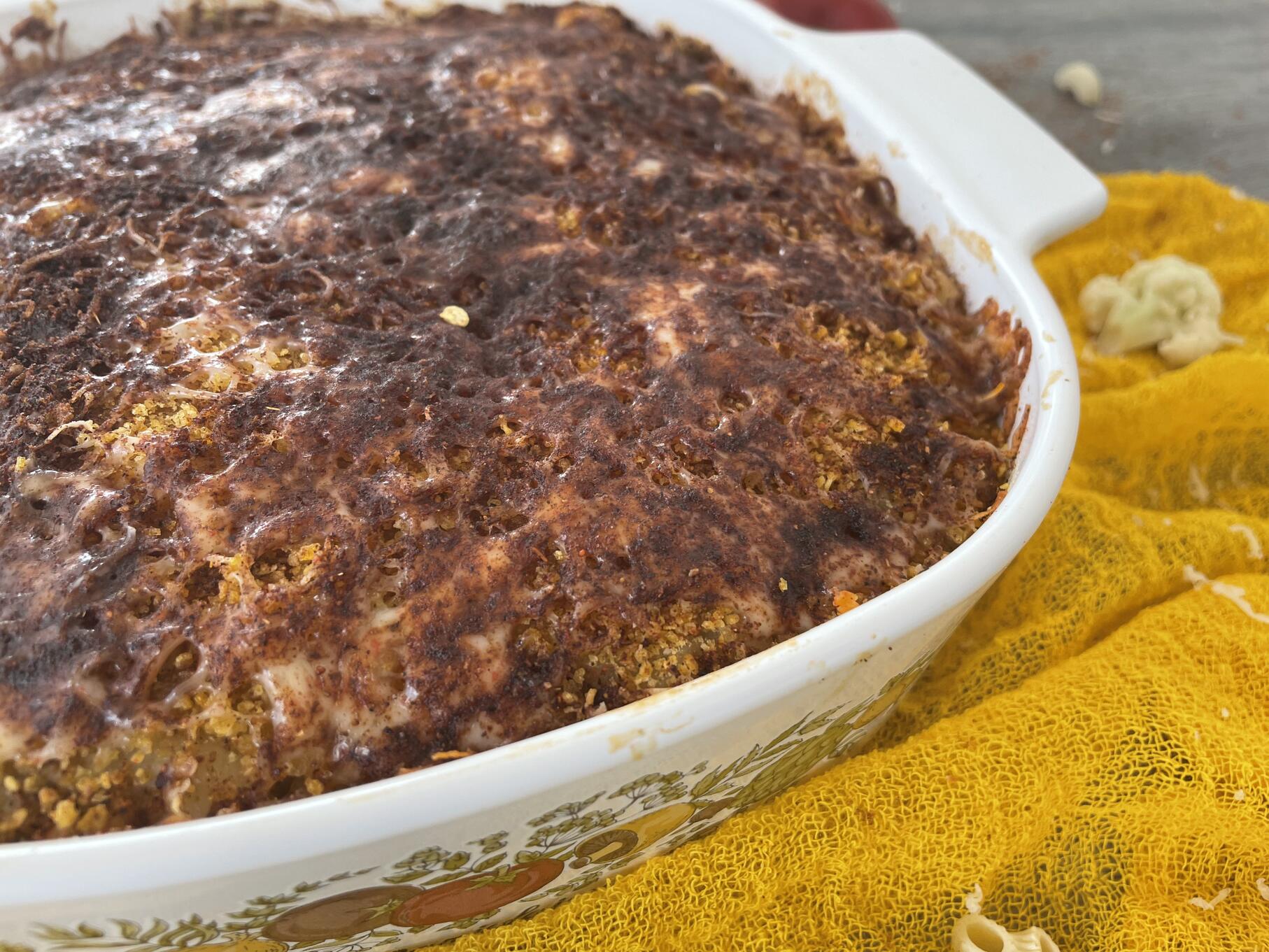 Ingredients
12

Ounces

Elbow Macaroni

1

Can Chickpeas

Lightly Roasted

1

Cup

Vegan Cheese

½

Cup

Oyster Mushrooms

Finely Diced

2

Cups

Oyster Mushrooms

Sliced

2

Celery Stalks

Thinly Sliced

1

Medium Onion

Chopped

1

Small Carrot

Grated

1

Tablespoon

Nori

Finely Chopped

3

Tablespoons

Pimientos

Chopped

3

Cloves

Garlic

Pressed & Chopped

1

Cup

Cauliflower

Riced

1

Cup

Frozen Peas

¼

Cup

All-Purpose Flour

½

Cup

Panko Breadcrumbs

⅓

Cup

Nutritional Yeast

1

Cup

Almond Milk

Unsweetened

½

Cup

Dissolved Vegetable Bullion

4

Tablespoons

Cream Of Mushroom Soup Powder

4

Tablespoons

Paprika

4

Tablespoons

Fresh Parsley

Finely Chopped

2

Tablespoons

Black Pepper
Instructions
Before beginning to prepare the casserole's filling, start off by boiling your pasta for what will be a total duration of roughly 7 minutes.

Heat a large saucepan over medium heat.

Add the onions and saute until they start showing signs of translucency.

Add the garlic and saute for a minute before adding the grated carrot, nori, ½ cup of diced oyster mushrooms, celery, and pimientos.

At roughly 2 minutes before the pasta is cooked, add the frozen peas.

Allow your vegetables to continue sauteing for 2 minutes, and then add the 2 cups of sliced oyster mushrooms and the riced cauliflower to your pan.

By now, the elbow macaroni should be al dente. Drain using a colander and set aside, reserving half a cup of water. Dissolve a vegetable bouillon cube in half a cup of pasta water.

Preheat your oven to 375°F

Pour in the almond milk, nutritional yeast, and dissolved vegetable bullion.

Mash the roasted chickpeas with a fork or process in a blender until lightly broken and add to your saucepan.

Turn up the heat and bring the mixture to a boil, stirring frequently.

Once it starts boiling, reduce the heat to low and simmer while infrequently stirring for 5 minutes.

Blend the cream of mushroom soup with eight tablespoons of water and then with three tablespoons of hot liquid from your pan and mix well before adding the soup into your casserole mixture.

Mix in the chopped parsley, black pepper, and season with salt according to taste.

Once the mixture has reached a thick consistency, combine it with the warm, drained elbow macaroni.

Pour the blend of pasta and sauce into an oiled casserole dish and top with panko breadcrumbs, grated vegan cheese, and sprinkle over the paprika.

Bake in an oven preheated to 375°F for 20 to 25 minutes or until the top turns golden brown.
Video
Why You Want To Try Our Vegan Tuna Casserole Recipe
Oyster mushrooms are the ideal protein for mock-tuna meals like this tasty casserole. When you taste the way that the subdued umami flavor comes when combined with the tiniest amount of nori, you'll soon understand why they are our first choice. Our vegan tuna casserole oozes cheesiness while delivering the same texture one would expect from a traditional non-vegan bake. It's a combination that gives any seafood bake a run for its money and arises as the preferable winner for most.
Want A Cheesier Vegan Tuna Casserole? Try This Tip
If you've got the time, instead of discarding the aquafaba from the can of chickpeas, combine it with 1/2 cup of ground cashews and your vegan cheese beforehand. Allow the mixture to stand at room temperature for at least twelve hours, although overnight is better. The fermentation results in a far cheesier flavor that's strikingly similar in sharpness to cheddar. Disperse evenly over the top of your casserole, scatter a generous helping of Panko, and it's good to bake.
Prefer Your Vegan Tuna Casserole Spicy?
It's easy to spice up this vegan tuna casserole. All it takes is adding three to four chopped chilis when you saute your onions. If you're adding chili, we suggest adding three to four tablespoons of chopped bell pepper as well to balance out the heat while adding a subtle degree of sweetness. Those who like it extra-spicy can consider blending in a tablespoon of chili powder as well.
Vegan Tuna Casserole Substitutions
For some, a tuna casserole, vegan or not, is synonymous with egg noodles. If this is the case for you, feel free to substitute accordingly. Also, panko breadcrumbs can be swapped out for regular breadcrumbs, but the time-old favorite Japanese variety adds unbeatable taste and texture. We would, however, advise that you try our casserole with a topping of crushed chips instead of Panko for something different, especially if this is the way you grew up eating tuna casserole.
As mentioned, the mild ocean-like umami flavor of oyster mushrooms is ideal for this vegan tuna casserole but feel free to use cremini or portobello mushrooms if none are available. Alternate mushrooms will work but are more intense in flavor, so you may want to omit the cream of mushroom soup and thicken with a flour and water mixture instead.
What To Serve With Vegan Tuna Casserole
A light, fresh salad is the ideal pairing for vegan tuna casserole. For a classic combo, go for a basic green salad. Otherwise, opt for something that elevates a few favorite ingredients to an all-new high and try our recipe for simple Shopska salad with mixed peppers, cucumber, tomato, and feta.
Can You Freeze Vegan Tuna Casserole?
Vegan casserole freezes well and can be safely stored in the freezer for up to two months. A considerable amount of work goes into making this vegan tuna casserole. We actually suggest that you double up on the recipe and prepare two – one to bake right away and one to freeze. Build the casserole as you would for immediate baking, complete with cheese and breadcrumbs, but in a lightly oiled freezer-safe aluminum baking tray instead. Cover the casserole with foil and then double wrap with plastic wrap before freezing. Once frozen solid, allow it to thaw for a full day in the fridge before baking.
---
Recent Recipes