Vegan Waffle Brands Are a Quick, Healthy Breakfast Choice
There are a wide variety of vegan frozen waffle brands. Most of them do not contain eggs, are non-dairy, and cruelty free to animals. These waffles are all easy and quick to make for mornings that you are rushed or as a quick on the go snack. Add that perfect topping, and you are ready to go!
365 Whole Foods Market Multigrain Waffles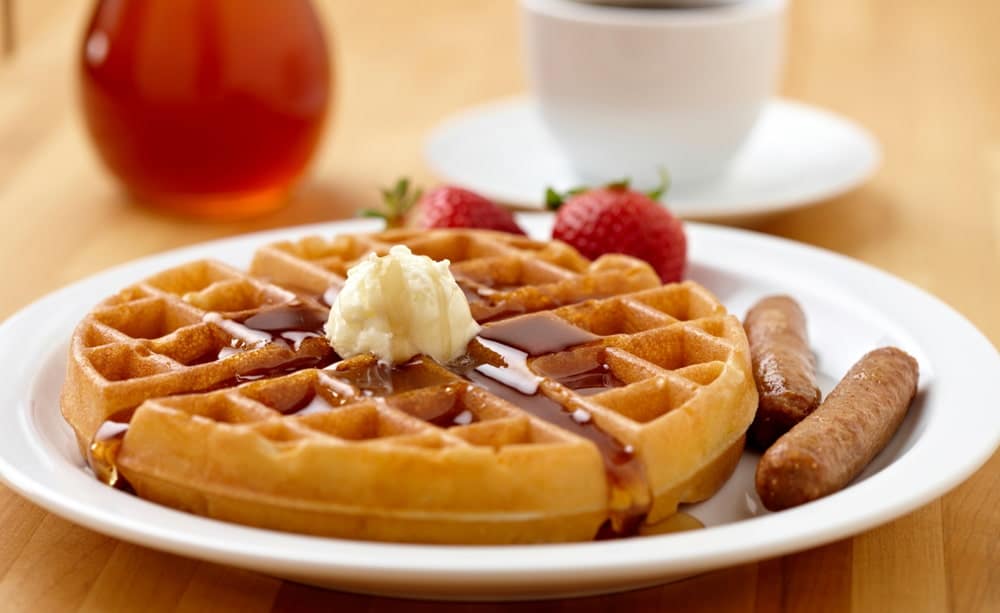 This is a plain and inexpensive waffle that pairs well with a tofu scramble and/or veggie bacon. Since it is a multigrain product, it doesn't contain a great deal of flavor. Yet, although it may be plain, it is not a bland product.
Users can add syrup for extra flavoring, fruit, or it can be eaten plain.
Ingredients: organic whole wheat flour, water, organic enriched wheat flour (niacin, reduced iron, organic wheat flour, thiamine mononitrate, folic acid, riboflavin, organic expeller, organic expeller pressed soybean oil, pressed canola, organic inulin, pear juice concentrate, organic evaporated cane sugar, and has two percent less leavening, organic wheat bran, organic vanilla flavor, organic brown rice flour, organic barley flour, organic corn flour, organic oat bran, organic soy lecithin, sea salt, and organic rye flour.
Kashi Frozen Waffles
These frozen waffles pop up crispy and golden brown. Made from 100% whole grains they are a healthy breakfast choice. They are vegan. Kashi comes in 7 grain, cinnamon, and original flavors.
While the list of ingredients contains xanthan gum, upon research we discovered it is a vegan product. It is part of the bacterial fermentation process. It was used to either thicken the foot or as an emulsifier to aid oil and water-based ingredients to stick together.
Ingredients: Whole oat flour, water, rice flour, potato starch, expeller pressed canola oil, cane sugar, tapioca starch, cracked flax seeds, pea starch, leavening (sodium acid pyrophosphate, baking soda, monocalcium phosphate), agave syrup, pea fiber, sea salt, natural flavor, xanthan gum, and coriander.
Annie's Organic Pancake and Waffle Mix
If you have a little time in the morning, nothing is quite as satisfying as a waffle hot off the griddle! Originally known for its macaroni and cheese, Annie's original pancake and waffle mix will allow you to create anything from fluffy, light flapjacks to tasty waffles.
This pancake mixture does not contain any artificial flavors, preservatives, hydrogenated oils, synthetic colors, or bleached flour. It is certified organic and grows without pesticides. They also work to source only non-GMO ingredients for their mixture.
While it may contain wheat ingredients, the rest include:
Organic sugar cane, organic wheat flour, organic expeller-pressed sunflower oil, baking powder (sodium acid pyrophosphate, baking soda, monocalcium phosphate), and sea salt.
Arrowhead Mills Pancake and Waffle Mix
Arrowhead Mills creates an organic product. It specializes in cereals, nut butter, grans, and organic baking mixes. Their line contains three vegan pancake mixes which include their organic Gluten Free Pancake & Baking Mix, Buckwheat Pancake & Waffle Mix, and their Protein Pancake & Waffle Mix.
To make them, add plant milk, oil, egg substitute, and some sweetener (if you prefer) to your mix. Then, you can begin baking!
Birch Benders Pancake and Waffle Mix
Birch Benders specializes in pancake and waffle mixes. They have four vegan options available including Plant Protein Pancake & Waffle Mix, Blueberry Mix, Classic Recipe, and Chocolate Chip Mix. To make them, just add water, mix, and then cook.
Bisquick Pancake & Baking Mix
Bisquick has been around for a very long time, and most people grew up with this popular brand. They are classified as accidentally vegan. This is a wholesome mix containing no preservatives or artificial flavors.
For a lighter pancake or if you require one that is gluten-free, you can purchase the Gluten-Free or Heart Smart versions. To make, add in egg substitute, plant milk, and cook. This will create a vegan pancake or waffle.
Ingredients: Vegetable oil (canola, palm and/or soybean oil), enriched flour, bleached wheat flour, iron, niacin, thiamin mononitrate, folic acid, and riboflavin), dextrose, corn starch, leavening (sodium aluminum phosphate, monocalcium phosphate, baking soda), sugar, salt, monoglycerides, and DATEM.
Some products may contain wheat ingredients.
Cooggies Gluten-Free Pancake & Waffle Mix
Cooggies is known for creating baking mixes that are non-GMO, dairy-free, soy-free, Kosher, peanut-free, gluten-free, and grain-free. They also have a "hidden veggie" in the mix like zucchini, butternut squash, sweet potato, spinach, zucchini).
Their site also has tips on keeping this pancake mix completely vegan.
To make, add plant milk, egg substitute, and oil.
Ingredients: organic coconut flour, starch, tapioca, butternut squash, baking soda, flaxseed meal, and sea salt.
Simple Mills Pancake & Waffle Mix
Simple Mills specializes in grain-free crackers, cookies, frostings, and baking mixes. Most of their products are vegan. This is their spin on a classic pancake and waffle recipe but created with almond flour, coconut sugar, and coconut flour.
The pancake mix is slightly sweeter than a regular brand, but it does offer wholesome ingredients. It is soy-free, gluten-free, corn-free, and does not contain gums/emulsifiers.
Snacktivist Foods Waffle Mix
Snacktivist created an easy and fast waffle mix that cooks within minutes. All that needs to be done is add oil and water to create light, fluffy pancakes. This mix will create waffles, pancakes, and crepes. The recipe for crepes is located on the back of the bag.
It is made from ancient grains which are sustainable, nutritional, and tasty. This mix is dairy-free, vegan, gluten-free, non-GMO (from verified sources), and has a healthy blend of ingredients.
If you are rushed for time, the waffles can be made ahead of time and frozen. They are just as delicious as when made fresh.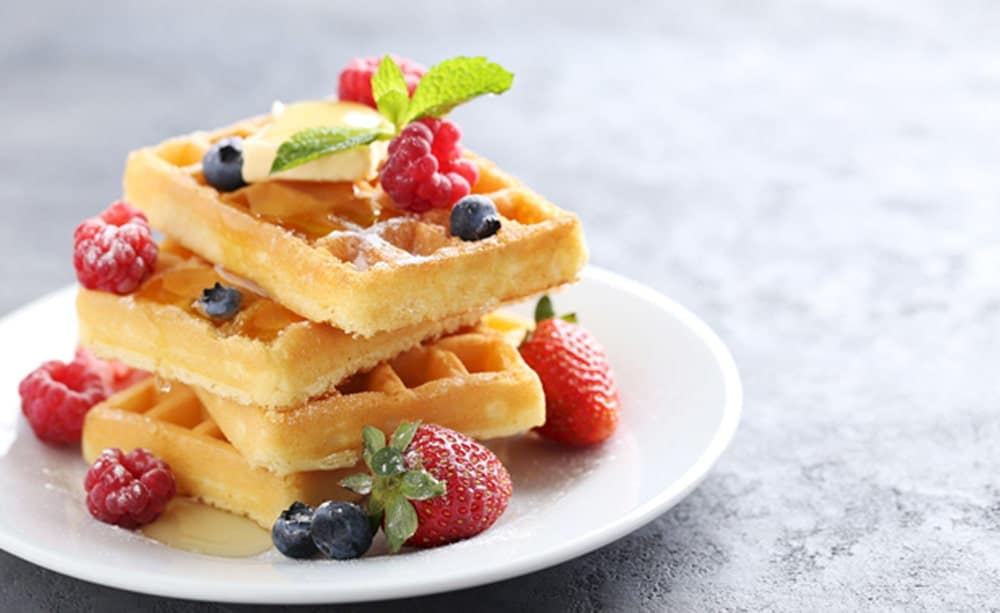 When it comes to creating a quality vegan product, these pancake and waffle companies rise to the occasion. Most of these brands contain a healthy blend of ingredients, are organic, and use products to make a tasty product that many of us fail to consider.
Most are ideal for people with allergies and are non-GMO. Many have a heart for organically grown sources and supporting local agriculture. Their dedication to animals and nature is outstanding.
---
Recent Recipes