Simple Seitan Vegetable Cacciatore
A carefully prepared cacciatore's rewarding rustic flavor profile is a flavor-sensation that'll make anyone fall in love with the classic Italian stew. While some will argue that there isn't technically an authentic Italian hunter's stew for vegetarians and Vegans, our vegetable cacciatore recipe aims to prove them wrong. Chicken and rabbit cacciatore are all common, but our vegetable cacciatore features seitan and mixed mushrooms as the star protein instead.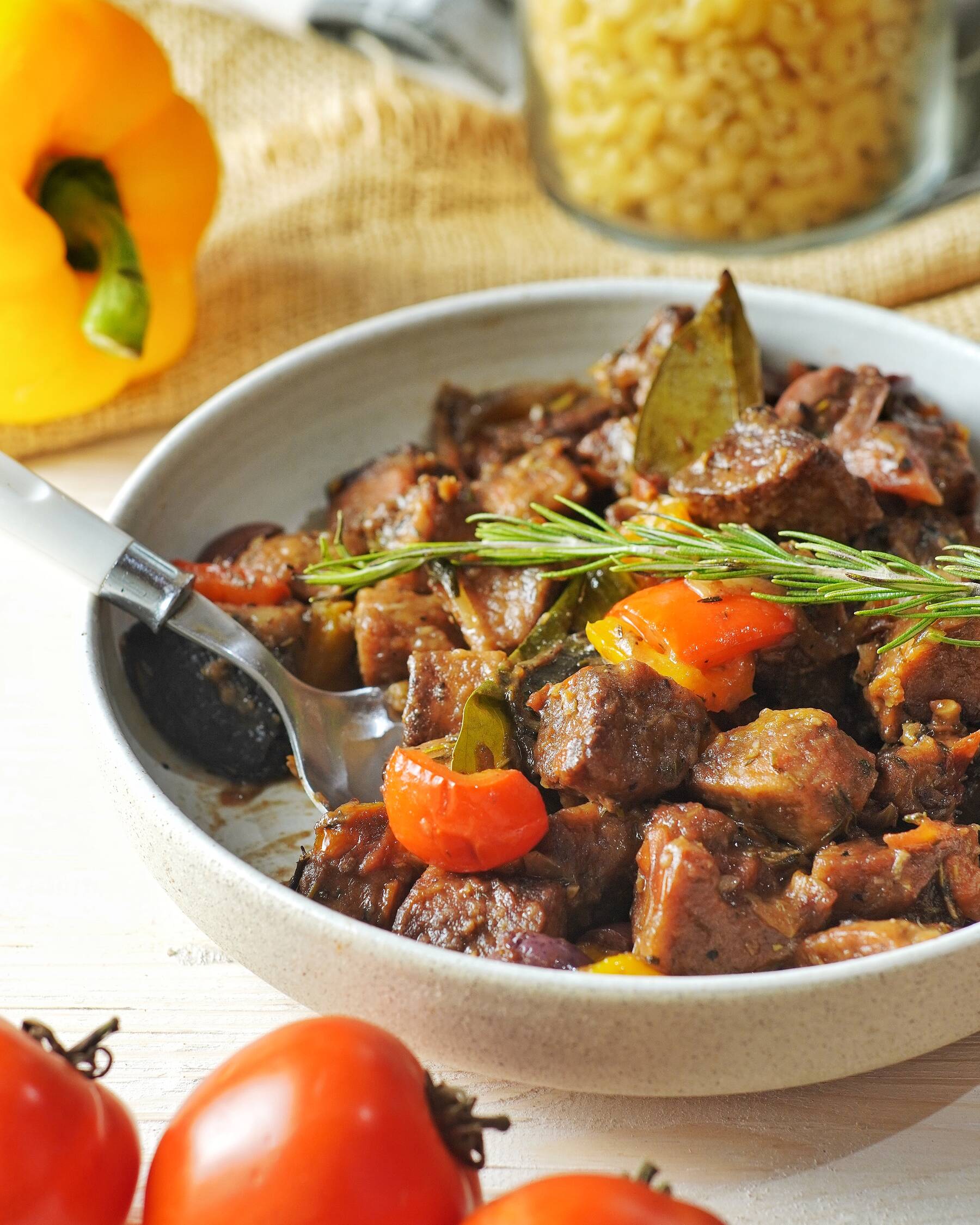 Ingredients
16

Ounces

Seitan

Cubed

⅓

Cup

All-Purpose Flour

½

Punnet Portobello Mushrooms

Quartered (+- 2 Cups)

½

Large Red Bell Pepper

Cut Into Large Chunks

½

Large Yellow Bell Pepper

Cut Into Large Chunks

16

Pitted Kalamata Olives

Halved

1

Large Onion

Thinly Sliced

3 to 4

Large Tomatoes

Diced

½

Cup

Dry White Wine

2

Cups

Vegetable Stock

3

Tablespoons

Soy Sauce

3

Tablespoons

Fresh Thyme

Minced

1

Tablespoon

Fresh Oregano

Minced

1

Teaspoon

Fresh Rosemary

Minced

1

Teaspoon

Ground Black Pepper

½

Teaspoon

Salt

2 to 3

Bay Leaves
Instructions
Assemble your ingredients.

Bring a cup of vegetable stock mixed with three tablespoons of soy sauce to a boil in a small pot.

Add seitan cubes to the water and reduce to medium heat.

Remove from the water and drain once the seitan has doubled in size, which takes roughly 20 to 30 minutes of slow cooking.

Coat the oiled seitan cubes with seasoned flour.

Heat enough oil to thinly coat a large skillet or deep pot to a high temperature.

Pan-fry the seitan until it is golden brown on all sides, frying for 3 to 4 minutes on average.

Remove the seitan and set it aside before reducing the temperature to medium heat.

Saute the sliced onion for 10 to 20 seconds in the same skillet before adding the sliced bell peppers.

Add the garlic and saute for another 1 to 2 minutes.

Add the mushrooms, thyme, oregano, rosemary, and black pepper and continue to saute for 2 to 3 minutes or until the peppers are cooked.

Stir in the diced tomatoes and saute lightly for under a minute, working the mix toward a steady simmer.

Sprinkle enough flour over the saute vegetables to lightly coat everything.

Add the white wine during the simmering stage just after slightly sauteing the tomato.

Reduce the heat to low and add the vegetable broth, bay leaves, and olives.

After roughly a minute, as it starts to simmer steadily, add the fried seitan cubes.

Allow your vegetable cacciatore to cook uncovered while infrequently stirring for 5 to 10 minutes more or until the sauce reaches your desired thickness.

Serve and enjoy once it cools!
Video
Nutrition
Calories:
251
kcal
|
Carbohydrates:
27
g
|
Protein:
29
g
|
Fat:
2
g
|
Saturated Fat:
1
g
|
Polyunsaturated Fat:
1
g
|
Monounsaturated Fat:
1
g
|
Sodium:
2040
mg
|
Potassium:
445
mg
|
Fiber:
5
g
|
Sugar:
8
g
|
Vitamin A:
2052
IU
|
Vitamin C:
70
mg
|
Calcium:
72
mg
|
Iron:
4
mg
What Is A Cacciatore?
A cacciatore is a classic stew that originated in ancient Italian cuisine. The Italian term 'Cacciatore' translates to 'hunter,' referring to the way that all cacciatore's are made with ingredients that a local central Italian hunter would have access to. All cacciatore's typically feature ingredients like onion, bell peppers, garlic, bay leaves, and oregano.
Why You Want To Try Our Vegetable Cacciatore
Instead of meat, our recipe includes seitan, otherwise known as wheat meat. While no hunter would have ready access to seitan without making it themselves, it is the closest replacement to rabbit and chicken available to vegans. The texture is perfect for adding just the right finishing touch to a classic vegetable cacciatore.
What To Serve With Vegetable Cacciatore
For something classic and simple but irresistible, we suggest serving your vegetable cacciatore with rotini pasta. Add fried feta cheese balls as an appetizer and perhaps a salad, and you've got a massive meal fit for a king. Otherwise, vegetable cacciatore with polenta is just as delicious. Prepare your rotini or polenta plain, perhaps adding a herb or two like fresh rosemary and oregano to accentuate the flavor notes of the cacciatore. Most find cacciatore versatile enough to be served on everything from whole grain pasta and couscous to a bed of fresh cruciferous greens like spinach or kale.
Vegetable Cacciatore Substitutions
If you are gluten intolerant or suffer from Celiac Disease, avoid seitan completely. As a meaty protein made from concentrated gluten, opt for a substitute like cannellini beans or black-eyed beans instead. Simply trade frying until golden for roasting before adding to your stew. Alternatively, swap out firm tofu for seitan and follow the instructions exactly. Our recipe doesn't need much more than half a cup of cooked, roasted beans seasoned plainly with salt and pepper added in place of seitan.
Vegetable Cacciatore Alternate Ingredients
The seitan in this vegetable cacciatore recipe can be replaced with just about any protein you prefer. Many love the taste of chickpeas paired with tomato and polenta, whereas others find that lentils, fava beans, and black beans all work well. One can even forsake the legumes and processed protein completely and go for zucchini slices or cauliflower instead. In both cases, we suggest you flour and fry off your choice of vegetables to add to the pot or pan later. Most substitutions will need less cooking time than seitan, so pay close attention to your meal and thicken accordingly when done early or use a little less stock.
Tips To Make This Vegetable Cacciatore Recipe Even Tastier
Instead of store-bought seitan, make your own. Fresh seitan takes under an hour and is easy enough for a child to do. Those opposed to rich tomato taste will prefer omitting this step, but two to three tablespoons of tomato paste elevates the flavor significantly. A generous pinch of chili powder is another great touch but opt for paprika if there's going to be anyone eating your cacciatore who's opposed to a burn. Finally, homemade frozen broth is always a better option than vegetable or chicken bullion mixed with water.
White Wine Vs. Red Wine Cacciatore
Our recipe includes seitan which is largely accepted to be one of the best Vegan white meat replacements available, substituting for meats like chicken and rabbit perfectly. For this pairing, white wine, as is traditionally used by northern Italian chefs, works best. South Italy opts for a dry red wine instead. Feel free to try either variation. Red wine works particularly well with a vegetable cacciatore featuring meaty beans like cannellini.
---
Recent Recipes