Easy Vegetarian Stromboli with Cheese
The origins of Stromboli date back to 1950s South Philadelphia when an Italian pizzaiolo by the name of Nazzareno Romano started making pizza rolls filled with ham, cheese, peppers, and sausage. His brother-in-law later suggested naming this delicious creation after the recently released movie Stromboli. The movie was infamous for an off-screen affair between the director Roberto Rosellini and lead actress Ingrid Bergman. Another theory is that Mr.Romano named it after the volcano Mt.Stromboli in Sicily itself because the pastry resembles an explosion of lava.
For this vegetarian recipe, I chose Pesto Rosso, Kalamata olives, Portobello mushrooms, shallots, and provolone cheese. But the beauty of this dish is that you can mix whatever flavors you prefer to create your version of a perfect Stromboli. Make sure to read the comments under Notes & Tips to ensure an impeccable result.
How to Make Stromboli
Stromboli can be made with Italian bread dough or pizza dough. We'll use full-proof pizza dough, but you can substitute your favorite pizza dough recipe or opt for store-bought. Either way, I recommend using a tested favorite. Believe me, the secret is in the dough.
For the filling, you want to make sure you pre-cook the veggies and use a cheese that melts well. Although Stromboli is typically made with either no sauce, marinara sauce, or a base of butter, garlic, and parsley, I highly recommend trying this recipe with pesto Rosso. It adds a flavor punch that will have your taste buds dancing the Tarantella. You can thank me later.
So, let's get right into the creation of this magical Stromboli that will make any Italian cry "Mama mia"!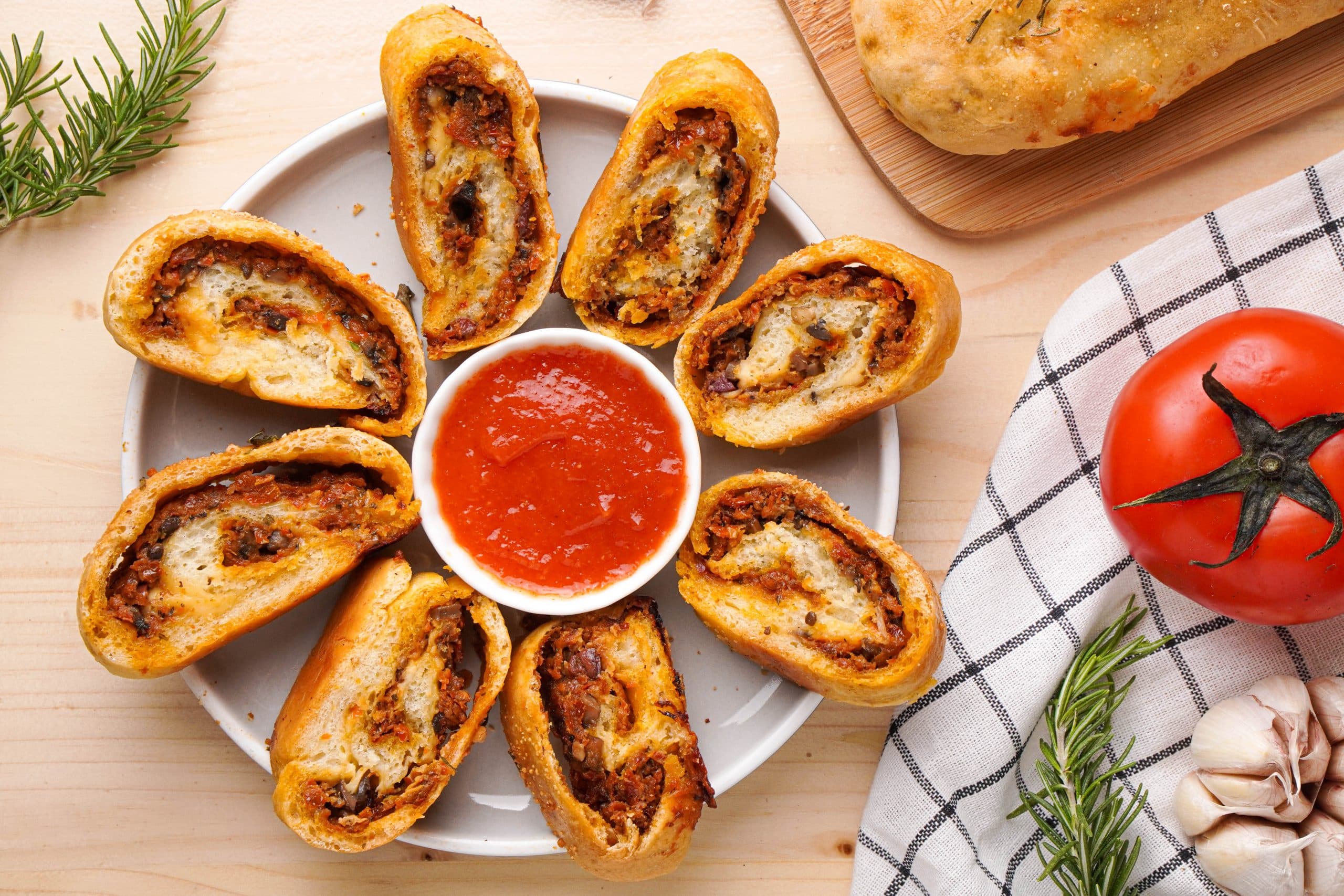 Equipment
Food processor or blender (if making pesto Rosso from scratch)

Rolling Pin

Oven

Medium saucepan

Knife and cutting board

2 baking trays

Parchment paper
Ingredients
Pizza Dough
2 1/4

cups

bread/all-purpose flour

1

cup

warm water

1

Tbsp.

honey/sugar

1

tsp.

salt

2

Tbsp.

olive/canola oil

2

tsp.

active yeast

Extra flour for dusting
Veggie & Cheese Filling
¼

cup

Kalamata olives

preferably pitted

2

cups

Portobello mushrooms

3

shallots

Pinch

of salt

½

tsp.

oregano and black pepper

2

Tbsp.

extra virgin olive oil

EVOO

10

oz

provolone cheese
Pesto Rosso
7

oz

sun-dried tomatoes

2

garlic cloves

1

bunch of fresh basil

½

cup

grated parmesan cheese

¼

pine nuts or chopped pecans

replace with sunflower seeds if allergic to nuts

3 ½

oz

EVOO

1

sprig rosemary
Egg Wash
1

egg beaten

Toppings

optional:

More herbs

rosemary, basil, oregano

2

Tbsp.

grated parmesan cheese
Instructions
All ingredients ready? Let's begin!
Veggie & Cheese Filling:
Warm oil on medium heat in a saucepan. Mince shallots and fry until golden.

Dice mushrooms and toss in the pan. Add salt, oregano, and black pepper.

Cover and simmer for 5 min.

Remove the lid and cook for about 7 min. No liquid should remain. Mix in chopped olives and set aside to cool down.

Cut cheese into thin slices.
Pizza Dough:
Follow the steps in the recipe here. Except, use regular flour, not semolina.

Preheat the oven to 400​​℉ and prepare the pesto while the dough rises for approx. 30-40 min or until doubled in size.
Pesto Rosso:
Assemble and measure all ingredients.

Place everything except the olive oil in the food processing bowl. Blend until creamy.

Add oil through the feed tube and blend until combined.
Assembly of the Stromboli:
Line baking trays with parchment paper.

Roll both balls of dough out into a rectangle until they are 1/8 to ¼ inch thick.

Coat dough evenly with pesto, leaving about 2 inches from the long edges. You might have leftover pesto.

Top with veggie filling and slices of cheese.

Roll the dough slowly and tightly, until you get a long burrito-like shape. Pinch the edges to seal and fold where the seam is.

Lay the Stromboli seam-side down and brush with egg wash. Make cuts with a knife every 2 inches along the roll.

Top with herbs and parmesan cheese if desired.

Bake for 15-20 min or until golden brown.

Serve with your favorite pizza sauce!
Nutrition
Calories:
278
kcal
|
Carbohydrates:
23
g
|
Protein:
11
g
|
Fat:
18
g
|
Saturated Fat:
5
g
|
Polyunsaturated Fat:
2
g
|
Monounsaturated Fat:
9
g
|
Trans Fat:
0.01
g
|
Cholesterol:
27
mg
|
Sodium:
388
mg
|
Potassium:
530
mg
|
Fiber:
4
g
|
Sugar:
7
g
|
Vitamin A:
360
IU
|
Vitamin C:
5
mg
|
Calcium:
212
mg
|
Iron:
2
mg
Notes & Tips
This recipe calls for provolone cheese, but you can substitute mozzarella, fontina, gouda, asiago, or gruyere as all are perfect for melting.
Here are some other yummy vegetarian filling ideas:
Spinach, garlic, pesto Genovese, and mozzarella
Zucchini, eggplant, basil, and fontina with marinara sauce
Onion, grated carrot, peppers, and gouda
Vegan sausage, peppers, marinara sauce, and gruyere
To make it vegan:
Use these vegan cheese ideas here or just go with Follow Your Heart Provolone or Daiya Provolone which are excellent and melt well
Replace egg in the egg wash with just some oil or vegan butter
Replace the parmesan cheese in the pesto rosso/egg wash with nutritional yeast
Make sure you always pre-cook your veggies to reduce the liquid. This way you will avoid soggy pizza dough and ensure a perfectly fluffy and crunchy texture. Even though it can be tempting to add a lot of toppings, don't overdo it. Less is more.
I love making my pizza dough, but it's pretty time-consuming. Luckily, store-bought can be as good. Just make sure you choose top-quality pizza dough. You can even call your favorite local pizza shop and ask them if they'll sell you their dough! If you want gluten-free dough, try out this recipe from our rice flour gluten-free pizza.
A good chef always taste-tests while cooking. Kids usually enjoy this task! And Stromboli is a super fun dish to prepare with your kids. They'll love it and feel so proud of the result.
How Long Does Stromboli Keep in The Refrigerator?
You can store your leftover Stromboli (if there are any leftovers) in the fridge for up to 4 days. Make sure you cover it with plastic wrap or aluminum to protect it from other fridge odors. You can also store the pizza roll in the freezer for up to 3 months. In this case, place it in a freezer bag or airtight container.
Prepping is also an option! You can make your Stromboli 24 h in advance and store it in plastic wrap until it's time to bake it. Let it sit on the countertop while the oven is pre-heating.
Can I Reheat Stromboli In an Air-Fryer?
Yes, you can! Here are the best ways to reheat a Stromboli:
Air-fryer: preheat the air-fryer for 5-6 min at 400 degrees. Brush the crust with oil and cook for 6-8 min (or until desired crispiness).
Microwave: place Stromboli on a microwavable dish with a container of water next to it. This will keep the dough soft and chewy. Microwave for 3-5 min.
Oven: wrap the Stromboli in aluminum foil and bake at 350 degrees for 15-20 min.
Are Stromboli & Calzone The Same Thing?
People often confuse Stromboli with Calzone, but they are not the same thing. Calzone is 100% Italian and originated in Naples in the 1700s, while, as I previously mentioned, Stromboli is American-Italian and was invented much later in the mid-20th century. Both are pizza derivatives and use the same ingredients – veggies, ham, cheese, and sometimes sauce. The main difference is that Calzone is folded like an empanada, and Stromboli is rolled like a burrito. You can read more about the distinction between Stromboli, Calzone, and Panzerotti in this detailed article.
---
Recent Recipes