Simple Very Veggie Lasagna Cupcakes
Nothing makes me happier, my kitchen messier and my family more filled with trepidation than when I decide to "veggify" a recipe. This is basically when I really try to see how far I can take my cooking adventures by adding… vegetables. I have a preschooler, so if there is any way I can sneak in a couple of extra veggies into any meal, I am going to go for it. I tried it with my "stir-fry" pizza, and my Everything-but-the-Kitchen-Sink Rice and while my family might not be happier for it, they are at least healthier. My Very Veggie Lasagna Cupcakes give a new twist to a couple of classics and the fun part is, there are so many permutations and combinations. You can make it with meat, tofu, vegetables, even vegan, you can literally try it with everything to see what works for you.
Here is the very versatile Very Veggie Lasagna Cupcakes.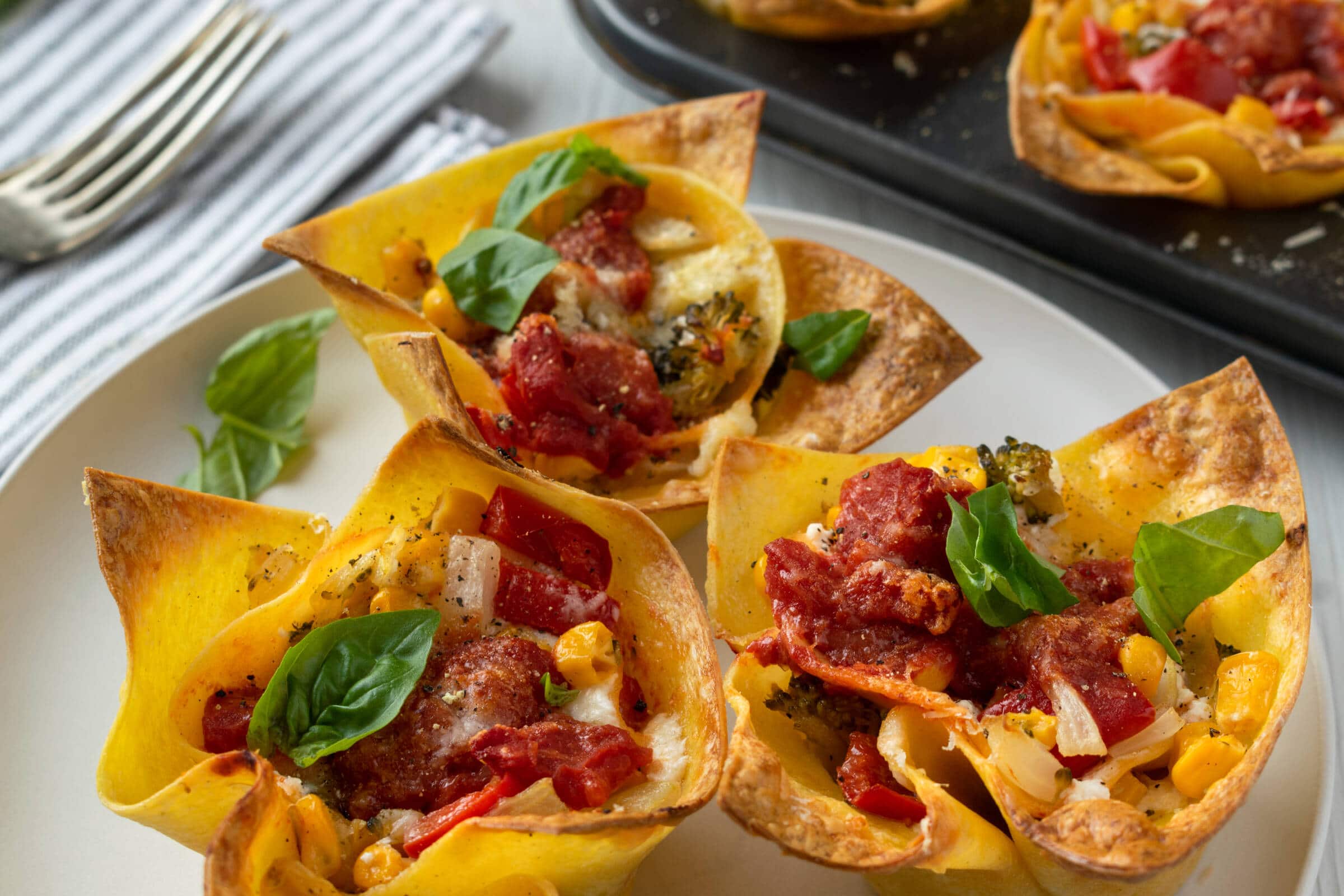 Ingredients
24

wonton wrappers

1/2

cup

red peppers

diced

1

cup

broccoli

chopped

1

cup

corn

frozen or fresh

1

cup

onion

minced

1

cup

Prego/Ragu/Classico

or any other brand pasta sauce

1

cup

mozzarella cheese

shredded

¾

cup

parmesan cheese

grated

¾

cup

ricotta cheese

¼

cup

– fresh basil

finely chopped

A pinch of pepper

1

tablespoon

– olive oil
Instructions
Preheat the oven to 375 degrees

Lightly spray the muffin tray and set aside

Heat the oil in a pan

Add onions and sauté till it softens

Add the broccoli, red pepper and corn to the onions, sauté till they soften and set aside

Reserve two tablespoons of parmesan and set aside. In a cup mix the ricotta, mozzarella and remaining parmesan.

Place a wonton wrapper in each of the sprayed muffin cups

Now let's start layering. Start with a layer of cheese, then a layer of the vegetables, then a layer of the pasta sauce, sprinkle a little parmesan on top. Now repeat the layers – wonton wrapper, cheese, veggies, pasta sauce and parmesan. For the second wonton wrapper, you may want to cut it into a circle to fit better, it depends on the size of your pan/wrappers.

Once all 12 cups have been layered, place in the oven and bake for 18-20 mins.

Remove from the oven and let cool

Garnish with basil and pepper
Video
Nutrition
Calories:
163
kcal
|
Carbohydrates:
16
g
|
Protein:
9
g
|
Fat:
8
g
|
Saturated Fat:
4
g
|
Polyunsaturated Fat:
1
g
|
Monounsaturated Fat:
3
g
|
Cholesterol:
22
mg
|
Sodium:
363
mg
|
Potassium:
197
mg
|
Fiber:
1
g
|
Sugar:
3
g
|
Vitamin A:
578
IU
|
Vitamin C:
18
mg
|
Calcium:
166
mg
|
Iron:
1
mg
Notes & Tips
When you are sautéing the vegetables, ensure you don't overcook them. They can get very soggy after baking.
Make sure the wontons don't overbrown when baking, they will have a burnt taste to them.
Why have you not used any salt in your recipe?
Between the store-bought pasta sauce and the amount of cheese used for the recipe, there is already a lot of salt. The only thing that would need salt would be the vegetables, but by the time it comes out of the oven it is covered in rich gravy and bubbling cheese and the salt gets nicely balanced out.
Do I need to add basil and pepper?
Not at all. I add basil and pepper to cut out the richness of the lasagna cupcake. Basil lifts the flavor and adds some freshness to it. The black pepper gives it a bite, adds a little punch to all the gooey, creaminess of the cupcake.
Why do I have to sauté the vegetable, if I am going to bake them?
Cooking them softens the veggies up a bit and gives them a nice crunch, otherwise, they tend to get too crunchy, almost raw.
What are some of the vegetables or meat I can substitute?
First off, yes you can add meat to it, instead of vegetables or along with, if that is your preference. Ground beef is always a popular choice, as is pork and chicken. Ensure it is properly cooked and layer the meat above the cheese.
Now for the vegetables. You have a ton of options like green peas, mushrooms, carrots, spinach, zucchini, tomatoes and even eggplant; you can mix and match as you please. I am sure most vegetables will mix well with cheese and pasta sauce; we just need to find the balance.
The pasta sauce: Traditionally lasagna is made with a tomato-based sauce, but for these little lasagna cupcakes, all bets are off. An Alfredo sauce pairs nicely with a spinach-mushroom combo. You can use white sauce or pesto if you don't want to go with red sauce.
My favorite substitution is the actual "lasagna". Instead of wonton cups, use regular lasagna strips. Cook them according to package instructions, cut them into either wonton-shaped squares or little circles to fill the muffin tray. You can similarly use, store-bought pizza/pastry dough.
Cheese: If you have only one kind of cheese at home, that is fine. While these parmesan, mozzarella and ricotta are most commonly used for lasagna, you can use whatever cheese you have, but be warned, some of them might be too sharp.
Any shortcuts to make it go faster?
If you're a mom, like me you're always looking for the quickest route. The best thing about these cupcakes, you can forget the layering. Mix all the ingredients – the cheese, the sauce and the veggies/meat and fill up the wonton cup. Add another wonton cup on top and repeat.
What sides would you recommend?
Though it be small, it be mighty. Each lasagna cupcake is rich and heavy and being small, it is easy to overindulge. So, anything else you have should be light. If the cupcakes are an "appetizer" make sure you serve a green, leafy salad as part of your main course. Or if the cupcake is the main course, a side of green salad or roasted veggies like honey-glazed carrots.
What does it taste like?
The Lasagna Cupcakes are delish. It is basically bite-sized lasagna, overflowing with flavor and decadent amounts of cheese.
How can it be stored?
The cupcakes can be stored in the fridge for up to two days and frozen for up to a week.
If you want to eat lasagna without having to do all the prep and work, this is it. It is quick, you don't have to go through the laborious process of cooking and layering a whole dish of lasagna. And this works as a snack, appetizer or a meal. You can also check out our primal moussaka here or dandelion flower bread here if you want some other delicious recipes.
---
Recent Recipes