All The Waffle House Vegan Menu Options
Waffle House: a favorite American eatery, at least if you aren't a vegetarian or vegan! Or so most people think, at any rate. This southern cooking style, country-loving eating establishment has its roots in Texan and other meat-based cooking traditions, so you shouldn't be able to find any vegan options at all, right?
Wrong. But that isn't to say that Waffle House is one of the best places to eat for vegans, either. In fact, while Waffle House does have a few vegan options available if you need to grab a quick breakfast in a pinch, other establishments like Chili's may be more up your alley if you're looking for vegan-specific menu items.
Let's take a closer look at the vegan options available at Waffle House so you know what you can order safely if you have to eat here for one reason or another.
| Menu Item | Type of Dish | Note |
| --- | --- | --- |
| Fat Free Italian Dressing | Salad | |
| Balsamic Vinaigrette Dressing | Salad | |
| Garden Salad | Salad | Avoid non-vegan addons |
| Grilled Mushrooms (Capped) | Breakfast | |
| Grilled Tomatoes (Diced) | Breakfast | |
| Hash Browns | Breakfast | |
| Jalapeno Peppers (Peppered) | Breakfast | |
| Sauteed Onions (Smothered) | Breakfast | |
| Sliced Tomatoes | Breakfast | |
Note: Cross-contamination can occur. Menu items as of 1/11/2023 as menu items may have changed.
Vegan Breakfasts at Waffle House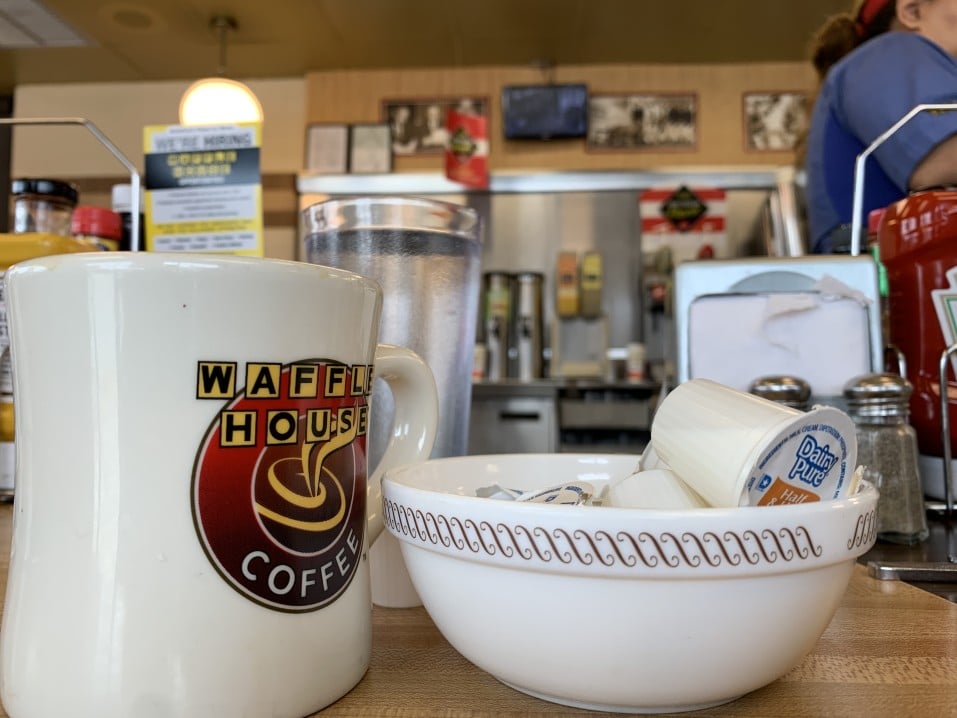 Practically everyone comes to Waffle House for breakfast and breakfast alone, even though the chain does offer some lunch options for late diners. After all, that's the restaurant chain's specialty. When it comes to vegan breakfasts, on the other hand, your main choices are hashbrowns or some other small sides.
Luckily, hashbrowns are available in five different vegan-friendly combinations. You can also choose hashbrowns in one of three sizes: a single stack, double stack, or triple stack. So if you need something filling in your stomach in a hurry, the hashbrowns at Waffle House could be the perfect choice.
Waffle House's five distinct hashbrowns orders include:
Plain, which just includes hashbrowns seasoned with salt and pepper and nothing else. Note that all the hashbrowns don't include any animal products or ingredients by default, so you don't need to worry about special ordering the hashbrowns for vegans
Smothered, which are hashbrowns with chopped onions
Diced, or hashbrowns with diced tomatoes
Peppered, or hashbrowns with jalapeno slices
Capped, or hashbrowns with mushrooms
Even better, Waffle House allows you to order your hashbrowns with one or all of the above topics. You could very easily order yourself a deluxe hashbrowns delight by choosing plain hashbrowns and asking for onions, tomatoes, jalapeno slices, and mushrooms in the same order. It's very easy for the chef to throw together.
What if you're not in the mood for potatoes? In that case, Waffle House does offer a few other vegan-friendly options. These include:
A garden salad. You just have to make sure that you ask for no cheese since the garden salad comes with it normally
Toast with jelly. Be sure to order the toast without any butter to keep it vegan friendly
Unfortunately, that's it: toast, salad, or hashbrowns. We know, you probably want to try the waffles since you are eating at Waffle House. But these waffles are not dairy-free in the slightest, so you can't eat them without compromising your diet.
Additionally, Waffle House's other major bread products like biscuits contain milk, and all the other options include meat of some type. Bottom line: Waffle House may not be anti-vegan, but it's not exactly vegan friendly, either.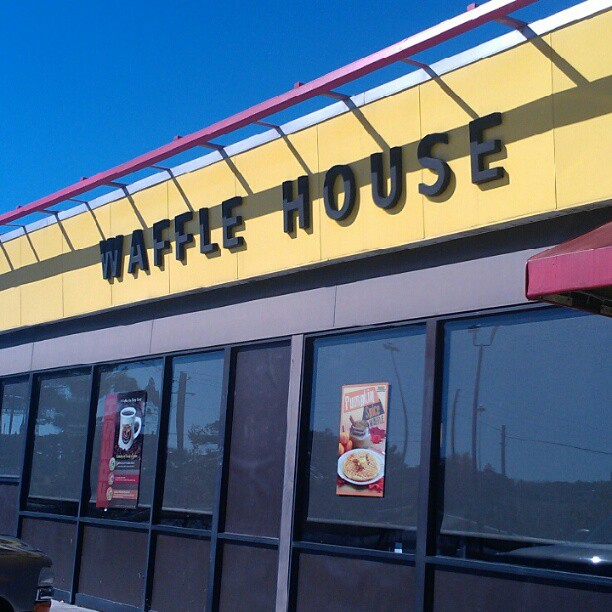 What About Lunches at Waffle House?
As touched on above, the only real lunch or dinner choice at Waffle House for vegans is the garden salad. The garden salad comes with romaine and iceberg lettuce, as well as cabbage, diced tomatoes, and shredded carrots. That's a pretty good spread of vegetables if you need more fiber nutrients in your diet.
Plus, the garden salad can be ordered with fat-free Italian dressing or balsamic vinaigrette, both of which are vegan-friendly. The dressings come in packets, so you don't need to worry about cross-contamination or the dressings being mixed in bowls with non-vegan ingredients.
While it's possible you may be able to order hashbrowns for lunches at Waffle House as well, that's down to the schedule of the chef and whether they are willing to break out the potatoes again.
Waffle House Vegan Choices FAQs
Does Waffle House offer any other vegan options?
Yes: pickles and maple syrup, along with a spread of vegan-friendly teas, coffee, sodas, and juices. The beverages are pretty standard for any eating establishment, and you could maybe add pickles to your salad or your breakfast hashbrowns. But we don't really know where you would add them otherwise. The maple syrup, we suppose, could be added to your toast for a different flavor of breakfast.
Is cross-contamination a serious concern at Waffle House?
Yes. In fact, you should assume that practically everything aside from the salad dressings has been made with the risk of cross-contamination. Shared cooking surfaces and tools are used for all the ingredients in dishes at Waffle House, so none of them are kept separate for vegans or vegetarians.
Are the grits at Waffle House?
No, even though many other grits from other eating establishments are. The grits always have eggs and milk, so you can't eat them and keep your vegan diet.
Is Waffle House a Good Eatery for Vegans?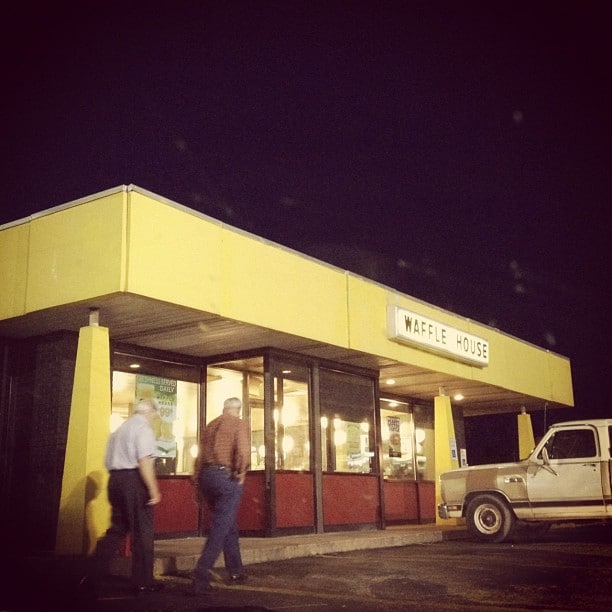 Simply put, no. Waffle House does have a few vegan-friendly options if you need to put something in your stomach quickly, but these are an afterthought or a side effect, not a conscious choice on Waffle House's part.
Even worse, there is no indication that Waffle House will expand its vegan options in the near future. This restaurant is dedicated to a decidedly southern tradition of cooking, which always includes animal products like meat or animal fat and isn't the healthiest for you.
Our advice? Try to convince your family members to eat somewhere else if you are a vegan and can't stomach the idea of just eating hashbrowns. Alternatively, check out our list of vegan-friendly menu items found at common restaurants so you know what you can order at other eating establishments.
---
Recent Recipes