What Does Hummus Taste Like?
Hummus has a creamy, melt-in-your-mouth texture, and instead of distinct chickpea flavors, it oozes with rich umami flavors — pleasant savory taste. Typically containing chickpeas, tahini, olive oil, lemon juice, garlic, and salt, the dip exhibits a rich, garlicky, slightly tangy flavor.
Wondering what the beige spread filling dip dishes at parties is? It's likely hummus, a Middle Eastern spread made from pureed chickpeas, tahini (ground sesame seeds), lemon juice, olive oil, garlic, and a sprinkling of salt.
Usually served with veggies or crackers or layered into sandwiches, it's got a huge fan base and is highly nutritious. If you've never tasted it, here's a closer look at what all the fuss is about.
About Hummus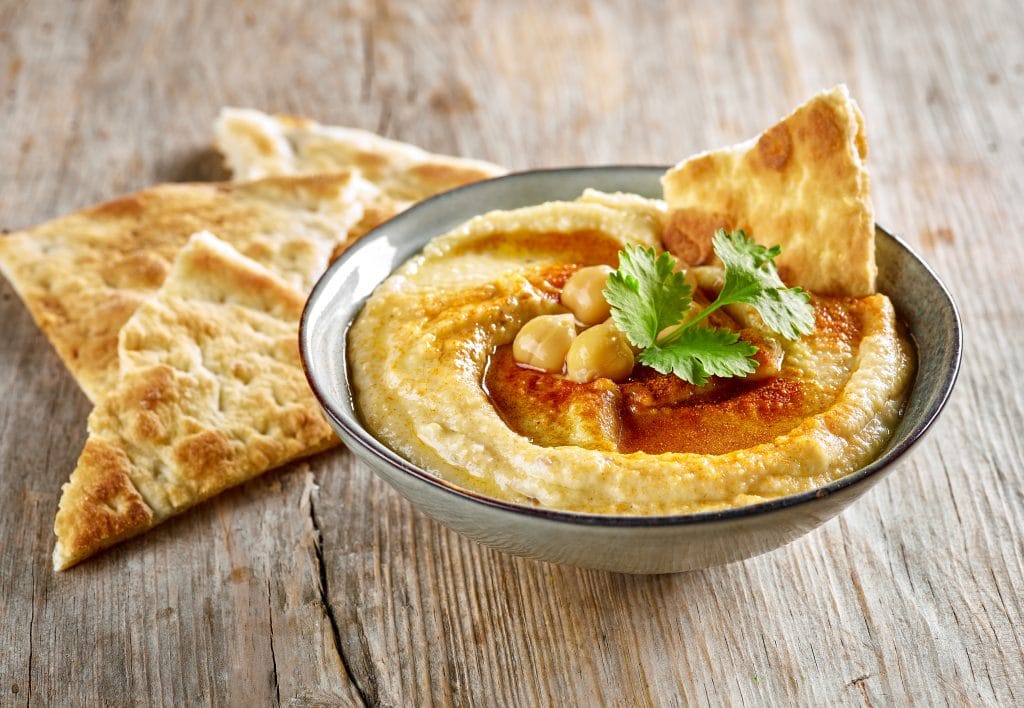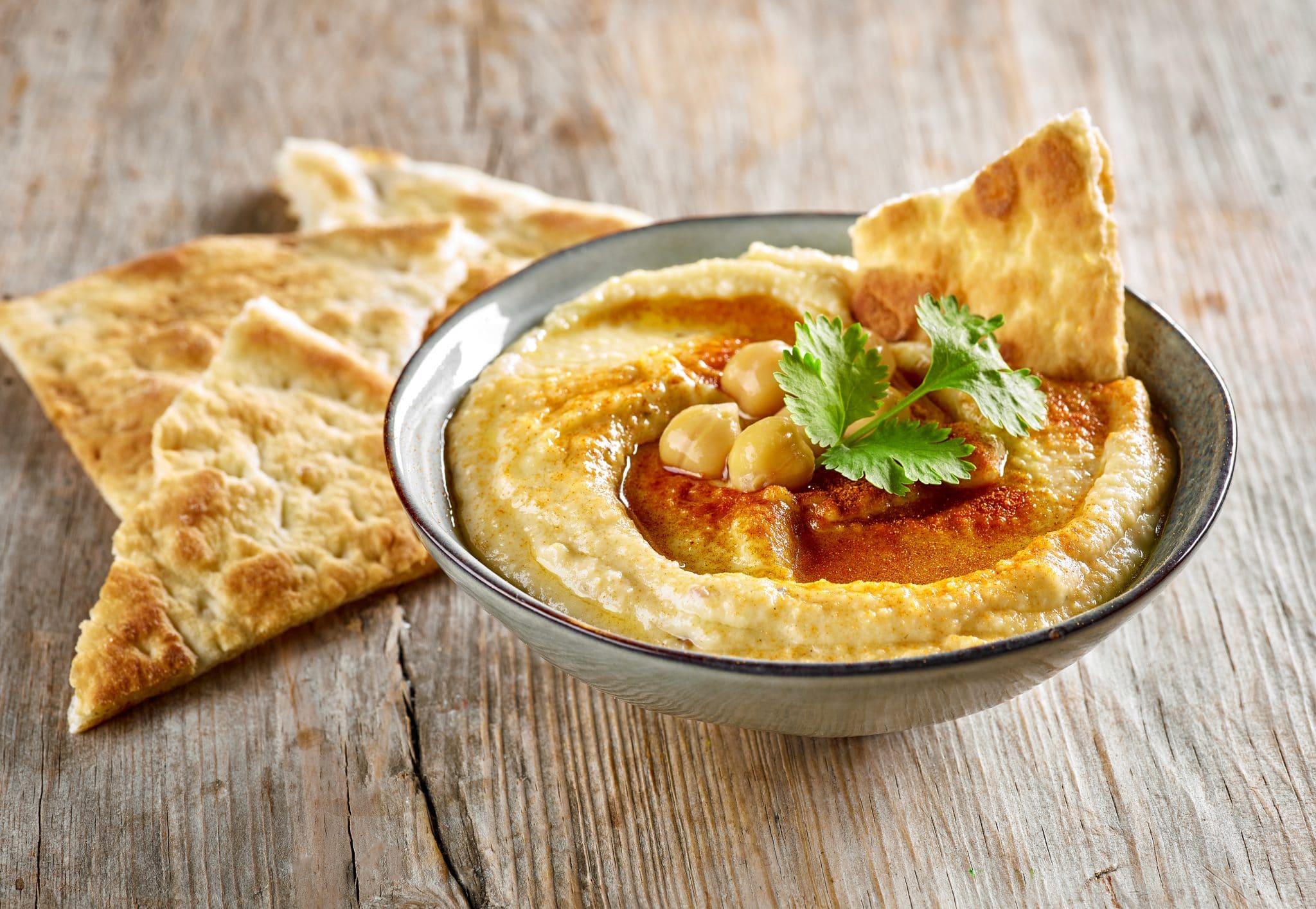 Hummus can be traced back to the 13th century in the Middle East. Usually served cold, hummus is also eaten warm with bread for breakfast or dinner in some countries.
Traditional hummus is free of common food allergens and irritants like gluten, dairy, and nuts, making it safe to enjoy for most people. And chickpeas are good for digestive health and for fighting inflammation. But what does it taste like?
Taste
On their own, chickpeas have a bean-like, earthy, and nutty flavor. Surprisingly, hummus tastes nothing like chickpeas thanks to the other ingredients (garlic, lemon, sesame seed and olive oil) used to make it.
Hummus has an umami flavor, a meaty, savory taste that imparts a feeling of fullness. Think of nut butter but lighter, with a bit of texture and a hint of tang.
Texture
Ideally, hummus is creamy and smooth or slightly gritty depending on how long the chickpeas were processed. Now, when we say gritty, it's about the mouth feel rather than an unpleasant, dry, sandy taste. Some people prefer a little "bite."
Buy or Make?
While hummus is readily available in most grocery stores, it's relatively easy to make if you have the ingredients. You'll need chickpeas, tahini, garlic, lemon juice, olive oil, salt and any additional flavorings (red pepper, pesto, hot sauce, cheese…) you want to add. The benefit of making it yourself is that you can adjust the main ingredients to your liking and create unique flavors not found in stores.
Should You Use Canned Or Dried Chickpeas?
Dried chickpeas need to be soaked, and cooked and then the skins need to be removed before you can process them. Canned chickpeas save a lot of time but may have more salt than you'd like. By cooking chickpeas yourself, you can control the amount of salt. But if canned is what you have, rinse the canned beans first and skip the salt in the recipe.
Simple Hummus Recipe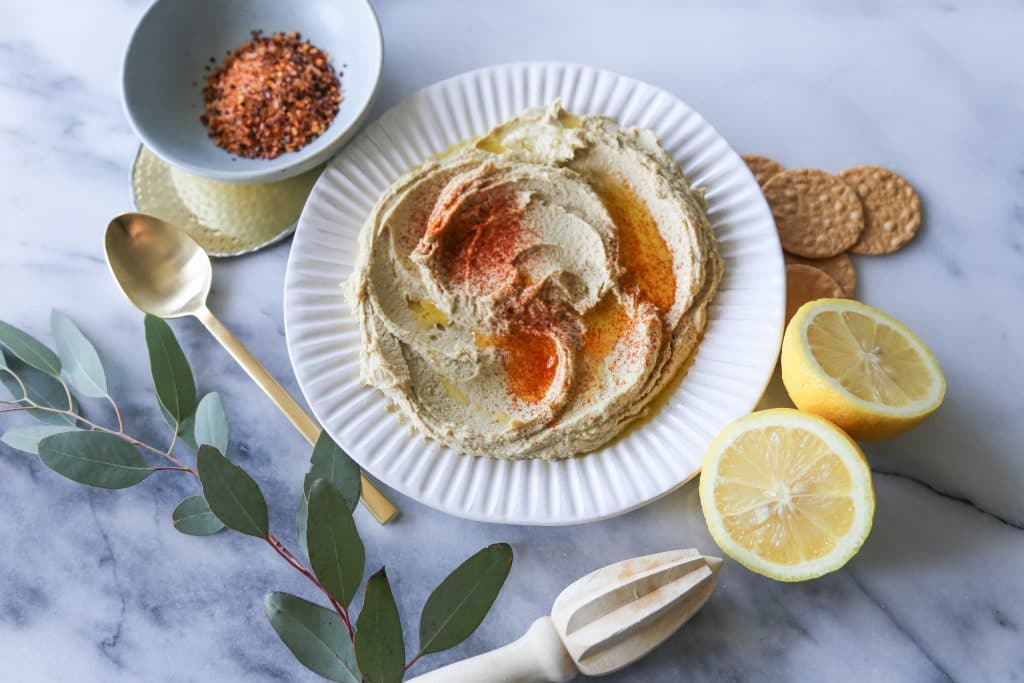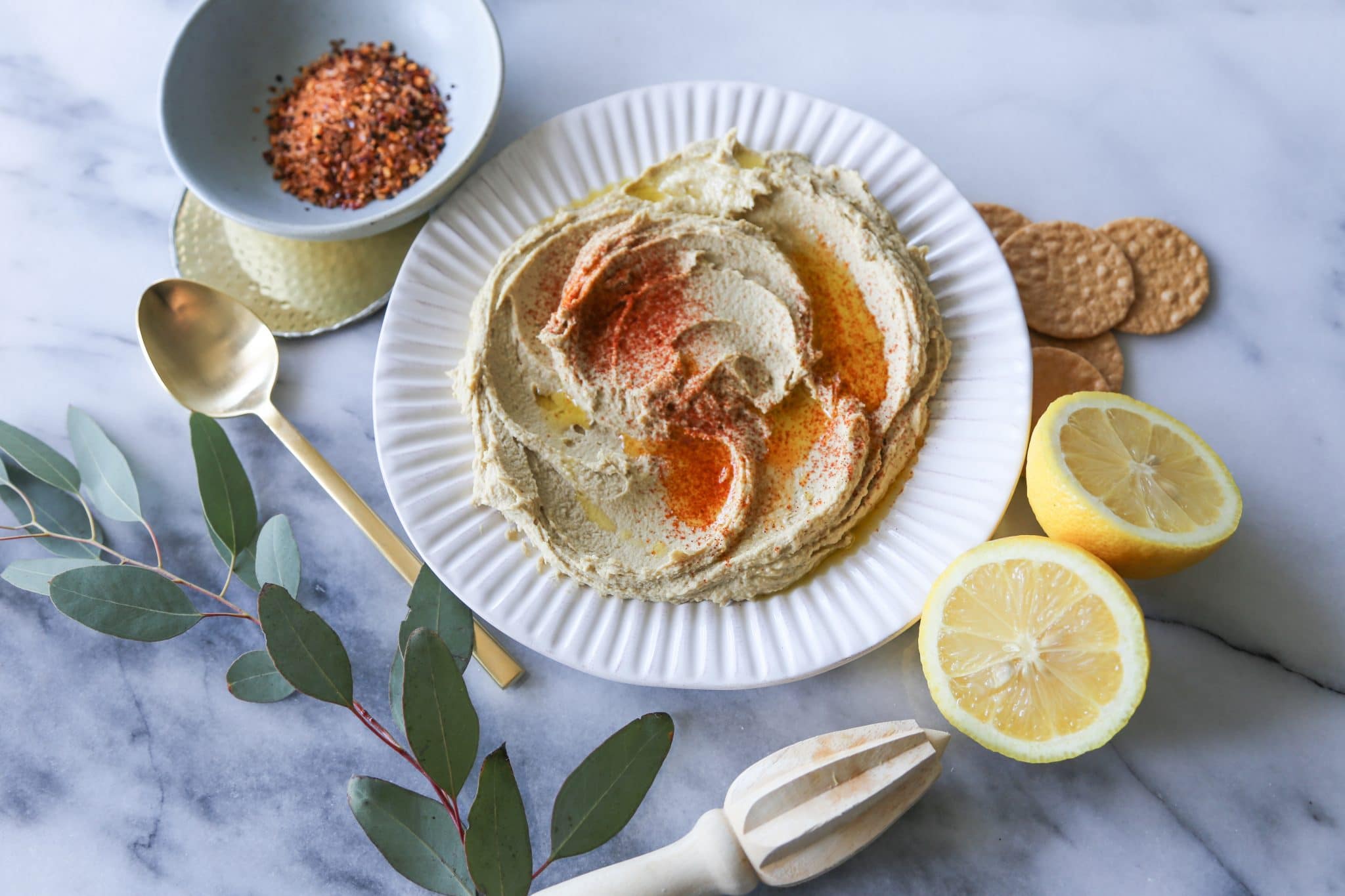 3 cups canned chickpeas or 1-1/2 cups dried chickpeas

Rinse canned chickpeas and simmer for 20 minutes to soften them up
Soak dried beans overnight in water (cover 2 inches) then simmer in water with some salt for 1 ½ – 2 hours. Rinse beans in cold water to remove skins.

Have ready 1-2 cloves of minced garlic, 1/3 cup tahini paste, ½ teaspoon salt, juice of 1 lemon, extra virgin olive oil (EVO), and 3-4 ice cubes.
Add chickpeas and garlic to the bowl of a food processor. Blend until a powder is formed.
While the processor is running, add tahini paste, salt, lemon juice and ice cubes. Blend until smooth.

If hummus is too thick, add a little hot water.

Transfer hummus to a serving dish and drizzle EVO on top.
Tips for Making Hummus From Scratch
If you're using dry beans, add a tiny amount of baking soda (1 Tbsp per 500g dried chickpeas) to the soaking water to make them more tender. Just remember that baking soda will add to the salt content.
If using canned chickpeas and salt is not an issue, keep the liquid (aquafaba) to create a smoother hummus.
Some people like to mix the tahini with the fresh lemon juice and garlic first. Then, add a few drops of cold water before stirring the tahini combo into the hummus.
Dressing Up Hummus
Hummus add-ins are genuinely endless! Here are a few of our favorite add-ins.
Pomegranate: These will add a sweet/tart and crunchy element
Sweets: Sugar, unsweetened cocoa, and vanilla extract can turn your hummus into a perfect dessert.
Spice: Sprinkle paprika, cayenne pepper, sumac or a few drops of hot sauce for some heat.
Citrus: Substitute orange or lime for the lemon juice for a little twist.
Herbs: Add fresh or dried chives, dill, rosemary, basil, or parsley, along with a generous drizzle of virgin olive oil.
Seeds and nuts: Try sesame seeds, pine nuts, chopped walnuts, sunflower seeds – or any small seed or chopped nut – for some crunch. Remember to toast the seeds or nuts first.
Alternatives To Hummus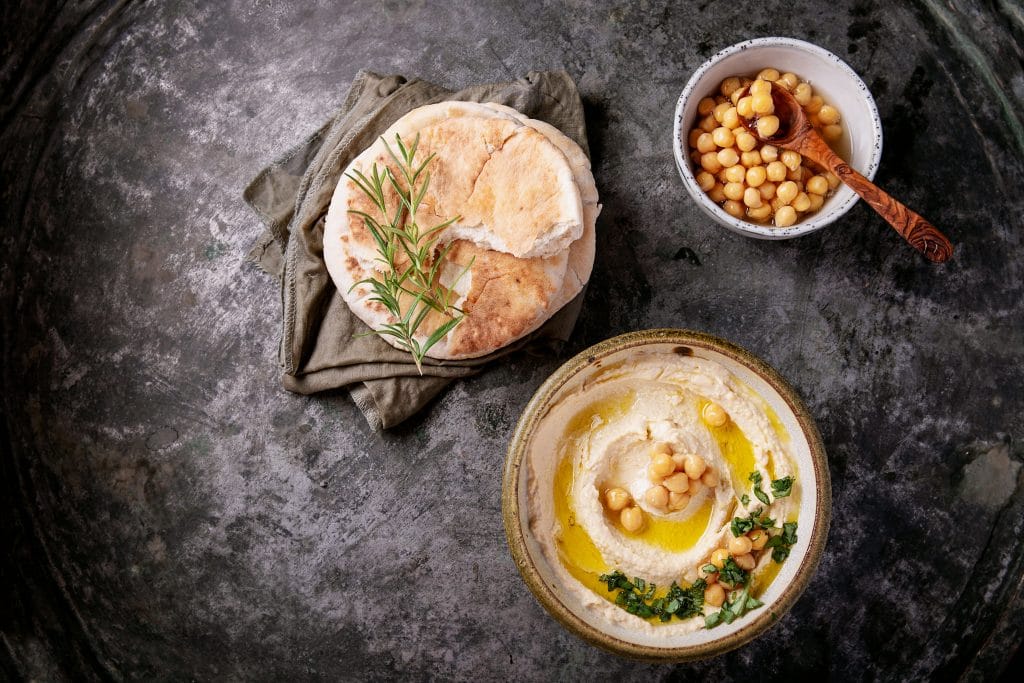 Following a Paleo diet, or beans don't work for you? We've got some replacements for the chickpeas that you might want to try. Add the basic hummus seasonings to these bases and any additional flavorings.
Cauliflower or Zucchini
Roast cauliflower florets or zucchini chunks in olive oil and a dash of salt and pepper. Process, then add the seasonings.
Almonds
Soak almonds for at least 12 hours before pureeing them with the remaining hummus ingredients. If you can find almond meal (not flour!), you can save the soaking time.
Greek Yoghurt
Make a sauce using equal amounts of tahini paste and Greek yogurt. For this one, don't forget the salt! It makes a great dip or spread.
Mayonnaise
While the taste profile differs, mayonnaise can be used to make a faux hummus sauce. For a fresher flavor, blend the mayo with Greek yogurt (50:50 ratio).
---
Recent Recipes