What Does Taro Taste Like?
Did you ever walk across a grocery store and find a brown vegetable with purple tinges in it? Well, that is precisely what a taro is. It is a root vegetable from a big Asian plant and provides an assortment of health benefits. Taro is an excellent source of good carbs and fiber. It may also help boost Vitamin C, Vitamin B6, and Vitamin E in the body. With so many health benefits, it becomes almost impossible to avoid this cute root vegetable in the first place. But let us be honest. How many of you have never heard of that name before? Yes, we were on the same page as you, but now that we know what Taro looks and tastes like, this article is here to change it.
From the looks of it, our first impression of Taro wasn't very delightful. But it is only when you put it in your mouth that the flavors start to surprise you. That is why we have come to like this vegetable like no other these days. Shocked, aren't you? Well, now you ought to learn more. So, could you stick with us until the end?
For starters, Taro root is quite similar to a sweet potato. It is not just the texture that resembles it but also the taste. It is sweet and nutty. What is even better is that it kind of tastes vanilla in so many ways. That is why sweet Taro is used to make delicious snacks and beverages today.
Some of the most common ones include frozen Yogurt, tapioca, and bubble tea. But most people are likely to have diverse answers for this one. While some people would say that Taro has a meaty flavor, others say it is sweeter to be a slice of meat. But among everyone with their weird flavors of Taro at hand, it is hard to find those who genuinely didn't like the vegetable root at all. That is because it tastes incredible.
So, please do not go by the looks of it. Taro is a real people-pleaser.
Different Uses Of Taro
Taro Milk Tea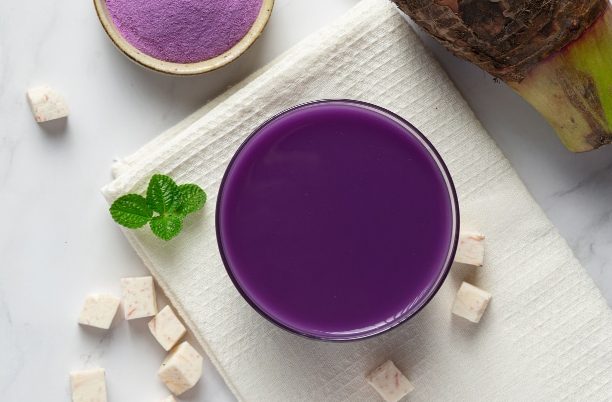 If you are a bubble tea fan, Taro will become your ultimate favorite in no time. It is nutty and provides a taste of vanilla too. What is even better is that as you continue to take a sip of this sweet taro milk tea, it begins to taste more like cookies and cream. So, if you have a sweet tooth, you are bound to fall for Taro as much as we did. In many cases, Taro may also end up having a grainy texture that is in more resemblance with pecan nuts.
Taro Yogurt And Smoothies
At first, you may wonder how it tastes like to have a root vegetable turned into a smoothie or Yogurt. But do not worry. It is only when you taste it that you realize it couldn't have been better. The taste is excellent with a pint of mildness. For a change, taro flavors are pretty surprising and don't fail to make you want more.
Taro Paste
In China, taro taste is quite a delicacy. So, people from all over the world come here to taste the delicious Taro and take some of them back home. The Chinese even improvise the dish with meats like beef and pork. So, it only gets better, But for most parts, it tastes heavenly. That is why Taro has a nutty taste, is full of fragrance, and is also sweet. The flavors all seem to melt into your mouth without any worries. That is what is most good about it.
How To Enhance The Natural Taste Of Taro?
In many ways, cooking can help improve the taste of Taro naturally. But for this, you need to follow the instructions carefully. One mistake, and you ought to lose the flavors in no time. So, be careful.
Taro is a perfect blend of earthy starch and creamy milk-like flavors. It is what intensifies its sweetness and makes us come back for more. That is why you will often find people using Taro in the recipes of milk and coconut cream.
Generally, the purple part of Taro is used for baking, boiling, and roasting. As a result, you are more likely to have a crispy and crunchy flavor at hand. Young taro leaves can also be eaten if their stems are pink and green. If you are unable to boil the leaves correctly, the nutritional content inside them will dissipate. That means it is likely to irritate the mouth and make it hard to swallow for you. You must also note that Taro could be the best alternative for you if you are on a gluten-free diet. The corms can also be used ideally to prepare flour for bakeries and enhance the sweetness levels of your food.
What Are The Health Benefits Of Taro?
Taro is packed with nutritional benefits from all ends. For starters, it helps improve digestive health, including a host of vitamins and fiber as well. That is why it prevents constipation, reduces cramps and diabetes issues. If you are suffering from an indigestion problem, Taro can come again handy for you. It also includes vitamin C to improve immunity and help reduce the risks of cancer. Apart from this, it may also help you fight the chances of heart attack to a considerable extent.
Most people love to eat Taro because of its roots and corms. They are the authentic flavor enhancers here. But for most parts, Taro is sweet, starchy, and nutty. If you are looking to add a nutritional diet to your daily eating habits, Taro could be a way to go. Also, Taro can be used to create a filling dish using diverse types of meat and spices. So, do not think twice before experimenting with that. It won't fail you.
The Bottom Line
Taro is a delicious root vegetable that is famous for its health benefits. So, why don't you give it a try and tell us how you like it? We promise; the results will be worth the wait.
---
Recent Recipes