What To Serve With Lasagna
Lasagna is labeled one of the most comforting meals you can get, and for a good reason! Lasagna is a beautifully layered meal filled with sauce, meat, pasta, and cheese that is then baked to perfection. But just having lasagna alone can make a meal feel empty, so what can you serve with your lasagna?
There are plenty of side dishes you can serve with lasagna; some of the best options include cheesy garlic knots, authentic brunette, Garlic roasted broccoli, breadsticks, honey-coated carrots, and baked cauliflower with parmesan cheese. These recipes are sure to make your taste buds dance.
Are there any lighter side dishes you can serve with lasagna? What are the best salads to serve with lasagna? How do you make the perfect cheesy garlic knots to go with your lasagna? Let us find out!
The Best Sides To Serve With Lasagna
Lasagna is rated as one of the top comfort food recipes that are loaded with cheese, meat, and on the odd occasion, the same veggies too. But just serving lasagna alone can make the plate look empty, so you need a side dish or two just to round out the plate a bit more.
But what side dishes go well with lasagna? We have created a list of the best side dishes you could serve with your lasagna. These dishes are beautiful, tasty, and easy to make, so let us have a look!
Antipasto is a tasty Italian platter that can be made easily at short notice. This side dish is an excellent way to give your lasagna an authentic Italian feel. You can either serve this dish as a side with your lasagna, or you could serve it as an irresistible starter to get the taste buds wanting more before you serve the main attraction: the lasagna.
Antipasto is simple to make as it consists of a mixture of your favorite sliced meats with fruits, cheeses, and some sliced veggies. If you want to "wow" your guests, you can try and add as many colors to the platter as possible to offer a more vibrant and eye-catching feast.
Garlic bread is, by far, one of the most favored breads globally; everyone likes garlic bread. So, why not take your lasagna to the next level and serve it with this family-favorite side. Just thinking about hot and crispy bread doused in melted butter and drenched in fresh garlic is enough to make your mouth drool.
One of the great things about garlic bread is that it is simple and easy to make at home, and when served with lasagna, it's great for tearing and mopping up any delicious tomato sauce still left on your plate. Garlic bread is one of the best sides you could make with lasagna.
Sticking with the garlic theme that always goes well with lasagna, we have the delicious garlic roasted broccoli. This is a perfect side dish if you want to give your lasagna a bit of a healthier but still tasty spin.
Roasted garlic broccoli is an easy side dish to make and helps you cut down on calories and the heaviness of the overall meal without reducing your enjoyment of the meal. This side dish will give you the mouth-watering garlic flavor you crave with your lasagna and keep your meal on the healthier side.
Balsamic roasted vegetables are an excellent side for lasagna. The tanginess and deep flavor of the balsamic vinegar pair well with and help to enhance the flavors of the root vegetables you choose to roast.
This side dish goes well with lasagna and will become one of your favorites, and it is easy to prepare. With this dish, you place it in the oven and leave it until you need to turn the veggies, and that's it. The tangy, full-bodied flavors of this side dish bring out the richness of the lasagna.
When your oven is already hot from cooking the lasagna, you can take advantage of this and make some delicious roasted Brussel sprouts with parmesan. Most people think Brussel sprouts are a "gross" vegetable, but when they are cooked properly, these veggies can add a sweet and complementary flavor to your lasagna.
The pairing of the Brussel sprouts with parmesan cheese makes this recipe a taste bud-pleasing, delicious-smelling food that you will find easy to eat. This recipe is also simple to make, so you do not have to spend a lot of time trying to make your Brussel sprouts taste good.
So, what could be better than plain garlic bread? How about some garlic bread with cheese! These garlic bread knots are a crowd-pleasing side dish for your lasagna. Do not let the fact that you are making the bread from scratch put you off this recipe as it is an extremely easy process, and the product you get is probably the best-tasting thing ever.
These easy-to-make cheesy garlic knots will have your taste buds dancing, as the bread is freshly made, so when it comes out of the oven, your home is filled with the beautiful smell of freshly made bread. Then the cheese inside these garlic knots is melted perfectly into a gooey, stringy mess. These will fast become something you make every week as they are that good.
Bruschetta is another Italian classic that pairs beautifully with lasagna. Authentic Bruschetta is easy to replicate in your kitchen, and it is a great way to accentuate the delicious flavors of your lasagna.
Bruschetta can be served either before your lasagna main or as a side with your lasagna. This Italian favorite is a deliciously crunchy bread that is infused with garlic butter. Then it is topped with chopped ripe, juicy tomatoes then sprinkled with fresh basil for a refreshing taste.
Giardiniera is an Italian-styled pickled vegetable that offers a tangy and colorful mix to your lasagna. Giardiniera is a traditional Italian food that you will find in almost all authentic Italian restaurants near you.
These pickled vegetables are extremely easy to make and provide a great accompaniment to lasagna or any other authentic Italian food you make at home. These vegetable pickles are packed with flavor and last for a while in your fridge, meaning you are always ready with a delicious side dish for your Italian dinner nights.
If you are looking for a light but still tasty food to go with your lasagna, then this classic wedge salad is for you! Not only does this side dish taste good, but it looks impressive too. With this salad, you cut a wedge out of iceberg lettuce and then load the wedge with crumbled bacon, tangy pickled onions, juicy chopped tomatoes, and a generous helping of a blue cheese dressing.
The blue cheese dressing is just as easy to make as the salad itself as you whip it up in your food processor. This dressing is what makes this salad over the top delicious, and you will want to make it for all your salads in the future.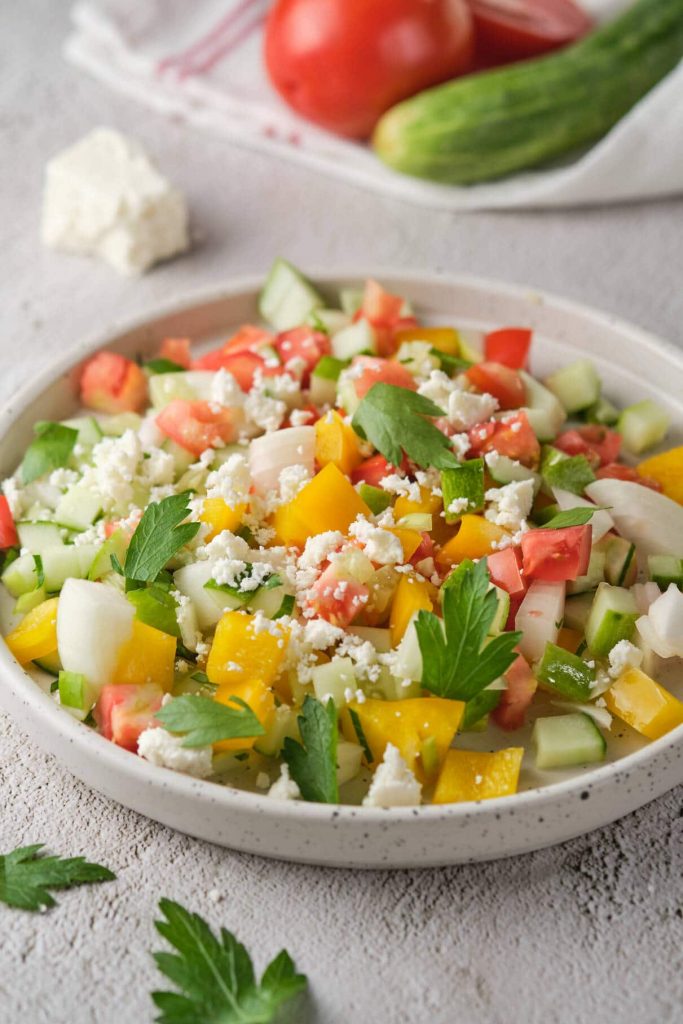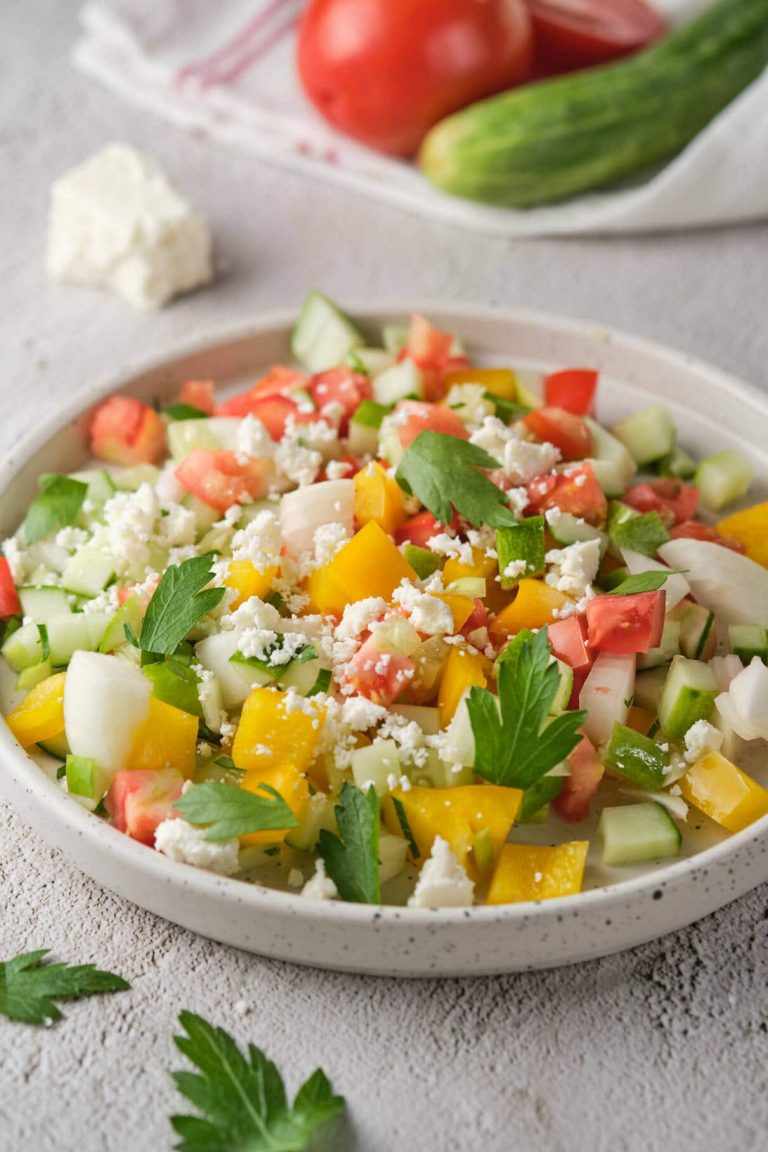 A feta salad is a great healthy side dish for your lasagna. This salad is made with creamy feta cheese that goes well with the stringy cheese of the lasagna. This salad is light and helps the meal not be too heavy as lasagna is a heavy pasta dish.
This is a salad you should skip if you are lactose intolerant unless you can find lactose-free feta cheese or vegan feta from Violife works great too. This feta salad is a light tasty dish that will balance out the lasagna nicely.
Olive Garden is one of the greatest restaurants to go to for inspiration on what they serve with your lasagna, as they are known for their pasta dishes. So, here is a great copycat recipe for their salad that they serve with their lasagnas.
This salad is crisp, filled with fresh ingredients, has a creamy dressing, and is often served with croutons. If you call yourself an Olive Garden fan, this recipe will transport you back to the restaurant and give you an authentic feeling with your lasagna.
Any type of pasta dish paired with bread makes for a delicious meal, and these breadsticks will not disappoint. These breadsticks are crispy on the outside and so lovely and fluffy on the inside, making them perfect for soaking up the tomato pasta sauce for your lasagna.
Breadsticks offer an authentic Italian feel to your lasagna meal, and you can serve them with some small bowls of olive oil and balsamic vinegar to dip them in if you want to serve them as a starter. If you feel adventurous and want a different taste, you can add some garlic to this recipe to make garlic breadsticks.
As lasagna is a heavy pasta dish packed with flavors, you may want to serve it with a simple and light side dish. This is where the humble green salad comes in handy. A green salad is a low-calorie pairing to lasagna, and it will help fill you up.
For a green salad, you can use a wide range of leafy greens depending on your tastes. You can use arugula, kale, classic romaine lettuce, collard greens, spinach, or a mixture of them all. Green salads are nutritious and filled with good minerals that your body needs.
Carrots are a vegetable commonly used as a side dish for many different meals, and lasagna is one of them. These honey-coated carrots are a taste sensation and will keep your family and friends coming back for more. With these, it is best to make a big batch!
These carrots are roasted in a honey glaze, making them tender and sweet. Honey-coated carrots are easy to make and will only take 20 minutes to roast, so you will not keep your hungry guests waiting! These carrots will fast become a favorite in your home.
Arugula salad is a tasty alternative to a regular salad that most people find boring and somewhat unpleasant to eat. An arugula salad is an elegant side salad to serve with your lasagna, and even though it's tasty, this salad is probably one of the easiest salads you will ever make.
You can have this salad table ready in under 10 minutes! This salad does not need a dressing to accompany it as fresh and beautiful as it is. If you want to, though, you can dress this salad with a light drizzle of olive oil and lemon juice, or even add some parmesan shavings on top for a great cheesy addition.
Fennel orange salad is a beautiful salad by itself, but it really comes alive when you pair it with a lasagna. This salad is filled with juicy and sweet oranges that go perfectly with the thin slices of raw fennel that offer a subtle licorice taste to the dish.
The two main ingredients are then thrown over a bed of crisp and delicious leafy greens. You do not need a dressing for this lovely salad, but if you want to elevate its taste, you can drizzle it with a zesty citrus vinaigrette to finish it off.
Baked cauliflower with parmesan cheese is an excellent side dish for lasagna. Not only are you sneaking your vegetables into your meal with this recipe, but it is delicious and makes eating cauliflower a breeze, even for picky eaters.
This side dish is creamy and cheesy and makes the cauliflower florets super tender. You top this dish off with parmesan cheese and buttery breadcrumbs before you place it in the oven, then you have got yourself one of the best vegetable side dishes you could hope for. This is a surprisingly light recipe, and it is easy to make.
Fig and Kale salads are an excellent pairing for lasagna as it is light and packed with a lovely full fig flavor and kale, with some chopped raw veggies to round out the bold flavor. This salad is even better if you pair it with the avocado-lemon dressing that you will also find in the recipe link below.
The freshness of this salad, balanced with sweeter lasagne recipes, like ones made with butternut squash, makes for a great meal that you, your family, and your guests will love. Everyone at the table will be going back for seconds with this salad!
What Will You Choose As Your Lasagna Side Dish?
There are plenty of side dishes that you can make to serve with your lasagna. From salads to other cheesy options to different types of breads, you can choose whichever one suits you and your family. The tricky part comes in when you just have to choose one as they are all delicious options, so good luck!
---
Recent Recipes