Simple Smoked Whiskey Cocktail
If you've ever been to a fancy bar or watched bartending tiktok videos, you've probably seen one of those drinks that smokes. It's fascinating and seems almost impossible to get outside of a nice establishment, but I'm here to tell you that you can do it too! If you follow this guide, you should be able to smoke whatever you want. Here we'll use a whiskey cocktail as an example. If it's still a little intimidating for you, why not try a blackberry bourbon cocktail instead?
How Do You Smoke A Cocktail?
If you plan to smoke a drink, then you need to do so before you actually make the drink itself. It all starts with setting fire to some wood that is specially cut and treated to make it safe for smoking.
Before the fire grows to be unmanageable, a cocktail glass is quickly used to cover the fire. The lack of oxygen to the fire makes it burn out, allowing the cocktail glass to contain the smoke that the put-out fire emits. The cocktail glass is left in place to let the smoke marinade for a few moments before it is removed from the wood and the smoke is let free, creating quite the spectacle. While the bar attendees are left to admire the showmanship of bartending, the ordered cocktail is made and served.
How Does Smoking A Cocktail Affect Its Drinking Experience?
Smoking a drink has a pretty simple science behind it but has an impactful result on any drink. The whole point of smoking a cocktail is to elevate the drink so that it instantly plays with more than just your sense of taste, incorporating your sense of smell as well.
How smoking will affect a drink depends on the type of wood that is being smoked. Setting fire to a cherry wood plank and using that to smoke a whiskey cocktail for instance will play up its sweeter notes while using a mesquite plank will make the flavour of the drink bolder, leaning into its natural bitterness. Which kind of wood you use to smoke a drink will greatly affect the final taste of the drink.
For an extra level of complexity, various other ingredients can be added to the cup while it is being smoked to add a whole other flavour layer to a drink. Any bar offering smoked cocktails will always have rosemary and thyme to provide a hint of earthy citrusness. Some may use citrus peels like lemons or oranges to add a complex tang to a drink.
When the glass covers the wood's fire, the fire goes out and the smoke bounces off of the glass. How cold the glass is will influence how well the smoke binds to the glass and how strong the smoked factor of the drink will be once the drink is made. The colder the glass, the more likely it is that the smoke will stick to the surface of the glass making it a more impactful factor on the drink's flavour.
Regardless of the type of wood used for the smoking or how cold the glass is, using smoke when preparing a cocktail will help to enhance a drink's flavour. This is because when the cocktail is prepared in a smoked glass, the remnants of the smoke helps to better blend various flavours and drinks together. There is a less of a disconnect between flavours, creating a smoother drinking experience over all.
Of course, there is the visual element of smoking a drink. Setting fire to a piece of wood in a busy bar will always have heads turning. The whole shebang is a magical experience, making what may be an otherwise boring brown drink that much more exciting.
Can You Smoke A Drink At Home?
Despite the crafty and extravagant nature of a smoked drink in a bar, it is a lot easier than you would think to replicate the same show in your very own home. All you really need is a smoking-safe piece of wood, a lighter and a decent cocktail glass. Of course, you also need to ensure that you have a safe space to set the wood on fire, too. I would never make a smoked drink around children or pets.
Like a bar tender would, just set the wood on fire and cover it with a cool cocktail glass as soon as the fire gets going to capture the smoke. Then remove the glass and make your favourite drink!
One of the easiest drinks to smoke that is guaranteed to be a success every time is a kind smoked whiskey cocktail as whiskey takes very well to various smoked flavours. My favourite whiskey cocktail to smoke is a good old fashioned. Here is my go-to recipe for a smoked old fashioned whiskey cocktail: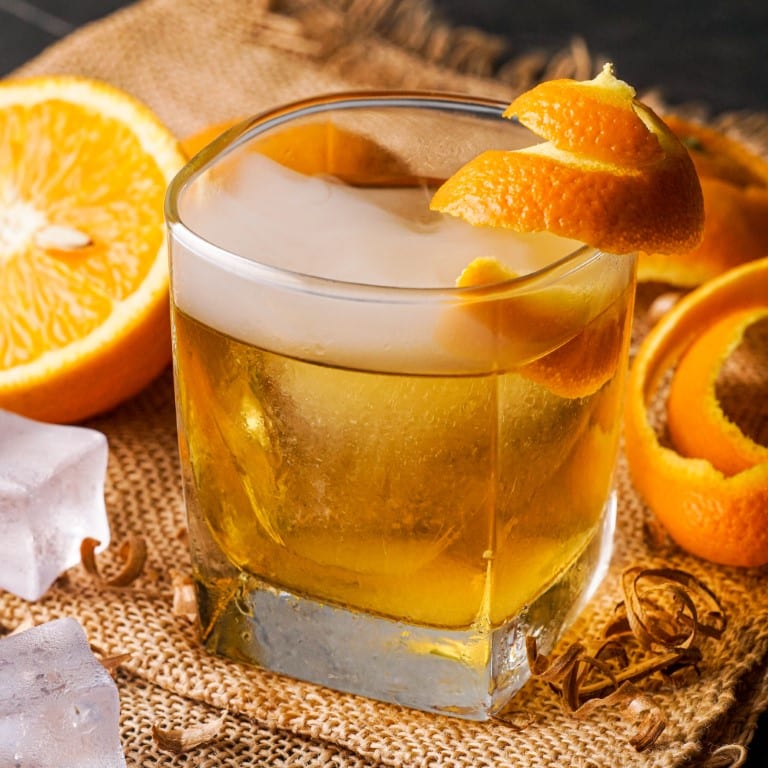 Ingredients
1

whole orange

1

sugar cube

¼

cup

whiskey

1 ½

teaspoon

Angostura bitters

1

large ice cube
Instructions
All ingredients ready? Let's begin!

Chill an 8-ounce cocktail glass in your fridge for 10 minutes before starting this recipe. Then prepare your bar by laying a plank of smokable cherry wood on a safe work surface.

Take a juicy large orange and give it a quick rinse. Pat it as dry as possible and use a sharp peeler to peel a sizable ribbon of the orange's peel.

Remove the glass from your fridge.

Strike a match then carefully set fire to the top side of the cherry wood plank.

Wait for the fire to get going a little. Cover the fire with the glass, rim side down.

Once the fire dies down, very quickly lift one side of the glass up and place the orange peel and 1 sugar cube under the glass. Prevent as much smoke from escaping as possible.

Leave the glass to smoke for around 5 minutes.

Lift the glass, twirling it as you lift it to help the smoke evaporate.

Now prepare the drink itself by adding an ice cube directly to the glass.

Pour the whiskey and Angostura bitters over the ice. Crumble the sugar cube into the glass and give the contents of the glass a good stir with a spoon or stirrer.

Garnish the cocktail with the smoke orange peel and enjoy!
Nutrition
Calories:
260
kcal
|
Carbohydrates:
23
g
|
Protein:
1
g
|
Fat:
0.2
g
|
Saturated Fat:
0.02
g
|
Polyunsaturated Fat:
0.03
g
|
Monounsaturated Fat:
0.03
g
|
Sodium:
1
mg
|
Potassium:
238
mg
|
Fiber:
3
g
|
Sugar:
17
g
|
Vitamin A:
295
IU
|
Vitamin C:
70
mg
|
Calcium:
53
mg
|
Iron:
0.1
mg
Notes & Tips
If it's a struggle to light the wood itself, try lighting the orange peel first and placing the glass directly over that.
---
Recent Recipes