Easy Whole Grain Savory Soda Bread
When we think of soda bread the first thing that likely comes to mind is sweet Irish soda bread with raisins dotted throughout the loaf. This is one of my favorite breakfast or afternoon tea breads. However, I have been playing around with lots of savory soda bread recipes.
Soda bread is dense, unlike yeast or egg-risen bread. It is leavened with only baking soda. Why that intrigues me is because I can make bread that is vegan without eggs or gluten-free that doesn't need wheat protein to work with yeast. This particular recipe is neither vegan nor gluten-free, but it could be, as I will discuss in the substitutions section.
My whole-grain soda bread is made with oats and whole wheat flour. I use milk for the liquid component. I also add yogurt to assist the baking soda to work more efficiently. Fermented foods with probiotics seem to boost the properties of baking soda. There is no sugar in this particular recipe, so it is not sweet. I do add a layer of seeds to the top for added earthiness and crunch.
I bake soda bread in my 8-inch cast iron skillet. It seems to be the perfect size for this rustic round loaf and it is oven-proof. 
I like to serve this bread while it is warm with just some softened butter. It is also good with cream cheese and smoked salmon or a good slathering of almond butter. For those of you who aren't familiar with umeboshi paste, this is excellent to smear on bread along with a nut or seed butter to aid in digestion and sneak some more probiotics into your diet. This salty condiment is made with aged pickled Japanese plums.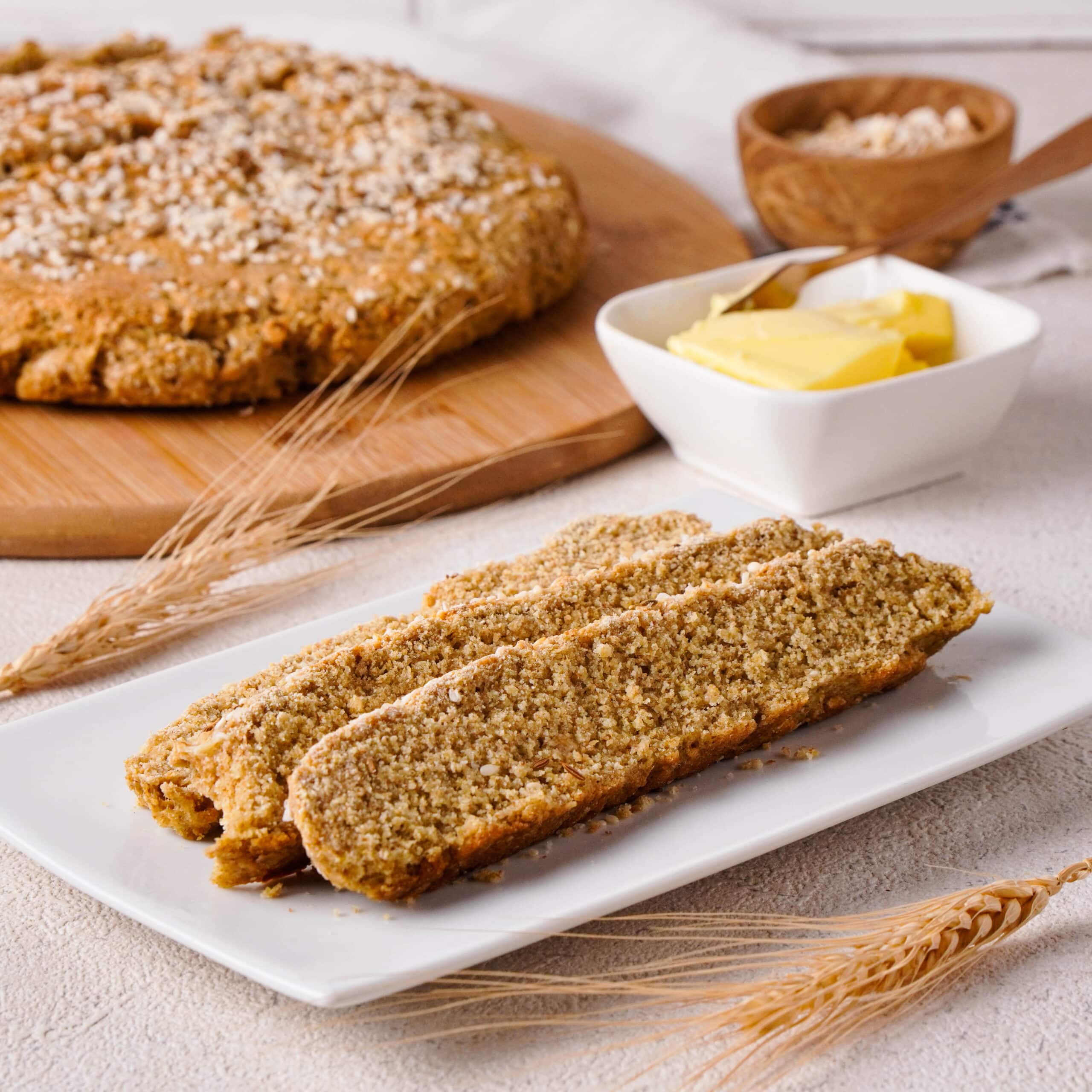 Ingredients
1

cup

rolled oats

1-1/4

cups

white whole wheat flour

1

tsp

baking soda

1

tsp

sea salt

1

cup

whole milk or oat milk

2

Tbsp

plain yogurt

divided

1

tsp

raw sesame seeds

1

tsp

caraway seeds

1

tsp

coarse salt

Vegetable oil for greasing the pan
Instructions
All ingredients ready? Let's begin!

Arrange one oven rack in the center and another rack near the top. Preheat your oven to 400°F.

In a food processor, pulse the oats into a fine powder or flour consistency. Transfer that to a large mixing bowl.

Add the whole wheat flour, baking soda, and sea salt to the oat flour.

Stir all of the dry ingredients together.

Make a well in the center of the flour. Pour the milk and 1 tablespoon of yogurt into the well. Stir to combine the milk and yogurt. Work the dry ingredients into the wet with a spoon. Once combined, get your hands in there and knead the dough into a sticky ball.

In a small bowl, mix together the sesame seeds, caraway seeds, and coarse salt.

Oil an 8-inch oven-proof skillet. Press the dough into the skillet. Using a sharp knife, make a big X shallow slit across the top of the dough. Spread the other tablespoon of yogurt over the top of the dough. Sprinkle the seed and salt mixture over the yogurt.

Place the pan inside the oven on the center rack and bake for 35 minutes. Move the pan up to the top rack and continue to bake for 5 to 10 minutes until the top of the bread is golden and crunchy and the seeds start to toast, but not burn.

Remove the pan from the oven and allow the bread to cool for at least 15 minutes before slicing it. Remove the bread from the pan to a cutting board and slice with a serrated knife.

Serve with softened butter or vegan butter.
Nutrition
Calories:
84
kcal
|
Carbohydrates:
11
g
|
Protein:
3
g
|
Fat:
3
g
|
Saturated Fat:
1
g
|
Polyunsaturated Fat:
1
g
|
Monounsaturated Fat:
1
g
|
Trans Fat:
0.01
g
|
Cholesterol:
4
mg
|
Sodium:
733
mg
|
Potassium:
99
mg
|
Fiber:
2
g
|
Sugar:
2
g
|
Vitamin A:
55
IU
|
Vitamin C:
0.1
mg
|
Calcium:
56
mg
|
Iron:
1
mg
Notes & Tips
When shopping for white whole wheat flour, don't get whole wheat flour that has been bleached. White whole wheat flour is just a different variety of wheat that is lighter in color and less nutty in flavor. You can use regular whole wheat flour in this recipe.
If you don't have an 8-inch oven-proof skillet, simply form a dome-shaped loaf in the center of a greased pie plate or on a parchment-lined sheet pan.
Follow the instructions for baking the bread first on the center rack of the oven and finishing it on the upper rack for best results. Don't stress out if you forget to move the bread to the upper rack for the last 5 to 10 minutes. It will still taste good.
This bread can be crumbly. It is best sliced with a serrated bread knife.
Substitutions
Rolled Oats: You can use gluten-free rolled oats, but don't use quick-cooking oats. As well, you can substitute oat flour. I haven't used oat flour in this recipe, but I think you would only need 1/2 to 3/4 cup of oat flour.
Whole Wheat Flour: To make this gluten-free, try teff flour, sorghum flour, or buckwheat flour. These are all whole-grain gluten-free flours.
Whole Milk: I don't generally drink dairy milk any longer except maybe a splash of cream in a designer coffee on occasion, so I will use almond, oat, or hemp milk when I bake. These are good vegan milk options.
Yogurt: Again, if you want to stay with the vegan theme, a little bit of raw, unfiltered apple cider vinegar will do the trick here. Though don't use that on top of the bread. Use a little non-dairy milk instead just to help the seeds to stick. You could also use a plant-based unflavored yogurt.
Seeds: The combination of sesame seeds and caraway seeds works well with this recipe. You could definitely try hemp seeds, poppy seeds, sunflower seeds, or no seeds at all.
---
Recent Recipes